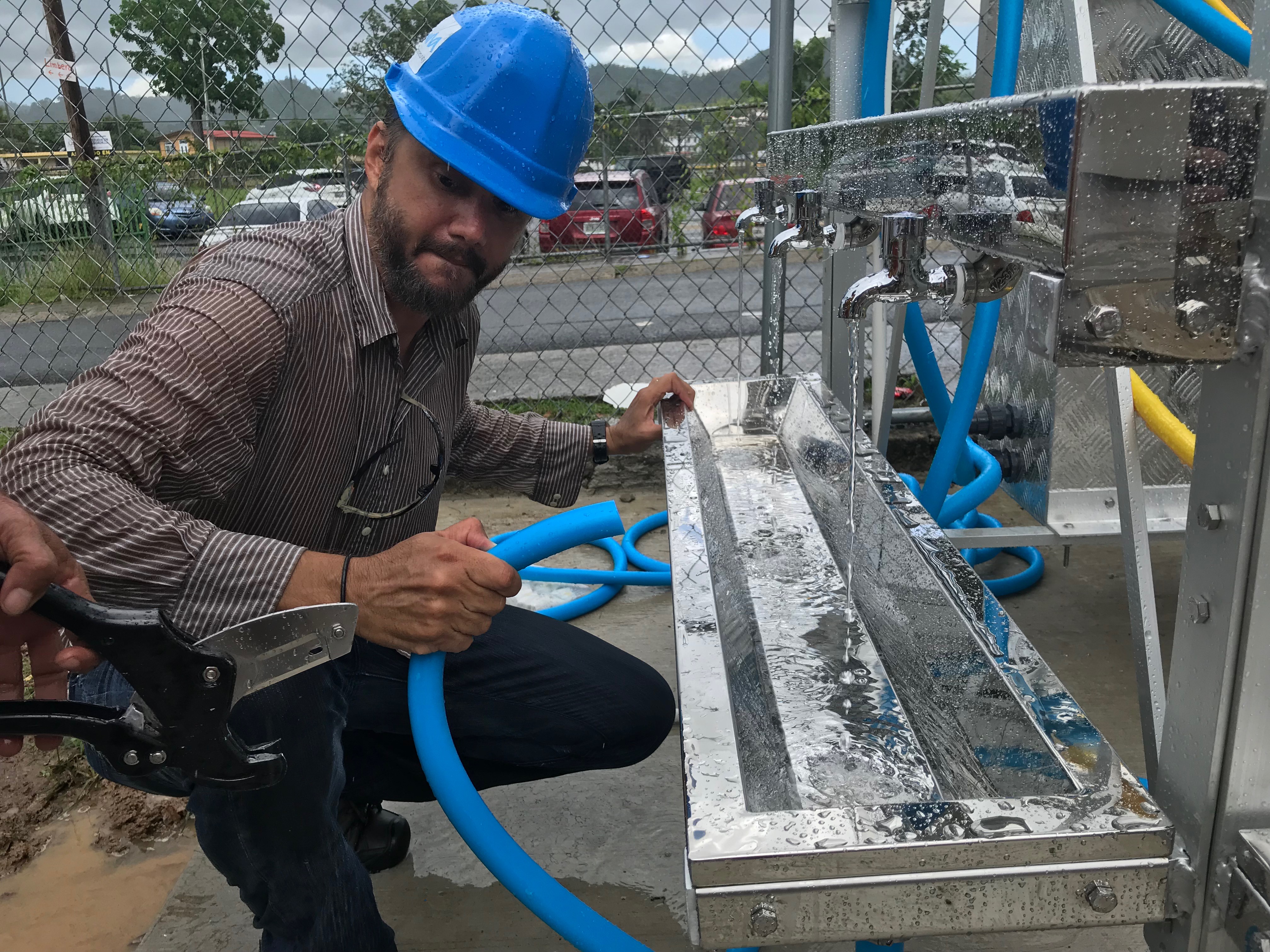 Norma Rodriguez Mercado, a woman aged 66, lives in Cabo Rojo, a town in the Southwest corner of Puerto Rico, sharing her house with 21 dogs—mostly chihuahuas. She has a passion for carpentry; her home is filled with structures she made herself, like her wardrobe and porch swing. Cheerful and eccentric though she is, life has been difficult for Norma since Hurricane Maria. 
She suffered a stroke just days before the Hurricane, and had to stay with her neighbors as the hurricane passed. Norma returned to her house to find the roof was damaged and the front windows stripped off by the wind. After several weeks, carpenters hired by FEMA came to replace the windows. However, the windows did not fit, and water continued to leak into the house. With no family to help her, Norma was left with no other option than to perform the labor again, buying the materials and installing the windows herself. 
Hurricane Maria devastated Puerto Rico on September 20, 2017—over nine months ago. Maria was preceded by two other storms, Hurricanes Irma and Jose. According to Dr. Mark Jury of the University of Puerto Rico's Mayagüez campus, these prior storms cooled water temperatures northeast of Puerto Rico. In addition, the salinity from South American rivers cooled the ocean's surface below the island. This created the perfect atmosphere for a storm with a powerful south wall.
A new study conducted by the Harvard T.H. Chan School of Public Health has revealed that the deadly circumstances after Hurricane Maria have been profoundly understated: Though the "official" government death count was 64, the true number of casualties after Hurricane Maria is around 4,600. 
While nowhere near a full comeback from Maria's devastation, many residents are now juggling recovery alongside their preparation efforts for this year's hurricane season. According to PREPA, the electrical authority in Puerto Rico, over 9,000 residents still do not have power; Puerto Rico's electrical grid is so unstable that even a faint tropical storm could potentially send the island into another prolonged blackout. 
Concerned with the future of their island, many Puerto Ricans have taken the initiative to organize volunteer brigades. Many were established in direct response to Hurricane Maria, using mainland donations to buy food and supplies, clear roads and reconstruct houses. 
The "Brigada Solidaria Del Oeste," or Solidary Brigade of the West, is a non-profit initiative comprised of several groups on the West Coast of Puerto Rico. Brigada Solidaria saw a surge of donations following Hurricane Maria, enabling them to pursue their goal "to support the development of collective processes in communities and to promote grassroots community efforts."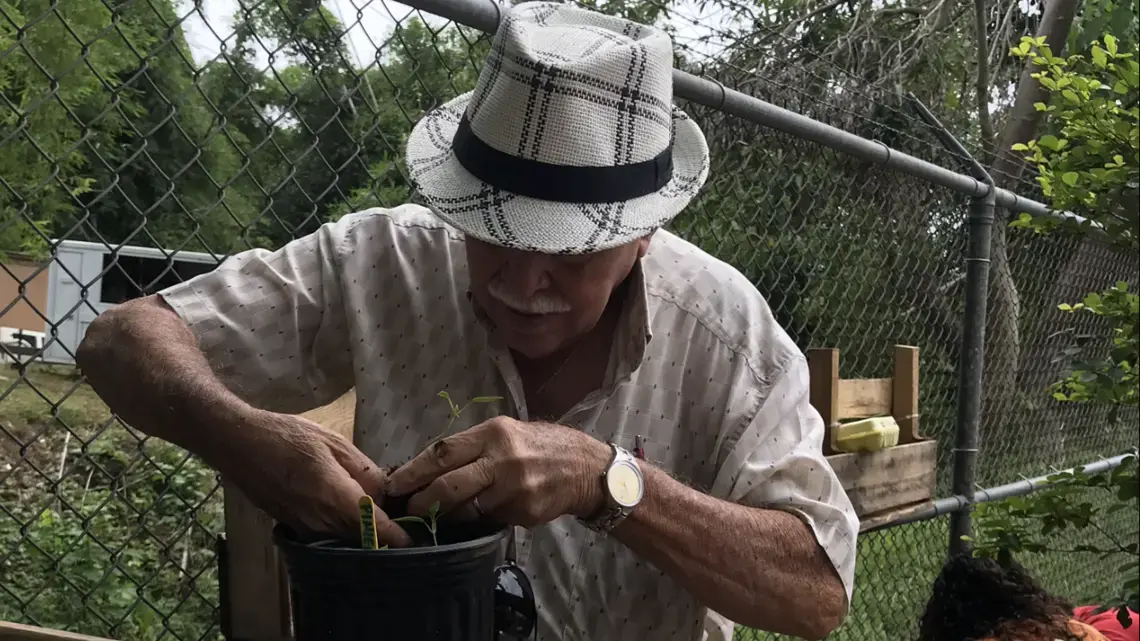 A senior resident (who wishes to stay anonymous) plants a vegetable seedling given to him by Brigada Solidaria del Oeste. Image by Tomas Woodall Posada. United States, 2018.

Every week, the group leaders of Brigada Solidaria meet in Mayagüez to organize and schedule their next move. "Finca Solidaria," a coalition of farmers, donate their land to harvest crops, which will then be distributed to communities around the area. Sandra Pagan Gallardo, a member of Brigada Solidaria, went to visit one of these farms, located in the mountains of Limón, Puerto Rico. While driving to the farm, Sandra emphasized the importance of local agriculture in Puerto Rico. Through Finca Solidaria, the non-profit aims to promote local, organic agriculture and self-sustainability. "Feeding and teaching the community about alimentary sovereignty is the most important part of reconstructing Puerto Rico," said Pagan Gallardo.
Jorge, whose last name was not provided, farms the land. He is a quiet man in his thirties. In the early morning, he sat on his porch, preparing for the day on the field. Pagan Gallardo cracked jokes while Jorge sat in silence, sharpening his machete. Dressed in long sleeve clothing to protect them from the sun. They worked together in the field to plant rows of summer squash. That day, several baskets of tomatoes, arugula, and bok choy were harvested. The clouds moved fast and close above the mountains, and the weather would alternate each hour between clear skies and strong rain. 
The volunteer workers often began to sing spontaneously as they farmed. Brigada Solidaria considers music and the arts equally vital in the Hurricane Maria recovery effort. The group constituents schedule concerts to perform Bomba—the traditional music of Puerto Rico. They believe that the key to maintaining resilience on the island is to uplift people with music and art. "We actually work with different art groups, which were very important during the hurricane. They provide people with entertainment," said Pagan Gallardo.
On another day, members of Brigada Solidaria and "Rayo de Luna," another non-profit organization, visited a small elementary school in the heart of the Añasco community named Escuela Espino. Despite it being a school day, the school was seemingly quiet. The two groups were working together to install a water storage and filtration tower that would provide the children of the elementary school with drinkable water, faucets, and sanitation devices. The members of the brigades worked for five hours to finally install the tower, which will also supply up to 1,000 Añasco residents with drinkable water daily.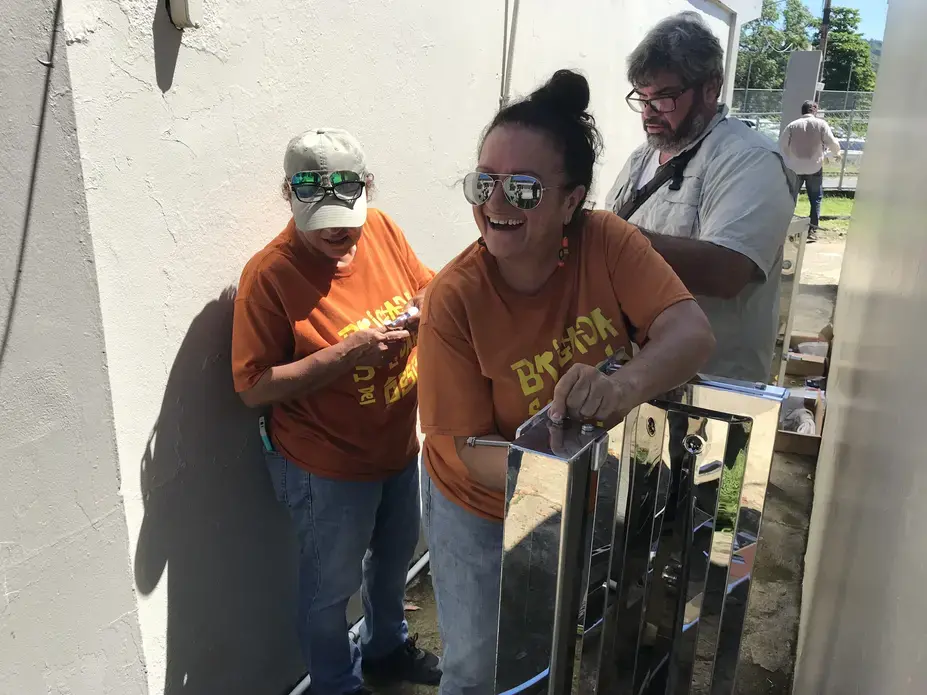 Pagan Gallardo and other volunteers from Brigada Solidaria del Oeste assemble the water tower. Image by Tomas Woodall Posada. United States, 2018.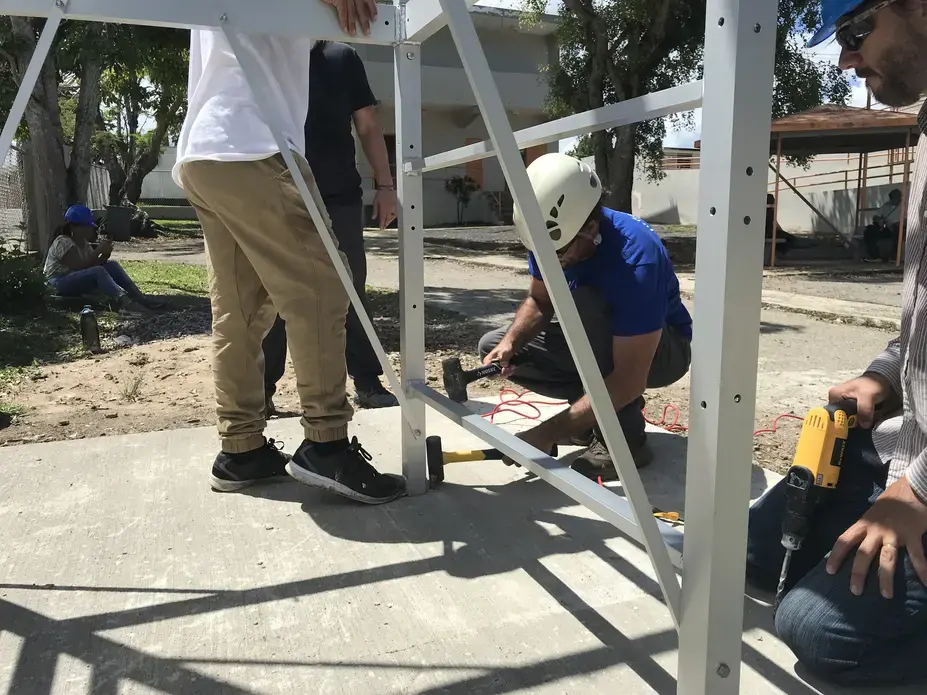 Ludgardo Vendrell of the Rayo De Luna organization secures the water tower to its cement base on the Escuela Espino Elementary School campus. Image by Tomas Woodall Posada. United States, 2018.



The tower filter operates by gravity; it does not require electricity to work, making it a great resource considering Puerto Rico's fragile electrical grid. Rayo De Luna's water tower installation project started in October of 2017, in response to Hurricane Maria. Each tower is provided by the Planet Water Foundation, a U.S. based non-profit, and paid for by an anonymous donor. 
After the product is shipped to Puerto Rico, Rayo De Luna takes the reins: "So once it gets here, we're the ones in charge of pinpointing which community, which school, where it's going to be installed," Ludgardo said. Rayo De Luna has installed 36 towers across the island; they installed 12 towers in November of 2017, and five towers within 24 hours on March 22—World Water Day. Joachim Alonso, who cofounded Rayo De Luna along with his wife, Glenisse Pagán, said that the group is close to their goal: "We'll end up with 41 [towers] total. Each product represents the potential to supply a thousand people a day with clean water," said Alonso. 
Ludgardo Vendrell, a member of Rayo De Luna, clarified that the goal of this project was not to "serve" each community, but rather to work with community leaders in order to empower them.
 
"We're doing a lot of basework with the communities to get them prepared and get them involved. We assist them but they have to help themselves. When you make the community participate, and when the requirements come on their behalf, then they're going to value and appreciate the gift even more," stated Vendrell. In this situation, the city of Añasco authorized and financed the cement base for the tower.
Rayo De Luna's water tower project is a proactive attempt to prepare the communities for a future crisis. Meanwhile, many residents are still suffering from the direct effects of Hurricane Maria. According to the Army Corps of Engineers, over 59,000 blue tarps have been installed in homes, acting as temporary roofs. Although further reconstruction on these homes is needed, FEMA requires proof of land ownership before they can offer additional aid. However, many houses on the island have been passed down through family generations, and many residents simply do not have proof of ownership. Consequently, FEMA has denied them the help they need to rebuild their homes.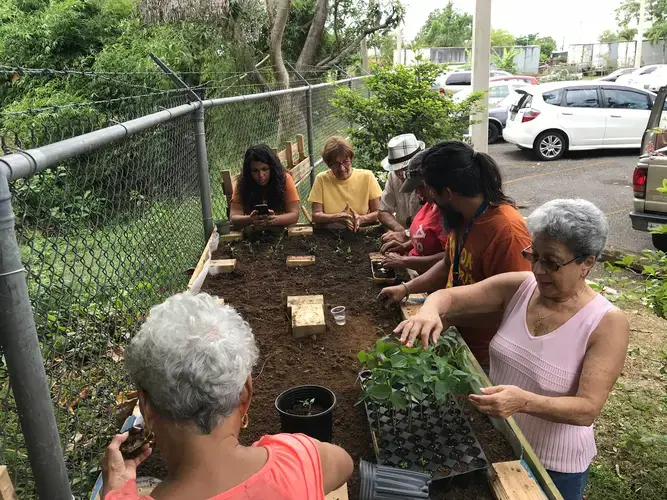 At the University of Puerto Rico's Mayaguez campus located in Western Puerto Rico, a non-profit organization named "University Institute for the Development of Communities" is helping residents submit appeals to FEMA. By setting up "stations" across the West coast and hiring lawyers, the Institute is enabling hundreds of residents to move more quickly through FEMA's bureaucracy.
The Institute is now helping Norma to submit her FEMA appeal. If Norma's appeal is approved, FEMA will reimburse her for the costs of fixing her windows. It is unclear whether she will be successful, but she is grateful for the assistance the Institute is giving her. 
Grassroot efforts such as these encourage the solidarity of Puerto Rican communities. Despite the media's efforts to bring attention to the devastation wrought by  Hurricane Maria, federal support is stalled, at best. Volunteer brigades around the island are needed now and will be needed in the future.
RELATED ISSUES