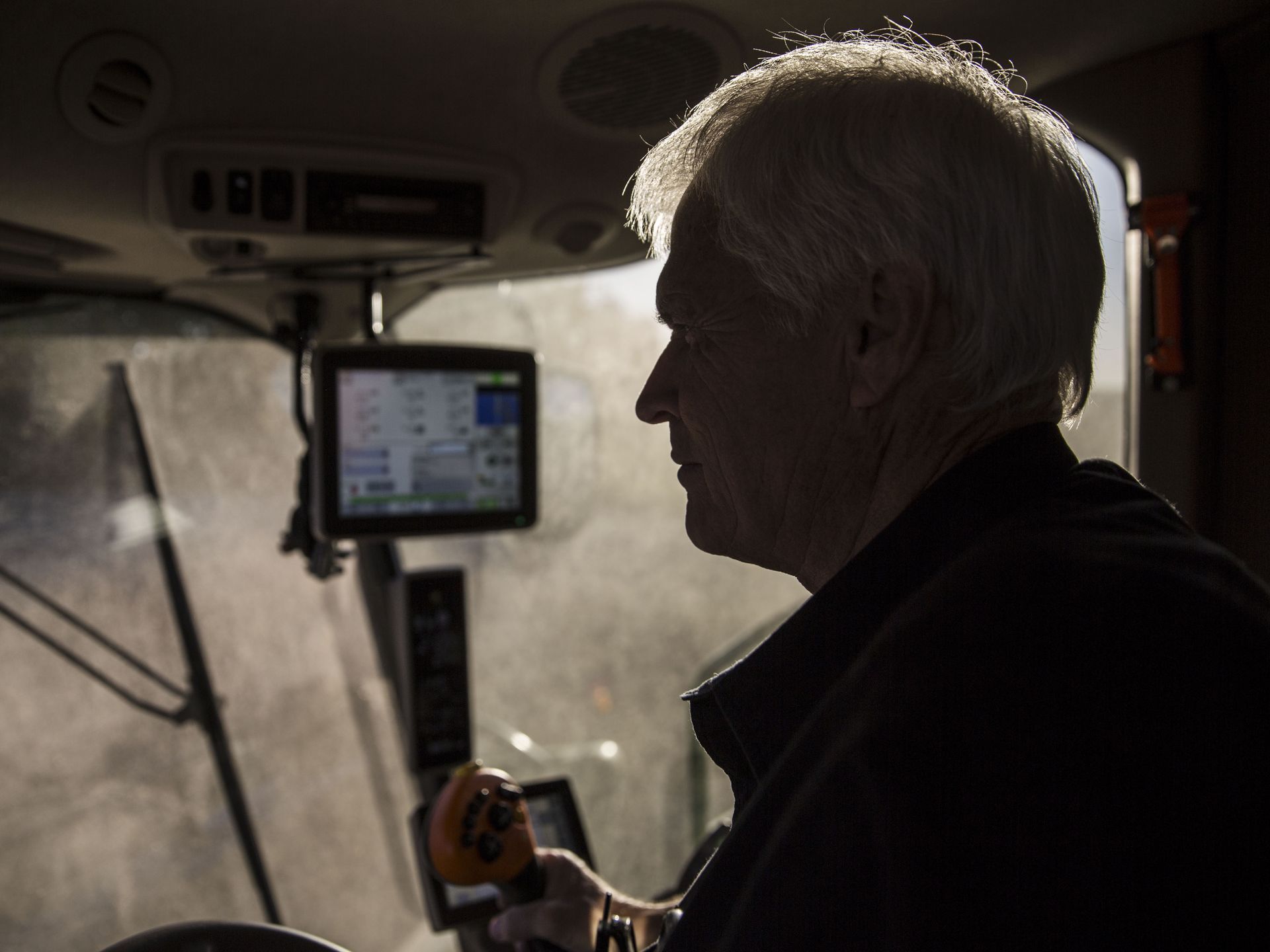 LUANPING COUNTY, China — Rick Kimberley's farming heritage spans more than five generations and three continents. It's a story that shadows the rise of three world powers.
In the early 19th century, the family of Isaiah Kimberley, his great-great-grandfather, farmed near Coventry, England, as that nation grew into an empire that at one time ruled one-fourth of the people on Earth.
In 1866, Isaiah Kimberley immigrated to America, settling with his family in rural Iowa. His great-grandson Boyd wed Lois during World War II and witnessed his nation assert itself as a superpower after the war.
In 1972, their son, Rick, began farming the family ground on 240 Iowa acres. At age 67, he's now helping to plant the family's agricultural footprint on a third continent, in a nation many consider to be the next frontier of global influence: China.
INTERACTIVE MAP: See the many places Iowa culture influences Chinese culture
WATCH: Follow our journey through China on our new Facebook Watch page
The growing agricultural tie between Iowa and China often is characterized as the backbone to the U.S.-China relationship.
Now Iowa and China are trying to capitalize on that tie to the benefit of each. Iowa hopes to ramp up trade and boost its farm economy, while China hopes to upgrade its agriculture as it pushes to increase its status as a world superpower.
In late September, as Rick Kimberley stood in a mountain valley in rural China at a groundbreaking ceremony for the China-U.S. Demonstration Farm, he called upon his family's rich ag legacy to emphasize how technology had so quickly transformed American farming.
And how that same lesson could help transform farming in China.
He told the gathering of Chinese businessmen and communist officials how his grandfather bought his first John Deere tractor in 1930, and how his father in 1950 started planting hybrid seed corn and applying commercial fertilizer.
Today, Rick and his son, Grant, harvest more than 4,000 acres of corn and soybeans with a couple of hired hands and massive combines whose computers precisely track yield, moisture and other key statistics for each row and acre.
"Why I'm telling you this is to show that we have always learned new ideas, had an open mind and tried new technology," Rick Kimberley said. "This is how we engage and change farming from 1860 to 2017. … Every generation there has been a change."
PART 1: As Trump and Xi Jinping meet in China, an Iowan is the bridge between them
Ag 'the cornerstone' of Xi and Iowa
To tour urban China today is to see towering skyscrapers and construction cranes in every direction, ample evidence of the stark change of recent decades.
The transformation has been slower and subtler in the countryside, where corn still dries in modest piles along the road.
Kimberley in the last five years has traveled to more than 40 Chinese cities across 10 provinces to evangelize on modern farming.
But this river valley in rural Hebei Province northeast of Beijing is where China plans to mimic his Iowa family farmstead in detail — its shiny silver grain bins, the brick ranch home where he and his wife, Martha, live, and even the 5½-foot-long sofa where Chinese President Xi Jinping sat when he visited.
These are now key set pieces in the saga of China's agricultural evolution, as Xi presses to modernize the operations of the nation's 260 million mostly small-scale farmers.
Xi visited the Kimberley farm five years ago on his get-to-know-you tour of America as an emerging world leader.











The trip made the previously anonymous farm an integral part of Xi's campaign to help steer his 1.4 billion people through the challenges of rampant urbanization, an aging agricultural workforce and sweeping demographic and economic change that threaten to undermine governmental authority.
The demonstration farm in China is a partnership between the Kimberleys and fellow Iowan Luca Berrone, an Italian immigrant who was the founding director of Iowa Sister States and an "old friend" to Xi who welcomed him to Iowa in 1985.
They formed Iowa China Farm LLC to consult on the project with Chinese developer Risesun.
"I believe that agriculture is something that is very much a common denominator," Berrone said. "… It was perhaps at the cornerstone of President Xi's visit to Iowa."
The Kimberley farm is just the first of six phases of a broader 3,300-acre complex expected to include everything from fruit groves to livestock research and yet another homage to rural Midwest life: China's own Disney-style approximation of a quintessential Iowa small town.
The farm was first proposed to the Kimberleys and Berrone by Ye Changqing, deputy director general of the Hebei People's Association for Friendship with Foreign Countries. Decades ago Ye was a college student in Iowa.
The massive complex is designed as "high-end eco-tourism" to draw perhaps half a million more people annually to rural Hebei. Many of them would be whisked there from Beijing on a new high-speed rail line under construction.
In Luanping, Kimberley was joined by his son, Grant, himself a fellow farmer but also executive director of the Iowa Biodiesel Board and director of market development for the Iowa Soybean Association.
China, Grant said, must "learn how to grow more with fewer people operating those farms. So, farm sizes will have to get a little larger. … They're going to have to pool resources and work together maybe on a village scale to justify using some of these advanced technologies and machines and seeds."
Wendong Zhang, an assistant economics professor at Iowa State University in Ames, is intimately familiar with that challenge.
His grandfather's village in coastal Shandong Province, just east of Hebei, packs 1,000 farmers onto fewer than 200 acres — a dense and old-fashioned production by hand compared with a mechanized American harvest.
That's why "an Iowa way will be one" among many strategies, Zhang said, because China still has "more than the entire population of the U.S. working in prime livestock and crop production."
Mass unemployment is not an option, he said.
China already has been buoying farmers with key economic adjustments, he added, such as establishing new crop insurance and offering subsidies.
While Chinese farmers don't own their land — another profound difference from Iowa's legacy of family farms — the government now allows them to rent.
In that way agribusiness can string together a series of tracts for harvest, Zhang said, to "achieve a scale similar to U.S. production."





















U.S. beef returns with flair
The Kimberleys no longer feed cattle on their Iowa farm. But one of this year's top international agri-biz headlines has been the return of U.S. beef imports to China.
A "mad cow disease" scare in the United States led to a ban that lasted more than 13 years.
China's per capita consumption of beef remains relatively low (No. 47 in the world), but its total consumption already ranks No. 1.
A year ago, Ambassador Terry Branstad was in China as Iowa governor to lobby China's minister of agriculture, Han Changfu, on behalf of U.S beef — without realizing that he would be living in Beijing to see the result.
With more than 300 million Chinese expected to enter the middle class in the next dozen years, the boom market for meat is seen in Iowa as a mouth-watering opportunity.







U.S. beef is already storming back in with gusto, in the form of a flashy road show that visited China's three largest cities of Beijing, Shanghai and Guangzhou.
A convention hall party in downtown Beijing in late September featured slabs of beef shrink-wrapped in plastic and displayed on ice, or offered in bite-sized chunks on toothpicks.
The beef road show is intended to reassure and train the agricultural community doing business in China about the gauntlet of regulations required of American livestock farmers who want to re-enter the market.
Cattle must be traceable to their birthplace, and farmers must adhere to strict standards that forbid growth hormones and demand detailed paperwork.
"You need to start with the education of the producer," said Rob Shuey, senior vice president of international sales of fresh meats for Tyson. In today's American market, less than 1 percent of available beef currently meets the Chinese standard.
Raising cattle for China costs more, he said, "but once everybody understands what the protocols are, then we kind of get going relatively easy."
More opportunity could await
China's new ethanol mandate — expanding a pilot program nationwide by 2020 that could quadruple ethanol use within the next few years — was motivated in part by the nation's oversupply of corn. But the U.S. stands to benefit in the long run.
When Xi was at the family farm in 2012, Rick Kimberley remembers how Xi talked of "agriculture as being a ballast, like in a sea or ocean and that can calm the waves" and "even help in diplomacy."
Only the future will tell whether the Demonstration Farm will yield all the results Xi hopes for.
RELATED ISSUES