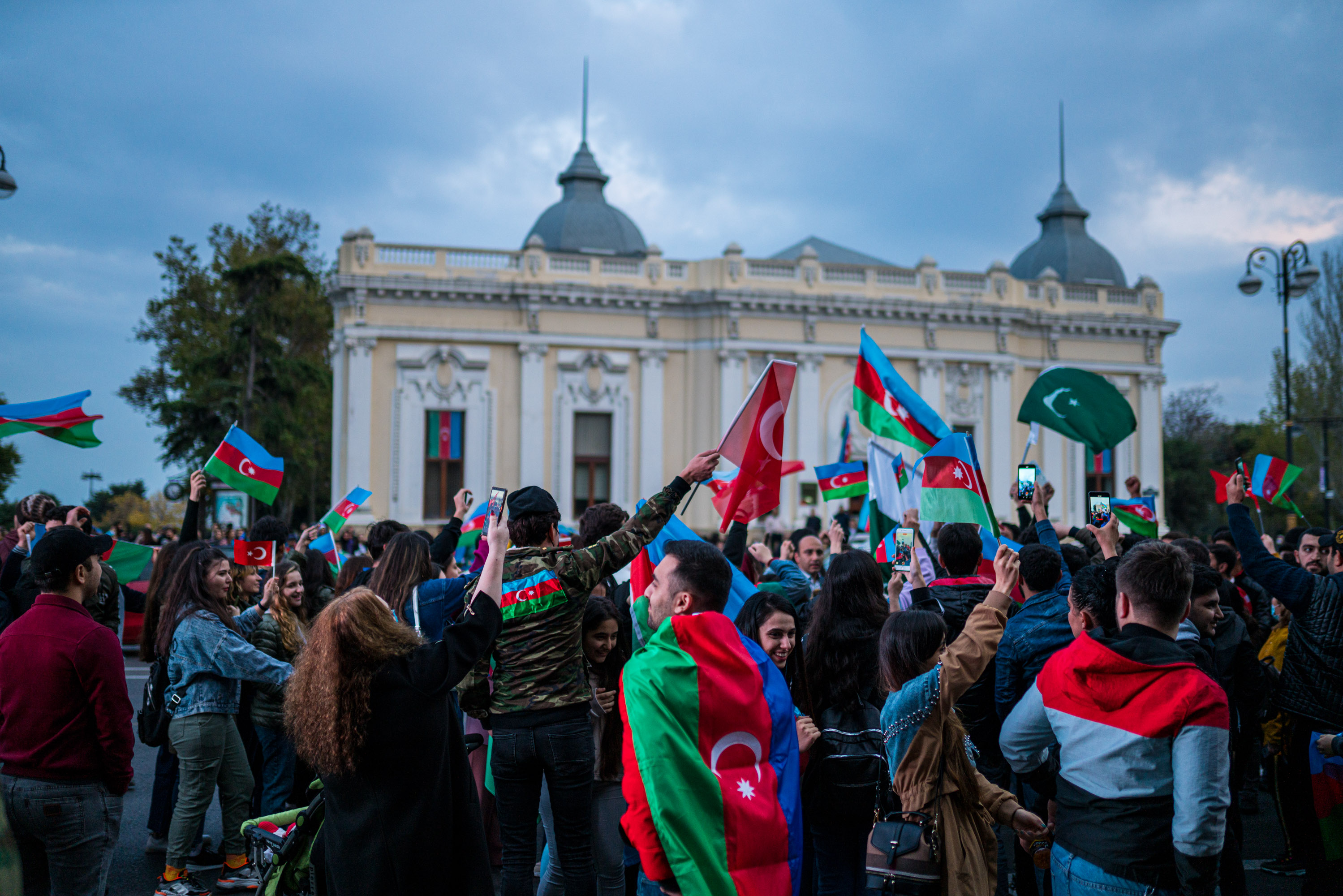 There is a saying in Azerbaijan, the bigger your roof, the more snow falls on it. Last year, Azerbaijan's roof grew significantly larger when it emerged victorious from a 44-day war against Armenia for control of the Nagorno-Karabakh enclave.
Both Azerbaijan and Armenia are nestled in the strategically important Caucasus Mountains, a region where Russia, Turkey, and Iran meet. Nagorno-Karabakh is a province whose very name exemplifies the tangled interests that have long vied for influence there: it's an appellation that combines Slavic, Turkic, and Farsi words. And although Azerbaijan is surely the main beneficiary of its successful campaign to reclaim territory it lost during the first Karabakh war in the 1990s, observers have asked the question: Who among the outside powers of the region came out on top at the end of this most recent war?
Armenia's capitulation on Nov. 9 makes it the clear loser in the conflict. As Azerbaijani forces took Shusha, a major city deep in the Karabakh heartland, Russian President Vladimir Putin used his influence in both the Azerbaijani and Armenian capitals to broker a deal that halted the Azerbaijani offensive and left ethnic-Armenians in control of a much-reduced slice of the region. Armenia was forced to give up its claim not just to areas that it lost in fighting, but also to several other districts of Azerbaijan that surround Karabakh, which Armenians had controlled since 1994. These areas were at the heart of Azerbaijan's grievance against Armenia, because in the Soviet period they were populated mainly by ethnic-Azeris unlike Karabakh, which was and remained populated predominantly by ethnic-Armenians.
How did Azerbaijan get this far in a difficult and bloody fight that saw its troops ascend a well-fortified mountainous stronghold? It had help, mainly from its powerful ally Turkey. Ankara, which has been waging war in Syria for years, sent experienced military advisors to direct Baku's war machine — a war machine fortified over the years with billions of dollars' worth of modern weaponry purchased with its Caspian Sea oil bounty.
Azerbaijani President Ilham Aliyev and his Turkish counterpart Recep Tayyip Erdoğan attended a victory parade in Baku together in December, where they watched the Azerbaijani military tow an array of captured Armenian military vehicles in varying states of disrepair through the city's main square for public viewing. After this macabre display, the two leaders headed indoors to hold a press conference where Aliyev highlighted the role Turkish technology played in delivering a victory to his people. "The famous Bayraktar, which is made by the Turkish defense industry, was a gamechanger and played an important role in our success," he said of a drone that has already been used to deadly effect by Turkey in its campaigns in Syria and against Kurdish insurgents in eastern Turkey for much longer.
In Karabakh, its use shifted the balance of power in a war that pitted two nation states against each other. The Bayraktar, along with other drones Azerbaijan has purchased in recent years, wiped out Armenia's high-ground advantage. After all, a drone can surpass the highest mountain. The sound alone is enough to cause panic, which is something I experienced while reporting for PBS NewsHour from the streets of Armenian-controlled Stepanakert in October. As the motor from an unmanned aerial vehicle whirred above us, we had to cut short our interview and lead our interview subject, who is partially blind, to the relative safety of a bombed-out garage. The effect it had on us was paralyzing — even without an attack.
For all the crucial assistance it provided, Turkey itself did not increase its physical footprint in the region, despite the fact that just a week after the ceasefire had been reached, Erdoğan addressed his country's parliament to announce a Turkish peacekeeping force was on its way to Karabakh. But it never materialized. One country did, however, increase its footprint: Russia, the power that most recently ruled both Armenia and Azerbaijan and, incidentally, was the only major arms supplier to have sold copious amounts of weaponry to both sides.
Under the agreement Putin brokered, he secured a role for nearly 2,000 Russian peacekeepers to patrol the areas of Karabakh that remain populated by Armenians. Their purpose, seemingly, is to shield Armenians against further hostilities from jubilant Azerbaijani troops, who overran roughly a third of Karabakh in October and November. Many of those soldiers, who had been born long after the end of the first war, encountered ethnic-Armenians for the first time. Everything they knew about these strangers came from state propaganda that has declared Armenia to be a fascist state and Armenians to be bloodthirsty murderers. In retrospect, what happened next seems almost inevitable. Those Armenians who were foolish enough to remain in their homes or too frail to leave were put to the sword. In some cases, literally.
In one cellphone video verified by Amnesty International, an Azerbaijani serviceman holds down a struggling elderly man, while another soldier hands his comrade a knife. In accented Azeri, the old man cries for mercy: "For the sake of Allah, I beg you," he says repeatedly. The video ends abruptly as the soldier begins to cut his throat. In another video, a group of Azerbaijani troops hold down a shirtless younger man as a soldier decapitates him with a knife. The incident was met with loud cheers and clapping from the crowd at the scene.
Azerbaijan's reconquest puts the onus on Baku to deal with its alleged war criminals decisively and swiftly if it wants to hold the moral high ground in what has been described as a patriotic war for liberation. A recent announcement by the Prosecutor General's office that four soldiers had been arrested for mutilating the bodies of Armenia's war dead and desecrating Armenian tombstones does not go far enough as long as more serious offenders go free.
Why is it so urgent that Azerbaijan prosecute war criminals? Aside from the moral issue that demands human rights be upheld, Aliyev wants the world to believe that he intends to rule Karabakh and the surrounding areas justly and for the benefit of both communities. "We see Karabakh as a prosperous, safe, secure area of Azerbaijan where people live in peace and dignity, where Azerbaijani and Armenian communities live side by side," he said in one of his many televised addresses from the past couple of months.
That's a claim that's going to seem like posturing and will be hard to take seriously until ethnic-Armenian civilians are allowed to return to areas they have fled. Moreover, it's unlikely they'll even want to return before Azerbaijan demonstrates to its armed forces that it cannot commit violence against civilians with impunity. Speaking about the authorities of both Azerbaijan and Armenia, Rachel Denber, a deputy director at Human Rights Watch, told Newlines: "It's imperative as a deterrent to ensure that these crimes don't repeat to send a very strong signal throughout the chain of command from the highest level to the lowest level that these kinds of actions will not be tolerated and that they will be vigorously punished."
All this is to say that some kind of peacekeeping force is necessary to prevent further harm to civilians. That this role fell to Russia speaks to the growing influence it has in its former domains. The presence of its troops on Azerbaijani territory represents a reestablishment of a Russian military presence in all three south Caucasus republics of Armenia, Azerbaijan, and Georgia for the first time since the end of the Soviet Union. It's a big win for Russia, a state that seeks influence for its own sake, which now has a powerful lever with which to wield it. As the arbiter between Armenia and Azerbaijan for at least the next five years, both countries will have to run major decisions regarding Karabakh and beyond through Moscow first. The same cannot be said of NATO-member Turkey, which shares a 193-mile-long border with Armenia but gained no foothold there as a result of this war, even if it did enhance its partnership with Azerbaijan.
While Azerbaijanis are happy a significant amount of territory has been returned to their country's control, some are concerned that they've traded Armenian occupation for a Russian presence. "At minimum, Russia is a country that helps Armenia," complained Elnur Aliyev, a resident of Baku. "If Turkey came, yes, but I don't approve of Russian peacekeepers." Higher up the food chain, Azerbaijani officials are more diplomatic about Russian involvement. "In Azerbaijan we have a presence of Russian forces, based on the practical mandate. This mandate is about a peacekeeping mission. It's not about any kind of military base," a top aide to President Aliyev, Hikmat Hajiyev, told me in November.
However, no such diplomacy was on display for Armenia, which Hajiyev said should investigate its own alleged war crimes, like the throat-cutting of a captured Azerbaijani border guard that was documented in the same Amnesty report. That seems an unlikely prospect at present, given Armenia's chaotic circumstances in which its society is looking for someone to blame for the lost war and the lost lands.
Things are very different in Baku. With the political capital Aliyev has won as a result of the war, his administration could easily survive the backlash that would undoubtedly follow if severe prison sentences are handed down to servicemen.
It remains to be seen if Azerbaijan will prosecute those allegedly responsible for the killing of civilians and prisoners of war. While Baku might be more interested in staging victory parades right now, there's still a lot of snow left to be cleared from its roof. And without a robust reconciliation process, it's unlikely the Armenian and Azeri communities will be able to live side by side or that the peace will be lasting, irrespective of Russian peacekeepers' presence in the region.
RELATED ISSUES