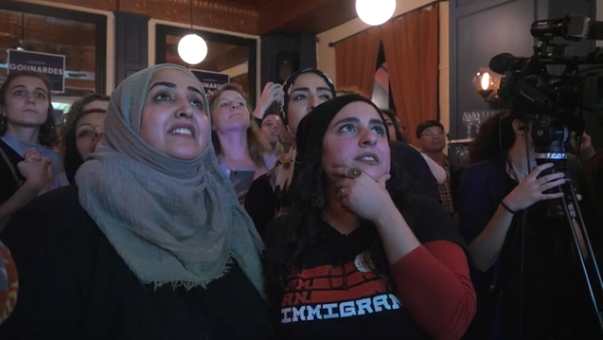 "Holding Fire," a documentary by 2019 Columbia Graduate School of Journalism Reporting Fellows Hana Elias and Eleonore Voisard, has been selected to appear at several film festivals throughout 2020. The short film follows Somia Elrowmeim, a Yemeni immigrant in South Brooklyn, and traces her rise as political activist despite Islamophobia in her traditionally Republican district.
"Holding Fire" was first selected for the virtually-held Uptown Women's Film Festival of New York, where jurors voted the film a semifinalist for best documentary. The film was also chosen for the Arab Film Festival (AFF) at the Arab American National Museum in Dearborn, Michigan. The museum is still reworking plans for the 2020 AFF as a result of COVID-19.
Elias and Voisard are also pleased to announce the selection of "Holding Fire" for the 2020 DC Shorts International Film Festival in September. In 2019, this festival drew over 1,300 entries from 100 nations and ultimately screened 156 films over the course of 10 days to an audience of more than 9,000. The festival and its Screenplay Competition make up the largest short film event on the East Coast.
"We are very excited to take part in these festivals, and join a community of filmmakers, journalists, and programmers who share our interests in stories that center women, and underrepresented groups," Elias and Voisard said in a joint statement to the Pulitzer Center. "With the current circumstances, it has been difficult to organize local screenings, but we are grateful for the new platforms that are emerging for online screenings and audience engagement. With the upcoming election, we believe Somia's story is extremely relevant as it offers critical insights on marginalized communities fighting for representation."
Voisard is a French journalist and filmmaker currently working for the BBC in Paris. Elias is a Palestinian-American filmmaker who has worked as an assistant editor on documentaries and produced her own short film, "The Rooftops of Jerusalem."
Click here to watch the trailer for "Holding Fire."
RELATED ISSUES

Issue
Migration and Refugees
Migration and Refugees

Women