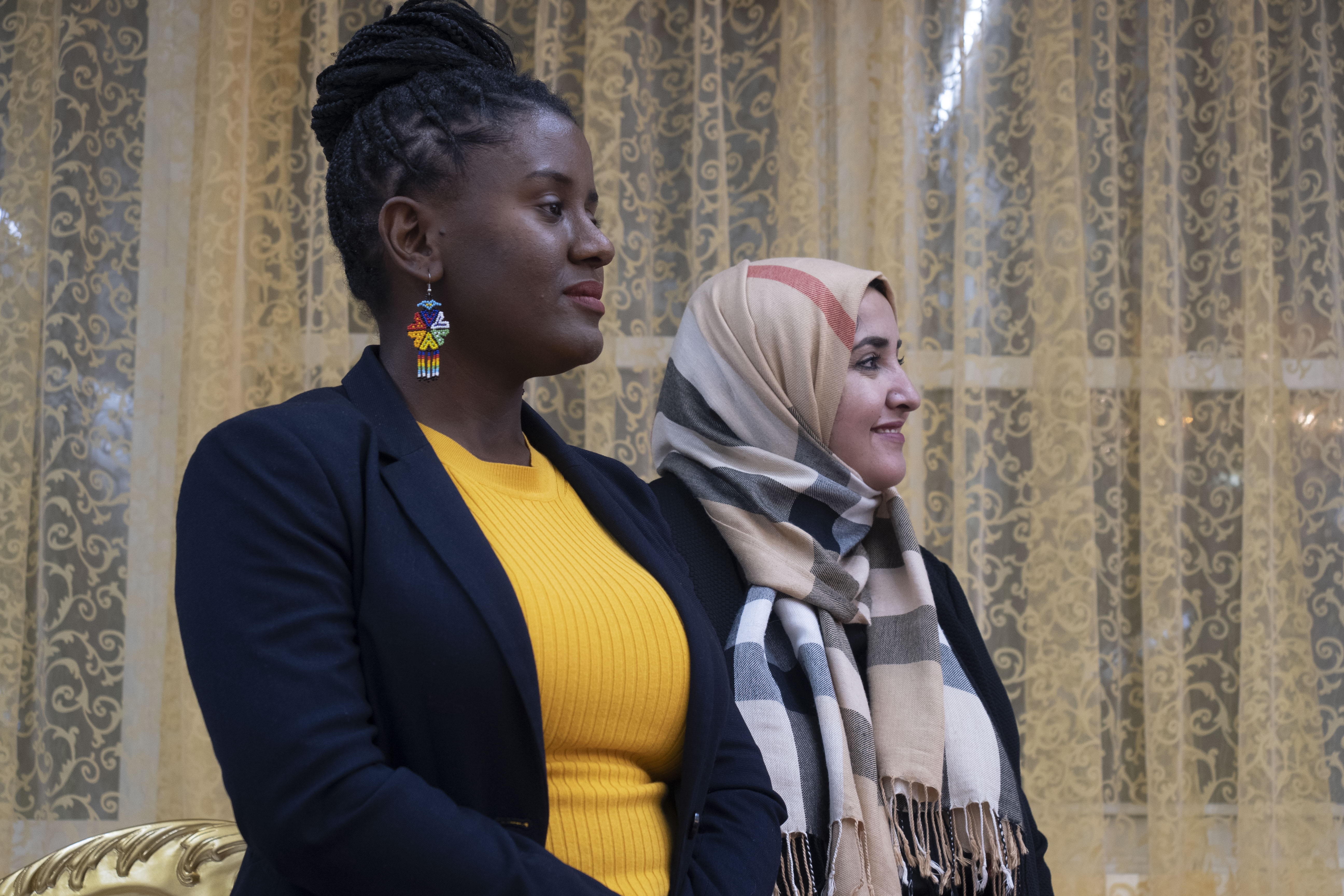 Somia Elrowmeim's story is one of the making of an activist, an immigrant rights organizer who navigates the American landscape. After years of living in a New York district where the elected officials neglected her people, she understood that she could use politics as a tool for her advocacy. Elrowmeim was instrumental in organizing the Arab vote to unseat the Republicans in favor of Democrats during the 2018 Midterm elections. A year after that first wake up call and facing several hurdles within local politics, she decided to support the grassroots campaign of Sunset Park community activist running for Assembly seat, Afro-Latina candidate Genesis Aquino.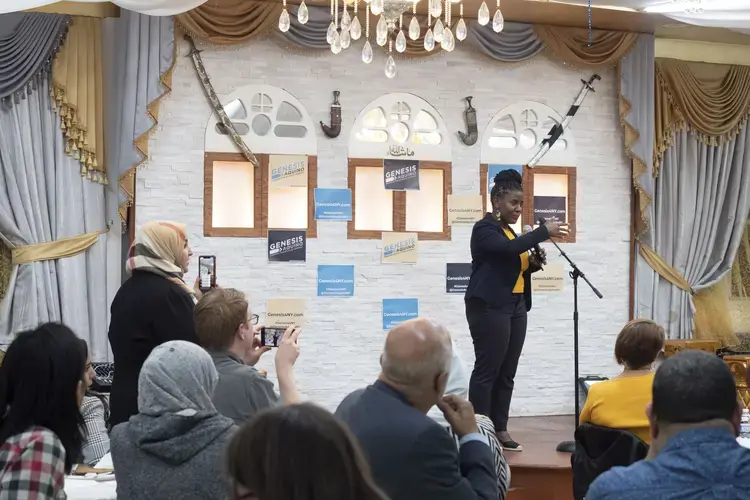 Elrowmeim's disappointment in moderate Democrats and her hopes for new faces reflect the buzzing new energy of the New York City local races for the 2020 elections. Tired of calling politicians to meet their needs, activists are turning the tables and putting themselves on the ballot. Across the board, women from minority backgrounds want to bring change to their districts, that they say have been neglected by establishment Democrats.
"I want to give a lot of credit to Trump," says Aquino, "having him got people activated." Aquino is running in Brooklyn's 51st Assembly District against the incumbent Assemblyman Felix Ortiz. Aquino works as a community organizer around immigrants and tenants rights, and advocates for people in housing court. Aquino was motivated by the success of progressive candidates such as Alexandria Ocasio-Cortez, Catalina Cruz, and Julia Salazar in the 2018 midterm elections, which showed her that she can do politics in a different way. "I don't need to be a white man or woman. I don't need to have a thousand years experience I can just run, she [Cortez] was a bartender."
A growing number of women candidates want to achieve the same strides of progress in the upcoming 2020 elections—a trend rooted in the aftermath of the 2016 presidential election. According to data from Emily's list, the number of women candidates interested in running for office surged from 920 to 42,000 in 2018, Vox reported.
Some of these women are proud to be activists who shift to politics. "As an activist you protest to bring awareness," says Chivona Newsome. "Then you bring enough awareness that politicians want to engage—it's pretty much like cutting out the middleman. I will be able to sponsor things, I'll be able to use my voice to amplify the voice of the masses without that red tape."
Newsome is running in New York's 15th Congressional district of the Bronx, where the median household income was $37,500 in 2016, a much lower rate than any other borough in the city. She's the founder of Black Lives Matter of Greater New York. After five years of advocacy work, she's proud to have participated in the sacking of Daniel Pantalleo, the policeman who used a chokehold that led to the death of Eric Gardner in 2014. Newsome continues to call for police reform and hopes that being in office will bring about more rapid change.
Progressive grassroots candidates such as Aquino and Newsome are calling for similar reforms on housing, immigration, women's reproductive rights, climate change, and food justice. Another candidate running for Brooklyn's 54th Assembly District, Bushwick-based activist Sandy Nurse, works in local farms and gardens to explore the issues of waste and access to food.
"[Running for office] is certainly something I didn't expect," says Nurse, who launched Brooklyn Rot, a composting and waste management organization staffed by youth of color, and co-founded Mayday Space, a community event center. "Some organizers in my community were looking at who are leaders in the community who can be developed and they asked me to consider."
At the heart of this popular support for these unconventional candidates is the desire for representation. According to the U.S. Census Bureau's 2010 data, white people made up 42.8 percent of the population of New York City, and the population of black, Latino and Asian residents has increased by 2 percent in the last 10 years.
Beyond the enthusiasm found on the ground, organizational support for women from minority backgrounds running grassroots campaigns is rising. Democratic Socialists of America, a nationwide membership organization, endorsed Marcela Mitaynes, another housing activist in the Sunset Park area, and running for the same seat as Aquino.
"Most of our major donors are women and I think that women donors both large and small are opening their pocket-books in service of women's representation in a way that I have not experienced before," says Sayu Bhojwani, the founder and president of New American Leaders, an organization that mentors immigrant women running for office across the United States. Bhogwani reports an increase in women interested in running and an ecosystem of women donors to support candidates of color. "We should not rest until we are at parity and more than parity in women's leadership because otherwise women leaders will have to face the kind of personalized attacks that members of the squad are facing," says Bhojwani, referring to freshman congresswomen such as Ilhan Omar, Ayana Pressely, Rashida Tlaib, and Ocasio-Cortez who have been named the "Squad" by President Trump and who have endured verbal attacks.
Yet, the challenge is not just in the pocketbooks. "It's the blue wave, but not all blues are good," says Aquino, who is cautious of establishment Democrats. Ortiz has been occupying the seat for 26 years. This represents a challenge to Aquino because "people in communities like this one tend to think on a scarcity mindset. So people might say, 'You know what? I already know this level. I'll get over it,' instead of bringing someone new that I don't know."
For others, like Nurse, it's important to show the local population how much more could be done on the ground. "I realized that I've actually never seen this person," she says, referring to current Assemblyman Erik Martin Dilan. In eight years of community organizing and advocacy, not once did she think about reaching out to him. "We're running out of time to convince people that we need to do different things."
With all of this new energy on the table, many analysts question the durability of the moment. Professor Donald Green, a political scientist from Columbia University, says it's too soon to tell if the movement is just a flash in the pan, as it will take a long time to see shifts within the Democratic party. It's not just about "having boots on the ground," says Green, but convincing the Democratic party that grassroots candidates are eligible, as more moderate party members fear that progressive and left-leaning candidates might cause further divisions in the party. "Democrats [are] concerned that if they are 'too far out there' they will pull the party so far to the left it will hurt competitiveness in the General Election," says Green.
"If I run for office and I try to reform the system and bring the voices of everyday regular people to the assembly, then things can change," says Aquino. Progressive candidates such as Newsome, Nurse, and Aquino are operating locally and on a small scale in order to see wider changes to the political system.
"I'm not sitting and waiting for people to ask for support, I'm coming to you," says Nurse. "Not because I'm a politician, but because these are the things that I actually care about, that keep me up at night and wake me up in the morning. Politics is a very different world but I've been doing local politics for years: building trust, building partnership, engaging people."
As for Elrowmeim, racing for a seat is still too early. According to her, she would be interested in running for New York City Council elections in 2024. In the meantime, she just launched a coalition to build power and leadership among women from diverse communities across the city—a way for her to build an even bigger and more politically awake force for the future.
(Corrections to this story were made on December 16, 2019: Genesis Aquino will be running for the 51st Assembly District. Somia Elrowmeim plans to run in 2024.)
RELATED ISSUES