At one of the last COP26 plenary sessions on November 12, just a day before the final version of the agreement was ratified by the consensus of 196 countries, dozens of countries made statements on the present course of the draft language. This followed a series of earlier plenaries, including one on November 10, when every country gave a statement of their general position and ongoing efforts in which each representative consistently went well over the allotted three minutes despite intermittent gonging over the loudspeaker.
I include here a few highlights from this plenary, which reveal some of the issues and discussion that led to this final outcome.
Canada, Norway, and the U.S. each specifically emphasized the importance of protecting human rights and Indigenous peoples and the need to include such language in the final agreement.
Several nations, including Norway, emphasized the need for keeping 1.5 degrees alive as an attainable goal, while the Marshall Islands' representative stated even more strongly that "1.5 is nonnegotiable."
The representative for the EU appealed to his grandson who will be 31 in 2050: "This is personal, not about politics," fueling his desire to, among other things, halt fossil fuel subsidies.
Video by Chris Dunn. Scotland, 2021.
Several delegates, including the EU and Kenya, emphasized the need to create new financial institutions that account for adaptation and loss & damage. Referring largely to the delayed promise of adaptation and loss & damage payments, Kenya's delegate stated that, "our trust has been shattered."
Bangladesh's representative implored all to consider, "What are we really negotiating here?" At its heart, he noted, this was about something nonnegotiable: the future existence of humanity.
Tuvalu's delegate lamented that "we had high hopes… that Glasgow would be the defining COP," and despite an opening in which world leaders evoked passion and commitment, creating a sense of optimism, the negotiations were "not seeing that level of optimism translated." This issue, he noted, is not in the future: "This is a defining moment… Tuvalu is literally sinking now." Despite his desire for stronger language and his doubts, he was still encouraged by comments by Canada, Norway, and the EU about loss & damage.
Panama's delegate noted, "We are carbon negative, but believe we should continue to do more, that we should all do more to keep humanity alive" including leaving fossil fuel in the ground, which was not then provided for in the draft. Real 0 should be attained as "1.5 is not a choice, we must do it, it is a moral obligation."
The delegate from the Maldives implored all to "treat the climate crisis as an emergency" noting that we only have 98 months to make the needed changes.
Grenada's representative lamented that "the text we have before us is the bare minimum" to keep 1.5 degrees of warming alive and reminded everyone that "the next 12 months are crucial," that "this is our last real chance," and that "history will judge us individually and collectively… we can't let them down."
The representative of Costa Rica advocated retaining nature-based solutions, noting that "at this COP, nature has finally been given a central place."
The U.S. climate envoy, John Kerry, struck an optimistic tone noting the "spirit of determination" at this COP, including his own determination to take responsibility for history and thus acknowledge the role of the U.S. as the largest historic emitter. Because climate change is existential, "we have to act like it" and thus go beyond words. This necessitates following the science, acting on the precautionary principle by, for instance, not counting on future carbon removal, incorporating clear accounting and strong baselines, and ending subsidies for fossil fuels—the "definition of insanity."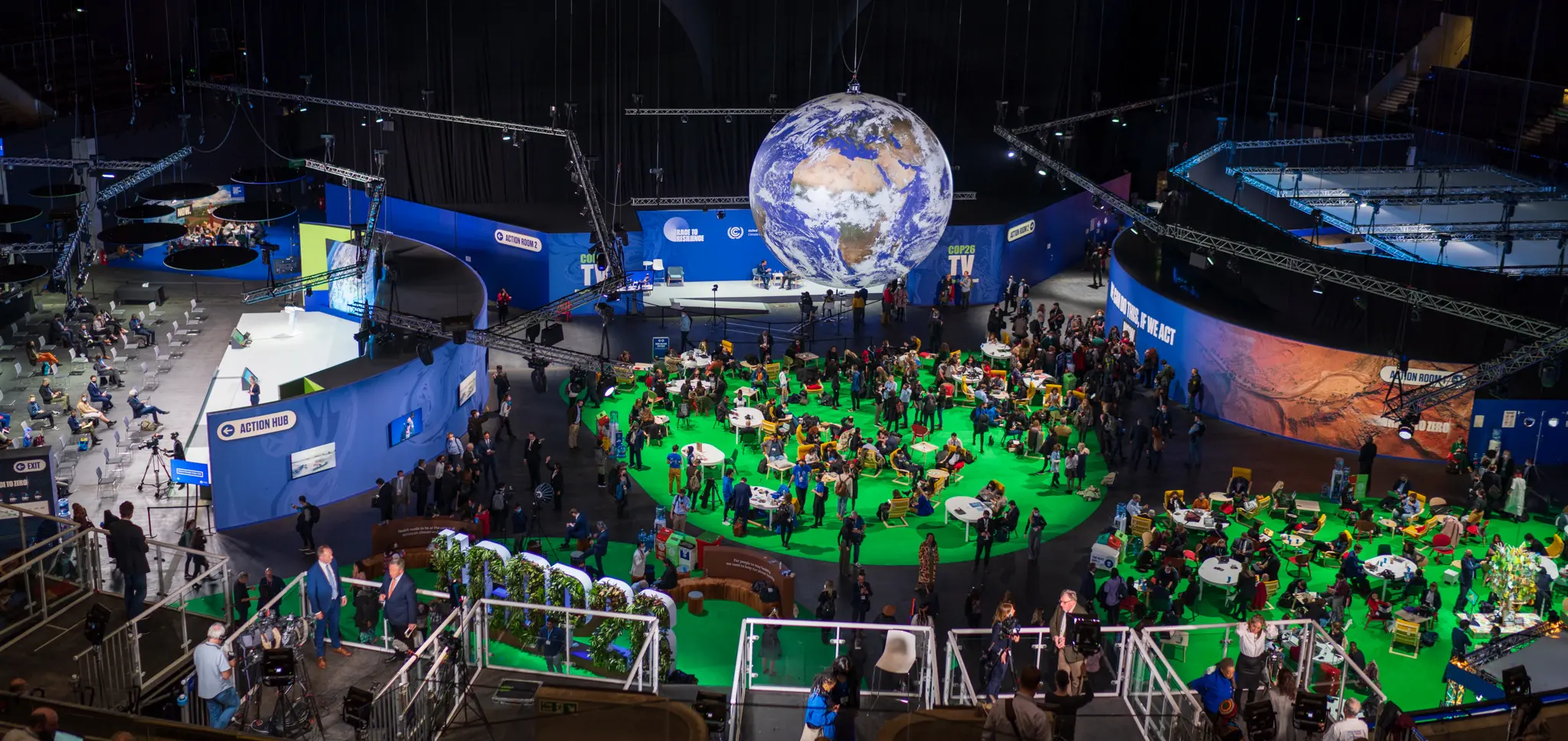 A globe rotates high above a room of the Scottish Event Center where COP26 was held.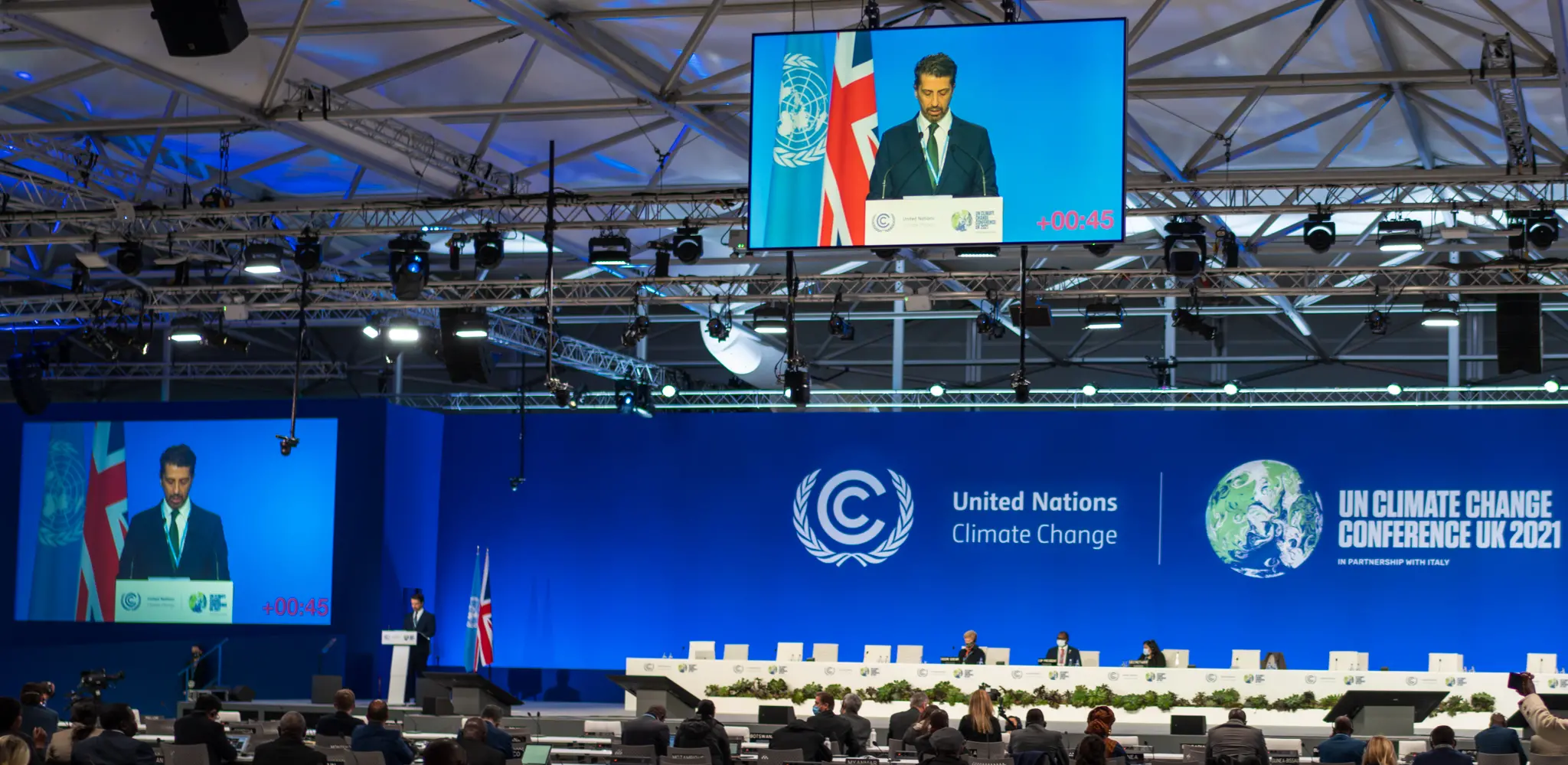 Brazil's delegate presents at a plenary on November 10, 2021.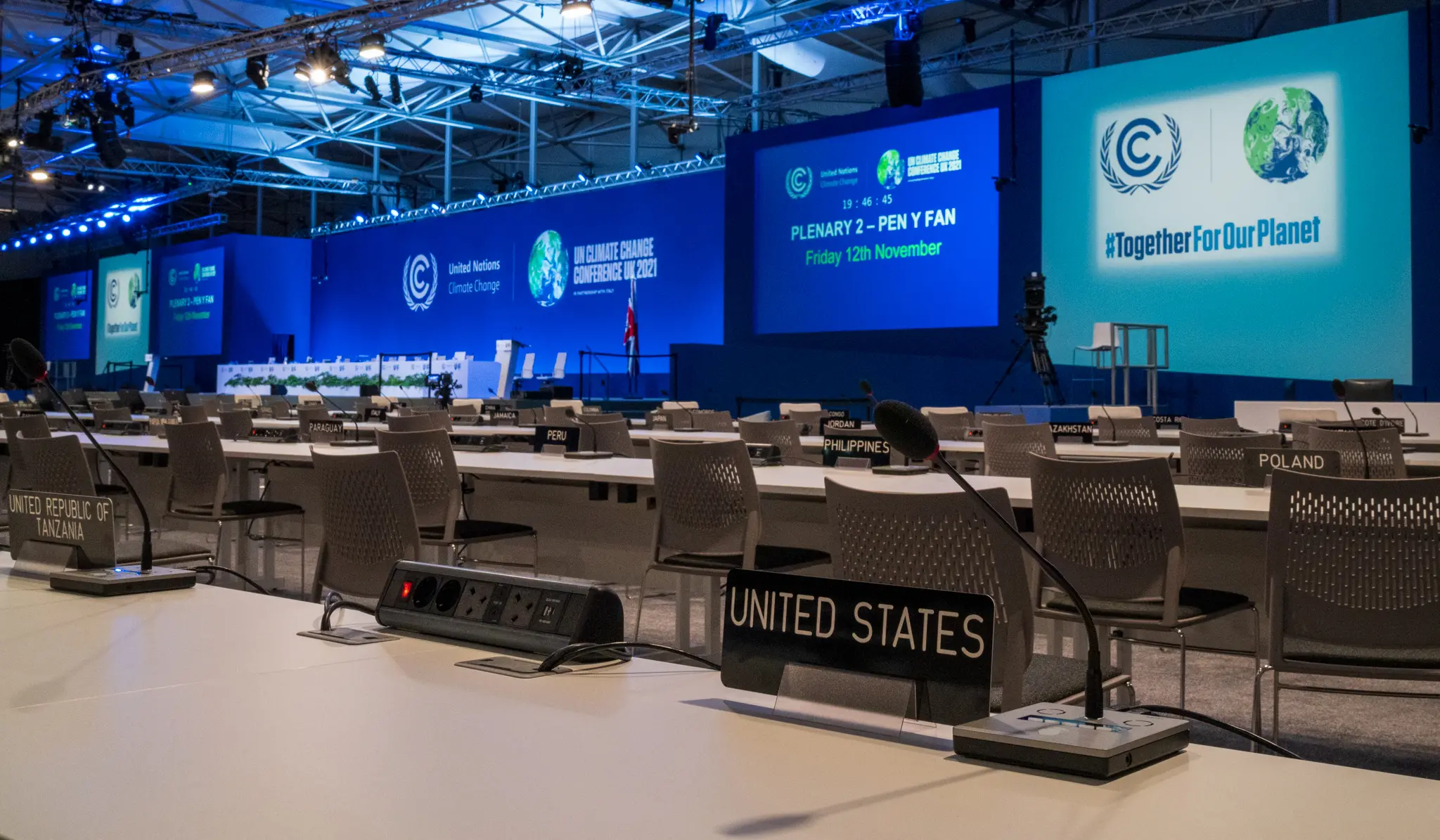 The United States desk in a plenary room
The main stage of COP26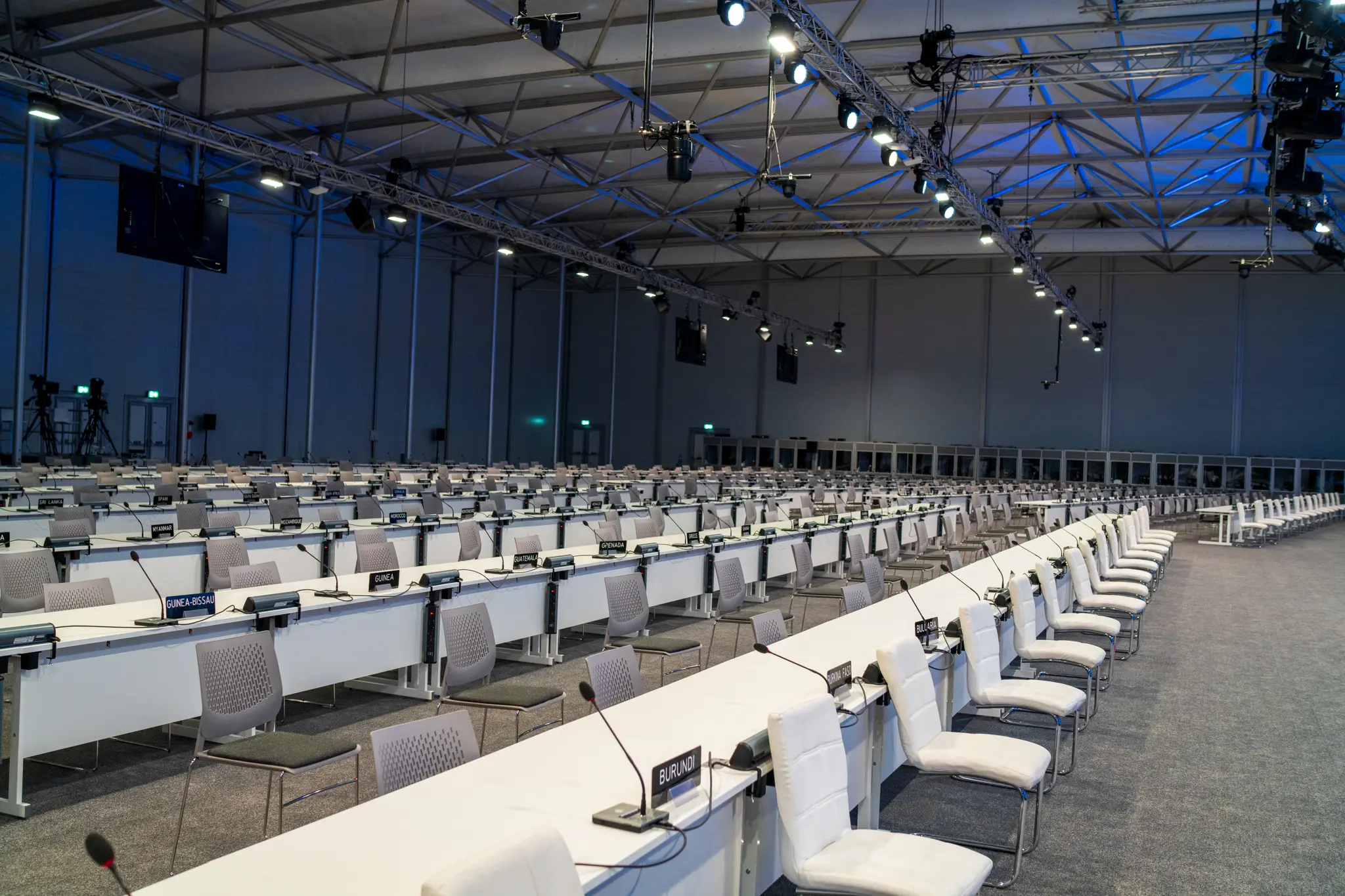 An empty plenary room where many negotiations and hearings were held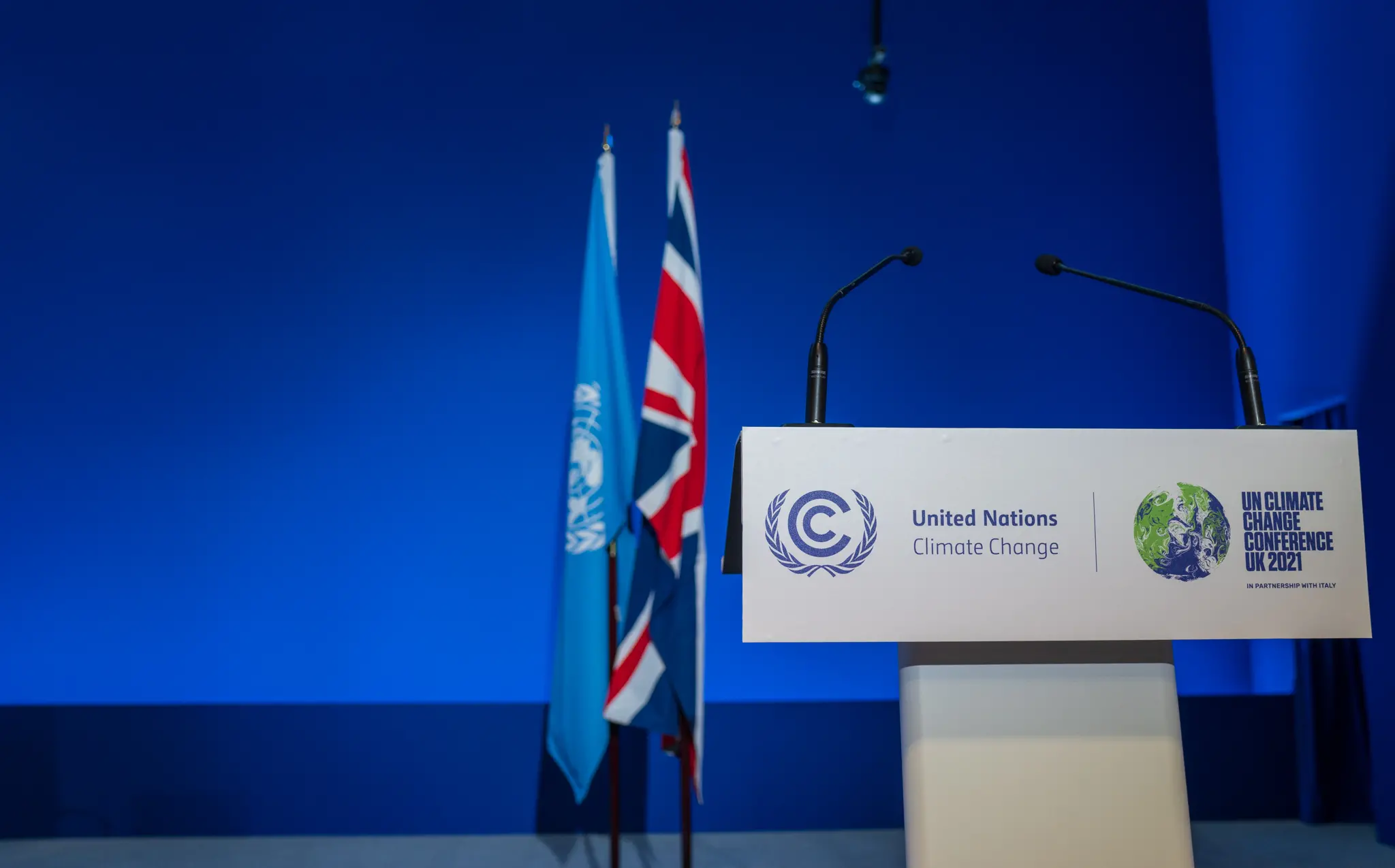 The main podium with flags of the United Nations and the United Kingdom in the background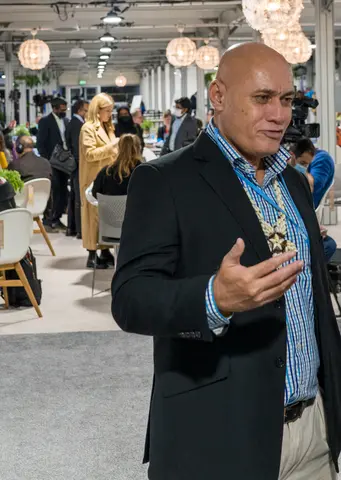 Tuvalu's delegate expressing his concern with the direction of the negotiations during an interview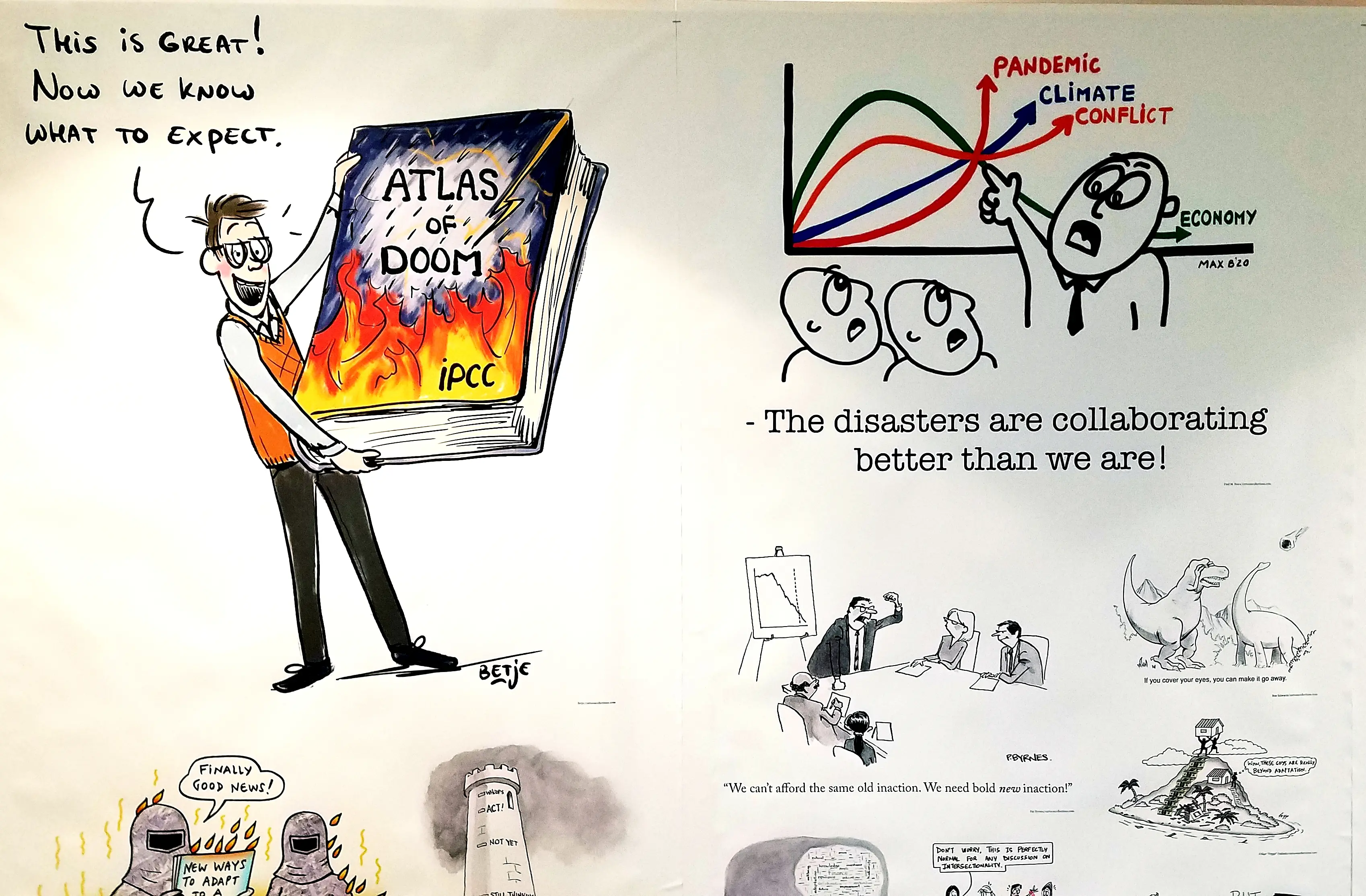 An amalgamation of relevant political cartoons—one of perhaps hundreds of pieces at the Scottish Event Center imploring immediate action by delegates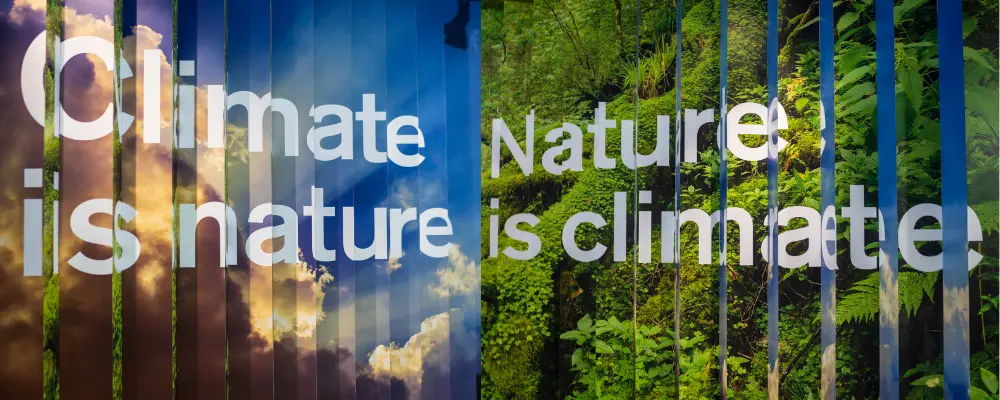 An art piece states alternatively that "climate is nature" and "nature is climate," drawing attention to the need to incorporate nature-based solutions.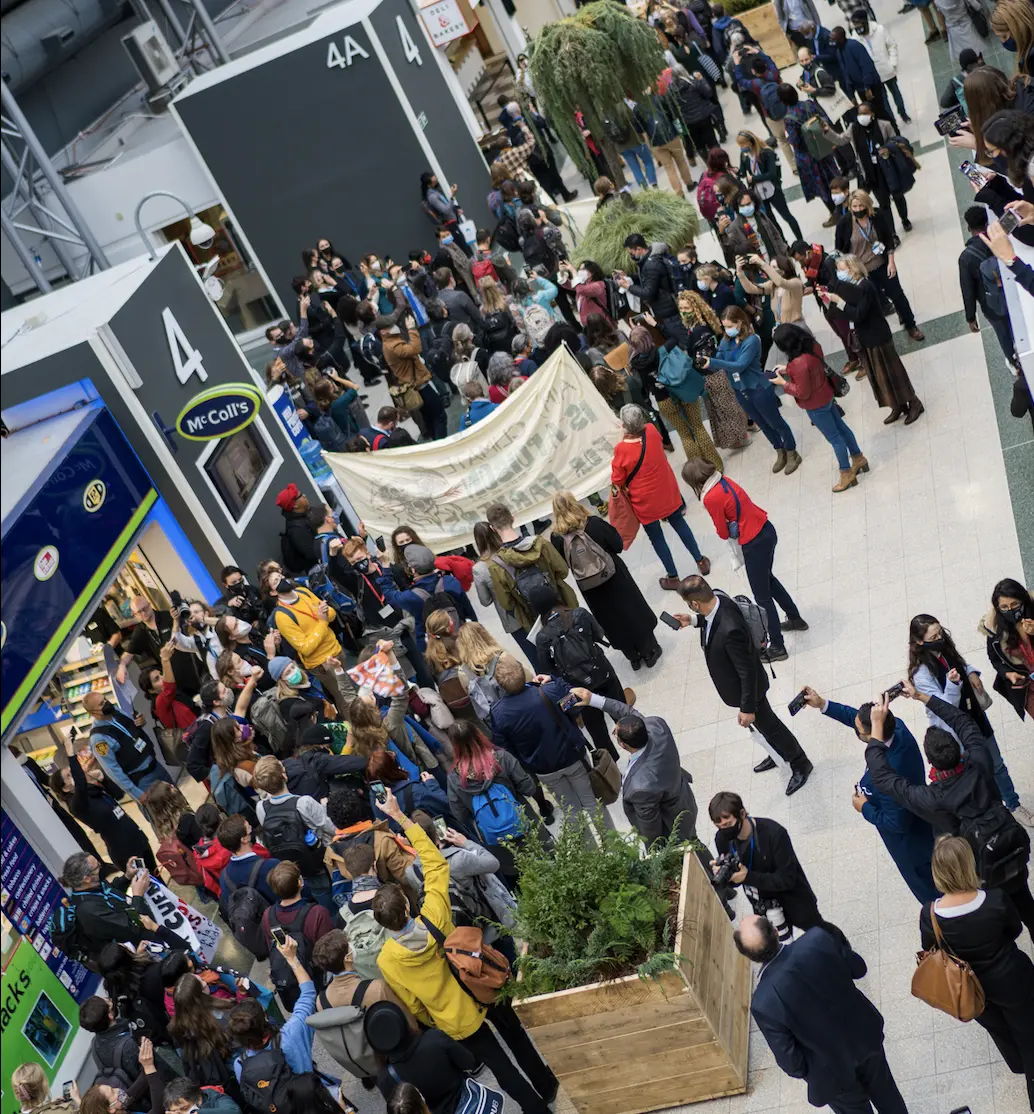 Protesters march through the halls of the Scottish Event Center following the People's Plenary on November 12, 2021.
RELATED ISSUES