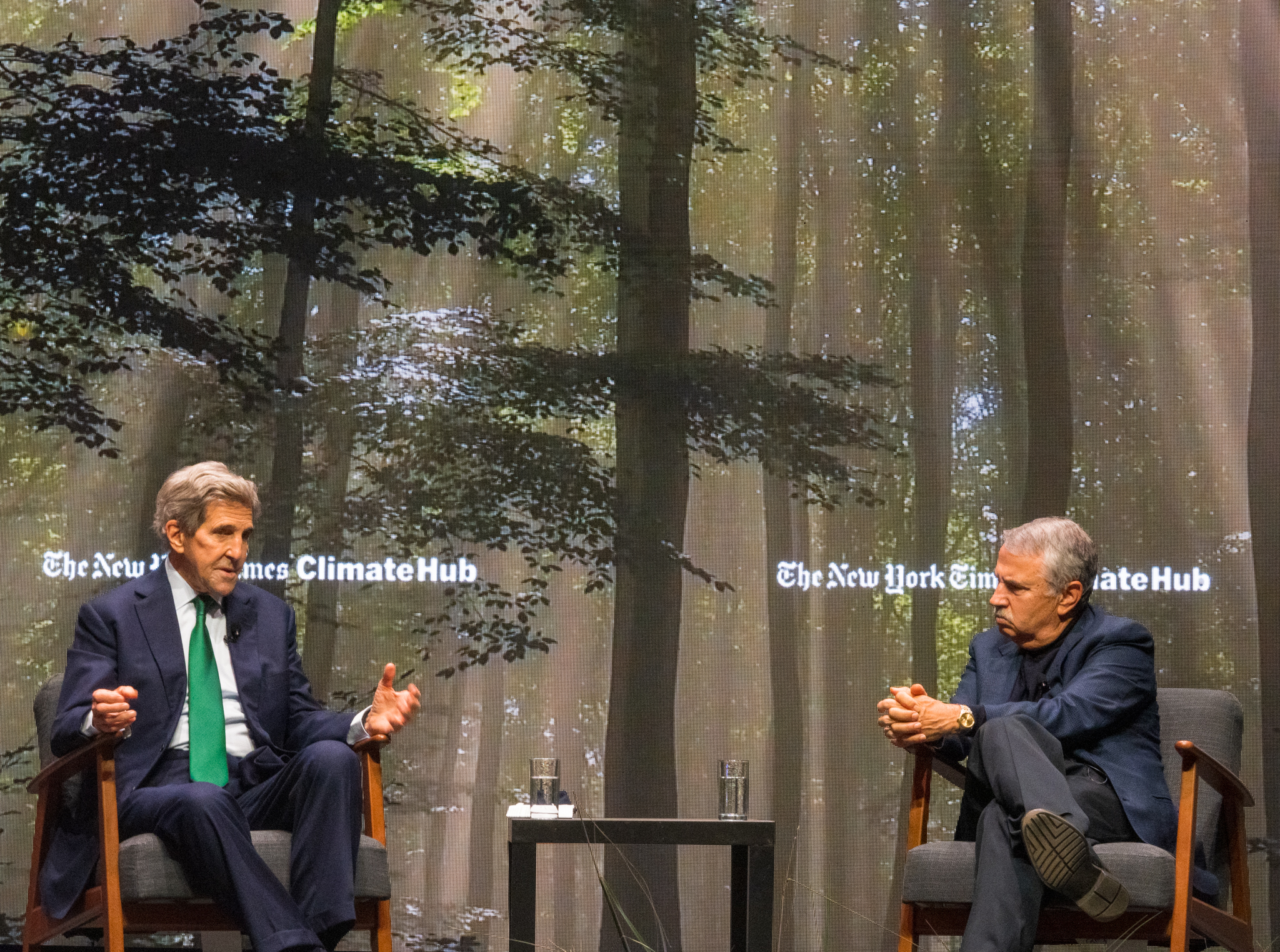 John Kerry, United States Special Presidential Envoy for Climate, arrived fresh from the nearby COP26 negotiations with representatives of Russia and China to the New York Times Climate Hub in Glasgow Scotland on Friday, November 5, for an interview with Thomas Friedman. Kerry's interview was immediately preceded by a corporate video by pharmaceutical company Bayer, setting the tone for the discussion, which continually returned to the crucial role of industry in remaking the energy economy.
Kerry, sporting a green tie, primarily brought a message of hope even amid danger and uncertainty. He is feeling the best energy at this COP as compared to past iterations, and he should know as he has been to nearly every single COP since Kyoto. Kerry noted a clear progression since Copenhagen. Paris "made up for the failure of Copenhagen" by spurring companies to jump on board and in solidifying 1.5-degrees of warming as a goal. Clear goals have also been established over time as compared to Rio and Kyoto.
Since Paris, 75 percent of new energy in the United States was renewable, even under Trump. Governors and mayors took up the reigns of this transformation after Trump attempted to pull out of the Paris Accord.
After years of obfuscation and denial by many powerful private and public actors—a similar backlash to real and severe issues identified in the past, such as the ecological effects of pesticides brought to public consciousness by Rachel Carson and the dangers of smoking and tobacco—Kerry sees tremendous progress occurring as the business sector moves quickly towards addressing climate.
Kerry named a few examples to support his optimism: the recent pledge of $4.6 trillion by some of America's largest banks; the power of new satellites to track methane emissions allowing company supply chains to be assessed in their entirety; a new level of corporate accountability made possible by these satellites and concrete financial pledges; the USDA's agricultural innovation initiative for climate; Bill Gates's pursuit of fourth generation nuclear power; promising solutions to the long-identified base load issue of renewable energy such as power transfer between grids and innovative new batteries like molten salt; and finally the potentials of quantum computing and artificial intelligence.
Though Kerry is hopeful, he acknowledges that we still have a long way to go, and success is far from certain. He noted that "there may be one country, but I doubt there is, that is sustainable." The most pressing question is of time and scale: "We will get there; the only question is if we will get there in time." "We have to speed up" in order to achieve "the greatest transformation in our economy since the industrial revolution." Legislation is so far insufficient for this transformation. What we need is a redirection of the industrial economy on par with that of World War II and a concentrated research program akin to the Manhattan Project, particularly considering the need to assist developing countries.
RELATED ISSUES