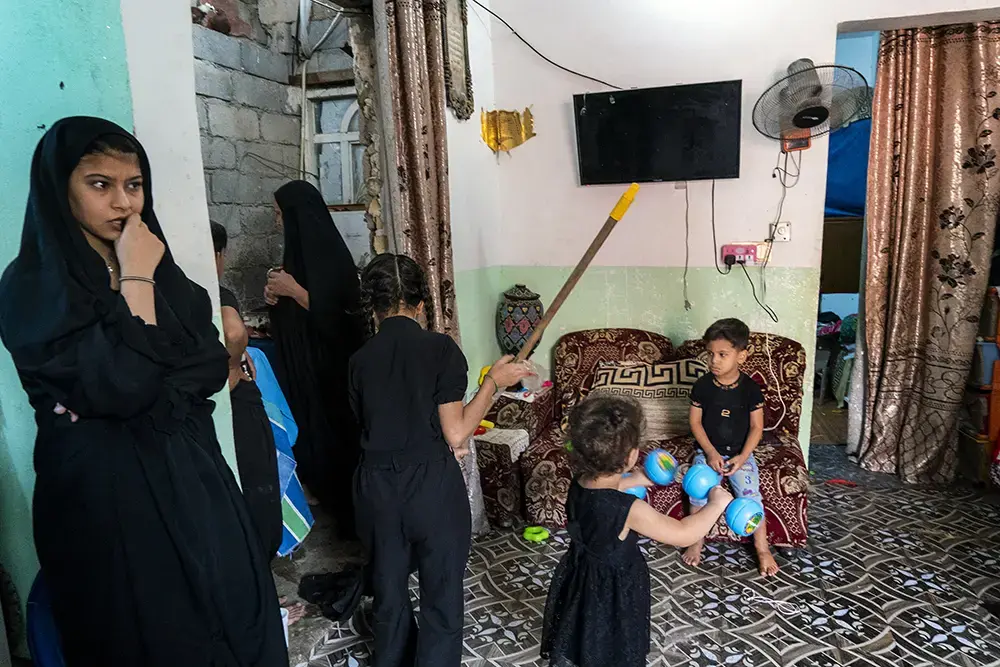 In Iraq, where drought and desertification has cost the country 39% of its agricultural output, once proudly independent farmers are being forced to abandon ancestral farms to find menial work in cities.
Listen to this story here.
---
"It was a beautiful life, like heaven. We owned the land and it was a very rich land. We took care of our families and were very rich. I was like a king. Anything I wanted, anything we needed, it was there at my fingertips," sighed Ali Sahib Hussein (42), speaking of the life his family lived for generations farming their ancestral land in Al Abassiyah, near the banks of the Euphrates in Iraq's Al Diwanyah governorate. 
​But that was before the temperatures soared and the rainfall all but ceased; before water scarcity became so acute that snakes invaded homes in their own desperate search for water; before Iraq's rivers fell to unprecedented levels, lakes dried up, crops shrivelled and the land turned to desert, forcing legions of farmers to abandon beloved farms to seek new livings in the cities.
​Climate change is not only changing lives, it is precipitating a dramatic upheaval in work. Nowhere is this more evident than in Iraq, where drought and desertification has already cost the country 39% of its agricultural output.
---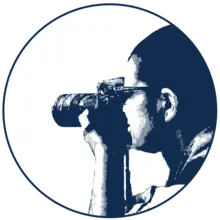 As a nonprofit journalism organization, we depend on your support to fund more than 170 reporting projects every year on critical global and local issues. Donate any amount today to become a Pulitzer Center Champion and receive exclusive benefits!
---
And nowhere is the impact felt more keenly than amongst the one-time proudly independent farmers, who in a literal quest for survival, find themselves forced to abandon farms which have been in their families for generations to find work in cities. But in the cities, they struggle, finding work in menial jobs and accommodation in illegal housing.
Blamed for escalating crime and undermining stability, the environmental migrants are, according to Adam Hamid Nassar, Najaf's Manager of the Environment, forming an underclass. ​
​It is a huge rupture, an incalculable loss of income, culture and morale for which they are ill-equipped – but one that will only increasingly come to define a climate-changed workforce, not just in Iraq but globally.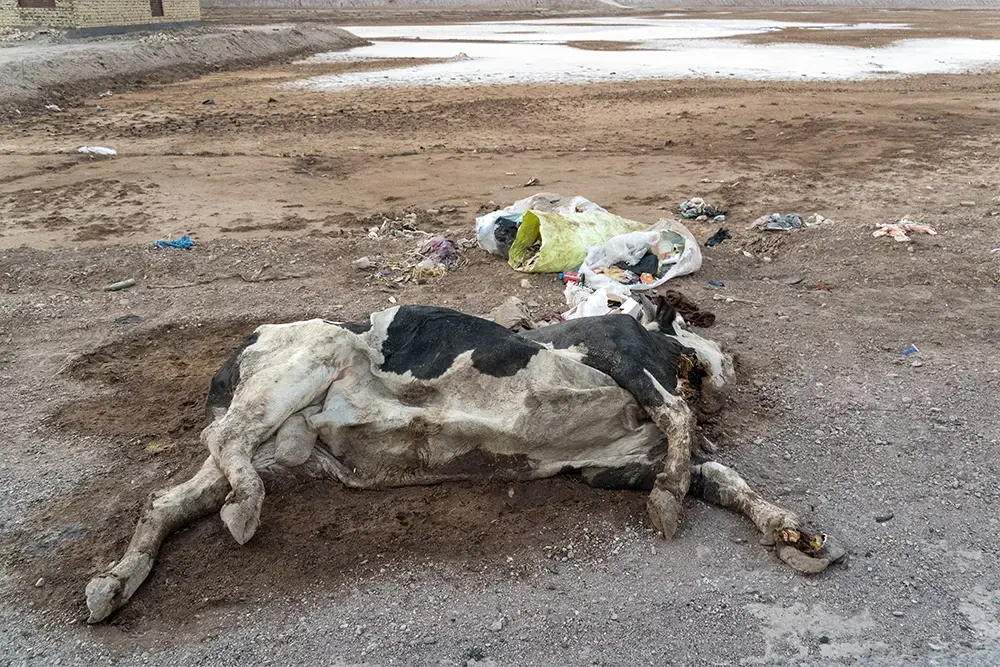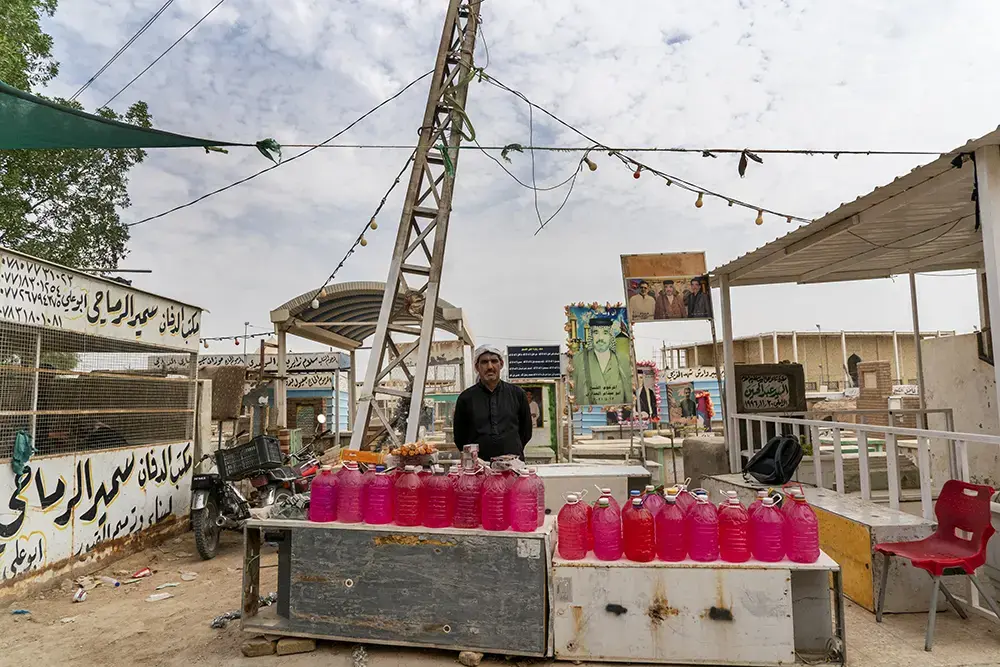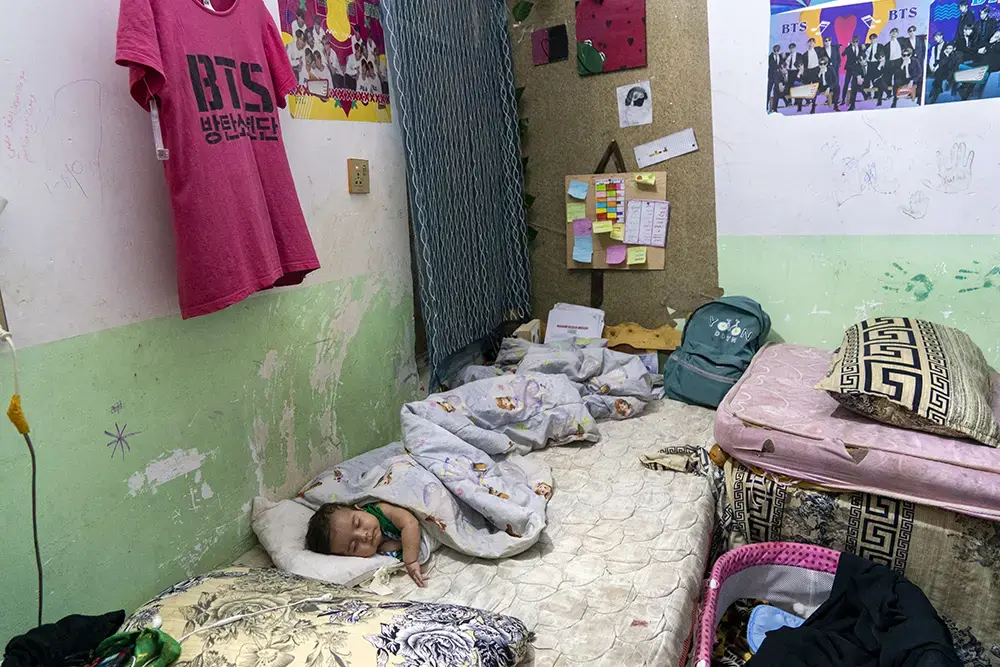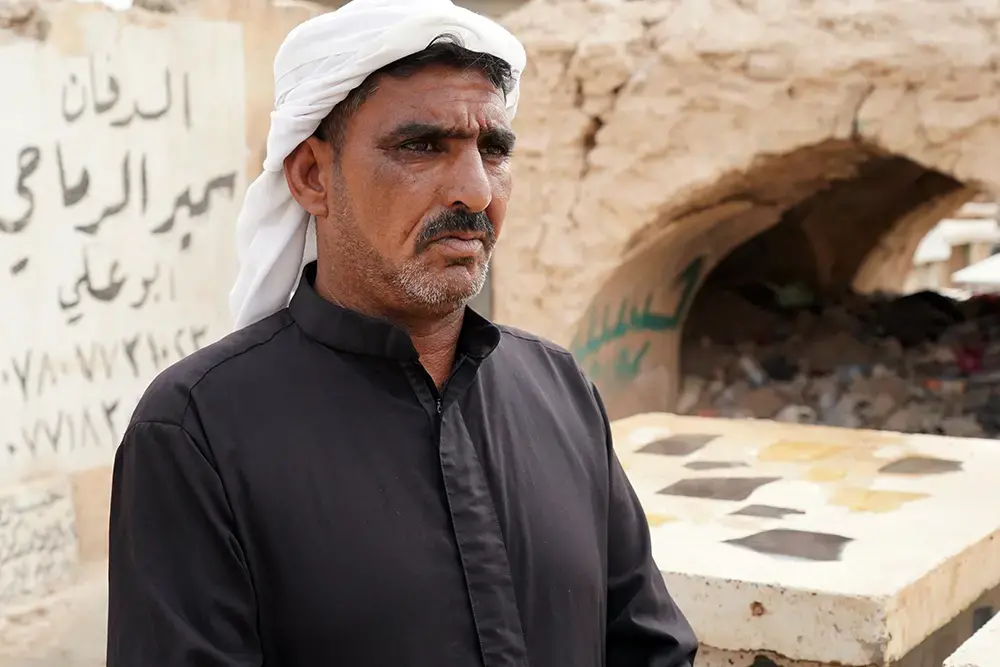 "Before I was on the green land – my land, my trees. Now, as you can see, I am only among the dead," says Ali Sahib Hussein (42).
A life-long farmer from a family of farmers, Ali Sahib Hussein now sells holy water and incense in the world's biggest cemetery – the Wadi-al-Salaam Cemetery in Najaf. Life has been reduced to a hand-to-mouth existence. Where the farm had provided for all the family's needs – fish, meat, vegetables all there for the taking – while generating an additional revenue of 3-million dinars ($2,000) per season, he now earns a meagre 10,000 dinars ($6,50) a day. 
"Sometimes," he says, "Sometimes nothing at all."
Traumatic rupture
It is not enough for the family to survive on. To make ends meet, they live a precarious existence an hour's bus ride away in Al Kiffel. Like many migrants to the cities, the family of six live crammed into two rooms in an illegal house, called a hawaseen. 
​It is not just on the economic level that farmers and their families experience the traumatic rupture of having to leave their land. 
"I have started here from zero," Ali says sadly. "I have lost my place in the world. It is very difficult as I was a king before. If I wanted anything, I had it there, at my fingertips. Here I have to ask for everything. 
"I feel like I am lost now. I feel like I am a stranger. My whole family – father, grandfather – all farmed that land. It is so difficult to be the one to lose the land. My dream when my sons were born was to stay in the land. If it was my own choice, I'd like my boys to still be there."
Water stressed
Iraq is one of the world's most water-stressed countries, ranked fifth in vulnerability to water and food availability and extreme temperatures in the UN Environment Programme's 2019 Global Environmental Outlook report.
Temperatures have risen 1.7℃ since 1960, according to Berkeley Earth. Extreme heat events are happening more frequently: Stretches of days when temperatures rise above 50℃ are now common. It is only expected to get worse.
The World Bank estimates temperatures will rise 2℃ by 2050, and average annual rainfall will decrease by further 9%.
Iraqi President Barham Salih, in an op-ed in the FT in October 2021, noted that desertification was already affecting 39% of Iraq and "increased salinisation threatens agriculture on 54% of our land". 
​More and more farmers are finding themselves forced to abandon their land and stream into cities. The number of climate displaced migrants across the country is rising fast.
In March 2022, the International Organization for Migration reported that 3,358 families (20,148 individuals) were climate- and water-displaced in a survey that covered only 10 of Iraq's 19 governorates. But, by June 2022, the number had already grown to 5,767 families — 34,602 individuals – a 72% increase. 
'Our land started to die'
"It was hard moving to the city," Sajad Abu Karar (50) explains sadly. "But we had to do it as our land started to die." Now, Mr Karar minds a tiny patch of earth in the middle of Basra's Al Ashar roundabout.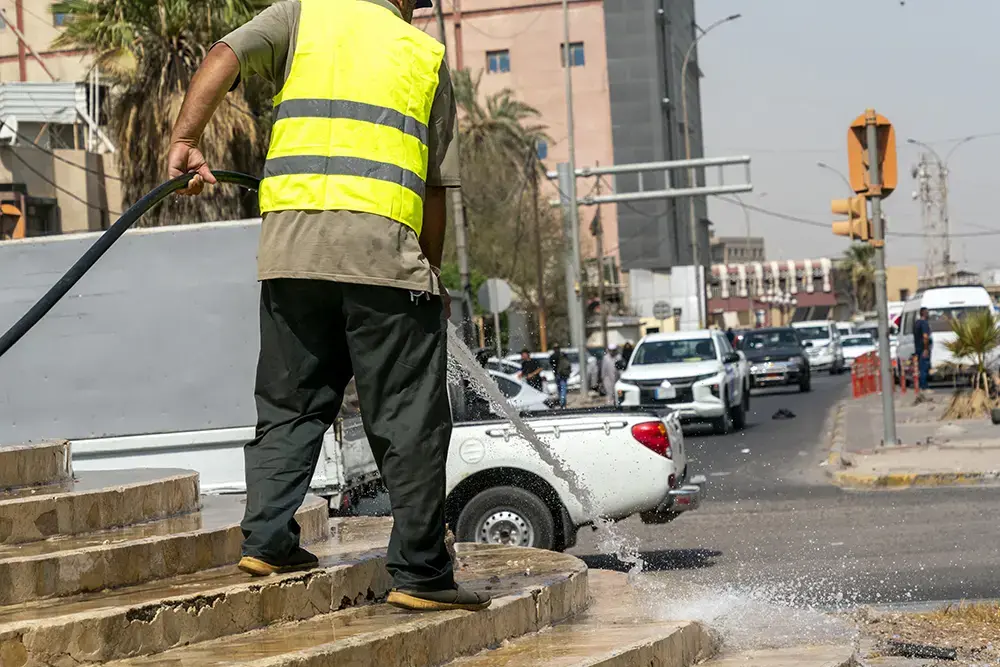 The move has upended the family and plunged it into poverty. Instead of living well on farm yields of $5,000, the family of six struggles to survive on the meagre salary of $200 a month that Mr Karar earns now as an employee of Basra's local government. He also works a second job, looking after the theatre run by the Arts Society in exchange for the free rooms the family lives in.
​It is a far cry from life before. Born into a wealthy and important farming family in El Gatre, Siba, on the same farm as worked by his father, grandfather and great grandfather before him and his own sons after him, it never even crossed his mind he'd ever have to leave.
​But now, ripped from a close-knit community into the anonymity of the city, reduced in social stature to invisibility and impoverishment, the transition has left a gaping wound.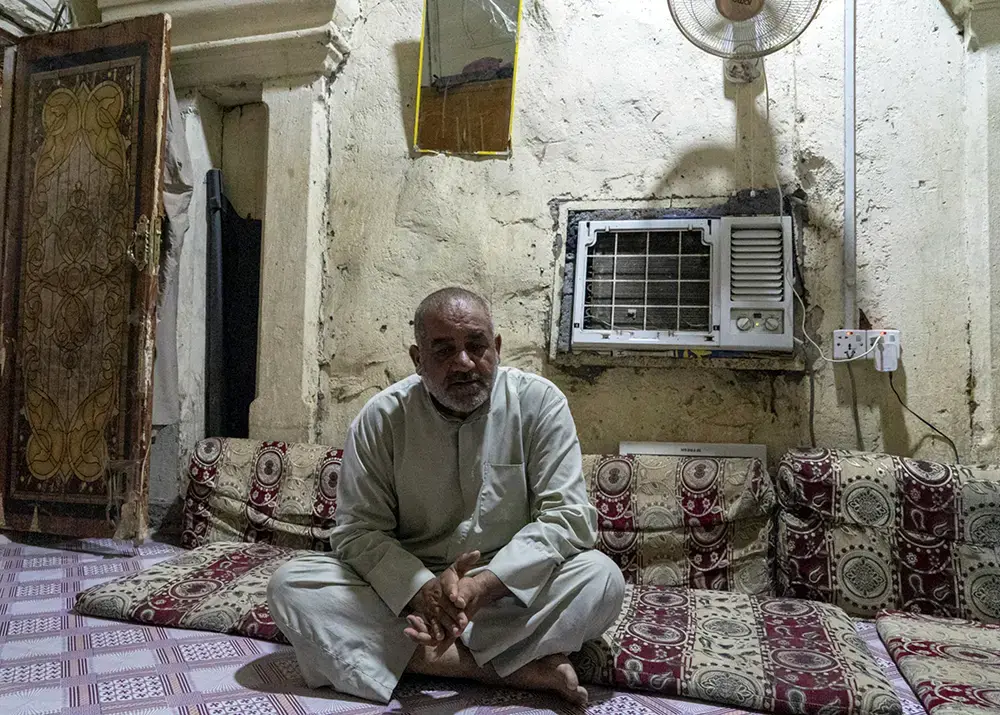 ​"It is difficult to become an employee after being my own boss. Even I have childhood friends who, when they see me working like this, they say, 'What are you doing? Why are you working like this?' They feel sorry for me. It really hurts," Mr Karar says. 
He pauses, eyes downcast, rubbing his hands as he sits on the low cushion on his living room floor against a roughly finished wall. 
"It makes me feel disappointed to be planting a tiny city plot of land. I once had a big farm to plant," he continues. "What do I do? I can't go back to my land as there is nothing there. And I can't stay in this life, but I need to as I can't do without the salary. It makes me so sad."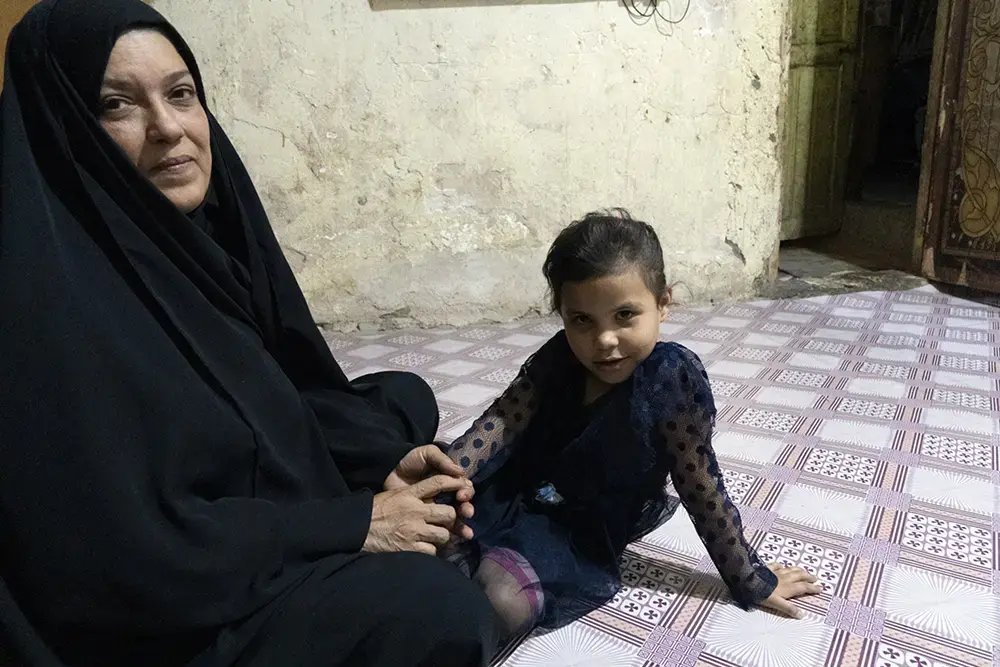 "In the village, women are so important," she explains. "But here, we are not important at all. All I do here is look after the grandchildren. I don't leave the house. No one comes to visit us. We have no one to visit. It is so lonely.
"Even the accent here is different for us. We speak with a different accent – the same language but a different accent – and if you make small mistakes, they don't accept it.
​"It is very difficult on relationships, on the family. A lot of stress and sadness."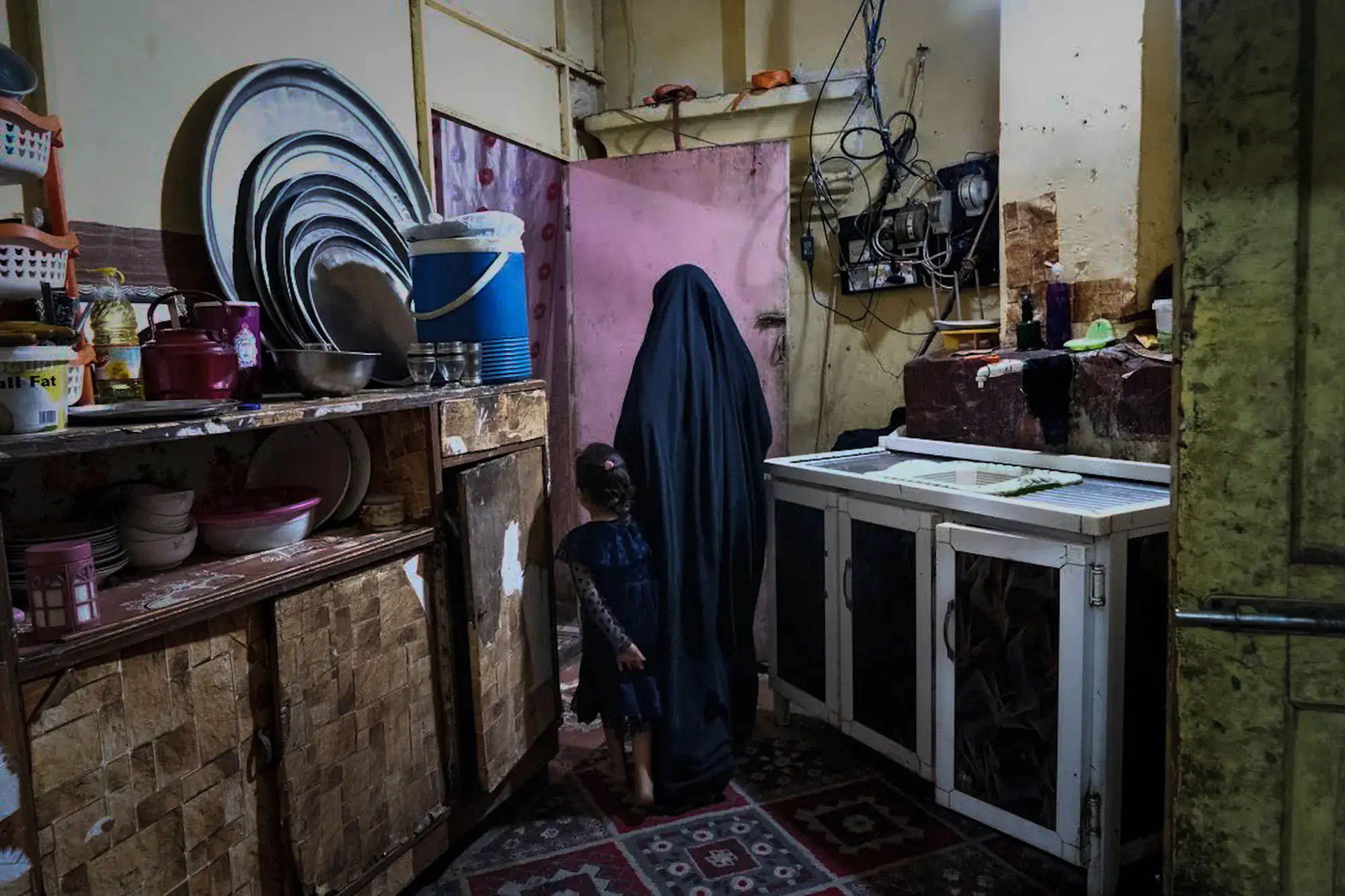 ​Sajad watches as Nowali and her four-year-old granddaughter Zahara, gripping her hand, leave the room. He sighs.
"I miss more, more than just my land. I miss my life, my history, my everything. I look at a picture and it makes me so sad. I miss my land, I miss when it was green. I miss my vegetables, my fruit. It makes me so sad. I hope one day the water will return and I will be able to go back. I dream about those days.
"If the climate would be better, maybe it could rain. We are just waiting."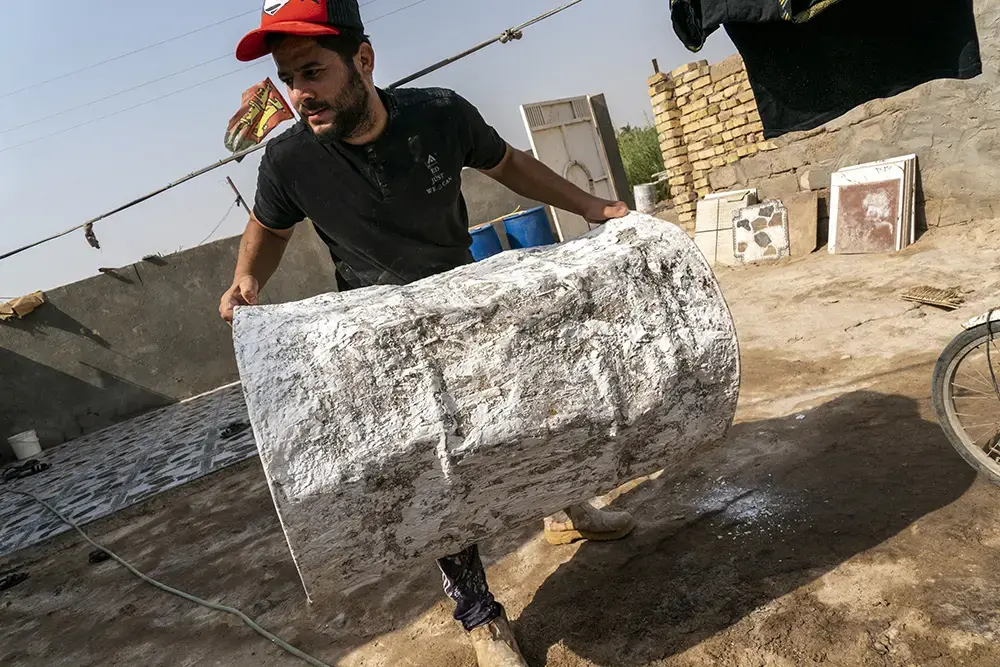 This morning, 25-year-old Ahmed Satar Jabar is lucky – he has a few hours' work, hauling construction materials for a neighbour.
Ahmed moved to the outskirts of Al Musharah with his family when the water dried up on their farm in Iraq's Al Hawizeh Marshes, forcing them to find an alternative livelihood.
"There is no water. How can we live without water?" he shrugs as he walks with his father, Satar (52), and a neighbour to the hawaseen, where the family now lives. Bone-dry earth crunches underfoot. 
But finding work has been nigh on impossible. "No one wants to employ us," Ahmed explains. "Not even the government will employ us. They bring in other workers from elsewhere. Of course, that makes me angry."
Ahmed, like his 27-year-old brother, Hamid, relies on whatever day jobs in construction he can pick up. It is a hand-to-mouth existence. When he finds work, he earns 10,000 dinars ($7) for the day, but he can't always find work.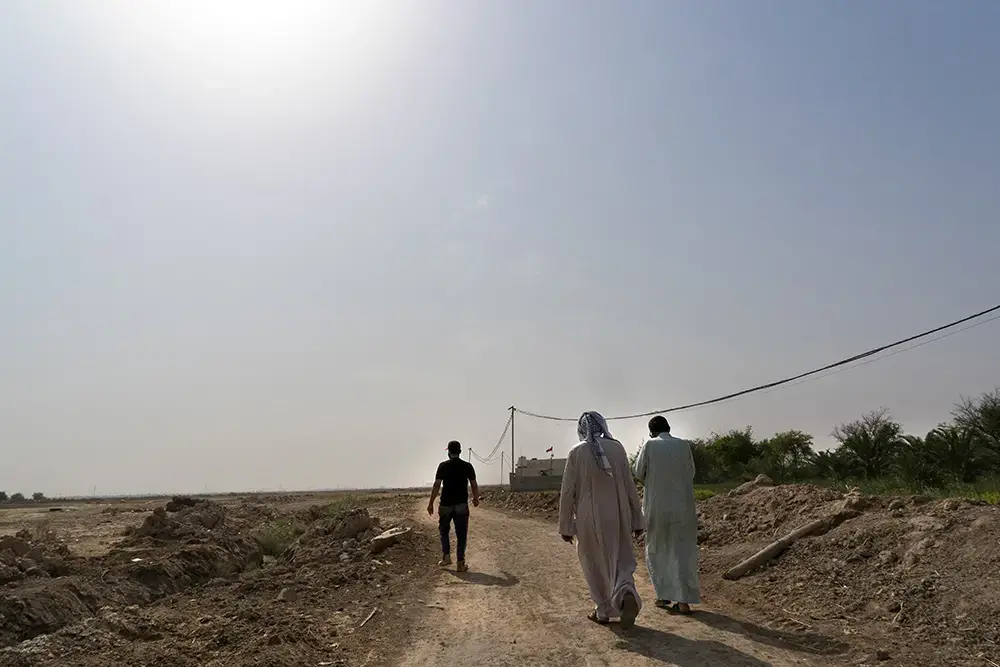 "Some days I can't even find work so I just have to sit in the house and wait for work. But if I don't earn, I don't eat."
It is a complete turnaround from their lives in the marshes. Back then, people would come to their house in the marshes and offer them jobs.
"When life was good in the marshes, people would come to us at our home in the marshes and want to employ us. We just laughed and smiled at them. 'What do we need these jobs for,' we said. 'We are happy on our land, we have everything.'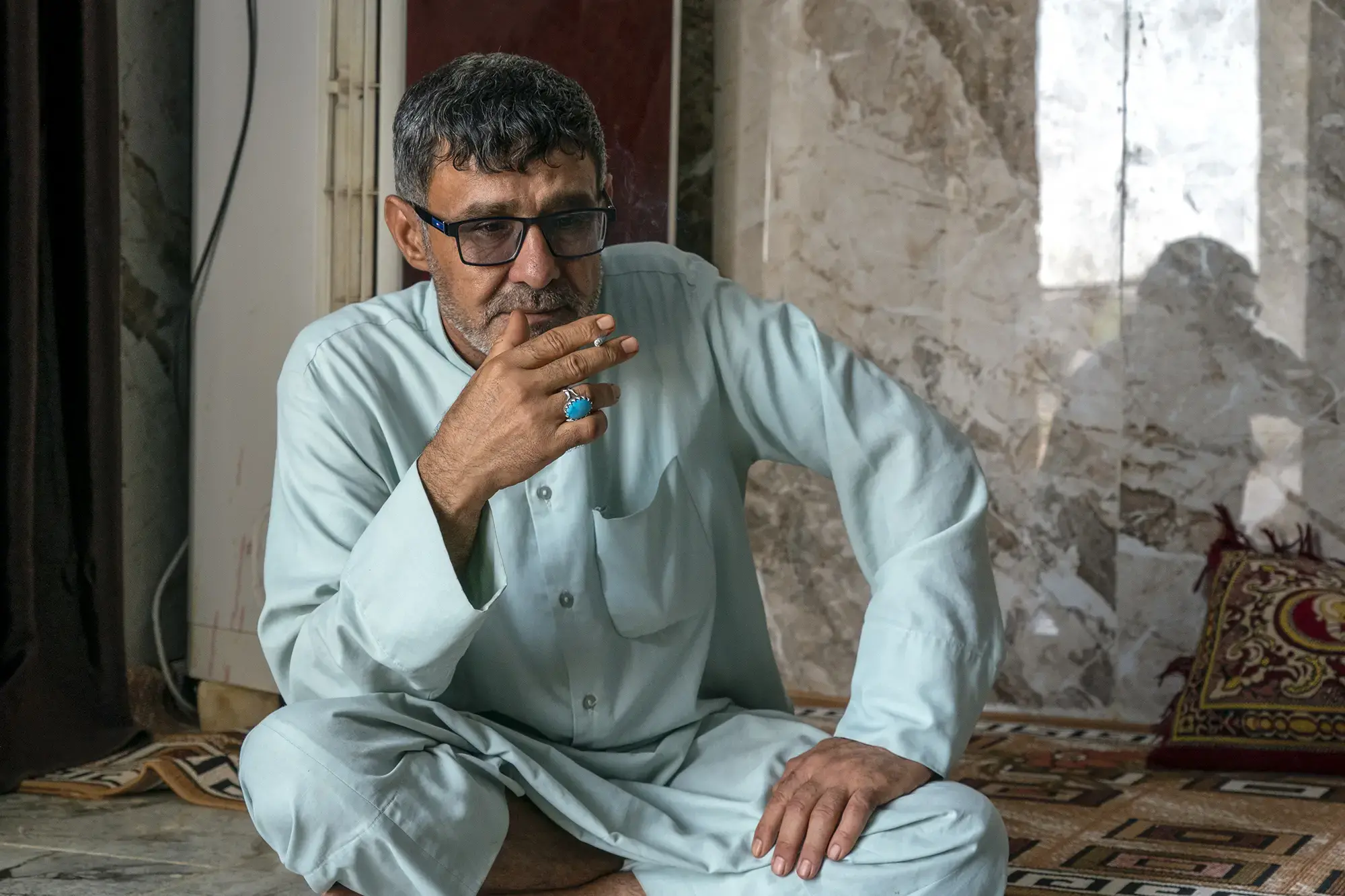 "We didn't think the situation would ever be like this. We didn't think we would ever need their jobs," Ahmed said. "If they came to us now, we would definitely accept the jobs." 
His father, Satar, has been sitting quietly as we speak. He has been ill since leaving the farm. 
"The marshes are like heaven. Of course it was like heaven. We felt like kings. If we needed anything we just got it," he says, drawing heavily on his cigarette. 
"Some people are very depressed moving to the city. When we were in the marsh, life was so easy. But coming to the city, it was a shock. It was so hard, there is no work, no food. I can understand how some people would want to kill themselves."
"We are like slaves here," Hamid interjects angrily. "We have nothing here. We sit in our house waiting for work. The spirit has gone almost to zero here. It is like coming from heaven to hell."
Oil rich, job poor
As agriculture fails, forcing migration to cities, unemployment, poverty, insecurity and tension grows.
The climate-displaced do not arrive into a thriving economy and labour market. Far from it. Despite Iraq having the world's fourth-largest reserves of oil, the World Bank reported that 22.5% of its population of 40 million were living on less than $1.90/day in 2014.
Competition for jobs is fierce: Unemployment hovers at 16.5% in the general population, rising to an eye-watering 35.8% for youth.
In an economy with a bloated public sector providing 39% of jobs and an undersized private sector, those with informal jobs represent 66.6% of total employment in the country.
Farmers arrive disadvantaged in the employment market: They are less likely to have any educational qualifications – and they arrive in towns without the networks and contacts so important in Iraq to secure work. 
​Under such conditions, the illicit economy and insecurity is flourishing. 
"Farmers have to leave their land because the water has decreased and there is just not enough water for their buffaloes and their farms. They have no choice but to move to the city," explains Rafik Al Salihi, MP for Basra, speaking on the telephone as he runs between meetings.
"This increases insecurity and crime. They are looking for work and they don't find it so they go to illegal work selling drugs and other illegal activities."​
'No choice'
Sheik Muhammed (59) and Sheik Mizhar (49) were not content to eke out a hand-to-mouth existence when their large farm in Maysan failed, taking their comfortable lifestyle and standard of living with it and forcing them to move to the city. 
"We moved here with absolutely nothing. We had no land, nothing. We had no choice but to build illegal houses. And we couldn't find work," Sheik Muhammed explains.
"We have many boys, but even the oil companies wouldn't give us jobs. Where should I go? What should I do? My wife keeps asking for food. What should I do ? I have 10 children."
They turned to the only option left available to them. "We had no choice but to do illegal work. We didn't want to – we had no choice."
Sheik Muhammed's thick moustache droops walrus-like over his mouth. He draws on his cigarette. Leaning forward, he confides: "A lot of families have been forced to take the same route because they had no work — almost 70 houses in our neighbourhood. We keep moving from land to land so the police don't catch us. It is a difficult life."
It is a complete disintegration of their values.
"We never imagined we would be in this work," explains Sheik Muhammed. "We always thought of illegal activities as absolutely forbidden. We wouldn't allow it at all, but now the situation is different. If we didn't do this, our young men would just sit in the house during the whole day. They needed work."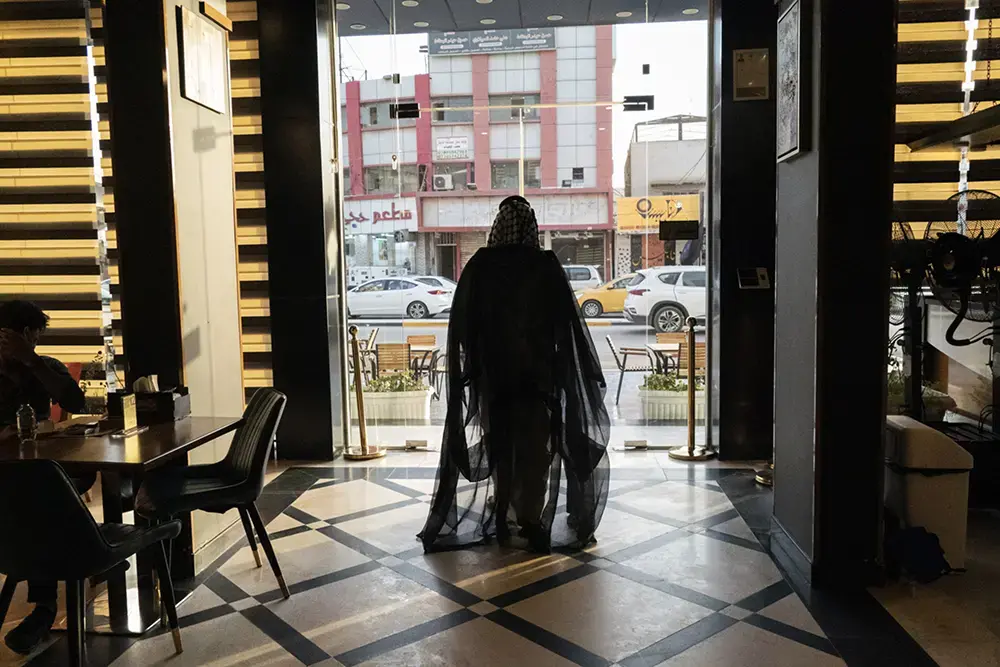 Work as act of desperation and rebellion
Others have found themselves forced to break cultural norms in other ways.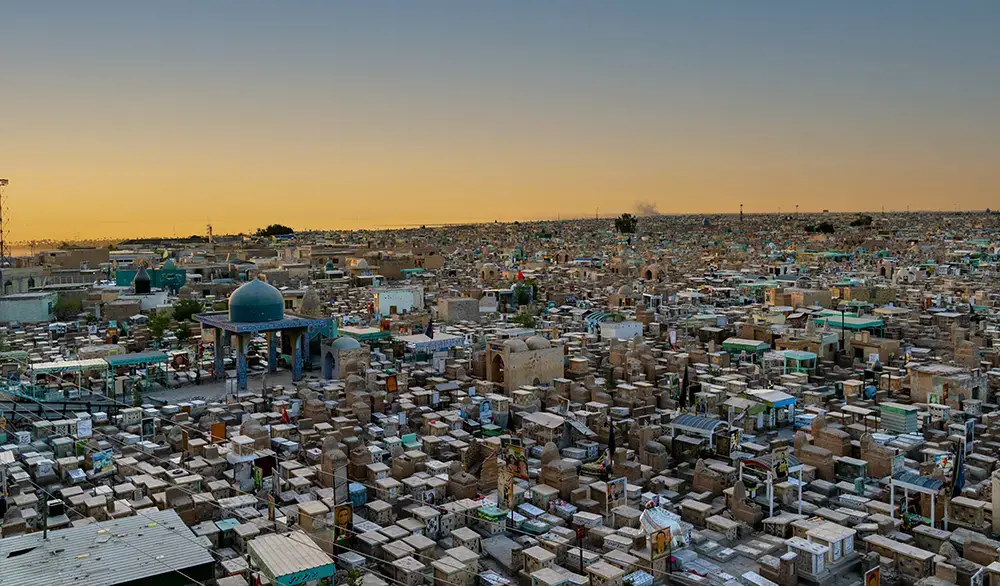 Dusk is falling in Najaf's Wadi Al Salaam cemetery. Samira Salman (50) and Hekamay Cadum, in her 70s, are packing up for the day. The women sell holy water and incense at their stall, one of the many lining the road across from the cemetery's tombs.
The women are from Diwaniyah and came here when the water dried up on their farms. They work a long day, setting out from their hawaseen outside town at 4am for the hour's bus ride to the cemetery and packing up near 7pm. 
"Before, we had so many trees, rivers and green land," Hekamay murmurs sadly. "But now we live between the graves and the sun."
Work is an act of desperation and rebellion.
"It is taboo for women to work, but now there is no choice," Samira, a mother of seven, explains. "Our husbands don't accept us working, but we have no choice. If we just stay in the house, who is to feed us? I can't look to my family and watch them suffer and not do anything. We just sell to keep us alive – nothing else."
Najad Mahdi (45), mother of 10, also sells holy water and incense at the cemetery. Cloaked in black from head to toe, with only a tiny slit for her eyes, she works far from the hawaseen where she and her family moved after their farm dried up.
She works covered up to avoid being recognised by family members who would be humiliated and enraged if she was seen working.
"It is not my choice to be here," she explains. "I have no choice. I sell holy water just so we have food to eat." She usually earns 15,000 dinars ($10) a day. 
It is a drastic change in circumstance. 
"Before we had a lot of money, houses, money, land, animals," she says, keeping an eye out for customers in the passing stream of cars. "We would get everything from the trees and the land. Now we have to buy everything we need – even water. I am tired from all this but I have my children. I need to feed them."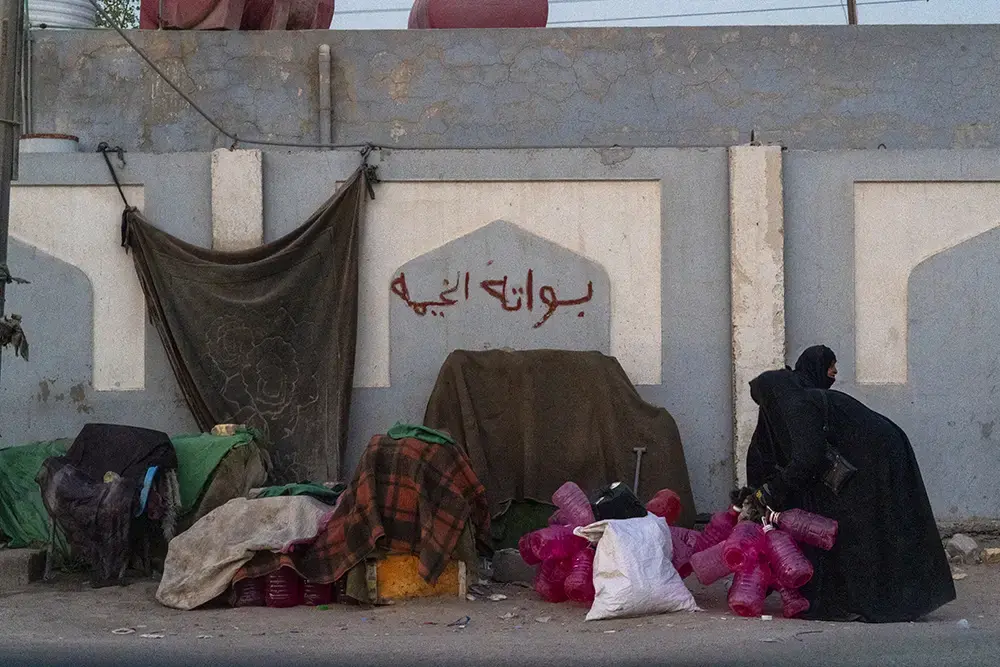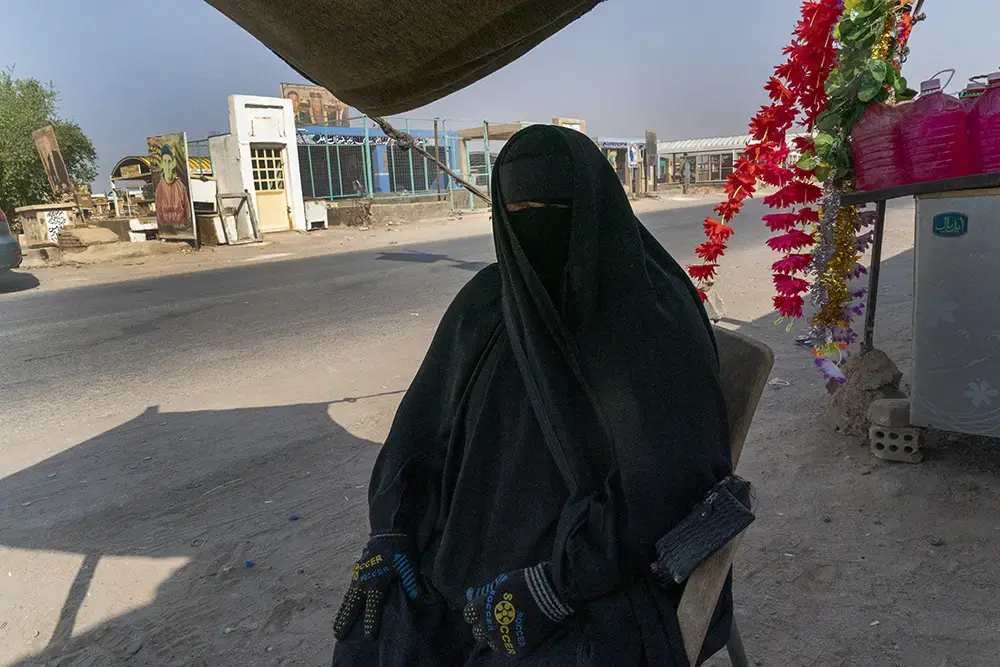 Dry earth, new horizons
Yet for some, painful circumstances and turbulent times have opened new horizons. 
Abdul Walid Abdul (50) peers out the window. Dried earth stretches out to a narrow band of bleached green on the horizon. This is not his land – the family moved here when drought desiccated their farm, destroying the rice the family for generations had specialised in farming.
They had moved here in hope of finding water and were shocked when they found that there was no water here either. However, with their farming livelihood destroyed, they stayed, renting a hawaseen on the periphery of Al Musharrah and looking for work.
Abdul had done everything possible to stay on his land. Indeed, three years ago, when the government told him he had to stop planting due to lack of water, he flatly refused.
He planted his crop anyway and was arrested by the government and fined 1-million dinars – a month of farm income.
Although he could ill-afford the fine given that drought had claimed virtually all of his farm revenue, he could not give up without a fight to the end. Farming runs through his veins as surely and as essentially as blood to his heart. 
But, finally, they had to stop. "It is impossible to farm with no rain and no water," he concedes over tea in his living room.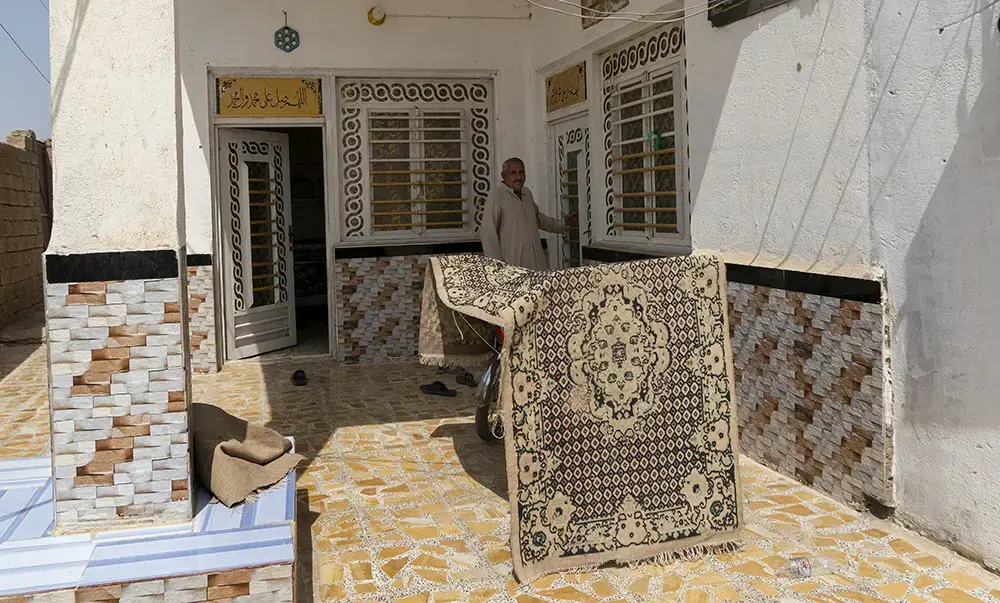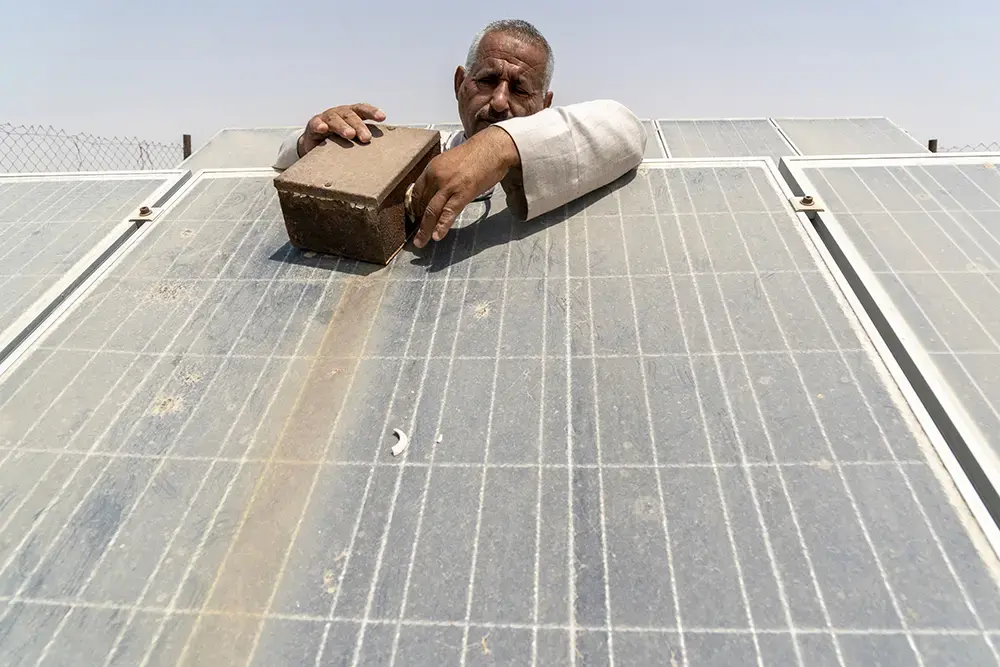 Now, Abdul works for the government looking after an electricity and water recycling project that has been abandoned. 
His income has dropped precipitously. From earning 1-million dinars a month on the farm, he now earns a mere 400,000 dinars ($300). 
It is not enough money to survive on. 
"Before, we lived from planting and we had our buffalo," Layla Jabar Hassan (45), Abdul's wife, explains as she stares at the arid fields behind her. "But now there is no farming, no planting, no water. Now, nothing, nothing, nothing. We wish we could have died before. We never realised we could be in this situation. We used to be so strong.
"We need almost $250 just to take care of our food during the month, but my husband only earns $300," she explains. "It is not enough."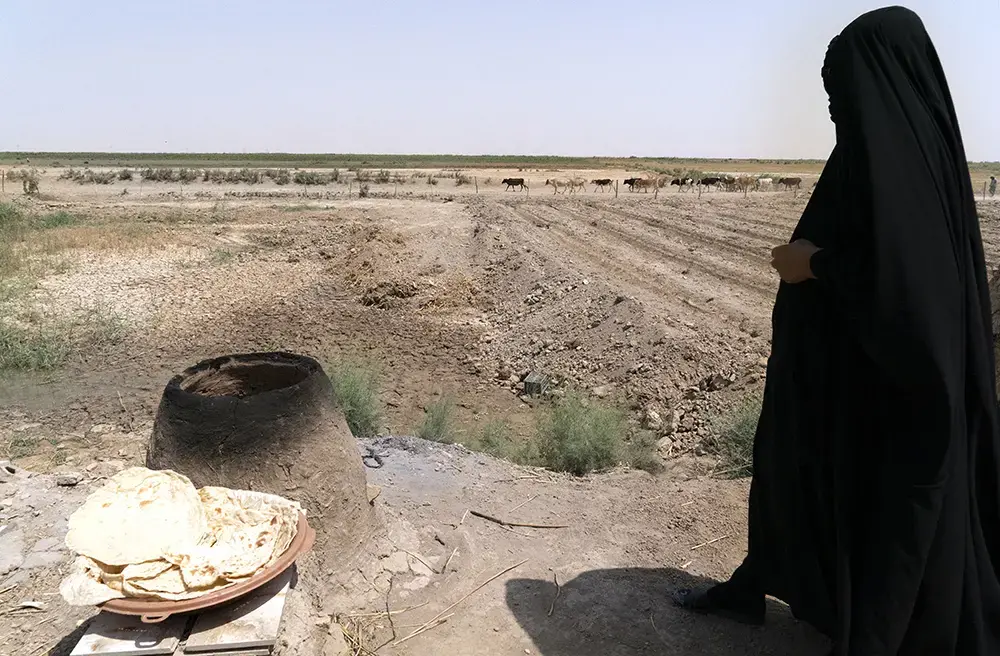 'Girls should get their own jobs'
​Something needed to be done. Layla realised there was no choice: she had to find work too or the family would starve. 
Tension roiled the household. Layla working would be breaking a strongly held and never-before-breached cultural taboo. It was a traumatic concession.
She soon found a job working at the local school as a housekeeper, cleaning and preparing the classrooms. She earns 500,000 dinars a month, which is more than her husband and it has been an unexpectedly positive experience. 
"I love my work. It is good – it gives me a purpose," she says. "The children in the school need to be taught and taken care of. Even if I feel tired, I go to work. I know I am helping the children build their future."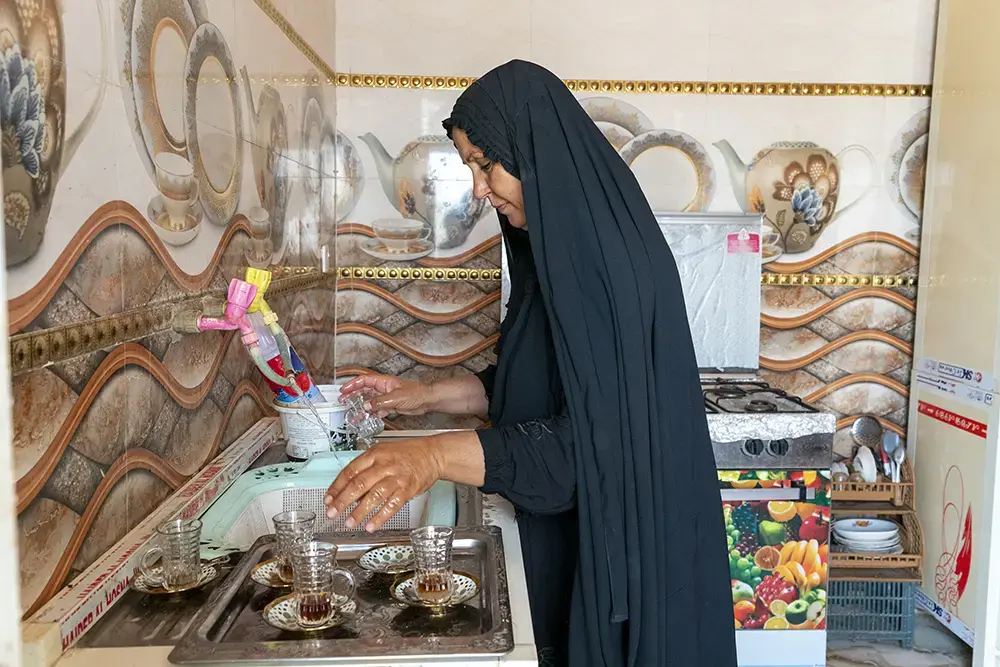 Working has buoyed her pride, given her a new sense of identity and changed her outlook.
"I now think girls should get their own jobs," Layla says, grinning broadly. "I never thought that before!"
It has also changed the couple's relationship. Once humiliated by his inability to provide for the family's needs, Abdul now looks with pride at his wife. 
"We need to work together to build this house and build our life," he says.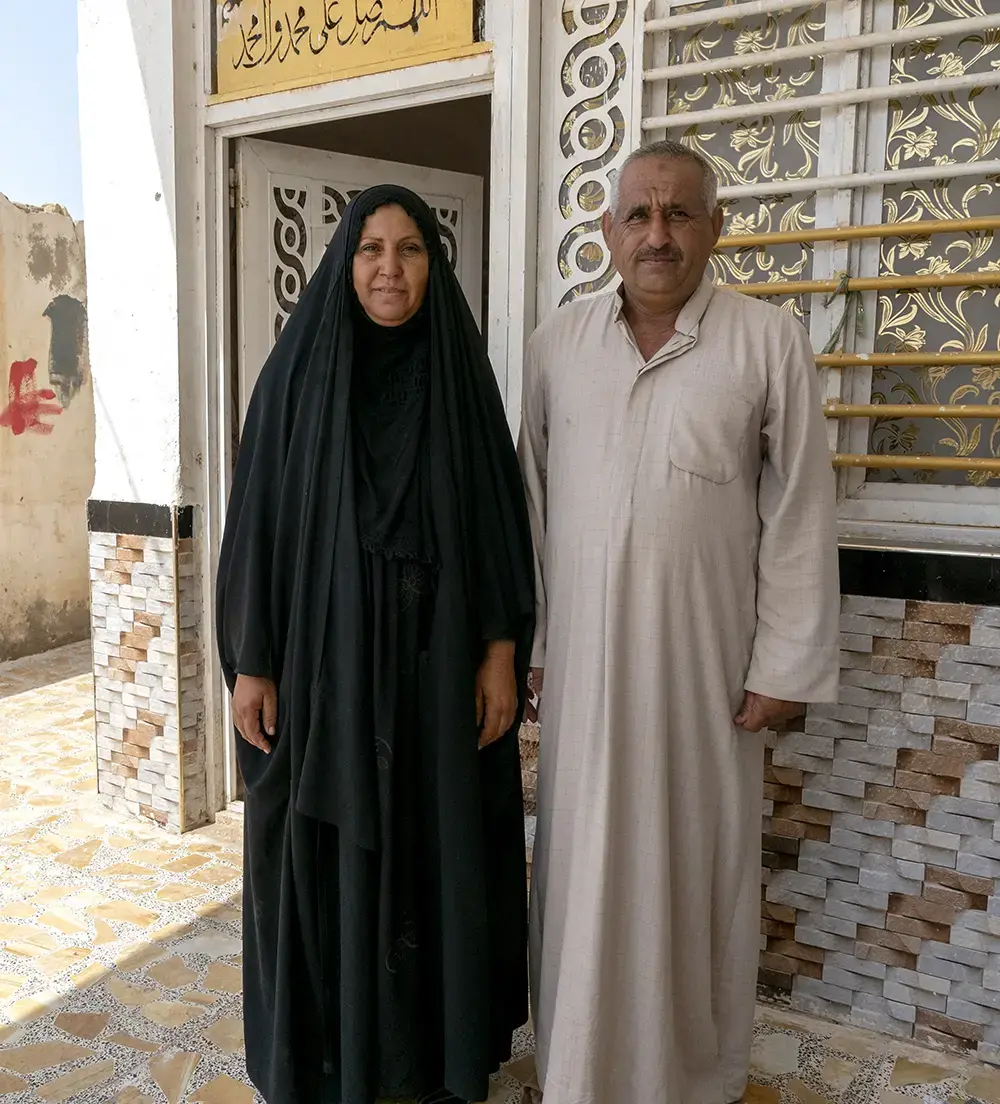 Ravaged land
Nabil Aboud abandoned his farm near Siba in 2021. He was one of the last farmers to leave the area. By the time he left, memories of bountiful times – when trees were laden with fruit, when groves of palms produced dates prized throughout the world, when buffalo, fed and watered on the bounty of the land, produced copious amounts of sweet milk – were all that were left, the land itself ravaged beyond recognition by the combined forces of climate change.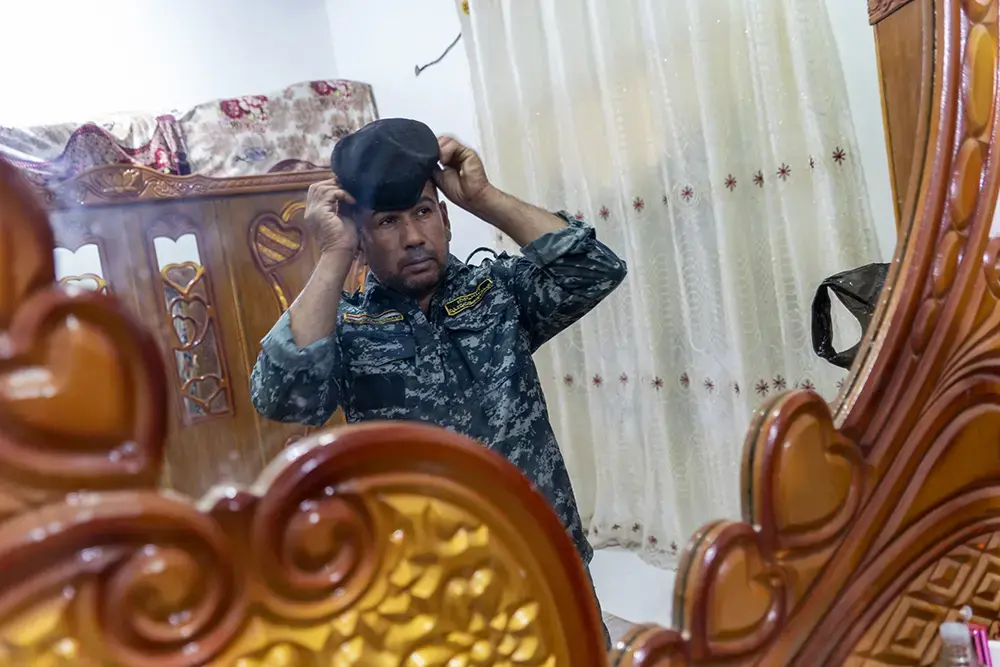 It was only when poisonous snakes, which had already claimed two local lives, invaded his house in their own desperate search for water, that he realised that staying was no longer possible. 
Nabil now works as a security guard at the South Romilly oil field, 150km from the family home he has just built on the edge of Siba town. He earns a little over 1-million dinars a month ($800). 
The salary is a quarter of what he would have earned on his farm. It is not enough to support his family of five, forcing him to take on any other work he can find on the side. 
"Climate change is absolutely making people work more – absolutely," he says. "We are in a bad situation. Any jobs going, I do."
Dreams of rain
Nevertheless, however hard he works, it is not enough.
"We used to be middle class – now we are going down and down," he murmurs, resignation in his voice.
Although Nabil dreams of a time when rains will return, the sun will be moderate and rivers will resume their generous flow, enabling him to return to his farm, he is a realist.
His children will not work the farm as generations of the family have done and as he had expected when they were born.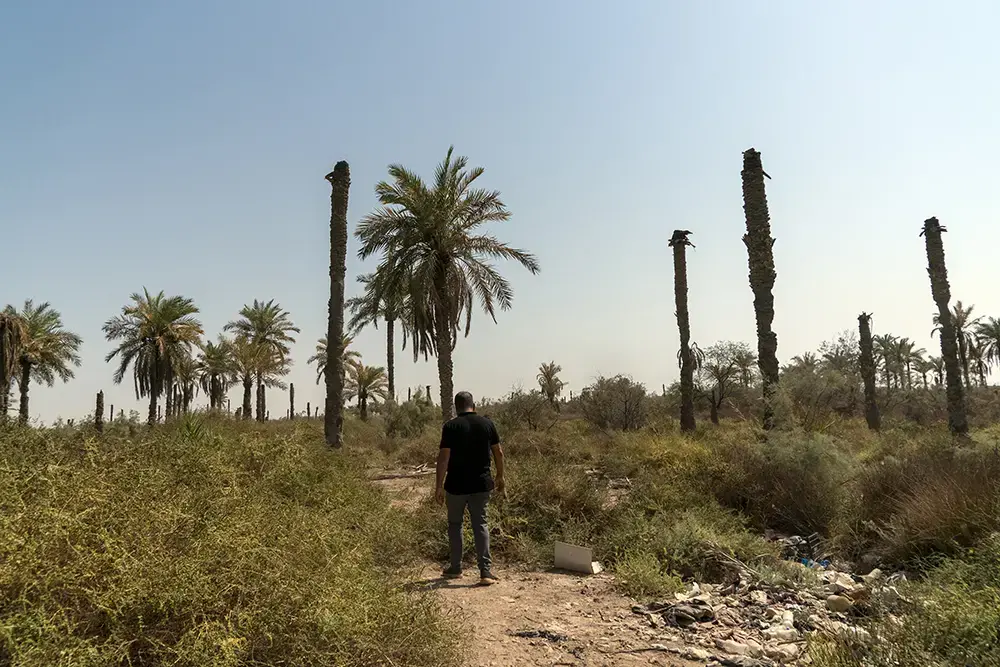 What's past is prologue, but the future is in their hands. 
"Every one of my children now needs to make his own way. They need to make their own choices. All I can give them is the opportunity to choose."
RELATED ISSUES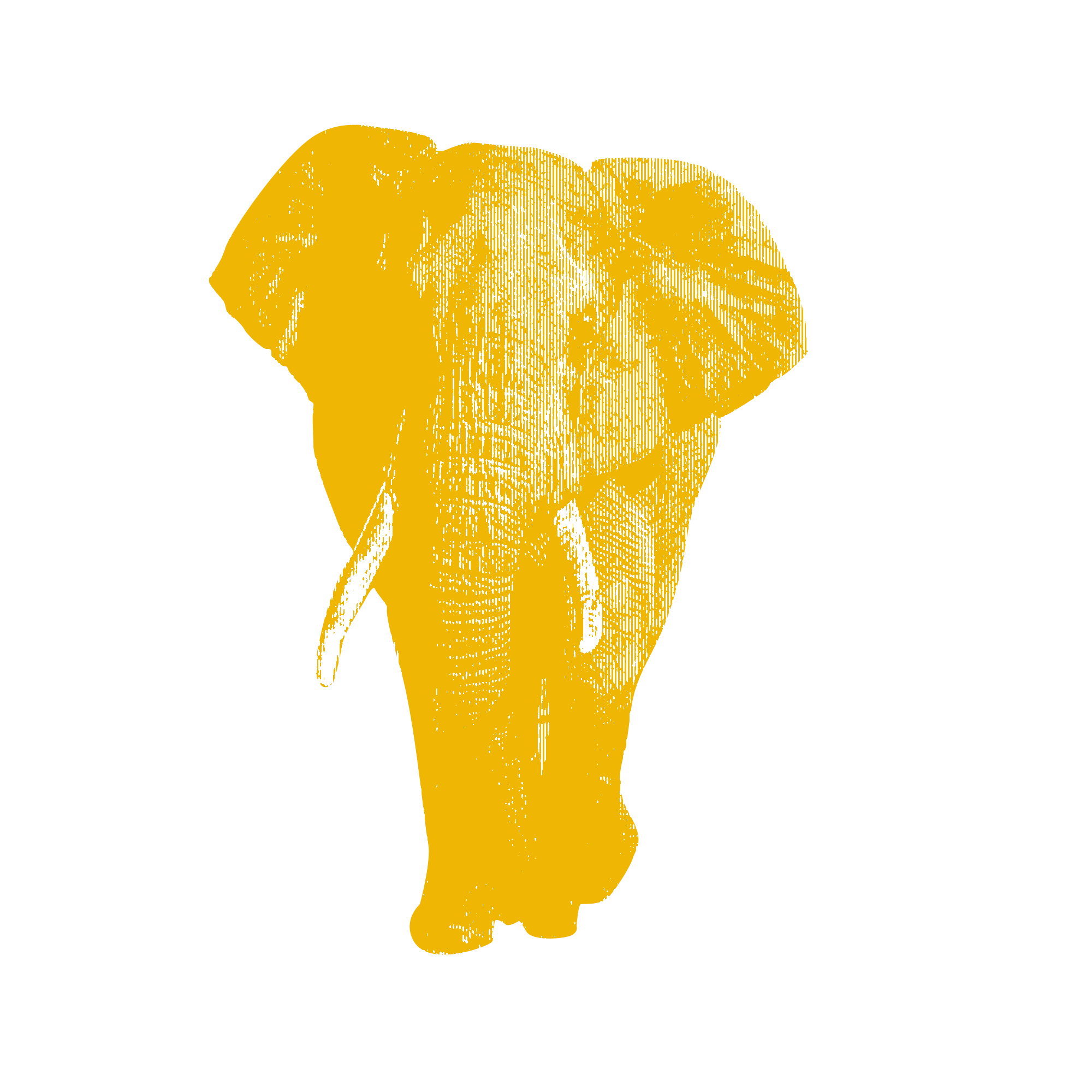 Issue
Environment and Climate Change
Environment and Climate Change

Issue
Migration and Refugees
Migration and Refugees
RELATED INITIATIVES