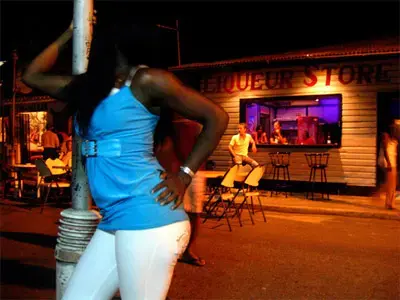 CANGE, Haiti — Trucks teeter perilously as they climb the rutted and rock-strewn road between Port-au- Prince and Cange, jolting the people who travel unsheltered on their cargo.

Under the best conditions, it is a three-hour journey of lurching, halting and downpours.

It was an especially hard trek for a frail and feverish 35-year-old woman named Benita, who was put atop a truck one day in August after seven months of growing weaker while the pain in her belly grew stronger.

She didn't know then that she had AIDS, but too sick to work, too poor to send her three children to school, she knew she needed help.

The Zanmi Lasante medical complex, where she headed, had made a mission of helping people others had found too difficult to save.

And while others had worried that the poorest HIV patients could not consistently take the medicine they needed to stay alive and would then develop drug-resistant illnesses — were, in fact, too needy to treat — the clinic in Cange had demonstrated that people like Benita could be as effectively cared for as patients with money.
Watch videos of Dr. Paul Farmer
"No one that I have ever met in 25 years has ever said, 'Gee, I'm sorry I'm a Haitian woman, you really shouldn't give me these meds, I might take them improperly.'" — Dr. Paul Farmer, physician, medical anthropologist, Harvard professor and one of the founders of Clinique Bon Sauveur, at the Zanmi Lasante SocioMedico Complexe, sister program to Partners in Health.
Children's laughter rings through a courtyard at the sprawling Zanmi Lasante complex where desperately ill and destitute people line paths and steps, waiting their turns to see a doctor.
The giggles and shrieks mingle with roosters' crows, workers' saws, gravel crunching under trucks, and for all the affliction and adversity that unfolds here, this hospital in Haiti's rural central plateau is a joyous place.
In the 25 years since then-Harvard medical student Paul Farmer learned of the need for a clinic here, the place has seen more success than failure in bringing care to people who would not get it otherwise.
And what Farmer calls "the disgusting argument" of whether poor people in rural and strife-torn areas could be effectively treated for AIDS never entered into the reasoning here, where community health workers showed that life-saving care could be within reach anywhere.
On an early autumn day, staff and patients prepared to celebrate a 13th annual forum on health and human rights where more than 2,000 people were expected from across Haiti and around the world.
Farmer, now a physician, shakes his head when he considers that people in the United States might wonder how what happens here affects them.
"What happened to solidarity?" he muses.
Helping the sick in rural communities
Farmer's face relaxes into a delighted smile, like a child relishing small victories, because solidarity has worked here. He is not naïve, though, so he has learned to explain the value of controlling infectious diseases as "public health for public good."
Perhaps on that basis, Partners in Health has received more than $7 million in U.S. money from the President's Emergency Plan For AIDS Relief during the last three years.
The complex has grown, and eight Partners in Health clinics dot the Haitian countryside.
The methods used even before that money came to this impoverished rural squatters' settlement, though, could find the same success in the hemisphere's wealthiest country as it has in the poorest, Farmer points out.
"We've got to do a better job of taking care of HIV, and the way to do that in the United States is the same as it's done here," he said. "Community health workers. We call them accompagnateurs, those who accompany."
View photos of Margarette Gracia at work in Cange
In Cange, an accompagnateur named Margarette Gracia leaves her home as the sun rises over the mountains, walks up a rocky hillside path and greets a grandmother-aged woman who sits, ankles crossed, on the porch of a tidy green-and-orange painted shack.
Everything is going well, the older woman says, as she takes the pill Gracia hands her, watches her swallow.
Gracia will hike the hillsides around this settlement to visit three more patients today, making sure lack of money, food, transportation don't stop them from taking the pills that have turned AIDS from a near-certain death sentence into a manageable illness. This is Gracia's paid job, and she was trained for it.
The concept didn't begin here, Farmer says, pointing out that the use of "directly observed therapy" had already been found critical to the care of tuberculosis patients whose illness became resistant to drugs when treatment was interrupted.
The strategy has shown results in other Partners in Health sites from Rwanda to Peru and has been copied both worldwide and in the States. Soon, Farmer said, Miami and New York will launch pilot community health worker programs.
It is a program well suited to reach patients who are addicted to alcohol and drugs, have unstable housing or are the victims of domestic violence, he points out.
"This," he says, "describes an American city population at risk for HIV."
Learning about 'survival sex'
When Farmer first came here in 1982, he found a squatter settlement of people who had been pushed up the hillside from their homes and farms by the construction of a hydroelectric dam that had flooded the valley below.
Having lost their livelihoods to a dam that didn't benefit them, they scrabbled subsistence from the rocky hills where they now lived.
"One out of every four children born here died. It was the bottom of the barrel," he says now.
It was the people who lived there who said they needed a clinic, Farmer says, and he laughs when he recounts the decision to return and build the clinic.
"We were young — might as well start in the hardest place."
When Farmer returns now, a crowd gathers to move with him as he crosses the complex. On this day he had arrived late the night before, after three months away in Africa.
He stopped to hug a teenaged girl.
She had come to the clinic several years earlier with drug-resistant tuberculosis, and it was only when she was ready to go home that she divulged her parents both had died. So she stayed, and soon Partners in Health will send her to medical school in Cuba.
A woman pushed through the crowd with a lively boy, who threw his arms around Farmer.
Orphaned by AIDS, he was born without the virus but suffered from malnutrition when his grandmother first brought him to the clinic. A middle-aged man greeted Farmer with a handshake. A former teacher, he recently recovered from tuberculosis and now needed a job, which Farmer said shouldn't be a problem.
"Why not? We invent jobs here," he added.
"When someone is dying of AIDS, or anything else, TB, they come to a doctor and they talk about their symptoms — they say, 'I'm sick, I have diarrhea, I can't eat, I weigh 70 pounds and I'm 6 feet tall,' those are the things they talk about. But once you take care of them medically, they don't stop talking, they start talking about something else. And what they start talking about are their children, or their housing, or the fact that they don't have a job."
Listening to patients is how Farmer learned about what he now calls "survival sex."
"There are probably other people who have different names for it," he adds. "But it's not about prostitution, it's not about anything other than poverty, and gender inequality, that's what it's about."
Listening to patients and linking medical services to their stated needs has led Partners in Health to integrate housing, nutrition and schooling into their programs, Farmer says.
Listening also has confirmed Farmer's conviction that health care can't be sold for a fee here, where most children who come to the clinic are malnourished, where adults and children arrive with cardiac disease that could have been prevented with 25 cents worth of antibiotics for strep infections, where sick patients walk all day and spend the night sleeping outside to be treated.
"It has to be a right," Farmer says. "Otherwise, you have some people who are discriminated against."
So, on this day in early September, a boy in the hospital awaited surgery on his cleft palate, courtesy of a visiting plastic surgeon, while a girl in a pink party dress waited for the results of the peach-sized lump behind her eye.
In the adult ward down the hall, Benita, the 35-year-old woman who had arrived the month before barely conscious, sat up in bed. She also is being treated for tuberculosis, a frequent companion illness for poor AIDS patients, that, airborne, spreads readily in cramped housing. She will likely be discharged in a month and connected to services at the GHESKIO clinic in Port-au-Prince where her family lives, her doctor said.
And in the church up the hill, where the forum on health and human rights continued, a vigorous woman named Lucette Fetiere took the stage.
"Do not be surprised if I tell you that I am a person living with AIDS, and I am dressed in green because the color symbolizes hope," she said. "Doctors, look at your results: This is what a woman with HIV in the central plateau looks like, thanks to Zanmi Lasante."
"I don't think we're ever going to get rid of AIDS, but we certainly can make sure it's not the leading infectious killer of adults, and it's already not a leading killer of children in the United States because we prevent transmission."
After the day's presentations, Haiti health minister Dr. Gabriel Timothe reflected on what the last 25 years had brought.
Like many of those fighting the epidemic in Haiti, he had been there from the beginning, when the infection rate was close to 7 percent and he had served as the country's first national AIDS director from 1988 to 1994.
"Most AIDS patients were turned away from hospitals," he said, "most died from AIDS. The big challenge came from the lack of knowledge, the stigma, the discrimination. There were no accompagnateurs."
In the time since, the work of accompagnateurs has had ramifications beyond the medicine they provide, said Timothe.
"We have networking of people living with AIDS, they can express their concerns, the stigma is going down. More people are aware of HIV/AIDS, less afraid, more empathetic. Because the community is involved, solidarity is a part of intervention."
RELATED ISSUES