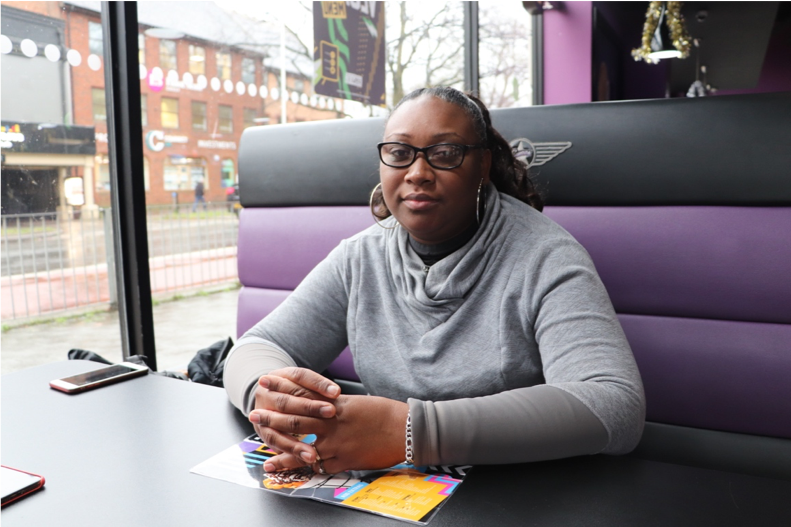 On their route from the city center to the dimly lit stadium of Crawley, United Kingdom, most players traveling to their evening football practice passed a series of familiar signs boasting the greater-London-area town in which they live: "Crawley, a place to call home."
They glance down at their phones to check the time. It's mid-December in 2019, and a new rule has just been instituted for the team as part of a new accountability structure of their recently hired manager: players that arrive after the 8:30 pm start time are required to send image-excuses in the team group chat. One player, who provided photo evidence of the haircut that delayed his arrival, received retorts in Creole from his fellow players as he strutted to the field.
The goal of the team's hard work and new disciplinary structure? Making it to the 2020 CONIFA World Cup, for which the team was just points away from qualifying.
With some of Crawley's most promising players, the team is composed of young men, some of whom are still struggling to find home not just in their town, but in the world. They are the Chagos Islands National Team, comprised of second and third generation Chagossians now living in the United Kingdom, playing football to represent a people in exile.
As second and third generation Chagossians, most of the players' parents and grandparents were born on Diego Garcia, the largest of a collection of 60 small islands in the central Indian Ocean. Between the years of 1968 and 1973, the British government removed all inhabitants of the island as part of a deal with the United States to create a strategically located military base during the Cold War.
"This was colonial and imperial thinking," explained David Vine, professor of anthropology at American University and author of Island of Shame: The Secret History of the U.S. Military Base on Diego Garcia.
Since their expulsion, Chagossians have never been allowed to return. The International Court of Justice (ICJ) issued an advisory opinion, which ruled the expulsion of the Chagossians in violation of international law, in February 2019. ICJ President Abdulqawi Ahmed Yusuf noted Britain's 1965 detachment from Mauritius was not a "free and genuine expression of the people concerned." Despite this, the ICJ decision was non-binding and Britain defied their November 2019 deadline to return the Chagos Islands' sovereignty to Mauritius Island.
When Chagossians were first removed from Diego Garcia, many attempted to resettle in Mauritius Island, the country from which the United Kingdom excised Chagos in 1965. Upon arrival, many Chagossians reported experiencing discrimination.
"My grandparents said they were treated really badly when they went to Mauritius. They couldn't get any jobs. Some of them were starving," explained Emmanuel Ally, a third generation Chagossian based in Crawley. His family member applying for employment in Mauritius was met with a scathing remark, Ally recalls being told.
"They said, 'No you're Creole. You're not worth anything. You can't get this job. Go play football.'"
For the descendants now living in the Chagossian community of Crawley in the United Kingdom, that's exactly what many did. 
Second generation Chagossian Sabrina Jean always knew she was different. When she was 16 years old, however, she learned the details of the plight of which her father spoke so little, joining a youth group of Chagossians in Mauritius Island. The group, led by Olivier Bancoult, brought a sense of community and awareness to the second and third generation Chagossians born in Mauritius. In the Chagossian community, the first generation Chagossians are those born on and deported from the island, second generation Chagossians were born elsewhere but have parents born on the island, and so on.
Second generation Chagossians such as Jean work tirelessly to ensure the legacy of their ancestors carries on to the generations that succeed them. As a young woman in Mauritius Island, the youth group gave her a sense of her heritage, of her home. Thirty-one years later, Jean wants to provide the same sense of home to young second and third generation Chagossian immigrants living in diaspora.
To help do this, she founded the Chagos Islands National Team.
That was in 2013. Since then, players have competed in a variety of friendly matches and in the 2016 CONIFA World Cup. CONIFA, the Confederation of Independent Football Associations, serves as a federation for those football teams that operate outside of FIFA. Many of its members represent de facto nations, stateless groups, or minorities included in the World Directory of Minorities and Indigenous Peoples.
"The team represents the country of our ancestors – like mother, father, grandfather, all of the Chagossian family," she said.
Jean hoped the group would raise awareness for the Chagossian fight for the right to return. What has evolved is a space of belonging for a group that has faced political, economic, and social exclusion. Now, despite attending all team practices and events, Jean has transferred team leadership to a new manager, Jimmy Ferrar, to support the team in their pursuit of the 2020 CONIFA World Cup qualification.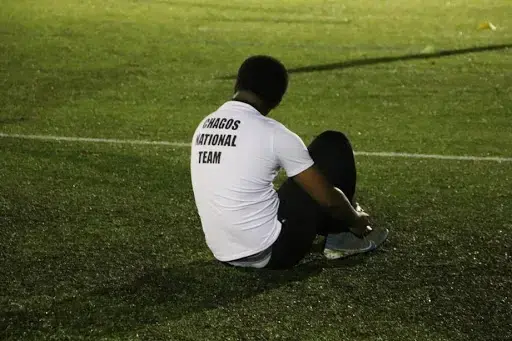 As the team began one recent practice, there was no discussion of citizenship struggles, of the ICJ decision, or the pressure to bring awareness to their heritage. The men just played.
Asked whether the struggles of teammates and political losses for the community affect them on the field, player Diviyen Sooprayen caught his breath from the recent play and answered with a smile.
"The thing is, like, for us, it's just fun. We love football. We don't play to be discovered, we play because we love football," he said.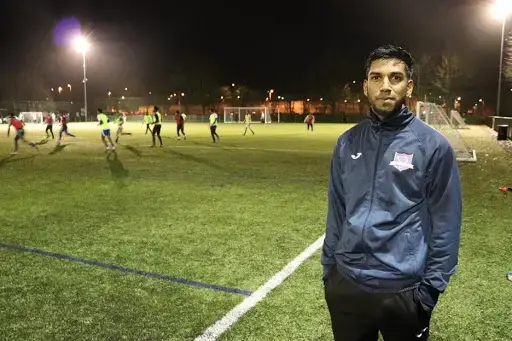 Sooprayen's grandparents were Chagossian and his parents were born on Mauritius Island; born in Mauritius, himself, he is a third generation Chagossian and British immigrant. He was first attracted to the sport of football because of his father, who played for Mauritian teams.
"I always wanted to go into football, but my dad didn't want me to live that kind of life," he described. "But I loved it so much. At seven or eight, I went behind his back and played with my friends."
He explained his parents came to the UK seeking a better life for him and his younger sister. The move divided his family for a year before they had the means to reconnect in 2009.
According to Sooprayen, practices and games are a space where the third generation Chagossians can strengthen community bonds. This begins, he described, with speaking a common language.
"Coming here, language was a massive barrier for us," said Sooprayen. "I remember when I was playing for Crawley, I could only understand some of what they were saying. I didn't process it straight away. Here, we speak our language. It's much easier to play football here, I think. You get to not lose the Creole you're born with."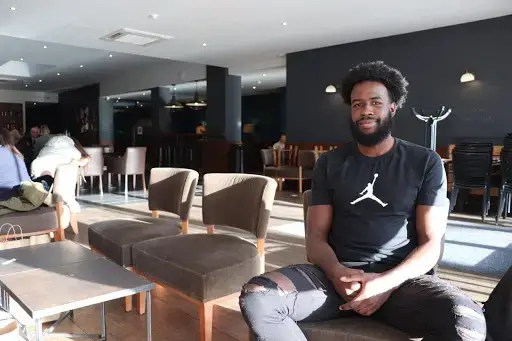 Clyde Jacques began his football career at age 14. Now 23, what commenced as a means to "smuck around with friends" has developed into an opportunity to pay homage to his ancestors. A second-generation Chagossian football player, debt-collector, uncle, and brother, Jacques now serves as the captain of the Chagos Islands National Team.
Seemingly unphased by a cold December day, Jacques arrived in stylishly ripped jeans and a Michael Jordan t-shirt to reflect on the Chagossian team's triumphs and challenges. He described the team as a tool to resist the present situation of Chagossians.
"For others, it might be about money, or ranks; but for us, it's about putting out a story," he expressed. "It's better to have a team that's fighting for something to tell to the world."
The team's unique position also poses a variety of challenges. Come May, some players on the Chagos Islands National Team will be unable to compete because of their inability to receive a British passport, said the manager. In 2002, the British Overseas Territories Act granted British citizenship to Chagossians born between the years 1969 and 1982. Under British nationality law, this citizenship only passes down to one generation born abroad. As a result, many grandchildren of displaced Chagossians living in England are not entitled to British citizenship.
In 2017, a lawmaker from Crawley introduced legislation that would extend British citizenship to third generation Chagossians. The bill failed to pass. While the British government allotted a £40 million support package toward improving the livelihoods of Chagossians in 2016, none of this money can be used for immigration fees.
For some, including former team manager and second generation Chagossian Jean, this means working diligently to pay for the visa fees and citizenship applications that would ensure her children could enter the country.
"When I came here, I worked morning, evening, every day, staying with my cousin. She never asked me to give her a penny. She just told me to save my money so I can bring my family here," she stressed.
For others, the rising costs of visa application fees for each stage in the resettlement process separates families. Between the six-month visa, Indefinite Leave to Remain status, the British passport, and associated renewal costs, Chagossians described that their fees could reach between 3,000-10,000 pounds. In some cases, children whose families cannot afford such costs are finding, when they reach 18, that they are not British citizens. One player on the Chagos Islands National Team was temporarily detained and threatened with deportation for this reason, explained Jean.
Jimmy Ferrar, current manager of the Chagos Islands National Team, described the question of British nationality as a unique challenge.
"We've got challenges – as football players, as a community – that you won't get at another football club. For the World Cup next year, I've got to pick 18 players, and I might have four or five who won't be able to travel because they don't have passports," Ferrar recounted.
Despite these challenges, the team remained focused on their primary goal: the 2020 CONIFA World Cup. Describing his approach to captaining, Jacques stressed, "We need to talk about the football game first and talk about the struggle after. We play football, we win or lose, then we talk about what's going on," he said. "We're just trying to win the World Cup next year and we're trying to get a name out."
On January 4, 2020, the Chagos Islands National Team came one step closer to that goal. Just as players escorted in the new year, they received riveting news: CONIFA officially announced the 16 teams qualified to attend the 2020 World Cup in Skopje, Republic of North Macedonia from May 30 to June 7, 2020. Among them, the Chagos Islands National Team.
This announcement was a bittersweet one for the Chagossian community in Crawley. Within days, manager Jimmy Ferrar organized a donation page to raise the 12,000 pounds necessary to send the team to Skopje. Raising this money, however, won't be a simple task for the team because of their convoluted legal status.
"Even though it's a British Indian Ocean Territory, we live in the UK, not the country," explained Ferrar. "It's hard to get funding because we're not a recognized country. It's a complicated situation."
Some players are also still barred from traveling because of their legal status in the United Kingdom.
"That a boy can't play in the CONIFA World Cup because he doesn't have a passport, even though his parents are both British citizens, that's such a complicated situation," Ferrar added. "These lot have every right to play football just as much as anyone else."
As a representative of the Chagossian community, the team also faces the difficulty of navigating diverse and conflicting interests. The Chagossians of different generations living in the United Kingdom experience divides in how they believe their political situations ought to be resolved. Some third generation Chagossians, such as Ally, stress that returning the islands to Mauritius has the potential to perpetuate a cycle of discrimination. For second generation Chagossian and team captain Jacques, he recognizes a return to the island would mean starting from scratch, again.  
"It's kind of like whether you want to go back and start from zero or continue now from where you're at. I know me, I'd prefer to stay. I know my mom – she would happily go back," he said.
First generation Chagossians, such as Bernadette Dugasse, 63, living in South London, believe the ideas of new generations conflict with the desires of the elderly born on Diego Garcia.
"I'm a foreigner here. Diego Garcia is my home," she says, her voice amplified. "The descendants don't want to listen to us anymore."
Even in the face of these challenges, the activists in the Chagossian community remain resilient.
"The UK government wants to divide us. Not all of us have the same idea. Some want to stay here in the UK, some of them want to return back to Diego Garcia, some of them want to return back to Mauritius. But when we have problems, when we have troubles, everyone comes together," emphasized Jean.
In the coming months, the unique resilience and cohesion of the Chagossian community will frame its fight to support the team toward its 2020 CONIFA World Cup aspirations. There, the teammates hope to raise awareness for their cause and convey what it means to be Chagossian.
For Ally, this identity bears a certain peculiarity. He explained that the Chagossians are more than a people in exile.
"We're loud. We love music. We love just being happy," he explained of his unique cultural heritage. "When there's a group of Chagossians, there's going to be laughter, there's going to be music, there's going to be happiness all around. We've been through a lot, but we still remain positive."
One December day in the home of Sabrina Jean, Ally's imagining rang true. Jean's family crowded around a small television and shouted as two English football teams battled for the gold. The smell of coconut chicken filled the narrow hallways. The night concluded with the family exchanging tips for how to best dance to Sega Tambour, a form of traditional Chagossian dance named an Intangible Cultural Heritage by UNESCO in 2019. Jean popped to her feet to demonstrate, switching effortlessly between Creole and English to explain the moves. The music was loud. The family sang along. They shouted and laughed joyfully.
"I'm very proud to be a Chagossian," said Jean. 
Editor's Notes:
On March 23, 2020, after reporting for this article was completed, CONIFA announced its 2020 World Cup would not take place due to the COVID-19 public health emergency occurring throughout the world.
This story was updated on April 21, 2020, to correct the value of the support package to improve the lives of Chagossians.
RELATED ISSUES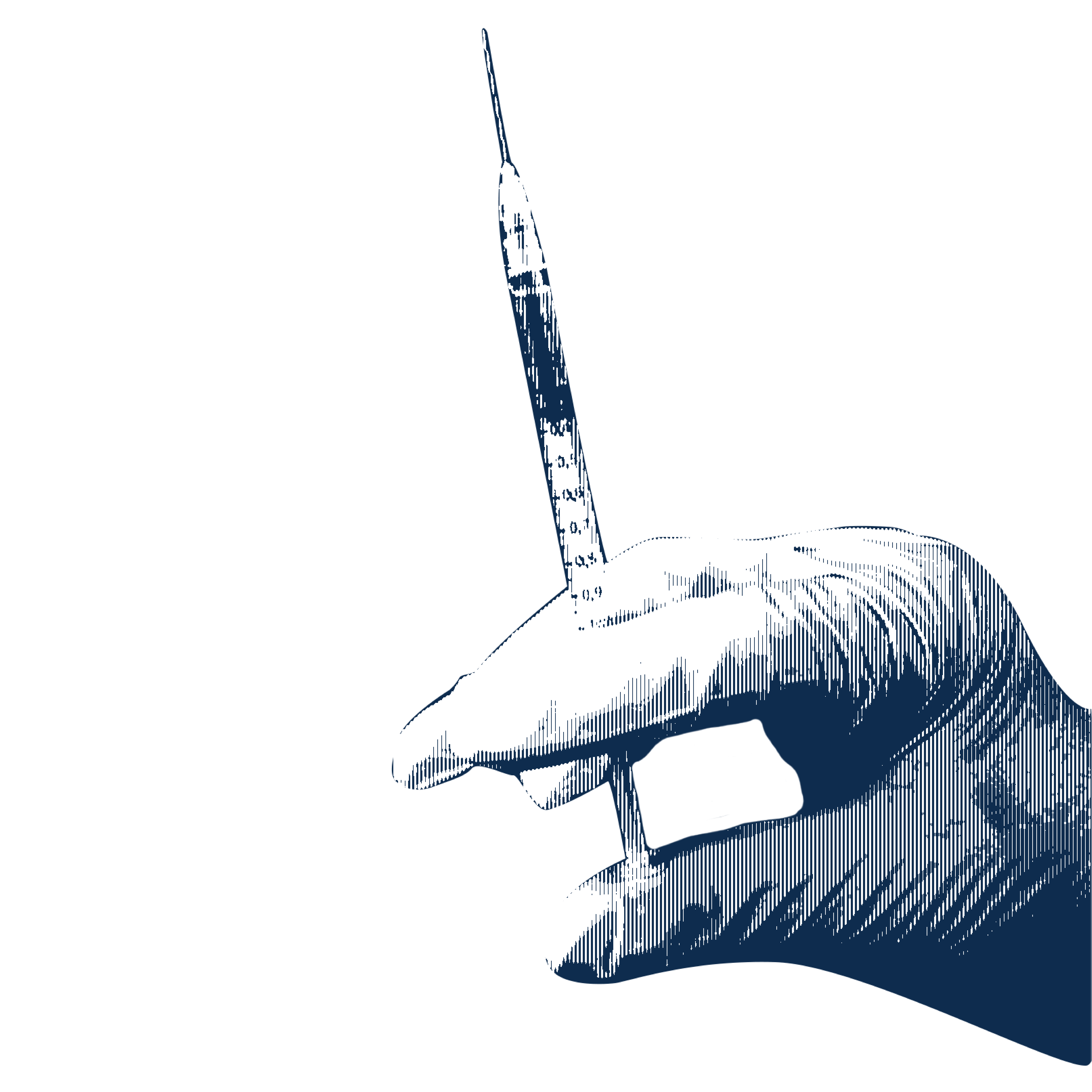 Health

Issue
Land and Property Rights
Land and Property Rights

Issue
Migration and Refugees
Migration and Refugees