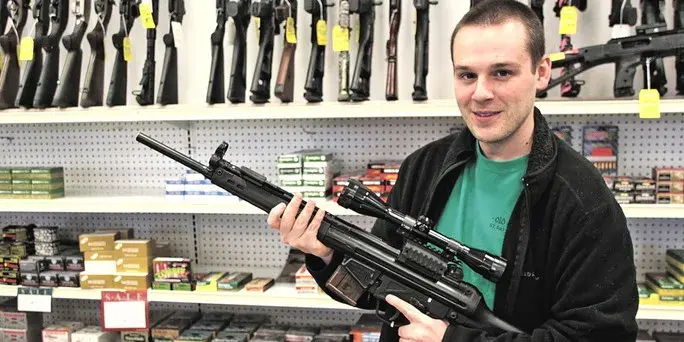 A premium product: David Westforth posing with a semi-automatic rifle. Image by Carlos Ortiz. United States, 2013.
Survivors: In Chicago, relatives of victims request stricter gun laws. Image by Carlos Ortiz. United States, 2013.



This summary of the original German version of "Germany Delivers," an article by Pulitzer Center grantee Rieke Havertz' published July 27, 2013, in taz newspaper, was prepared by Kerstin Egenhofer.
David Westforth, 29, is the owner of Westforth Sports on the outskirts of Gary, Indiana. While he sells all kinds of sporting goods, most of his customers come not for the fishing gear he keeps in stock, but for the collection of semi-automatic rifles.
Westforth prefers not say how many guns he sells. This may be partly because the strip mall where his store is located is less than an hour outside of Chicago where the sale and use of these guns is more heavily restricted. Few states have stricter gun laws than Illinois and yet Chicago has one of the highest per capita homicide rates in the United States. Last year there were 506 murders in the city, 440 of them were carried out with the help of a weapon.
And business is good. Westforth's customers have been spooked by the national gun control debate that the Newtown shooting sparked. President Obama's efforts to get rid of high capacity magazines and institute a semi-automatic assault weapons ban resulted in a spike in gun sales. Prices are going up and manufacturers are having a hard time keeping up with the demand.
The guns that are flying off the shelves at Westforth Sports include the premium firearms produced by Heckler & Koch. Sweeping gun control measures could dramatically impact vendors and gun manufacturers alike. Even as Heckler & Koch drummed up 213 million euro in sales, its balance sheet is weighed down with old debts. The German company is heavily dependent on its U.S. sales.
The U.S. gun market is tough to crack because it favors domestic products. Heckler & Koch, however, has earned a good reputation here. The manufacturer has landed several lucrative defense contracts and is striving to grow its market share. But Peter Lock, a sociologist and economist who has studied weapons and the military since the 1970s, says that he believes the civilian market is going to become more important to Heckler & Koch than the military market in the coming years. While the Department of Defense does not have money for new projects, the American public's interest in semi-automatic pistols and military-style weapons continues to grow.
Aaron Karp, a consultant for the Small Arms survey, an independent research project, sees two events that are tied to a dramatic shift in rates of gun purchases: the expiration of the Federal Assault Weapons Ban in 2004 and the election of President Obama in 2008. In this current climate, many consumers are wary of the government's efforts to restrict access to certain types of weapons and they are choosing to buy now while they still have the option.
A former Heckler & Koch employee who now works for the federal government argues that the gun manufacturers that deliver quickly are going to make a lot of money and he believes that Heckler & Koch will rise to the challenge. On the outskirts of Chicago, some of David Westforth's customers are already waiting for the company to deliver.
RELATED ISSUES