Like most things in Kashmir, the Baramulla railway station is surrounded by barbed wire, Indian Army bunkers, and frost-tipped mountains that, at sunset, look bloodstained and haunted. When I walked into the station in July 2016, I was stopped by a group of Indian soldiers armed with AK-47s who demanded to know what I was doing in Baramulla, a town just thirty miles from the Line of Control that has divided the disputed region between India and Pakistan since 1972. I told them I was a journalist, working on a story about the construction of India's first rail line into Kashmir. They waved me through. "The train is a very good project," one of the soldiers told me as I walked onto the platform.
At half past noon, the 10:50 southbound to Srinagar announced itself with a long baritone whistle. Hundreds of passengers rushed off the cars as the soldiers prodded them with wooden batons. I found a spot by the door. As the train began to pick up speed, a group of young boys jumped aboard, blasting Punjabi music from their phones.
A lanky twenty-year-old named Sayeed Ahmad crouched beneath a window. Ahmad, who was from the village of Budgam, had spent the day picnicking with his friends. Like many young men and women in Kashmir, he regarded the Indian Army as an occupying force. He described how, every Friday after prayers, he would pelt the soldiers with stones. "They beat us," he said. He took off his light-green polo to show me a scar on his shoulder. It looked like a purple worm. "We are forced to take up the gun."
"We want liberation from India," said his friend, twenty-two-year-old Sameer Ahmad. The train shook and the windows began to rattle. "Pakistan is the best. They are our Muslim brothers."
Many of the younger Kashmiris on the train were born in the Nineties, as thousands of Pakistanis were slipping across the border to join militant groups such as the Jammu Kashmir Liberation Front and Hizbul Mujahideen. At one time, there were more than sixty such organizations, some fighting for an independent Kashmir, others insisting that the region, where some ninety percent of residents are Muslim, become part of Pakistan. Unlike their parents, who grew up in a time when the leaders of Kashmir's separatist movement were proponents of nonviolence, this generation has been inspired by young fighters who share posts and videos calling for armed resistance to Indian rule. "Students here, they will take up a gun instead of a pen now," said my translator, a twenty-five-year-old photographer named Khurshid Ahanger. They've grown up seeing India "through the barrel of a gun."
As our train crawled toward Srinagar, I huddled near an open window to catch a breeze, watching the emerald fields swirl in the distance. A young boy dressed in white leaned out the window. "I feel like a king here," he told me with a shy smile. He'd moved to Kashmir with his family from Uttar Pradesh, a Hindu-majority state. (Since Prime Minister Narendra Modi and his Hindu-nationalist Bharatiya Janata Party came into power in 2014, there has been a marked rise in the number of attacks against Muslims in India. According to Amnesty International, at least ten Muslim men were publicly killed over a three-month period last year.)
We pulled into the Srinagar station. Mothers on the platform were fanning flushed babies. Young boys attempted to climb on top of the already full train as the conductor blew the whistle. Army officers beat them back with batons.
"Every time it's like this," a soldier said to me as I got off the train.
Trains have long been intertwined with colonial ambitions in India. The British opened the subcontinent's first railroad in 1853, a line from Bombay to Thane that hastened the export of goods to Europe. Though the railways were a commercial boon, they also provided, as the governor-general, Lord Dalhousie, wrote to London that year, "immeasurable . . . political advantages." They "would enable the government to bring the main bulk of its military strength to bear upon any given point in as many days as it would now require months." By 1900, the system had grown to become Asia's largest.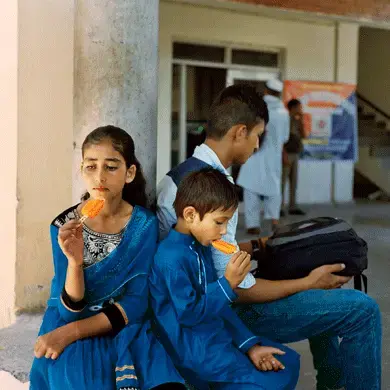 Indians, whose taxes had funded the creation of the railroads, soon began to see them as a symbol of British power. Mahatma Gandhi blamed trains for destroying local, self-sufficient economies. "Good travels at a snail's pace," he wrote in Hind Swaraj. "It can, therefore, have little to do with the railways." But Gandhi's concerns went unheard. By the time India became independent, in 1947, more than 30,000 miles of rail crisscrossed the country.
Half a century later, Kashmir would confront the same threat that Gandhi had articulated, this time from the Indian government. During the fourth war between the two countries, in 1999, Pakistani generals authorized a secret infiltration of Kargil, a mountainous city on India's side of the Line of Control. With few roads and no rail line in the region, India struggled to send supplies and reinforcements. In just six weeks of fighting, the country lost more than five hundred soldiers.
Kashmir's inaccessibility was a wake-up call for India's then prime minister, Atal Behari Vajpayee. When he returned to New Delhi after visiting Kargil, he remarked, "We have not attacked any country in our fifty years of independence, but we have been attacked several times and lost our land. . . . We are determined not to lose our land in the future." Preparations for a rail link in the Kashmir Valley began immediately.
In 2002, the Indian government broke ground on the railway, which it hopes will one day connect Baramulla, Kashmir's northernmost city, to New Delhi. But despite being prioritized by Vajpayee as a "project of national importance," construction has been plagued by a number of setbacks. For example, in 2009, a protracted dispute over gradients broke out between two private companies that had been commissioned to work on separate sections of the line. But the biggest delay by far has been due to the plan's most ambitious feature, the Chenab Bridge: a mile-long crossing made of blast-proof steel designed to withstand both earthquakes and explosives. When completed, it will be the loftiest railway span in the world, stretching across the Chenab River at a height greater than that of the Eiffel Tower. Scheduled to be completed in 2009, the bridge is the only section of the railway still unfinished. The latest target date is summer of next year.
Undeterred by delays, Modi paid a one-day visit to Jammu and Kashmir in July 2014. Dressed in a creaseless light-blue kurta and surrounded by reporters, he stood before a steel train car strung with marigolds and inaugurated the railway's latest link, connecting Katra to Udhampur. "Our aim is to win over the hearts and minds of the people of Jammu and Kashmir through development," he said. The train whistled and the crowd clapped. "Soon Kashmir will be prosperous and peaceful."
When our train pulled into the Srinagar station, two years after Modi's speech, Kashmir did appear prosperous: crowds of people were arriving for the Amarnath Yatra, a Hindu ritual in which worshippers climb to the mountainous shrine of Lord Shiva. My hotel was just around the corner from Dal Lake, which is home to hundreds of Victorian boats, some with their own floating gardens. Shikara rowers sat by the shore, waiting to pick up tourists. When I reached the hotel, the owner offered me Kashmiri tea. "It's all peaceful," he said, before picking up the phone to inform another potential customer that the hotel was fully booked.
Around sunset, I met with a journalist in his fifties who has covered Kashmir for three decades. We sat barefoot in his office, sipping Mountain Dew.
I asked him what he thought about the new train. He was quick to draw a parallel to China's rail into Tibet, which Beijing built in 2004 to gain control over its volatile region. "When the rail line is finished, Indians will feel they've vanquished their territory," he said, leaning back in his chair. "Kashmiris will feel they're still in India's golden chains."
I returned to the hotel to find the owner sitting in front of a small television, chewing on his thumbnail. "Burhan Wani has been shot," he told me. Wani was a twenty-two-year-old Hizbul Mujahideen commander and a local hero. He had been radicalized as a teenager after being beaten by soldiers, and started making videos to inspire young men to turn against India. The TV flickered with a photo that would go on to become the iconic image of that summer: Wani in a tan polo shirt, eyelids half shut, face white, a thin stream of blood dripping from his forehead.
The next morning, soldiers were stationed at every corner, blocking the streets. There was no cell service, no internet. Schools and businesses shut down.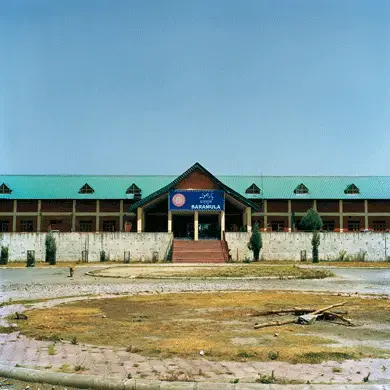 An hour southeast of Srinagar, in Tral, Wani's funeral began at dawn. More than 200,000 men and women flocked to the town on foot, a sea of turquoise, pink, and black hijabs. "Azadi! Azadi!" they shouted: "Freedom!" Cloaked in an orange blanket, Wani's body was passed through the crowd. Thousands of hands reached out to touch it.
Wani was one of the youngest leaders of Hizbul Mujahideen. The group had become a bewildering menace to the Indian Army, which issued a million-rupee ($15,000) bounty for Wani in 2015. That same year, the Army was suspected of murdering his older brother, a twenty-five-year-old economics student and lab technician named Khalid. The government claimed he'd gone to visit Burhan in the forests and was killed by gunfire, but according to the boys' father, Muzaffar, when Khalid's body was returned to the family, there were no bullet wounds. "His skull was crushed and all thirty-two of his teeth were broken," Muzaffar told me. "He was tortured to death by police." In December 2016, the state government offered four lakh rupees ($6,000) to the Wani family in compensation for Khalid's death.
The clashes between protesters and police began in Tral, but soon spread throughout Kashmir. By nightfall, thousands more had turned out. "Indian dogs go back!" they shouted. In Anantnag, police began shooting live bullets. Aijaz Ahmad Thakur, a twenty-nine-year-old father of two, was one of the first to be hit. His cousin found his body later that evening, the stomach torn open.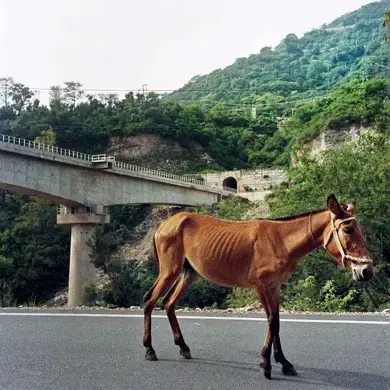 A dozen people died in a few hours that night, and the protests continued into the next day. The government imposed a curfew and sent in more troops, but the protesters didn't let up. Photographs of people maimed by shotgun pellets appeared in the local papers; the one to go viral was of Insha Malik, a fourteen-year-old who was hit while looking out the window of her home. Her face was so riddled with shot that it looked as though she had a bloody case of chicken pox.
In Srinagar, I met a thirty-one-year-old ophthalmologist named Raashid Maqbool Wani, who said he worked twenty-four-hour shifts for four straight days after Burhan Wani died. He told me that his hospital normally receives about five patients a week. In the wake of Wani's death, sixty to eighty people came through the doors each day. Gurneys were converted into operating tables, waiting rooms into emergency wards.
One patient was a boy who had been shot in the face in the district of Kupwara. His eyes were wide open, the retinas detached. Clots of blood clouded his pupils. "He said something I'll never forget," Raashid told me later. "He said, 'It's okay, doctor, I don't need my eyes to see what's happening.' "
That night, when I returned home, the hotel owner told me to leave Srinagar. "What is there left to see?" he asked when I passed him in the lobby. I told him I was waiting for the train to start running again. He rolled his eyes. The government had suspended service indefinitely.
The train still wasn't running two weeks later. I decided to take a car 150 miles south to Katra, in Jammu. It was the closest station still operating. Around midnight, a car came to pick me up. "Be safe," the hotel owner said, shaking my hand. He instructed me to call him when I arrived — and to give him a good rating on TripAdvisor.
My driver, a twenty-year-old named Sajad Farooq, said he'd been protesting by day and driving tourists by night; he hadn't slept in three days. He threw his first rock at the Indian Army when he was sixteen years old, after seeing a soldier shoot and kill his cousin. "I would die protesting," he said. "I'd die for Kashmir."
We drove through the night, past charred vehicles and tanks. Everywhere, shop windows were smashed. Stones and barbed wire were strewn across the ground. Wani's name was written across walls on the outskirts of Srinagar. burhan our hero. burhan still alive.Farooq told me a slogan was being spoken at funerals that hadn't been heard since the Nineties: Tere khoon se inqilab aayega — "Your blood will bring forth the revolution!"
We drove along Highway 44, speeding past signs for Pampore, Awantipora, Bijbehara, Anantnag — stops that would remain closed for the next five months. A few hours later, we approached a sea of glowing red brake lights. We'd reached the Chenani–Nashri tunnel, a barrel of concrete cutting through six miles of mountain, connecting the Kashmir Valley to Jammu, the southwestern region of the state. It is the longest tunnel in India. Farooq sped up as the traffic subsided, and his music seemed to get louder. Orange tunnel lights streaked by overhead. A few minutes later, a massive Indian flag greeted us from the other side. Cars gently swerved off the highway, stopping at a nighttime market with glowing stalls that sold magnolia flowers, perfumed incense sticks, jewelry, and tea. Children walked around barefoot, tapping on car windows to sell scarves and nuts.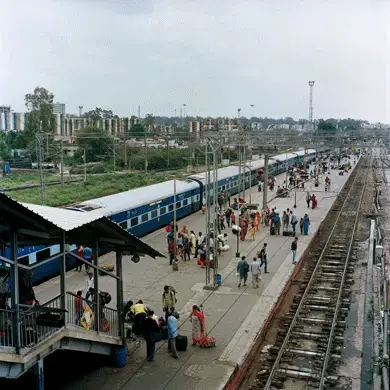 The mountains that divide Jammu from the Kashmir Valley are partly responsible for the contrast in their identities. "Jammu and Kashmir was not part of British India and was ruled by the maharaja. Hence, it was not part of the political mobilization that took place in the rest of India during the nationalist movement," Partha Chatterjee, an anthropologist at Columbia University, later told me. "After the maharaja joined the Indian Union in 1947, the Kashmir Valley, separated by the mountains, was for a long time very poorly connected with the rest of India, unlike Jammu."
The discrepancy became apparent as dawn broke, revealing pastel-colored temples and well-manicured parks. There were large Indian flags on every corner and the words Jai Hind—"Long live India!"—painted across fading hotel signs. As we drove past a mile-long Army base in Udhampur, the propaganda signs read, "WE DON'T STOP WHEN WE'RE TIRED, WE DON'T STOP WHEN WE'RE DONE! EVEN IN REST, PLANNING FOR THE NEXT," the text juxtaposed with a photo of a leaping cheetah.
Deep in Jammu's remote Reasi district is the future home of the Chenab Bridge. When work on the crossing began in 2004, Indian engineers blasted a road into the side of the mountains, only to discover a tiny village, called Sarmega, directly in their path. The residents were suddenly living side by side with cement trucks and fifty of India's top engineers.
During a tour of the site, I met a geological engineer named Santosh Maharaj. I asked him when he thought the project would be completed. "When? If," he said, laughing. "Don't write that down."
Around us, steel beams poked out of the soft ground. It was unclear whether they'd been there for twelve years or two months; everything looked half-started. From above, I watched a group of construction workers share a cigarette as they dangled their legs off a girder protruding from the mountain. In the canteen, a concrete bunker, an engineer pulled out his phone to show me a video of the project. The camera panned over a rendering of the finished bridge, moving through the fog as a voice declared: "The Chenab Bridge will be as strong as its foundations." We attempted to drive down to those foundations, but when it began to rain, Maharaj ordered the driver to turn around. It wasn't safe, he said as the ground melted into a red stream beneath us.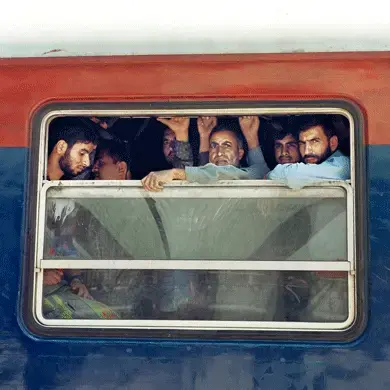 Back in his office, Maharaj showed me samples taken from the site. The mountains here are made up of more than twenty different types of rock, including limestone, slate, dolomite, sandstone, and shale. "The whole train will pass through these," he said. The composition of the mountains, along with the steep slopes and the threat of rockslides, presents a daunting challenge.
Maharaj's friend Naresh Sharma, another engineer, cut in. "Some people said the geology is not suitable to make that bridge. Concerning this point, this is actually the most suitable location for building the bridge." He added that the government had delayed the project because of safety concerns. "But now we have a green signal."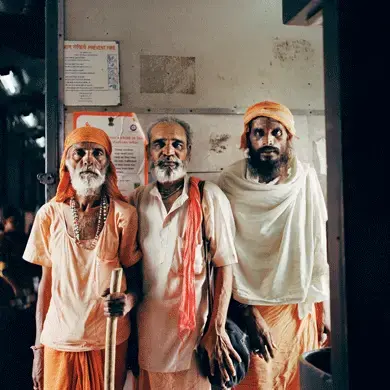 A horn blasted, and a truck arrived to pick up a handful of construction workers in the rain. I'd spoken to several earlier that morning as they walked to work from Sarmega, swinging tin lunch pails. One had told me that a few years ago, four people died when a crane broke, dropping them a thousand feet to the floor of the gorge below. Despite the danger, most workers were paid between a hundred and two hundred dollars per month to work twelve-hour shifts.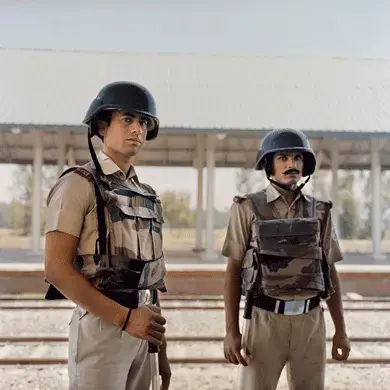 The head of the project, Surajit Choudhury, came by. He'd been working on the bridge since construction began. "This bridge is a very good project," he said as we sat in his windowless office. He assured me that they'd finish in five years or so. "This rail line will bring the Kashmiris into the mainstream of this Indian culture."
By car, the Katra railway station is about an hour and a half south of the Chenab crossing. Completed in 2014, it is the newest station on the line. Inside, I found thousands of Indian pilgrims stranded en route to Kashmir. Down here, Wani was not a martyr but a terrorist, and azadi was a Pakistani myth. I stood in line to buy a ticket to Jammu Tawi, the last stop on the southbound rail. A young man named Mukul, who sold clothes in New Delhi, told me that Kashmir was beautiful. He hoped to visit the valley "as soon as they kill all the terrorists."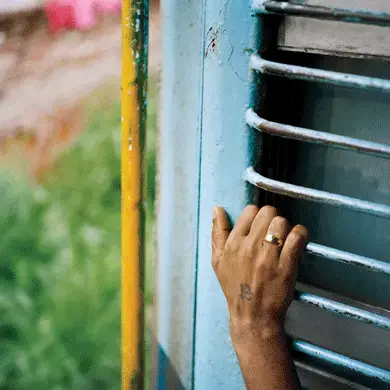 On the train, I mentioned Wani's death to an older man named Vikas Singh. He grew agitated. "Kashmir is an integral part of India," he said.
I pointed out that most Kashmiris with whom I had spoken said they didn't feel that they were an integral part of India. Many wanted Kashmir to become a separate country.
"There are only two to three people who want to get separated from India," he replied. "Ninety percent of people are against getting separated."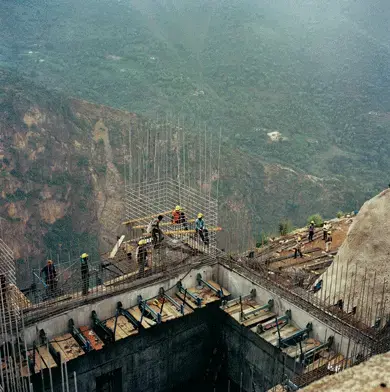 The maroon late-afternoon light faded as our train crawled toward the city of Jammu. Outside, cracked red soil marked the paths of what once had been marshy streams. When we arrived, the temperature had yet to fall much below a hundred degrees. I set out from the station for Nagrota, a town that is home to many Kashmiri Pandits—Hindus who fled the valley in the Nineties after they became targets of a new wave of Muslim insurgency. Over the course of a decade, thousands of Pandits were killed, threatened, or forced to flee their homes, many of which remain abandoned on the outskirts of Srinagar.
I met Kanwal Pandita, a government worker, in his home. We sat cross-legged while his wife brought out plates of honey-coated sweets. Pandita had been working in Kashmir when a mob attacked the camp he lived in with other Pandits. According to him, the crowd pelted stones at their windows for hours, until Army officers showed up. He and eighty other Pandits fled by car that night.
"Treatment is not good there," he said. "Pandits are like bonded laborers and slaves. We have no freedom of expression, no freedom of state, no freedom to pursue our religion. They want to convert us to Islam, which is not possible." He added that the Army was doing a "great job" in Kashmir.
Like Pandita, many Pandits still regard the Kashmir Valley as their homeland. Hanging on his bedroom wall was a photo of his family smiling from a houseboat on Dal Lake, the sunlight glistening on the water. After touring their house, my hands sticky from the sweets, I paused by the door. "We would never support an independent state," Pandita said. "Kashmiris have no claim on Kashmir. We're all Indians. We will die as Indians."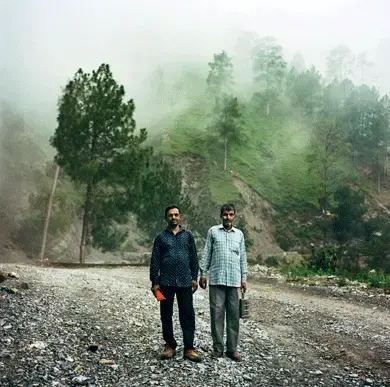 The next morning, I boarded the train to New Delhi and headed for home. Twelve hours later, the familiar scent of pollution, car fumes, and dust entered the train. I leaned out the window and watched the lights glitter over the City of Dreams, as it is called.
It was past midnight, but the station was bustling with people: families from northern villages, Sikhs, businessmen, South Indians — but not a single Kashmiri.
I stepped out of the station and pushed my way through the crowd fighting to flag down three-wheeled rickshaws.
"Where you coming from?" my driver asked as we sped away from the station.
"Kashmir," I said.
"Terrorists."
RELATED ISSUES