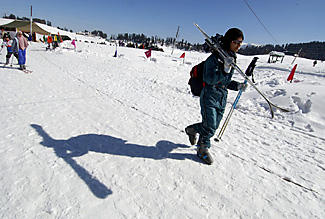 Reproduced with permission from The Christian Science Monitor.

Srinagar, Indian Administered Kashmir --- Khurram Parvez recalls how the walls of his office shook from daily bombs and gun battles during the height of fighting here when separatists would rush across the Pakistani border to strike at Indian security forces.

Today, the human rights activist says, the explosions of several years ago have stopped and many Kashmiris are eager to seize this lull in fighting to rebuild the contested region.

"People have this idea that, in Kashmir, there are militants on one side of the street and Indian troops on the other shooting at each other, and we're caught in the middle, like this," says shopkeeper Farooq Mir, raising his hands in mock fright. "That was the old Kashmir. Right now things are looking up."

In 2007, conflict-related deaths across the disputed state totaled 777, down from 1,116 the year before and a peak of 4,507 in 2001, according to the South Asia Terrorism Portal database. This translates to a decrease of more than 30 percent, while civilian casualties dropped by nearly twice that amount. In 18 years, 43,000 people have been killed in the conflict.

The calm was interrupted Wednesday when a bomb hit Lal Chowk, one of Srinagar's main commercial arteries, injuring at least 24 people. Islamic militants are suspected in the attack, which occurred not far from where an October 2001 suicide attack left 40 dead. India says it is a sign of desperation after several militant leaders were killed last week.

But the fierce revolt that broke out in 1989 has largely subsided. Tensions date back to partition, when the Hindu ruler of Kashmir, a Muslim-majority state, opted to accede to India instead of Pakistan.

Conflict fatigue among the Kashmiri people, along with political restraint and the absence of fiery rhetoric by India and Pakistan, are cited as compounding factors, but analysts say the relative peace in Kashmir is a function of Pakistan's pressing need to combat Islamist militants.

These troubles have led to the redeployment of troops and resources once massed on the Line of Control that divides Indian- and Pakistani- administered Kashmir.

"There is a clear inverse relationship between Pakistan's internal stability and conditions in Jammu and Kashmir," says Ajai Sahni, director of the Institute of Conflict Management in New Delhi. "It doesn't want trouble with India at the moment ... so it has diluted its current commitment to supporting the Kashmiri jihad."

Gul Wani, a political analyst at the University of Kashmir, agrees that Pakistan has made "a complete U-turn on Kashmir."

The peace process between India and Pakistan that began in 2004 has produced positive results, regardless of any underlying political calculations, he adds. Since cross-border artillery exchanges have ceased, he continues, India has managed to build a fence and install a monitoring system that has made militant infiltrations almost impossible without detection.

India has long accused Pakistan of arming and funding militants on the Pakistani side of Kashmir, a charge Pakistan denies. Both sides claim the largely Muslim region in its entirety.

Some observers, however, say Pakistan should be given more credit for cracking down on militancy. Tahir Mohiudin, editor of the Kashmiri weekly newspaper, Chattan, insists there has been a "clear shift in Pakistan's policy" since the peace process began. He cites a four-point plan suggested by Pakistani President Pervez Musharraf in late 2006 that compromises on Kashmir to improve relations with India.

Despite the decline in violence, however, this region remains heavily militarized. More than 700,000 Indian troops are spread across the state. Nevertheless, Mr. Wani says that the current climate in the region presents a rare opportunity for the Indian government to reach out to separatists from a position of strength and send a message that it favors a political settlement.

Politically savvy Kashmiris argue that the government must cut security forces to reflect the newfound stability and attract investment.

In February, the mountain resort of Gulmarg hosted India's fifth national winter games, drawing thousands of athletes from home and abroad. Houseboat owners on the famed Dal Lake say the number of foreign visitors is up. And a bevy of discount airlines are docking at Srinagar's new terminal. A billboard reads: "Welcome to Paradise."

But a desire for peace – and work – is not to be equated with a diminished sense of nationalism. "Fear is used as a tool here," says Mr. Parvez, the activist who lost half his right leg to a land mine three years ago. "Some people might take a pro-India posture, but in their hearts, off the record, they want an independent Kashmir."
RELATED ISSUES