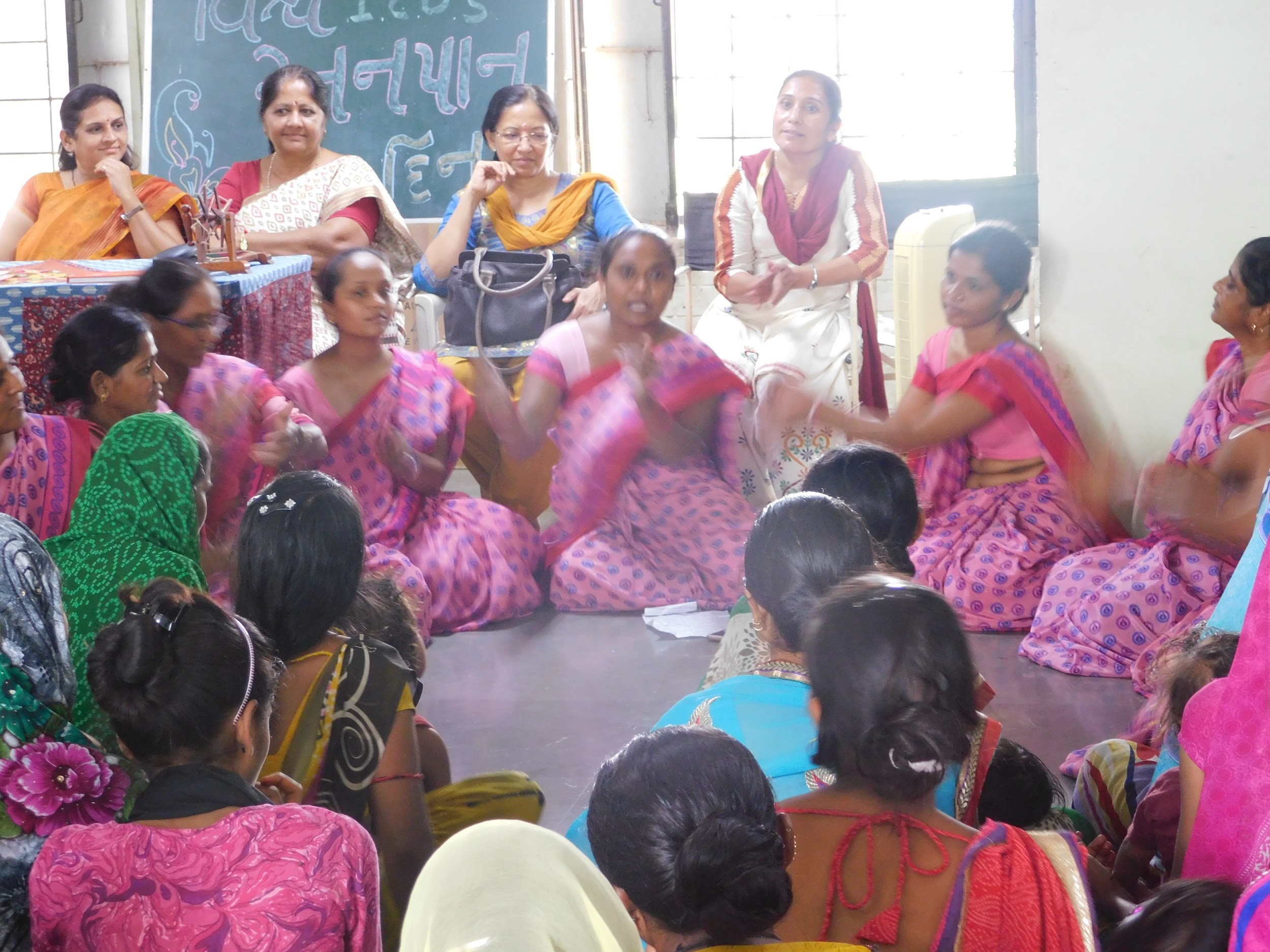 With the epidemic of chronic diseases and communicable diseases like malaria disproportionately affecting Asian-Indians, the disease prevention efforts of non-governmental organizations like Manav Sadhna are taking creative and personalized approaches. Manav Sadhna, main NGO provider of basic services and enrichment activities to the slums of Ahmedabad, hold clinics and awareness camps for the community.
Such events often take the shape of performing arts to attract adult audiences. Once locals are gathered at the community centers, singing and drama captivate community members. On a Saturday afternoon, the Breastfeeding Clinic features health workers as vocalists and dance-drama performers to entertain the audience of women and children before the health officials speak.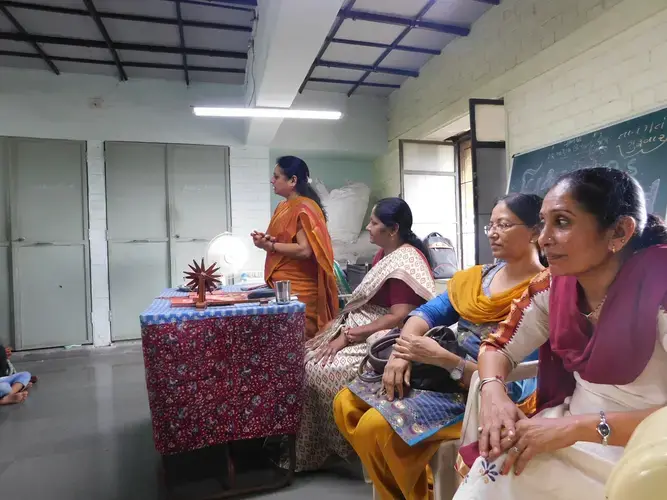 Health representatives often use a call-and-response style in their speeches to maximize audience engagement. At this Breastfeeding Clinic, the keynote speakers are Nandini Pandya, 40, chairperson of Women's and Family Development of Ahmedabad, and Pramodaben Sutariya, 55, deputy mayor of Ahmedabad Municipal Corporation. Dr. Belaben Patel, who has worked in women's health since 1988 and is the principal provider partnering with Manav Sadhna, also addresses the crowd. The spokespeople promote women's health topics like proper hydration, hospital registration, swine flu prevention, and breastfeeding techniques.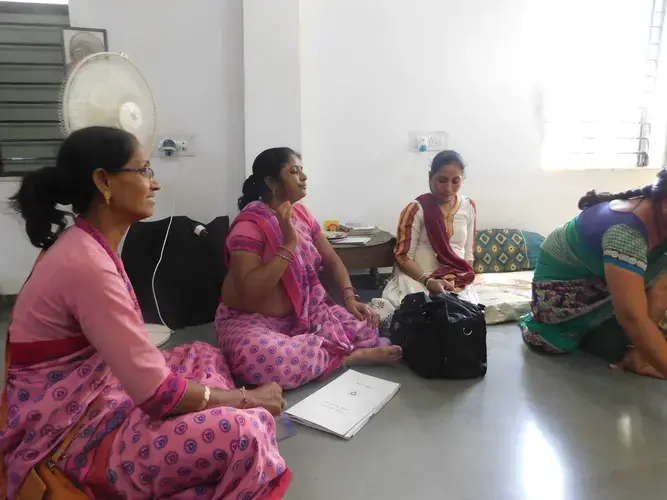 The health worker performers debrief and enjoy a late afternoon snack with health officials after the Breastfeeding Clinic. Health officials discuss the different government initiatives they are helping to spearhead in Ahmedabad. Among these are 30 government immunization camps and hygiene promotion efforts tied to financial incentives, according to Dr. Belaben Patel. The government also partners with Manav Sadhna to conduct both general surveys and ones specific to malaria and dengue prevention and symptom identification.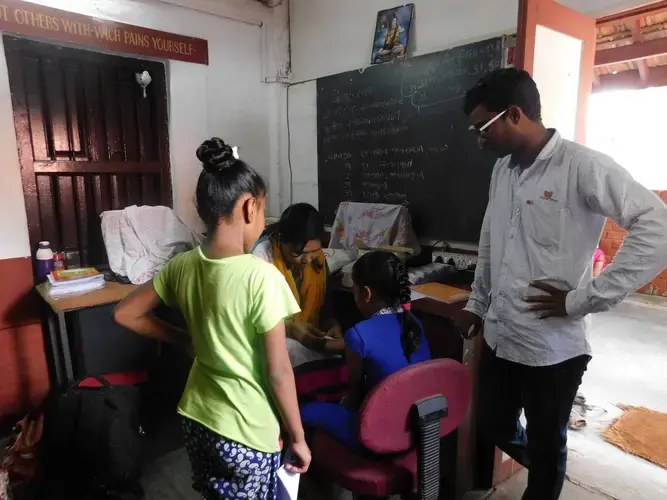 On a Saturday, from 11 AM to 2 PM,  girls ages 11 to 18, arrive from the local slum for a free medical check-up and blood testing at Ganshi Ashram, Manav Sadhna's headquarters. They emerge together, unloading from a minivan in droves.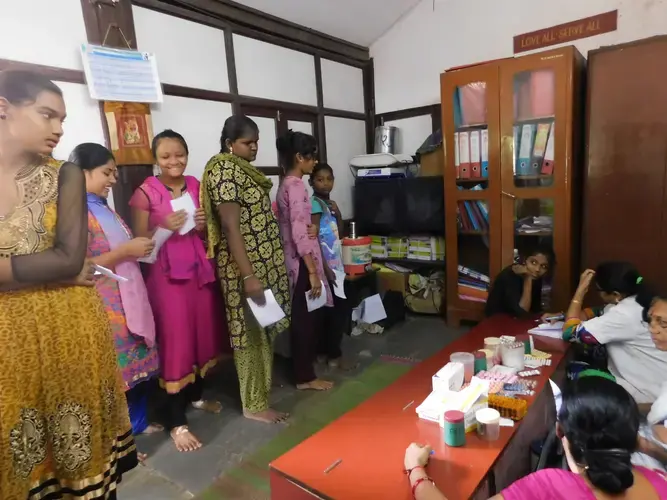 The Hb Clinic, coordinated by Manav Sadhna, is conducted assembly line-style: Manav Sadhna Health Coordinator Ajay Vaghela maintains an orderly line from the minivan to see the doctor, a representative of the Family Planning Association of India. The doctor conducts the check-up while one nurse assists and another nurse draws blood to test for Hepatitis B.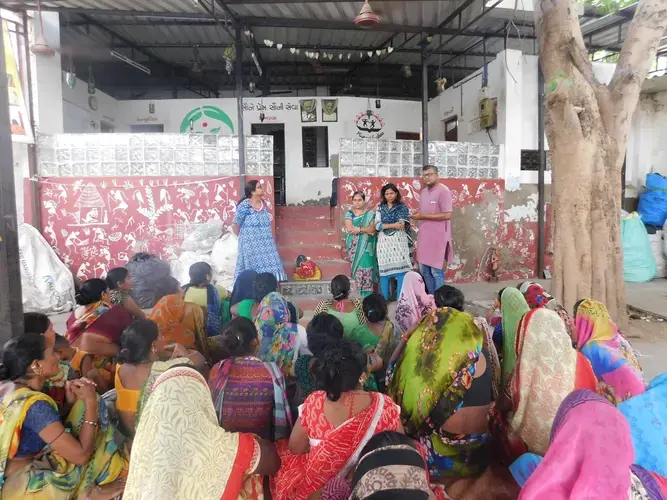 These local girls line up to see the doctor, who checks for any symptoms of Hepatitis B, including fever and joint pain, as well as signs of iron deficiency or other ailment. The assisting nurse and health worker distributes iron or calcium vitamins, or cold medicine, as needed. Fifty-eight girls are seen by the doctor by the close of the clinic.
Pediatric camps and specialized clinics are not the only types of events hosted by Manav Sadhna on Saturdays. The Saturday Afternoon Specials initiative, one of the organization's earliest projects, first served children from the slums when it started in 1990, providing them with basic hygiene and nutrition care. It has since expanded to other populations, including female rag-pickers.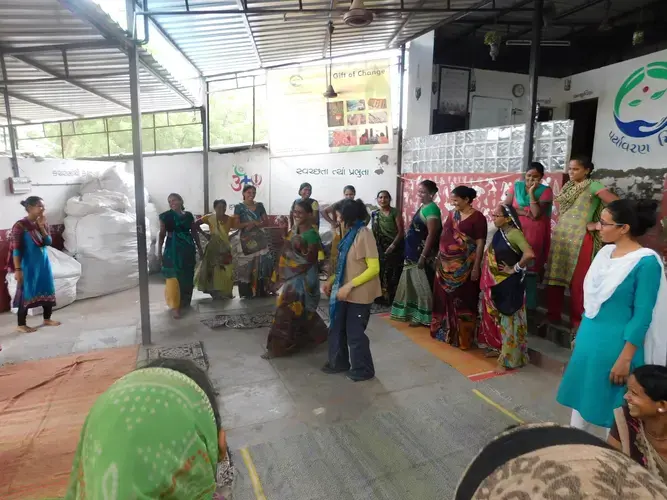 According to Calvin John, 29, The Bindi Project Manager, these rag-pickers are among India's most exploited workers. In Ahmedabad alone, approximately 40,000 ragpicker women pick up and sort through an average of 20 kg a day, traversing about 8-10 km daily. Manav Sadhna attempts to give back to them on a small scale by providing these women with a safe place and holistic health programming.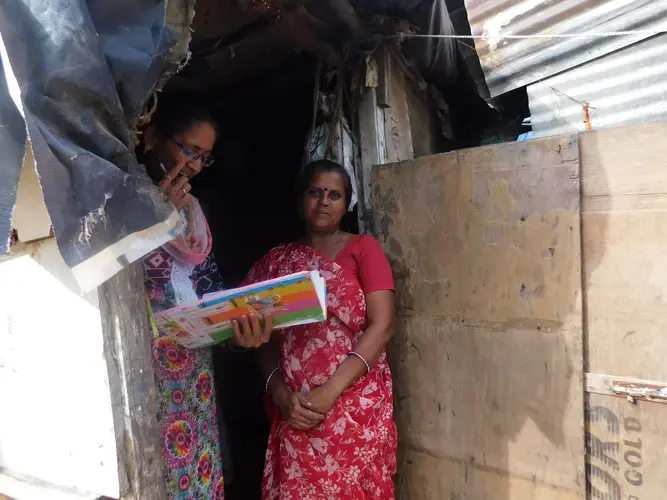 On an August afternoon, the Saturday Special features a talk by John about the Bindi Project's initiatives in development. John discusses projects centered around the promotion of greater male involvement in women's health through videos celebrating men who are very active in caring for the women in their lives. Manav Sadhna staff end the session by distributing one new sari to each of the women.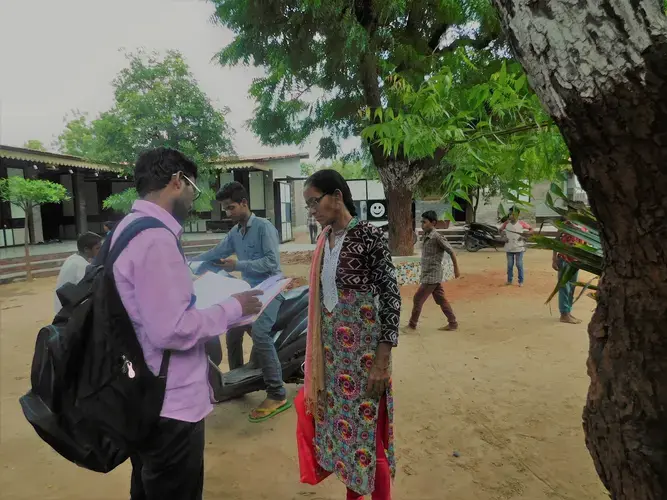 Each Saturday Special has a cultural component to allow the women to enjoy this rare time off from their regular hard labor. Today, it is a mini-lesson in Latin Dance by Ambar Castillo, a LaGuardia Community College student fellow reporting for the Pulitzer Center. She teaches some women basic merengue, salsa, and bachata moves as others watch and clap. Afterwards, the women teach the newcomer traditional Gujarati dance, Garba. During free time women catch up with others away from the prying ears of family members.
RELATED ISSUES