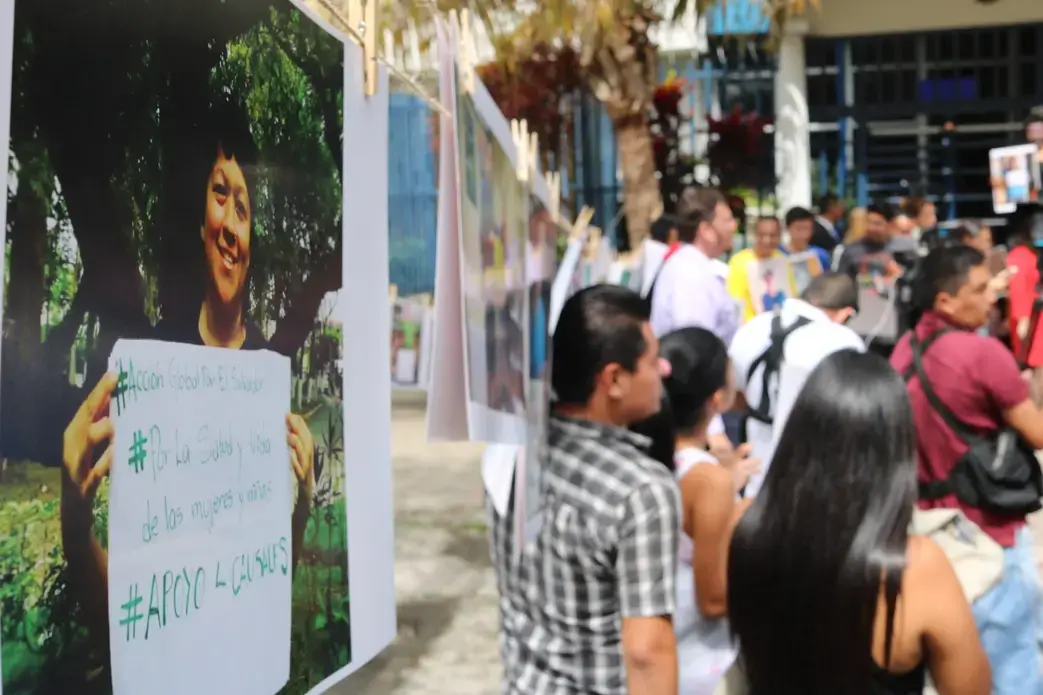 Advocates organized a social media campaign to encouarge people from around the world to post pictures with the hashtag #Apoyo4causales to express their support for a bill that would legalize abortion under four circumstances. Image by Lauryn Claassen. El Salvador, 2017.


In July 2017, 19-year-old Evelyn Beatriz Hernández Cruz was sentenced to 30 years in prison for a miscarriage. While she said that she had been raped and had not even known she was pregnant, Evelyn was the latest victim of El Salvador's uniquely punitive abortion ban. Abortion law is so strict that even a miscarriage can be considered an intentional abortion—a crime that can result in decades in jail. More than 23 women are currently in prison in El Salvador for similar 'abortion-related' crimes.
El Salvador's total ban on abortion has been condemned by the Inter-American Commission on Human Rights, Amnesty International, and the Center for Reproductive Rights. The UN High Commissioner for Human Rights, Zeid Ra'ad Al Hussein, said "I am appalled that, as a result of El Salvador's absolute prohibition on abortion, women are being punished for apparent miscarriages and other obstetric emergencies." The condemnation of global organizations is increasing external pressure on the Salvadoran government. But the real legwork is being done by local activists who are using advanced advocacy strategies to change both the laws and social norms from within the country.
The combined external and internal pressure has ignited debate within the country. When news of Evelyn Cruz broke, the capital was buzzing. "I don't know if it's machismo, or the universal patriarchy… I don't know what happened," said Maribelle, a teacher in San Salvador. "But why does she get 30 years? The same blood makes the baby. Why doesn't the girl get 15 and the boy get 15? Of course that would never happen," she paused to consider the impossibility of the idea. "But it would be more just. Pero la gente calle—they shut their mouths."
But things are changing. Organizations like Las 17, Seguimos Unidos, and Agrupación Ciudadana made sure that Evelyn was not alone during her trial in an isolated, rural courthouse. Within seconds of her sentencing, activists sprang into action making her case a global headline. On August 10th, women's rights groups and lawyers held a press conference to discuss Evelyn's trial, the appeal process, and the long-term steps being taken to try to change the law. Demonstrations took place on the steps of the Monumento a la Constitución. Op-Eds and editorials appeared in local papers, and cries for #justiciaparaevelyn filled Twitter and Facebook feeds.
A Poor Woman's Crime
El Salvador is one of only four countries in the world where abortion is illegal under any circumstance, even when the pregnancy threatens the life of the mother or if the fetus is inviable. But the law is not equally enforced. "Abortion is a poor woman's crime," wrote Rachel Nolan in Harper's Magazine. Many of the women currently behind bars miscarried into pit latrines. This alone speaks volumes. "After all, if you are using a latrine, it means you live in a home that has no running water," explained Morena Herrera, a women's rights activist, at the press conference.
Meanwhile in San Salvador, over a gourmet meal, a woman cupped her hands to her lips in an exaggerated whisper and talked about a friend who had simply traveled to a neighboring country to end a pregnancy. If women have the means to pay, they can access care through private, confidential clinics, order mifepristone and misoprostol online, or leave the country. There are no wealthy women in prison for abortion.
Advocacy Efforts
In 2016, a proposal was introduced to the Legislative Assembly to legalize abortion under four circumstances—when the pregnancy presents risks to the health and the life of the woman, when the fetus is inviable, when the pregnancy is a result of rape or human trafficking, or in cases of rape against a minor. Despite intense support from activists and the international community, the initiative has stalled.
But advocacy groups in El Salvador are highly-organized, skilled, and committed. In August, activists pressured the Legislative Assembly by collecting more than 89,000 signatures from around the world expressing solidarity and opposition to the abortion ban and delivering them to members of the legislature. They have consistently staged protests and press conferences every time a new woman is sentenced and imprisoned.
In late 2017, San Salvador's Second Court of Appeal began the review process for Teodora del Carmen Vasquez, who had already served 10 of her 30 year prison sentence after suffering from a similar miscarriage in 2008. Just as with Evelyn, protests were held, social media campaigns were launched and signatures from around the world poured in demanding her release. Yet initially, the court upheld its ruling and Teodora remained in jail. However, thanks the combination of the hard work of local advocates and international pressure, the ruling was finally overturned, and on February 15th Teodora was able to return home to her family and young son.
Teodora's release is a victory for activists and a hopeful sign for the other women currently serving long sentences for miscarriages. But the fight continues. Activists continue the fight to free these women and to change the laws that endanger the lives of women during pregnancy and put poor women at risk of imprisonment. The criminalization of abortion under any circumstance in El Salvador remains a clear violation of human rights, and through advocacy efforts within the country, coupled with international pressure, hopefully there will be not only #justiciaparaevylyn, but for all women, very soon.
RELATED ISSUES