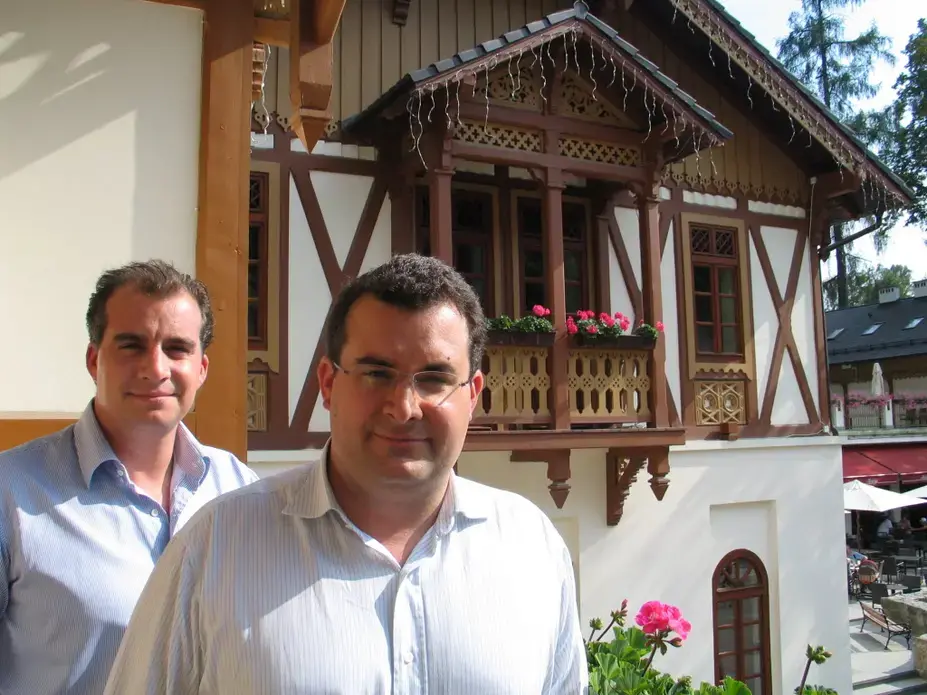 Christophe and Nicolas Mankowski, standing at the window of their main office. Christophe handles the business end of Thermaleo while Nicolas takes on responsibility for design and rehabilitation. The wooden window-porch design is part of their main office and water bar and was an original feature of the Austro-Hungarian era building in this southern Polish region. The Mankowskis have helped local townspeople and property owners restore or add similar designs to their own structures. Image by Robert Marquand. Poland, 2012.


In the Mankowski resort world, things are happening. Work is underway. Ladders are out. Workmen are scraping down the balustrade of a post office and fixing a fountain. What had been a remote and sleepy resort town is under attack by painters and craftspeople.
In the space of five years, the Mankowskis have done something many said was impossible: They came to Poland and rebuilt a resort with two hotels, one a five-star with design concepts from Paris. They restored a burned-out concert house. They anchored facilities around a new resort clubhouse with a "water bar" and re-landscaped the run-down communist-era town with European Union funds. And 22 other structures and ski slopes are on the drawing board.
Yet what may have been the most difficult redevelopment was changing the attitudes of locals and others who at first pooh-poohed the idea.
"I heard far too many times that 'This is Poland, your idea is impossible,' " says Christophe Mankowski, a voluble and bustling entrepreneur who creates new ice cream flavors as a hobby.
"In Poland, you explain a way to do things differently and everyone says it is impossible. Everyone complains, 'It will never happen, Look at him. This is Poland, forget it. But now we have a five-star hotel and people understand we aren't just building hotels – we are building a city."
The Mankowski siblings – Christophe, brother Nicolas, and sister Helena – were born and educated in France. But their engineer father came from Krakow to Paris in the early 1970s and later moved to Moscow to make a fortune in information systems.
Now the Mankowskis, in their 30s, have returned to their Polish roots along the Slovak border – winning back some of the family land nationalized under communist rule. They've reclaimed and rebuilt the dream of their great-grandfather, Adam Stadnicki, a count who fell in love with the area in 1909 and developed it. A hundred years later, the count's offspring still identify Poland as their native realm.
The quaint town has been a remote mineral spring spa since the 19th century, stamped with the ornate carved-wood porches on Austro-Hungarian Alpine A-frames. The town's higher elevations offer vistas of the Slovakian Tatra Mountains that resemble the craggy peaks of the New Zealand set of the "Lord of the Rings" film. Fly fishers in waders wave their wands in rivers that produced a local kayaking Olympian.
Under communism, the town became an advertisement for egalitarian disrepair and shabbiness, languishing as charmless, boxy, structures multiplied, and the count's signature mansion – a grand, towering wooden cultural and concert center – burned to the ground.
Last year the Mankowskis – Christophe handling the business end of their company, Thermaleo; Helena doing marketing; and Nicolas designing the look of cafes and walkways after Paris locales such as Montmarte and Trocadero – recreated that center, nearly precisely. It now features a concert hall with retractable seats and a jazz bar with plush trimmings.
The top-shelf spa resort and conference center opened informally in May and now draws clientele from across Europe and Russia and from the up-and-coming set in Krakow's information technology boom. The scale and speed of the project is an eye-opener locally.
"It is a new place. It has become something," says Jan Lazienski, who has worked different jobs in Szczawnica for more than 20 years and now runs the resort van pool to Krakow.
In the vast tapestry of coming-and-going that has been the Polish experience for 200 years, the Mankowskis represent one bright new thread: "brain gain" – or reverse brain drain. Their return has infused international standards of work, behavior, and possibility into a local mentality that had long been shuttered to the outside world, satisfied with the status quo.
"We got a little success and things start to change," Christophe offers, while pointing to a series of hills where ski slopes are planned. "We created positive energy around a project. We [were] seen as doing something different with a possibility of opportunity, and that started the idea that, 'Yes, we can do something.' "
As outsiders, the Mankowskis had to overcome the inertia and skepticism of the local power structure; and even now, the family's very success brings tussles with local government. But it hasn't hurt that they invested $50 million and now employ 240 mostly local people.
It has been a family challenge to instill a high-level work ethic among local workers – and at the same time to teach themselves the new business.
"We want to do a five-star hotel, but we are not hoteliers," says Christophe. "I'm 35 and [have] never been to a hospitality school…. But we can use our sense and intelligence. We started by asking, 'If I am the client, what do I want?' "
The friendly, pleasant, client-centered approach to business remains one of Poland's biggest hurdles, nearly every commercial analyst here says.
"We stress practice. In Poland, you study but don't always get training. We start with doing. We train, train, train," Christophe says with a smile. "We hire people who want to think and work. If they stand around and wait to get paid, we don't fire them, but explain our standards. We are patient."
But, he adds, new expectations kick in at a certain point: "If then they sit, or count the minutes, or wait to be told their tasks, they will leave. This way of working is leftover from before and is not good for us."