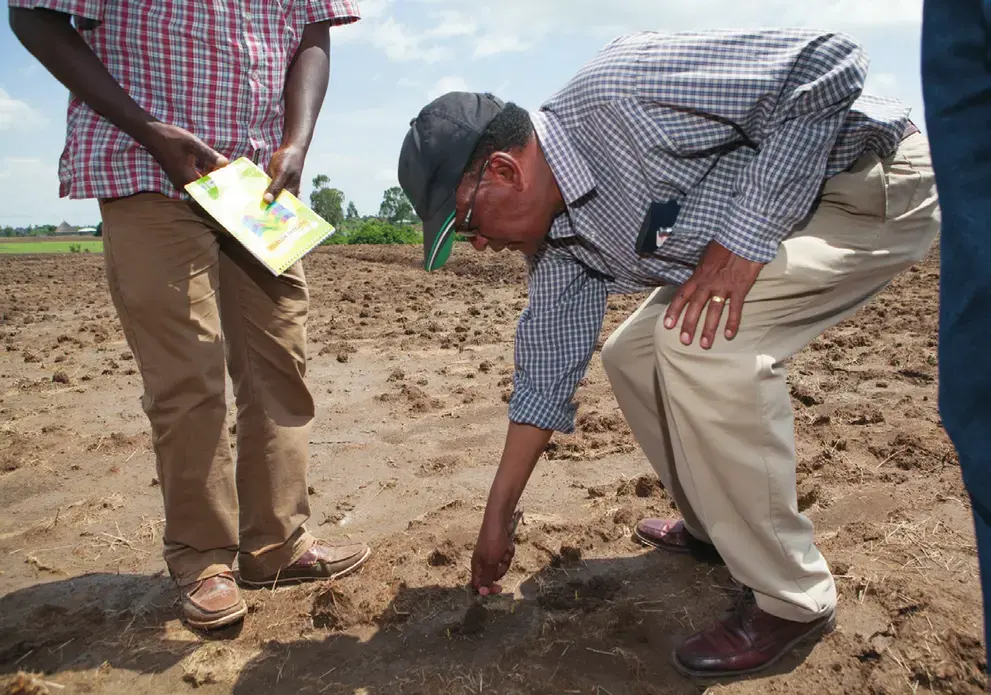 Melaku Admasu teaches planting and fertilizing techniques in Ethiopia. Image by Philip Brasher. Ethiopia, 2014.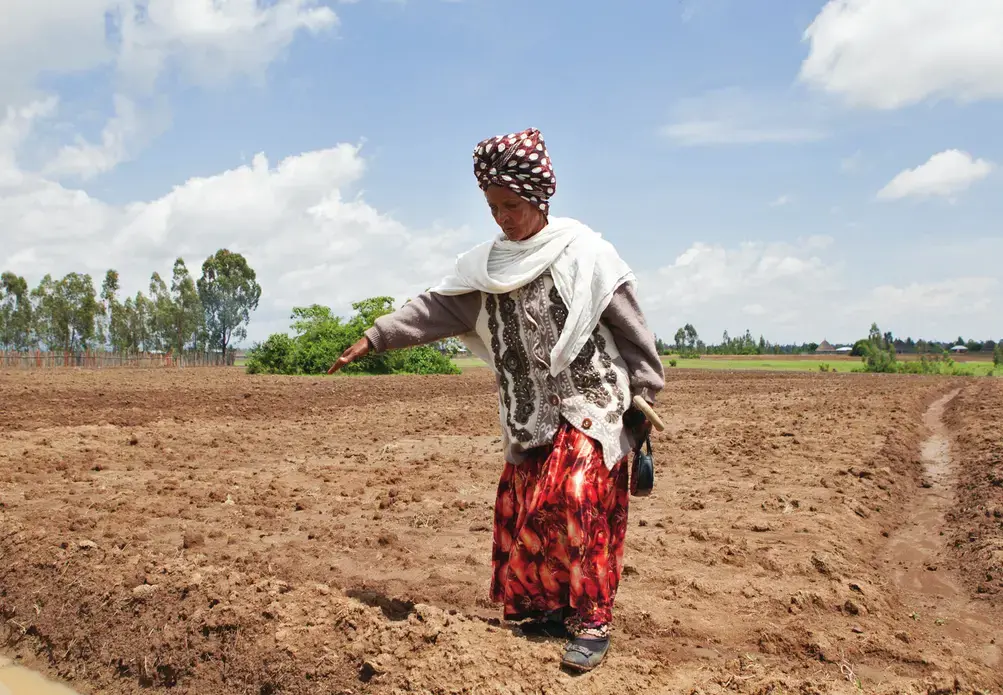 Despite an invasion of hungry monkeys, Gifty Jemal doubled the yield of corn from her small plot by planting rows of hybrid seed and using more fertilizer, closer to the roots. Image by Philip Brasher. Ethiopia, 2014.



GUNCHIRE, Ethiopia — Melaku Admasu steers his truck down a road southwest of Addis Ababa, tapping on the horn to warn off the oxen, goats and other livestock that crowd the road. He points out signs of economic progress.

People are walking along the road wearing shoes, rather than going barefoot. Another sign: roofs made of corrugated metal, instead of thatch. Another: a homestead with two huts, rather than one, so the family can be separated from the livestock.

Admasu might be mistaken for one of the thousands of aid workers who ply this country. But instead he runs the Ethiopian seed business for DuPont, the U.S.-based chemicals and agribusiness giant. Both he and DuPont are critical to a multibillion-dollar effort launched by the G-8 nations in 2009 to boost agricultural productivity and reduce hunger in one of the world's poorest countries.

President Barack Obama's part of the plan, known as Feed the Future, devotes more than $1 billion a year in U.S. taxpayer money to increase food production in 19 target countries. In a novel approach to international agricultural assistance, corporate giants such as DuPont and Cargill beginning in 2012 made commitments to augment the U.S. funding with millions of their own.

But Feed the Future could easily become just another example of good intentions gone awry unless the recipient governments follow through with the necessary policies and money. It's far from clear that is going to happen in Ethiopia and Guatemala, two target countries visited by a CQ Roll Call reporter. In Ethiopia, Chinese investment in infrastructure has hamstrung local banks. In Guatemala, some local leaders say the government sends the aid primarily to supporters of the ruling party.

For their part, governments in Ethiopia and other target nations have made pledges to attract corporate investments. Ethiopia, for example, has been working to liberalize its currency regulations and land laws.

But much will depend on people like Admasu, whose tour of progress ended in Gunchire, a village with a long history of food shortages. There, DuPont and the U.S. Agency for International Development are testing an approach to improve the production of corn among the millions of poor, small-scale farmers who dominate African agriculture.

The simple plan depends on giving farmers bags of nonbiotech hybrid seed, a 20th century development, and training them in proper ways of planting the seeds and applying fertilizers. Only one in 10 Ethiopian farmers who grow corn typically use improved seeds.

"If we increase their productivity, they will increase their income," Admasu says. "If they improve their income, we can change their lifestyle."

NO AUTHORIZATION

So far, Congress has been appropriating money for Feed the Future, but administration officials never sought congressional authorization for the program. To get it, they need to show results. Without authorization, Feed the Future lacks the permanence of a program like President George W. Bush's widely praised anti-AIDS initiative.

House Republicans proposed in 2012 to kill Feed the Future, saying it duplicated other food-aid programs. The idea never went anywhere in the Senate, but the GOP takeover of the Senate could change the picture.

Authorization bills were introduced with bipartisan support in the House and Senate in September, setting up a possible debate in the 114th Congress. The Senate version would authorize funding at the current level through fiscal 2020. The House Foreign Affairs Committee on a voice vote Nov. 20 approved a version that shortens the period to one year, fiscal 2015, which supporters said might win votes in the House.

The involvement of multinational corporations has aroused skepticism among those who see it as an attempt by big business to grab land and markets in Africa. They also question whether it will really improve the lot of poor farmers such as those around Gunchire.

"Problems can arise when private companies take a central role in aid programs," warns Oliver de Shutter, a former United Nations special advocate on the right to food.

Yet the early signs from DuPont's project in Ethiopia have been promising. Some farmers say they harvested as much as four times as much corn in 2013 from the same amount of land as they did the year before. They were among 320 farmers in 16 districts around central Ethiopia who received training in 2013. The number hit 3,500 in 2014 with a goal of 35,000 in 2015.

An older female farmer, Gifty Jemal, harvested 2 tons of corn from her half-hectare, about 1.2 acres, and doubled her yield last year, even though monkeys ate part of her crop, she said. She learned from the project to plant the hybrid seed in rows. She used twice as much fertilizer as she did before, and made it more effective by applying it near the seeds. The extra corn meant that she had more than she needed and could sell some in the local market.

The results are in line with a 2010 study by the International Food Policy Research Institute saying Ethiopian farmers could double average corn yields and increase their incomes at least sixfold just through the use of better seeds and chemical fertilizers.

That could help combat hunger. The Obama administration has goals of reducing rates of poverty and child-stunting by 20 percent within five years in the areas of the Feed the Future projects. More than 50 percent of Ethiopia's children are significantly smaller than they should be for their age, and a third of the population lives below a poverty line of $1.25 per day.

DUPONT IN ETHIOPIA

DuPont's Ethiopia business is little more than a rounding error for the corporation, whose agriculture division alone had $12 billion in sales in 2013. DuPont expects $500 million in African sales in the next few years and $1 billion over the next decade.

DuPont plans to expand its project to Ghana and Zambia, two other Feed the Future countries. To support the Ethiopia project, DuPont this spring opened a warehouse with state-of-the-art equipment for cleaning and conditioning seed at a far higher speed than it could before. Properly processed seed will be more uniform in size and germination, increasing yields.

At the same time, the use of corporate dollars has come under fire from critics who worry that DuPont and others are in it for the public relations value rather than a real commitment. Also, some companies, including DuPont, already have scaled back their initial plans.

Paul Schickler, president of DuPont's seed division, DuPont Pioneer, insists the Ethiopian project is neither a public relations stunt nor an attempt to exploit African farmers and force them to adopt American style farming practices. "Our goal is to improve farmer livelihoods, and that's in Iowa, and in China, and in Ethiopia," Schickler said.

Some projects that fall under the umbrella of Feed the Future don't rely on private investments but rather nonprofits that work in coordination with governments to reduce malnutrition.

In the western highlands of Guatemala, in an area where 53 percent of the population is estimated to be malnourished, a Feed the Future project run by Save the Children provides poor families with young children with a goat and a small wood pen to keep it in. The goat's milk provides a critical source of protein for the children, and the manure is used to fertilize the family's crops.

LOCAL POLICIES AT ISSUE

One of the most important features of Feed the Future — and its potential Achilles heel — is its reliance on national and local governments. Each of the 19 countries was selected in part because it is relatively well -governed, and in each case U.S. Department of Agriculture officials say they worked closely with host governments to design projects that reflect national priorities.

In Ethiopia, USAID is working not only with the agriculture ministry but also a separate agency established with the help of the Bill and Melinda Gates Foundation on the recommendation of a study by the consulting firm McKinsey and Company. Khalid Bomba, an Americanborn former investment banker with J.P. Morgan, heads the agency.

The U.S. assistance in developing a private agribusiness sector — which remains essentially non-existent more than two decades after the fall of Ethiopia's communist government — is especially critical to the transformation plan, Bomba says.

Ethiopia has been slow to act on a list of 15 policy and legal changes the government promised to entice investment from DuPont, brewing giant Diageo, DuPont rival Syngenta and other multinational companies. As of June, only one of the 14 changes promised to be in place by April 2014 had been completed.

The government implemented a new policy for regulating seeds, a critical move for DuPont. But it has so far failed, for example, to lift an export ban on grains, which would encourage private investment in farming.

Ethiopia's many regional and local governments often lack the money to carry out priorities sent down from Addis Ababa, says Gina Castillo, who oversees studies of Feed the Future programs in several countries for the development group Oxfam America, funded by the Gates Foundation.

Jonathan Shrier, the State Department's top diplomat for food security issues, says that relying on host governments "adds complexity" but also makes it more likely the effort achieves results.

"The old style of development was criticized in the past for creating a perpetual dependency on assistance. That's not the idea here," he says.

The G-8 initiative in Ethiopia is providing a modest counterweight to billions of dollars that China is pouring into Africa though the financing and construction of major infrastructure projects, including a critical rail line to link landlocked Ethiopia with the port of Djibouti, upgrades to rural roads, a hydroelectric dam on the Nile River and a mass transit project in Addis Ababa.

China's huge program has hamstrung the food and farming initiatives. China is financing much of the work, and Chinese companies are overseeing the construction, but the cost to Ethiopia's federal treasury is steep. To help pay for it, the cash-strapped government began requiring banks to buy bonds worth 27 percent of their annual loans, a move that has made private financing hard to get. The area around Addis Ababa is littered with abandoned private construction projects.

GUATEMALAN POLITICS

In Guatemala, U.S. officials credit the government of President Otto Perez Molina with adopting a "Zero Hunger" policy initiated by his predecessor. He's also seeing through the expansion of agricultural extension services to smallholder farmers.

But some leaders in Guatemala's western highlands, the focus of the Feed the Future projects, say the government doles out assistance selectively to supporters of the ruling party. And there is a big question whether the next government will follow through on the current administration's commitments. Guatemalan voters are notoriously fickle, voting in a new party every four years. The next election is in 2015.

That's the "million-dollar question," Sebastian Marcucci, Guatemala's vice minister of agriculture for extension and food security, said when asked whether the next administration would continue the Feed the Future initiatives. The Zero Hunger policy "shouldn't carry a political banner. A malnourished country causes too many setbacks for our country," he says.

What the Perez government hasn't done is put significantly more money behind its rhetoric. Tax collections in Guatemala amount to just 10 percent of GDP, compared with about half in the United States. Guatemala's business elites fight tax increases at the same time they fret about Guatemala's image abroad because of its high malnutrition, says Henry Schmick, the USDA's top official in Guatemala.

In sharp contrast to Ethiopia, where virtually everyone is poor, Guatemala has one of the highest rates of economic inequality in the world; the wealthiest 10 percent of the population accounts for nearly half its income. This inequality is reflected in agriculture, too: 2.5 percent of Guatemala's farms control 65 percent of the agricultural land, according to the World Bank.

The 19 countries are being tracked to determine whether malnutrition and farm output improve, but the results won't be known for several years. Many of the target countries are likely to want more time. Ethiopia needs until 2021, Bomba says. Those timetables would leave the fate of the program up to the next president.

Many of the 19 target countries are important strategically to the United States: Ethiopia, home to a U.S. drone base, as well as Kenya are important to the U.S. effort to contain terrorist groups in eastern Africa, while Guatemala and Honduras are sources of drugs and illegal immigration.

"This is the big mistake that many development partners make, is feeling that a five-year project is sufficient and then moving on to something else," Bomba says. "We need sustained engagement on a particular issue to allow government and other domestic partners to take it over."