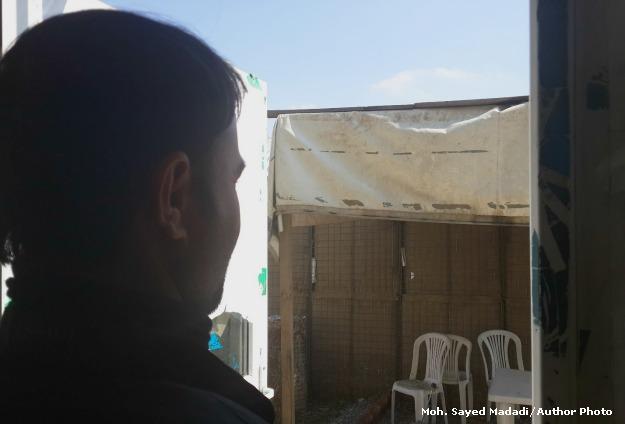 Name: Norullah

Age: 22

Ethnicity: Pashtun

Province: Kabul

Norullah is an office cleaner at Afghanistan's Independent Election Commission. After the country's presidential and provincial councils election on April 5, in which more than seven million people voted, the commission became busier (and messier) with ballot counting, and Norullah's work has increased accordingly.

He is glad for the work, and it shows when he talks: Norullah has a smile that conveys a plain honesty in his face, which is apparent when he first looks at you. It shows wisdom too; though he is young, Norullah looks much older than his years, evidence of the hardships he has faced. Still, he has hope, though it is qualified: While he insists Afghanistan is now safe and will remain so in the future, he asked that his face not be shown in the above photograph, because he is concerned for his security when he travels to Afghanistan's eastern provinces. He sees an imminent threat, but his hope remains strong.

The following are the words of Norullah, as told to Moh. Sayed Madadi.

I was born in Kabul. I remember it was so dangerous, life was so hard. I remember my father was sick and he was in Wazir Akbar Khan hospital. My mother and I went to see him, and we walked home from the hospital under gunfire and bullets. I cannot believe today how people survived those days, how we made it safely home that day, and how all the bullets somehow failed to hit us.

I was a little child and couldn't go to school when the fighting in Kabul got bad. We were displaced, and we went to the Shir-Shahi refugee camp in Jalalabad. There was so much hardship, so much. I tried so hard, I sold water. When I was seven, I took a cask and sold water to make something for the family, to bring them bread so we could survive.

My father was a school teacher, so he went to Kabul to teach. Travel was dangerous so he rarely came to visit us in Jalalabad. We spent three years there, and when we came back to Kabul, things had not changed a lot. And it proved costly for our family to come back to the capital: One day we were out gathering wood, and my father stepped on a mine, losing his legs.

After my father lost his legs, life became more challenging in Kabul. So we borrowed some money and moved to Pakistan. In Pakistan, the weather was different, the faces were different, but life remained daunting. I sold plastic bags, I sold vegetables. I didn't go to school, I left it because -- it was life, and I had to. I didn't think to regret missing school, or to try to make up the lessons. I got so busy with life, and working to provide for the family, that I even forgot to think about school.

We spent seven years in Pakistan and came back to Kabul in 2001 when Taliban had left the country. We had to start again from zero. I started working as a cleaner -- a term used for people who serve in buses -- in different routes: Kabul to Herat, Kabul to Jalalabad, Kabul to Gardiz, Kabul to Torkham, Kabul to Kunar. I was a cleaner for three years until I learned to drive pretty well. My family didn't have a house of our own, but with the money I made from driving and some that I borrowed, I bought a piece of land and built a house. I struggled so hard, but driving a bus -- despite the better income -- kept me away from my family and it hurt. So I joined the commission and now that I have come here to this job, thanks to God, life is better. Here at the commission, they pay me 300 Afghanis [$7] per day and I thank God a thousand times. I am a office cleaner, but people are so kind with me.

I went through so much hardship before this period -- before 2001. Everything I can talk about from those times is all war, gunfire, rockets, explosions, deaths, and blood. There is a lot of difference between those two periods, then and now. It is a very good period now, people work, they make lives for themselves. It has changed our country and has affected me a lot, and I am so happy for it. I am very happy because when the Karzai government came, things changed, people found jobs, industrial parks were built, and factories were built.

Now after 13 years, they say Americans are leaving. I cannot predict the future, only God knows what will happen. But I am hopeful. I don't think there will be again a war. Thanks to God, now we have a good army, we have good police, the country is safe and secure. I pray that everything will remain good and stable. People want the [bilateral security] agreement to be signed. As for me, the Americans can stay here or not, they don't have any reason to be here any more, and we have nothing to do with them. But still, they helped us a lot and I am thankful to them. They brought up our army, they helped our police, they have built roads and I am happy for it.

Edited by Jeffrey E. Stern.

Moh. Sayed Madadi is a Kabul-based Afghan civil activist working on democratic governance and human rights. He is a member of the Afghans Coalition for Transparency and Accountability, a civil society group advocating for good governance, and the co-founder of the Youth Empowerment Organization,which focuses on youth engagement in local governance.