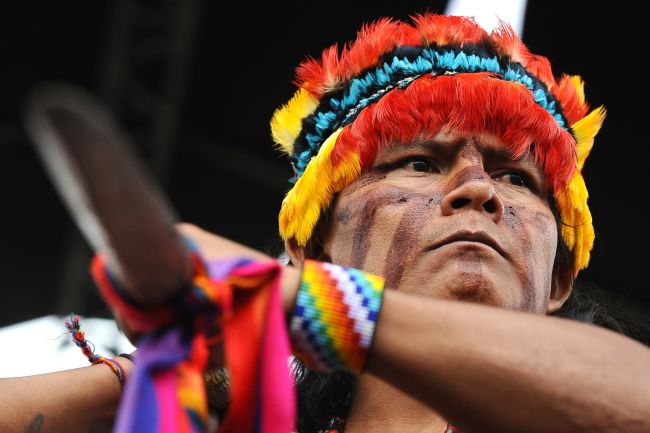 President Rafael Correa was once the toast of environmentalists around the world after his government adopted a groundbreaking new constitution that recognized "the rights of nature."

The 2008 constitution even used the words "Pacha Mama" — the indigenous Quechua language's term for the "Earth Mother." It stipulated that the state "will incentivize" citizens to respect and protect her ecological cycles.

But now, Correa finds himself accused of hypocrisy as his bid to push through a huge $1.77 billion open-pit copper mine in the Amazon has aroused the wrath of the country's powerful indigenous minority.

According to the Confederation of Indigenous Nationalities of Ecuador (CONAIE by its Spanish initials), the El Mirador mine, run by Chinese company Ecuacorriente, would lead to the ravaging of around 450,000 acres of spectacularly diverse cloud forest that is the ancestral territory of the Shuar people.

Neighbors Peru, Bolivia and Chile have numerous open-pit mines, which critics say can have devastating environmental impacts.

El Mirador would produce 2.35 million tons of copper, and generate estimated royalties for Ecuador of $5.4 billion. It would be the first in the small South American nation, and is widely viewed as establishing a precedent for the mining industry here.

CONAIE claims that the planning process has been riddled with irregularities, including a lack of meaningful consultation with the local communities. The organization also says Ecuadorean law prohibits mining in natural watersheds such as those in Zamora Chinchipe, the area where the mine will be located.

Ecuacorriente declined GlobalPost's requests for comment, saying its executives were too busy.

Correa, a combative socialist who previously worked as an economist, has insisted that the royalties from the mine are necessary for Ecuador's economic development.

"We cannot be beggars sitting on a bag of gold," the president said when his government signed the concession contract with Ecuacorriente in March.

Yet opponents of the mine were outraged after he allegedly describing them as "four nobodies." The quote was widely reported by Ecuadorean media, but the president now denies ever saying it.

At the heart of the bitter dispute lie competing visions of "development," with indigenous groups and some environmentalists rejecting Western models based on the industrial exploitation of natural resources.

"For us as indigenous people who have lived here for millennia, it is not about having a big apartment with a plasma flat-screen TV," Mauricio Paqui, CONAIE director for territory, natural resources and development, told GlobalPost.

"Development means nothing to us if it doesn't protect the forests where our people have always lived, or allow us to continue to have clean water, forests and air."

Earlier this month, the confederation led a march from Zamora Chinchipe to the capital Quito. The march started out with just a handful of indigenous activists.

But two weeks later, when it arrived in Quito on March 22, it nearly brought the city to a standstill. Its numbers had swelled with sympathizers, including many non-indigenous Ecuadoreans.

Correa swept to power in 2006 in large part thanks to indigenous support, even making campaign speeches in Quechua. Now, many here are interpreting his acrimonious split with the indigenous movement as a seismic shift in Ecuadorean politics that could ultimately undermine his chances of re-election.

Meanwhile, the controversy also shines a spotlight on China's rapidly growing presence in Latin America. That could mean greater risk of conflicts in the region, some analysts say, as Beijing seeks to feed its growing hunger for raw commodities, particularly metals, gas, oil and food exports.

The US was the top foreign investor in Latin America in 2011, with investments totaling $23 billion. But China is rapidly catching up, investing $15 billion, according to strategic consultant Gabriel Sanchez Zinny, managing director of Washington, DC-based Blue Star Strategies.

"In the US, we often ask why we don't engage more with Latin America, but maybe it's not about what we want, but what Latin America wants," Zinny told GlobalPost. "Countries in the region believe they need to diversify their economies and not be too reliant on the US.

"Even countries with right wing or center-right governments such as Chile and Colombia, who have strong relationships with Washington, are seeking out Chinese investment."

In a statement on its website, the Chinese Embassy in Quito says Chinese companies operating abroad are required to "comply rigorously" with local laws and "apply strict standards for environmental protection, conserving the ecological surroundings in order to contribute to the sustainable development of local communities."

Chinese firms have been accused elsewhere of harming the environment. In Africa companies from China "have been caught flouting conservation laws and collaborating with criminals in the exploitation of Africa's natural assets," writes University of St Andrews international relations professor Ian Taylor.

And environmental accidents are rising at home in China, according to media reports.

Now, Ecuacorriente appears to have its work cut out bringing locals onside in the Ecuadorean Amazon. "The Shuar are committed to defending their land whatever it takes, including shedding their own blood," warns Mauricio Paqui. "They are our brothers and CONAIE will be there with them."
RELATED ISSUES