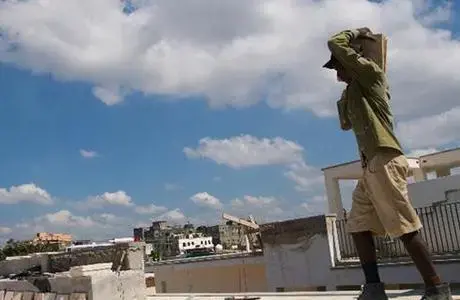 BATEY ESPERANZA, Dominican Republic — Altagracia Jean Joseph walks through the dirt streets of the neighborhood called Hope, pointing out the people of Haitian descent who may no longer be citizens of a country where they've spent their entire lives.
There is 20-year-old Yuly Paredes, who lost his contract to play with a baseball camp frequented by scouts from the United States because he could not get official copies of his identity documents. Down the way is Louis Michel, 76, who came from Haiti in 1976 to cut sugar cane. Nearly 35 years later his four grandchildren cannot obtain birth certificates.
Across a rusting fence is a school where many children could be denied access to the free health care offered to citizens of the Dominican Republic, or enrollment in state universities.
"We have so many cases here of people losing their citizenship," said Joseph, 21, who graduated second in her high school class cannot get into a university because the government now says she is Haitian even though she has never lived in Haiti.
The people of Hope are among hundreds of thousands of people of Haitian descent affected by a change to the Dominican Republic's Constitution.
Many are people who were born to parents who arrived here — some legally, some illegally — while others are three generations removed from their Haitian forebears.
Forcing them to Haiti would threaten to tear families apart and worsen an already terrible situation in Haiti, where a Jan. 12 quake left as many as 1 million Haitians living in camps waiting for their homes to be rebuilt.
"In Haiti, life would be so difficult," says Viola Remi, who has lived in the Dominican Republic for 21 years and her four children were born here.
Philip Jean, who was born here of Haitian parents, says he and others like him would not be welcome in Haiti.
"We are like a horse tied between two poles," he said.
'Limited resources'
The constitutional change came two weeks after the earthquake in Haiti, which makes up the western portion of the island of Hispaniola. The Dominican Republic is on the eastern portion. The change denies citizenship to children born to undocumented residents.
The National Assembly said the change would ensure that a rush of impoverished Haitians fleeing the quake would not claim permanent residence in the Dominican Republic. It was also a response to a ruling by the InterAmerican Court of Human Rights, a regional body that acts on human rights issues for nations that belong to the Organization of American States, which concluded that the Dominican constitution granted citizenship to Haitians born here.
The ruling was seen by many here as an affront to national sovereignty and an attempt by foreigners to force the Dominican Republic to shoulder responsibility for a poverty-stricken country made worse by inept government and years of failed international oversight.
"We are a country of limited resources," says Prim Pujals Nolasco, chairman of the Senate foreign affairs and international cooperation committee.
The residents of Batey Esperanza — adults and children, professionals and laborers, most with Haitian heritage — say the ruling has made them "stateless." There are around 1 million Haitians and Dominicans of Haitian descent in this country of 9 million, says the Dominican Republic, which has long been a more stable and prosperous nation than Haiti.
Sonia Pierre, a Dominican human rights activist, says hundreds of thousands of people, most of whom are descendents of Haitian sugar cane workers and other laborers, will be forced into the margins of society where they can be denied health care, schooling and jobs.
"The Dominican of Haitian descent has been put in a situation of total exclusion," says Pierre.
Along with the law, the government here recently tightened the rules on who is eligible to receive identity papers that are necessary for all facets of life, from voting to getting married.
Those trying to get official identification must now show not only evidence of their own citizenship but proof that their parents and grandparents were in the country legally as well.
The new rules are an effort to combat what the government says is overwhelming illegal migration. Tens of thousands of illegal immigrants cross the porous border from Haiti each year, a number that has jumped even higher after the quake.
"We have come to their aid," said Pujals, alluding to assistance to Haiti after the quake. "But based on our calculations, after the earthquake another 57,000 Haitians have come, and so what are we going to do?"
Human rights groups, such as Refugees International, say the changes are not targeting illegal immigrants. They say the laws are mostly hurting people such as Joseph and her neighbors, descendents of Haitian workers who came here often at the request or approval of the Dominican government to work in the sugar industry. Now they are being told they belong to a country most have never been to, and whose people speak a language — Creole — different from their native Spanish.
Joseph discovered that she was affected by the new policies when she went to the civil registry after high school to get a copy of her birth certificate needed to enter a university. Joseph was born in the Dominican Republic— the daughter of migrant Haitian cane cutters — and decided she was going to be either a psychiatrist or a lawyer.
But when she went to collect her paperwork she was told that she was not a citizen. "They said, 'We cannot give you documents because your last name is weird,' " she recalls. "It was hard at first. ... I cried a lot."
Dozens of residents told similar stories. Although the law says that they simply need to prove parents' legality, it is often impossible to find 40- or 50-year-old documents that would give this evidence, they said.
Need naturalization
"To be a stateless person, it's like you're standing still and the world moves on around you," says Maureen Lynch of Refugees International.
The Dominican government rejects the characterization. It says Haitian law grants citizenship to children of Haitians no matter where they are born and the Dominican has a right to decide who its citizens are.
"This term 'stateless' does not apply in the Dominican Republic," Pujals says. "These people ... can register their names in the foreign registry, in their consulates."
But that is difficult, say people caught in the situation.
The Open Society Institute, a foundation that promotes social change, says that according to the Haitian Constitution the only way many Dominicans of Haitian descent can get Haitian nationality would be to live in Haiti for five years and then go through a naturalization process. Joseph and a group of friends from high school, for instance, went to the Haitian consulate and were told that they were Dominican, not Haitian. Joseph agreed.
"I am Dominican," she says. "This is my country."

Contributing: Steve Sapienza

This reporting is part of a joint collaboration between the Pulitzer Center, PBS Newshour and USA Today.
RELATED ISSUES