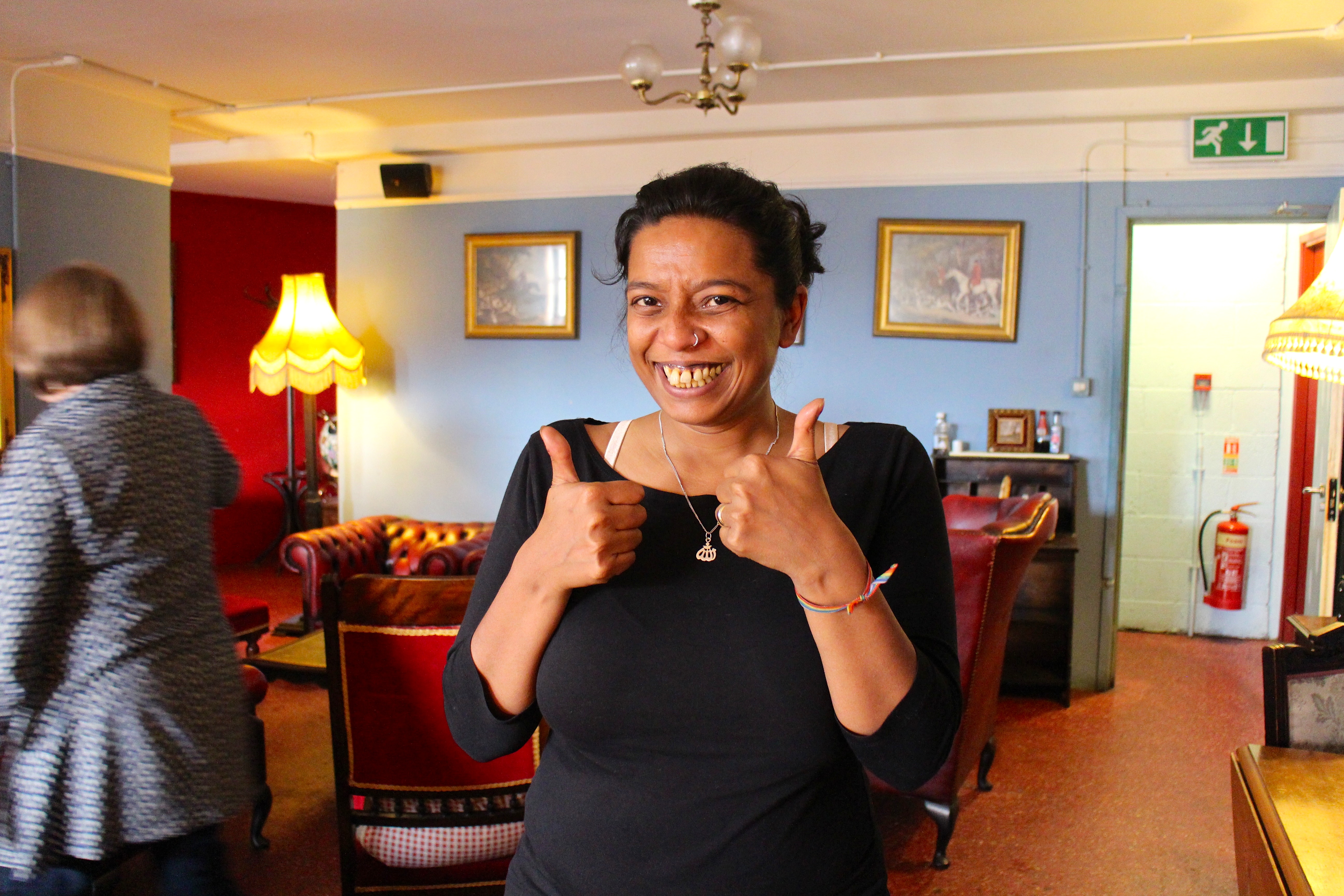 "I could've been like the dude in Orlando," said Jaheda Choudhury-Potter, a self-described "geeky dark-skinned lesbian Muslim" who fronts a queer hip-hop band in the UK.
Reflecting on the story of Omar Mateen, who murdered 49 people and injured dozens more at a gay dance club in Florida, Choudhury-Potter said, "You sneak around to the point when you explode, killing yourself or a bunch of other people. Orlando is one tiny little story of hundreds of years of abuse of LGBTQI people."
So if you come at her with any sort of bigoted nonsense, don't think that Choudhury-Potter won't call you out. You can be sure that she will. But no need to take things personally—she's mainly concerned about her own mental hygiene.
"I'd rather be an a******* to your face than be polite, go home and scream into my pillow."
In the media coverage that has followed the Pulse nightclub shootings, many news consumers are seeing queer Muslims for the first time. That invisibility is largely a consequence of the risks that coming out entails for queer people in any conservative religious tradition. But well before events in Orlando put their community in the spotlight, artists and activists like Choudhury-Potter have been creating spaces where LGBT Muslims can explore their faith and identity more openly.
Choudhury-Potter's band, Ajah UK, is based in Manchester—a town that has spawned successive generations of trailblazing acts, including The Hollies, The Smiths, New Order and Oasis. When she performs, Choudhury-Potter, 40, said she sees herself not just as an artist but also as the leader of an insurrection against the misogyny of the city's male-dominated music scene.
"My name means warrior," she said. "Part of me wants to be Harriet Tubman or Malcolm X."
Ajah UK has won accolades in the local press—Manchester's Evening News called the band "a breath of fresh air" in the city's testosterone-heavy hip-hop subculture. But the real coup for Choudhury-Potter is Shit Lesbian Disco, a women-only club night that she and her band-mates launched this spring.
"SLD isn't anti anything," Choudhury-Potter said. "It's about creating a space by women, for women."
What was the payoff for the 700 partiers who attended SLD's inaugural night in April?
"My motivation for the whole thing was about freedom," she said. "We got a night out when we didn't have to think about blokes."
Choudhury-Potter ("Potter" is her wife's family name) grew up in an all-Muslim part of Sheffield when the city was still a blue-collar steel town. During her grade-school years in the 1980s, kids from her neighborhood were bussed to an immigrant-majority school in a white working-class district.
"The bus was escorted by police whenever the National Front [a British far-right party] would come out in force," she said.
Tensions between young white and brown men regularly erupted into fighting. In that cauldron of racial and religious animosity, Choudhury-Potter said she could have easily succumbed to hatred.
"It would have made sense that I would have hated everyone with white skin, she said. "Same as two plus two is four."
She added, "I did for short period of time—I hated. I'm not immune to being a d***."
At 17, Choudhury-Potter left home because she believed her options would be severely limited if she didn't find another way to make a life for herself.
"Bengali Muslim girls are supposed to get married and have babies," she said. "And women are taught to think that the world will fall apart if you break the rules. I wanted to make my own choices. If I had regrets, I wanted those to be mine too."
For several years she hoboed around England and Scotland by stowing away in the luggage compartments of inter-city busses. She lived on the streets in Glasgow, London and Birmingham—wherever a given motor coach would take her.
By the time she was in her 20s, Choudhury-Potter's parents had divorced and her mother had moved to Manchester. Her father died in 2002. Since she was too old "to be sent to the principal's office," Choudhury-Potter decided to reconnect with her family and start putting down some roots.
The first iteration of her career as a performer was in the theater, where she found that she liked experiencing herself creatively by being on stage. But she eventually began to chafe against the formal constraints of the profession as well as the racism that often seemed to shape casting decisions.
"Acting for me was about spitting other people's words," she said. "Plus I was always cast as the receptionist or the slut. I couldn't play Alice in Wonderland."
She and her Ajah UK band-mates stepped into a rehearsal space together for the first time in January 2014. The following June, they were headliners at the World Pride event in Toronto. Since then they've gigged steadily at women's festivals and LGBT events in Britain and the rest of Europe.
"We are always in front of women," Choudhury-Potter said. "My main focus is she—she's my audience, it's for her entertainment that I do what I do."
The singer repeated that her impulse to create such intensely woman-centered spaces isn't born out of a desire to exclude.
"It's not about disempowerment of men—it's about empowering women," she said. "I'm always looking for the woman in audience, young or old, who's feeling her own power because of our presence, making no apology for who we are and what we do."
Still, Choudhury-Potter's vision extends beyond the spaces she creates for the band and their fans. Though she sees little to love on the current political scene—before the massacre in Orlando, she was mourning the loss of her friend Julhas Mannan, an LGBT rights activist in Bangladesh, who was killed in April—she said she hopes that her woman-centered art will ultimately contribute to a less violent world.
"Orlando really brought to the surface again how easy it is to hate," she said. "I want to fight for being able to look in each other's eyes and say, 'We're cool, brother.' Hopefully the next generation won't have to be looking over their back like we are."
And she emphasized that every aspect of her "geeky, dark-skinned lesbian Muslim" identity figures into her equation for activism.
"Islam is the language and the set of stories that I grew up with," she said. "As an adult today I choose the bits of Islam that suit my nature."
When asked about the bit of Arabic script rendered in silver that she was wearing as a pendant—and that appears in just about every photo and video of the band—she leaned forward so that the pendant dangled below her neck.
"It says 'Allah,'" she replied. "That's my hijab."
RELATED ISSUES

LGBTQIA Rights

Religion