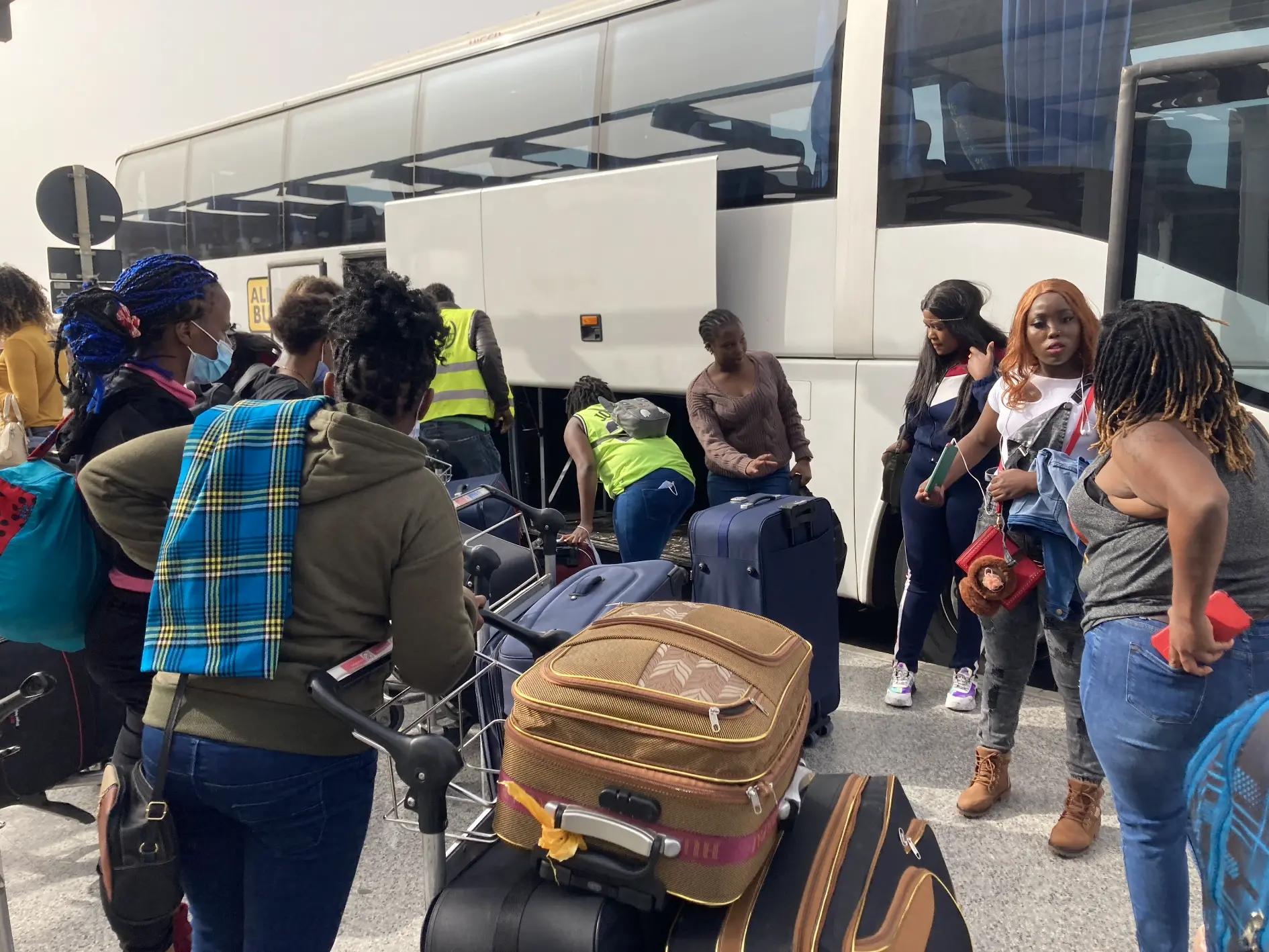 It is 8:15 p.m. on a Tuesday night when *Diana's phone rings. The free power provided by the Lebanese Government was cut a couple of hours ago, so we sit in darkness, the small room illuminated by the sharp light of cell phone flashlights.
Diana speaks rapidly into the phone in Kiswahili and then turns to explain to me in English—the half dozen women who live in this borrowed apartment awaiting repatriation back to Kenya are going to have another housemate. Yet another Kenyan woman is waiting in the dark outside the shuttered Kenyan consulate, having escaped her abusive working environment mere hours ago. Now, Diana will race across the city to pick her up off the street.
"We sometimes take girls in the street who don't have any place to stay, and we bring them to our houses," Diana, who participated in protests against the consulate earlier this year, told me later. "We stay together because they don't have another place to go because we don't have an embassy, and we don't have a consulate. So we suffer with our sisters to help them get back to our country."
Since the Kenyan Consulate in Beirut shut its doors in January 2022, Kenyan community leaders like Diana have stepped in to act as informal consuls and local lifelines. They have taken it upon themselves to organize the repatriation of stranded domestic workers, a process which can take several months, in addition to housing, feeding, and sheltering women awaiting repatriation oftentimes out of their own pocket.
In place of the consulate, they regularly communicate with the Kenyan Embassy in Kuwait, Kenya's official diplomatic representation in Lebanon, securing laissez-passer documents for migrants whose passports have been seized by employers. They communicate directly with the United Nations International Organization for Migration (IOM) to coordinate PCR tests, settle fraudulent court cases that have been filed against migrants by disgruntled employers, and organize travel to the airport in Beirut.
This group of women are not NGO workers; they are not contractors nor representatives of the Kenyan government; and they receive no payment for their work. In fact, they are former live-in domestic workers, 'freelancers', who escaped the kafala system years ago and stayed in the country by finding independent work, a violation of Lebanese labor law.
Ultimately their most difficult task is housing women who await repatriation, while actively working. *Rita, another community leader, explained, "You cannot keep a girl in your house for more than two months. Because you need to provide for your family at home. She's there and she needs you, but you need to provide for yourself."
Rita explained: "But these are our sisters, you can't leave them on the street, you can't let them sleep hungry. You can't. You can't run away from them. You know, they always say mountains don't meet, but people do meet. So if I help her here, maybe she will help me in another place. Yeah, that's why we take much of our time helping them—taking them food and clothes, sitting with them, talking with them, at least to reduce their stress. Because we cannot leave them."
Every day, migrant domestic workers escape abusive working conditions in Lebanon. "I called the consulate. They didn't pick up. I sent a voice note. They didn't reply. I thought if [the agent] Mr. Michel is going to come for me, maybe he is going to take my phone, lock me up, and beat me again. So in the morning, I took a taxi and came to the consulate. They told me there is no consulate. I was so confused. I just waited in the road," said *Suzie, a migrant domestic worker who has been awaiting repatriation to Kenya for nearly three months.
With the consulate closed, Suzie wandered the streets until a priest stopped her. He helped her find housing in an apartment organized by community leaders.
The Kenyan consulate in Beirut has been closed since January 2022, when dozens of Kenyan activists staged a sit-in demanding the resignation and replacement of the Honorary Consul Sayed Jean Chalouhi and Assistant Consul Kassem Jaber, both Lebanese nationals. Now, those protesters attempt to fulfill the responsibilities that their consulate neglects.
For more than two years, Kenya's only diplomatic representation in Lebanon has repeatedly come under fire from migrant community leaders for failing to support Kenyans, primarily domestic workers. In July 2020, notably, migrants accused Chalouhi and Jaber of physical abuse and extortion in testimony uncovered by CNN. "Even when we had a consulate, it was like we didn't have one," said Diana.
Lebanon's migrant labor regime places workers under the complete control of their sponsor; this system, the kafala, has been described as contract slavery. Women from developing countries are enticed by promises of high salaries and consistent work, only to find that Lebanese employers routinely subject them to verbal and physical abuse, trap them in inhumane working conditions, and seize their passports to prevent them from traveling.
In 2020, migrants organized protests across Beirut after Lebanon's economic collapse led thousands of Lebanese families to abandon migrant domestic workers in the streets. Kenyans returned to protest this year against the Kenyan consulate, voicing outrage at the consulate's inaction to support Kenyans. "We, as Africans, are fighting because [Lebanese employers] don't value our rights… They think 'okay, they're slaves for us,'" Rita said.
*Gladys, a Kenyan domestic migrant worker who arrived after the economic collapse, said, "When I came to Lebanon, I was really mistreated. [My sponsors] never took me as a person. I was not a human being to them… I was just like a slave to them. They never appreciated what I did. Always shouting, harassing… So I couldn't take it anymore. I decided I want to go back to my country."
Gladys escaped the house in January 2022 and stayed at the shelter organized by Caritas Lebanon. In April, frustrated by the lack of progress made towards her repatriation, she left the shelter, turning to community leaders for help returning to Kenya. Many community leaders have been highly critical of Lebanese NGOs like Caritas. They claim that the responsibility for caring for stranded domestic workers ultimately falls on them, while NGOs fundraise based on their stories.
According to Ghina Alandry, a social worker at KAFA who works closely with migrants facing abuse, "Ethiopians were the most affected by [human trafficking], up until recently. Now there has been a shift in nationalities. Now it's women from Kenya and Sudan being targeted."
In a meeting with the Kenyan ambassador to Kuwait in January and in a letter sent to the Kenyan Ministry of Foreign Affairs, community leaders and protesters urged the Kenyan government to follow Ethiopia, Sierra Leone, the Philippines, and Nepal in placing a ban on Kenyan women traveling to Lebanon to work as domestic workers. No such ban has been enacted and Kenyans continue to enter the kafala system in Lebanon, only to escape and seek repatriation months later.
As community leaders attempt to fill the void left by their consulate, stranded migrants have only one thing on their mind—returning home.
Gladys explained, "I miss my motherland Kenya, even if I'm poor there I have freedom. I have people that love me. They appreciate me. Even if I'm doing small things. They know who I am. And they love me for who I am."
*Names have been changed at the request of interviewees due to ongoing threats against their safety.
RELATED ISSUES

Issue
Migration and Refugees
Migration and Refugees

Women