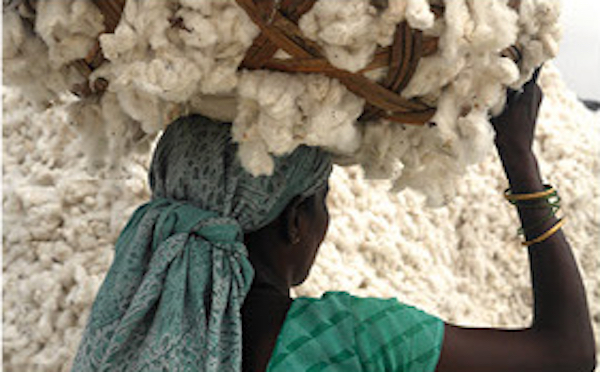 An American is collaborating with Indian farmers to build a new kind of business model for cotton farming. If successful, it could revolutionize India's cotton farming industry and push companies in the US on a more environmentally-sound path. That's great news for the $3 trillion fashion industry that's been targeted as the second largest polluter in the world. But can it work?

More than 50% of India's population is in agriculture and related industries. They make up nearly 20% of the country's GDP. Yet, stories of farmer suicides have been plaguing the country throughout the last 5 years. In 2013, for instance, nearly 12,000 farmers committed suicide; that would be on average more than 40 deaths a day.

Cotton is one of India's specialty crops; it's also the second largest producer of cotton, after China. Yet more than 90% of the cotton is produced using conventional methods and with GMO seeds. The trouble with GMO seeds is that they cannot be used over and over again. That means farmers have to dole out more cash to buy more seeds after every harvest. In fact, the seed back for organic cotton had nearly disappeared had it not been for this enterprising co-op.

The Hyderabad-based Chetna cooperative set up 6 seed banks in the last 2 years — all are concentrated in the eastern state of Orissa where cotton has become a cash crop in recent times. The seed banks are helping bring back a collection of non-GMO seeds to the Indian subcontinent.

Seeds are only the first step, though. Historically, organic cotton farmers have sold their organic harvest for conventional prices because of a lack of demand. The Chetna co-op was built to not only facilitate organic cotton farming in the country, but also help these farmers find a market.

"Farming groups take on a huge risk. When demand drops, what can they do? They need to sell right after harvest to take care of their families. They also have to make a lot of investment to sow the seeds," says Rhett Godfrey, founder of the Chetna Coalition, or simply ChetCo.

Three years ago, New York-based Godfrey was working at Loomstate, an American brand selling organic cotton clothing sourced from India. While Loomstate was one of a small number of companies interested in rectifying the cotton supply chain, Godfrey realized that there was power in numbers. So at the Textile Exchange's Organic Cotton Round Table in Istanbul, Turkey, he asked other clothing retailers to commit a percentage of their supply chain to organic cotton, sourced from the Chetna Cooperative.

"80 percent of the brands were not interested. They said, go do it first and then come back to us. That's understandable because they're risk averse," he says.

What ChetCo is trying to build resembles a CSA model. "But a CSA model for the whole supply chain, creating long-term purchasing commitments, ideally for the lifetime of the business," he explains.

In the past three years, ChetCo has been able to defy the nay-sayers and the skeptics. Their membership has doubled, and as a whole they're buying 320% more cotton fibers. As a result, the co-op's organic cotton sales have gone from 17% (in 2013) to more than 49% (in 2015/16 harvest). And there's commitments from companies to buy almost 100% of it, ensuring farmers that they will have a customer for their crop.

Aside from Loomstate, there about a dozen brands buying into this organic cotton supply chain. They include: Boll and Branch, a New Jersey-based company, that produces organic cotton bedding, towels, and blankets; PACT, which specializes in the basics (undies, camis, leggings); Nudie Jeans, a Swedish brand with retail outlets in the US, that makes organic cotton denims. Yet, these are all small to medium-size brands, which Godfrey says, is their "sweet spot." Anything bigger and it may become challenging.

So to change the fashion marketplace and convert high-street brands who are doling out new collections every two weeks, into organic cotton users, what can be done?

"[Organic cotton] can work for a percentage of their sourcing, not 100% of their sourcing," he says. Such massive volumes would be overwhelming at this point. Though Godfrey abstained from naming names, five bigger brands have expressed interest in joining the co-op.

But if this is to work, it has to be about investing in the communities that produce cotton, he notes. "If you're interested in organic cotton from a marketing viewpoint, then this doesn't pertain to you," he says referring to companies who use these collaborations as merely a do-good marketing exercise.

"We have to look at the community as well, not just the fiber. We go too big, we risk destabilizing it and if we go too small, we don't make impact."

So what does that look like on the ground?

Colorado-based PACT, for instance, has invested in the infrastructure of these cotton-growing communities by updating tribal boarding schools for girls, giving them bikes to get to and fro, providing business training for women, and supporting cooperative training and research. The result has been lower drop out rates and more girls staying in school.

To get detailed results on the impact of ChetCo, Godfrey partnered with Pi Foundation, which will produce annual data on this new economic model. "By next harvest, we're going to have the most substantial data on any natural fiber in the world, on all fronts, social, environmental, and financial information," he says.

Currently 16 brands have committed to ChetCo, working with nearly 35,000 small-scale organic cotton farmers and 2,000 garment workers. Bear in mind, while ChetCo started out looking at organic cotton farming, Godfrey clarifies, it's about the entire supply chain. That means these companies agree to work with fair trade facilities to sew and finish their products. By 2015, the company had produced over 2 million organic cotton items using this supply chain.

All these numbers are beginning to stack up, he says. "That's going to allow us to validate any marketing message that we have been promoting, as brands. It's not just talk, we're doing it."