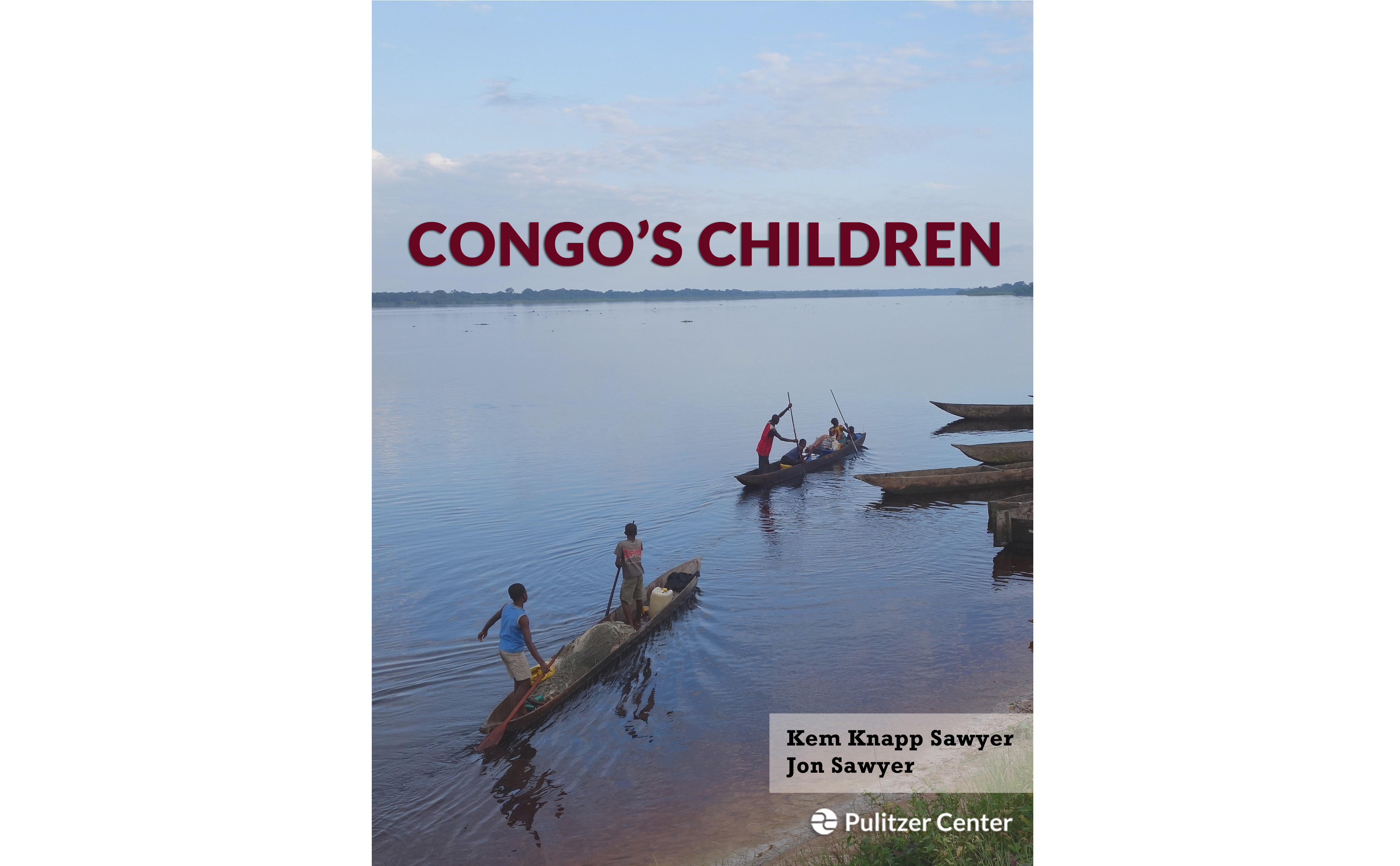 [To view "Congo's Children" download the book for free from iTunes (for iPads), for $1.99 on  Amazon (for kindles), or view the web version on Creatavist (for laptop and desktop computers). A French language version of the book, translated by Mary Deschamps, in collaboration with Odile B. de Sauverzac, is available through Creatavist.]
In the Democratic Republic of Congo, children's lives have been threatened, their families torn apart, their schools destroyed, and their futures compromised. Many are homeless—abandoned street children and others born of rape or orphaned by war.

 But while children are the most vulnerable segment of a broken society, they are also among the most resilient.

"Congo's Children," the latest in our series of e-books, tells their stories, accompanied by vivid photography and video and drawing on reporting by Jon and Kem Sawyer that has appeared in PBS NewsHour, The Washington Post, The Christian Science Monitor, TruthAtlas, and Dowser.

 The e-book is designed by Meghan Dhaliwal.
"The stunning photographs and deeply moving text of this book offer a fine introduction to the suffering—and hopes—of people in a part of the world we know far too little about."
—Adam Hochschild, author of King Leopold's Ghost

The Pulitzer Center e-books production team has been honored and praised by Pictures of the Year International, National Press Photographers Association, Kirkus Reviews and the Webbys. E-books are part of Pulitzer Center's emphasis on innovative approaches to sharing and promoting international journalism and educational resources. View more of our e-books.
"The Sawyers' book on Congo's Children is a powerful tool for students of all ages to begin to understand complex issues of poverty and conflict through seeing how knowing people as individuals is a first step in protecting human rights and resolving disputes."
—John B. Hardman, president and chief executive of the Carter Center
"Kem and Jon Sawyer's poignant accounts of children coming of age during two decades of war and corruption jolt the reader with the realities of modern-day Congo. For anyone trying to make sense of this murky and forgotten conflict, 'Congo's Children' is a must-read."
—Photographer Larry C. Price, two-time winner of the Pulitzer Prize
In "Congo's Children" you will experience what it is like for children in the DRC who have lost their families, homes and schools and yet find the will to re-connect, to start life anew through arts, sports and vocational training. You will discover what makes the Democratic Republic of Congo among the most beautiful and inspiring places on earth. You will learn of the strength in the young women who have been raped, former child soldiers, and others affected by war who pursue training programs in agriculture, sewing, and furniture making. You'll read about the many ways in which children press on with their lives.
"Here's the Congo that doesn't make the news clips or TV screens. The everyday Congo, with people managing to organize, create art, and educate each other despite the odds. A touching paean to the country's resilience."
—Jason Stearns, author of Dancing in the Glory of Monsters: The Collapse of the Congo and the Great War of Africa
"Congo's Children" includes the background on a conflict that has consumed five million lives, the greatest toll since World War II, and detailed reporting on recent evidence of more successful UN efforts at protecting civilians and demobilizing the militias that have wreaked such havoc across the eastern Congo. But there is also much here that inspires—from disabled youth learning to walk, play soccer and make braces for polio survivors to children finding shelter in homes where they can recover from trauma and, over time, gain the confidence they need to earn a living.
"This book illustrates the truth of a refrain that one hears so often from Congolese people themselves: Congo's most precious natural resource is its children. Their beauty and strength shine through these photographs, offering a promise that the people of Congo can overcome the devastation their nation has suffered for well over a century."
—Karen Stauss, Director of Programs, Free the Slaves
The reporting behind "Congo's Children" was made possible by Open Square Charitable Gift Fund.
The Pulitzer Center has produced a dozen e-books ranging from stories of those who mine gold in "Tarnished: The True Cost of Gold" to a visual travelogue through China's under-reported environmental crisis in "Meltdown." The e-books are intended to take our journalism to new audiences, in the educational community and beyond. Topics addressed include discrimination against the Rohingya and other "stateless" people, the experience of Haitians following the earthquake of 2010, and "Between the Lines," a photographic essay on the disappearing art of facial tattoos in rural Algeria.
Some of the e-books carry a modest fee, with the aim of generating income for the journalists who undertake this work. We are currently making "Congo's Children," "Meltdown," and "Tarnished" available for free with the hope of encouraging widespread use, especially in school and university settings. For more information about the Pulitzer Center's educational programming see our Campus Consortium and Global Gateway pages on the Pulitzer Center site.
"In "Congo's Children" Kem and Jon Sawyer take the road less traveled, beyond DRC's well documented challenges, and introduce the reader to the resilient and determined people of Congo as they face their daily lot with confidence and their future with hope."
—Mvemba Phezo Dizolele, Hoover Institution, Stanford University
RELATED ISSUES

Women

Children and Youth