Jose Fernando Tavárez has little time to lose. His hands are thick, calloused, and sun-darkened from years of outdoor labor. Tavárez is 55 years old, with a compact and wiry physique; he moves through a dense row of coffee plants with meticulous and fluid ease. He reaches low and deep, plucking the few ripe-red coffee cherries and dropping them into a bucket harnessed across his waist. The cherries hit the bucket with satisfying thunks. Out on the plantation everything pricks the skin: the sun, mosquitoes, wasps, and biting ants that manage to find their way under clothes.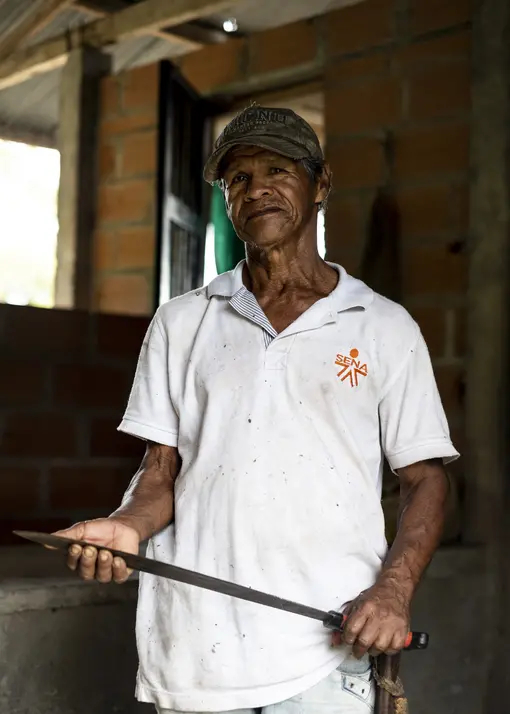 The sky darkens with impending rain, but Tavárez hardly takes notice. "You have to act like a fighter, and get accustomed to everything," he says with a chuckle.
Tavárez is part of a rapidly aging workforce on small- and mid-sized coffee farms throughout the eje cafetero, the collective term for Colombia's primary coffee-growing states. Coupled with a growing exodus of rural youth to Colombia's burgeoning cities, there are now fewer workers willing or able to do the labor to sustain this South American nation's vital economic and cultural mainstay.
It's late February on the coffee estate of Finca Entre Piedras, located on the outskirts of the town of Támesis in the southwest of Antioquia, a vast state in the Andean highlands of central Colombia. In this prime coffee region, working plantation estates, fincas, give way to handsome 19th-century towns nestled in lush valleys and perched on dramatic plateaus. Now, the flowering of the coffee plants is in progress.
By the fall, during the larger annual harvest here known as the cosecha, the acres of coffee plantations surrounding Támesis will yield thousands of kilos of ripe cherries ready for picking and processing. Colombia is the third largest coffee-producing country in the world after Brazil and Vietnam. Here, more than 500,000 families and over 700,000 jobs depend on the crop. Mentioning Colombian coffee in a café in San Francisco is likely to elicit bucolic images of a proud, mustachioed Juan Valdez, or mentions of Huila and the Sierra Nevada, regions of Colombia increasingly world-renowned for the quality of their specialty coffees. Finca tourism, where both local and international visitors tour the coffee farms of the eje cafetero, is an important part of the national coffee economy.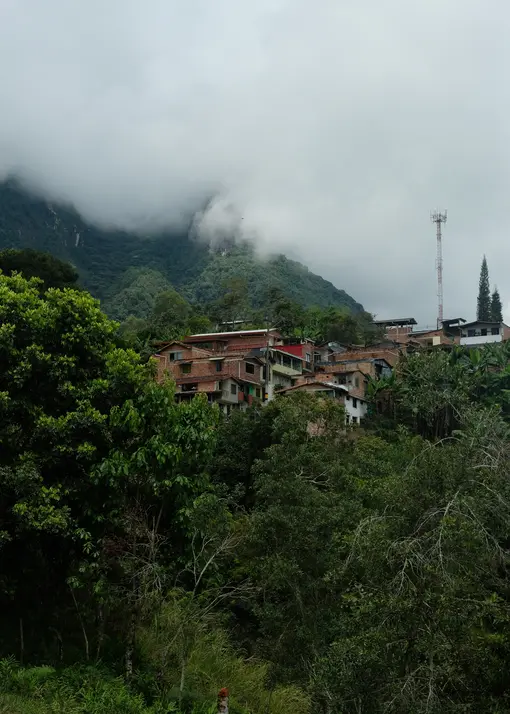 Rich with birdsong and cool mountain air, the verdant surroundings of many of Antioquia's coffee plantations give the illusion of a paradise. Yet the field work is tedious, and often grueling.
"The young men here don't like the heat, the dirt, and certainly not the lack of good cellular service," says Ruben Dario Sanchez, 45, the owner of Finca Entre Piedras. "They get bored easily."
Sanchez says that older workers are more likely to have the discipline and efficiency needed to endure the elements and the tedium of farm labor. But the average age of coffee farmers, at 55 years, the same as Jose Fernando Tavárez, is no accident. Like Tavárez, many lifetime laborers were introduced to farm work in their teens as a means of survival in a country with far less economic and social opportunity than today. They tend to have what locals perceive as darker skin and more Indigenous features than the dominant mestizo phenotype found in the eje cafetero's towns and cities.
Tavárez is one of many "wanderers"—informal migrational workers who negotiate largely informal, seasonal contracts from region to region according to local harvest schedules. For the past nine years, he has worked exclusively in his home state of Antioquia. His daily uniform consists of a pair of rubber boots, a tattered baseball cap, and a machete, which he holsters in an embroidered sheath. The sheath is a symbol of ties to the land here, as emblematic as the sombrero and the poncho.
Tavárez's work partner, Óscar Gonzalez, 67, long-limbed and more animated, at his age prefers the ease of a weed whacker to the more hands-on labor. They both work six days a week, from 7am to 4pm, harvesting, weeding, and fumigating, with an hour-long break which includes time for lunch. After hours, they retire to adjacent worker accommodations, which include a small kitchen, only a few yards from Finca Entre Piedras' main property.
The lives of Colombia's tens of thousands of informal workers, mostly men, who make up the majority of the labor force in the coffee industry, are defined by financial and social precarity. With ties to this informal labor, few workers earn more than the legal minimum wage or are able to participate in the national social security system. The constant mobility of workers contributes to low rates of unionization and lack of opportunity for collective bargaining. And after a lifetime of backbreaking work, most reach pensionable age (57 years of age for women and 62 for men) with little, if any, savings. So they keep working, often well into their 60s and 70s.
"Everyone is studying and leaving for the cities," says Óscar Gonzalez, the coffee farm worker. "So what are we old people here in the countryside supposed to do?" Some older workers reconnect with and find suitable living arrangements with family members. Many others, however, end up homeless and destitute.
Although spending time in Antioquian towns like Támesis, one could be forgiven for thinking there is no shortage of young men (and women) who could potentially do the work of their elders. But the prevailing assessment of youth disenchantment with the harsher aspects of country life appears to resonate with young men like Jeison Martinez.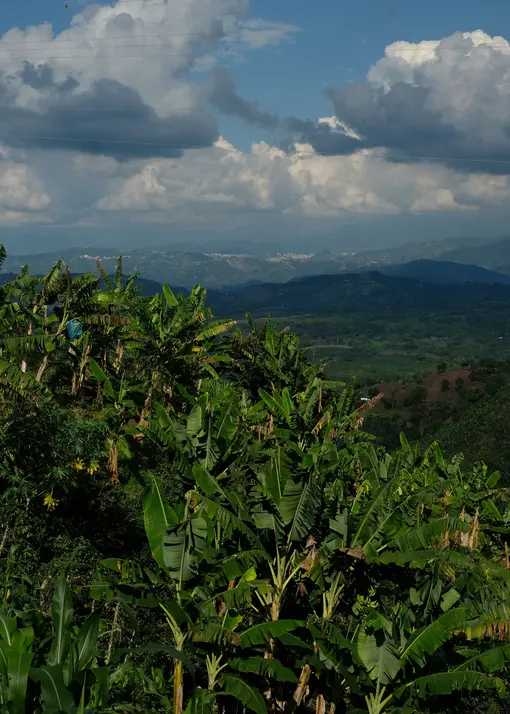 "Laboring in the countryside is very hard," says the 25-year-old mechanic, while tending to a dust-laden motorbike in the back of a busy repair shop in Támesis's town center. He says that he's never worked on any farm. "It's really not for everyone, and certainly not for me."
The stocky and amply tattooed Martinez is like many of the young, able-bodied men here in Támesis who prefer to work as auto mechanics, barbers, bartenders, or motorcycle delivery-men, jobs that retain a masculine image while generally providing a higher socio-economic status. Others his age dedicate themselves to academic studies in order to find professional career prospects in the country's larger cities like Medellín, or the distant capital, Bogotá.
Even coffee farm workers are leaving the plantations and migrating to other agricultural sectors in the region, such as the burgeoning avocado and citrus plantations (fueled by both global demand and a warming climate). According to several coffee farmers and their workers, these new plantations tend to offer salaries equal to or greater than those of coffee plantations and with less physical exertion.
The migration of rural Colombia's workers to other growing sectors, and of its youth to the ever-swelling metropolitan areas, represents an increasingly hyper-globalized reality. This new reality is shifting the country's economic and social life, and creating a world increasingly alien to older Colombians like Tavárez and Gonzalez.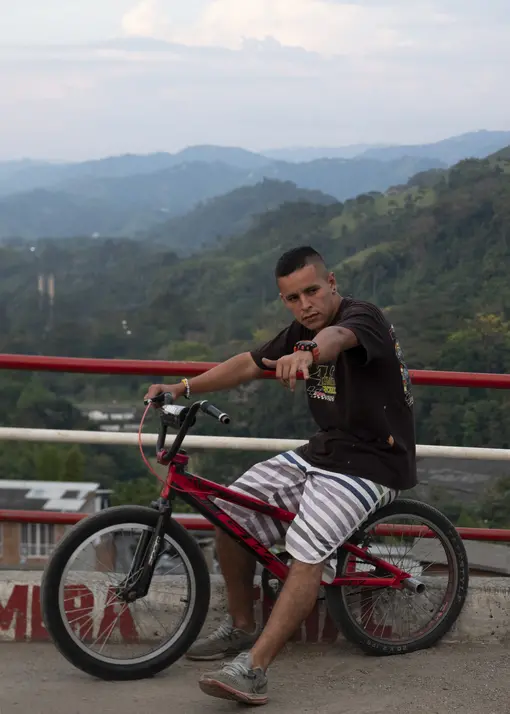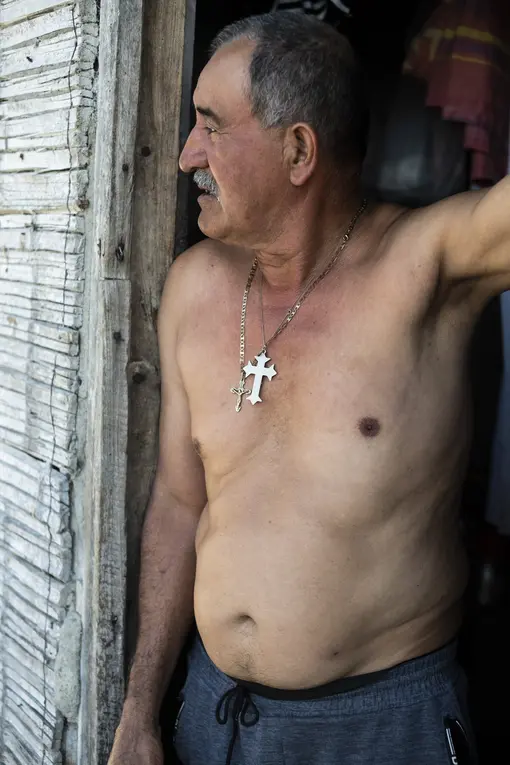 Martinez, the young mechanic, recently tried the hustle in Medellín, Colombia's second-largest city and only a few hours' drive from Támesis along precipitous country roads. The expense of food and rent, as well as the constant insecurity, compelled him to return to what he says is the peace and stability of Támesis. Martinez works 11 hour days on average, but with the camaraderie of other young men, and the satisfaction of doing what he's loved since he was a kid, he says the long days hardly feel burdensome.
Working as a mechanic, Martinez claims that his earnings, while variable, can be 100,000 pesos, (or $25 USD), or more on a good day. A good pay day working in the fields, on the other hand, yields about 40,000 pesos, ($10 USD).
Martinez now lives at his family's home with his father and younger brother. While he sees little future for himself working on a farm, he plans to build a life here in Támesis.
"It's not easy to retain the youth and show them that a life here is possible," says Elkin Arcila, who runs ASCAFES, a coffee association in Támesis. But recently Arsele launched the town's first barista school, which not only trains students on cupping and roasting, but also how to plant coffee sustainably. And this school is not alone. More and more regional schools are offering study programs in sustainable coffee farm management, with an emphasis on preserving local biodiversity. This is part of a national effort to lure a new generation of ambitious and idealistic youth back to the coffee plantations.
But whether or not this will affect the issue of an aging labor force remains uncertain. Sanchez, of Finca Entre Piedras, remains hopeful that the industry will find ways to adapt in time. "Coffee is coffee," he says. "And there will always be demand for it."