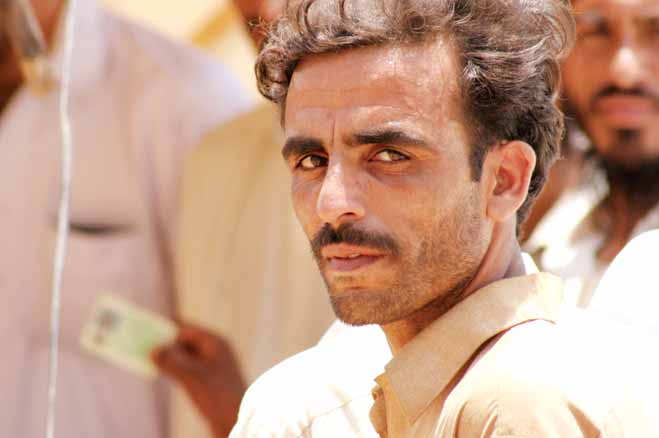 Editor's note: Update 04/30/12 to include the whole article.

Speeding away from Islamabad's grid-based refuge of central planning — and the well-guarded elites who live between its checkpoints — it is, at first, hard to shake off the illusion that you are travelling through a stable, prosperous country. The smooth six-lane motorway passes vast green fields, where farmers' busy wheat-threshing churns a soft haze that glows in the afternoon light, and dusky orange mountains stretch away into the distance out both windows. In a land of jarring roads, the smooth, luxurious highway reinforces a sense of the idyllic in this peaceful pastoral scene: every 25 km or so along its route, 'mobile repair' trucks wait to assist stranded motorists; it is patrolled by well-paid professionals said to be nearly incorruptible. Overhead, green road signs with white lettering remind you to buckle up, drive safely, and watch out for fog. One displays the moniker, "Pakistan National Highway: Making Things Possible."

But this is a narrow corridor of order and accountability in an increasingly volatile land. Pakistan is currently grappling with its largest internal migration since Partition— a refugee crisis the UN says may be the world's worst since Rwanda. Nearly two million people have been displaced by the military's ongoing campaign against Taliban militants in its rugged northwestern mountains. The campaign was justified as an attempt to extend the state's control over its territory. In May, however, when I visit Mardan, a main town south of the fighting, where an influx of refugees has doubled the population of one million, I got the sense that "the state" has not yet arrived.

Turning off the highway, we pass a roundabout where dozens of men wearing shalwar kameez were gathered under a tent beside a growing mountain of crates—supplies donated by local residents to help the refugees. Avoiding the crowded official camps, where supplies are in short demand anyway, some 90 percent of those displaced are relying on friends and relatives. An array of secular and Islamic charities have stepped into the governmental void, including at least one with ties to the militant group allegedly involved in the November's attacks in Mumbai.

We continue along a street choked with cars and bicycles, flatbed trucks loaded with passengers, multi-colored transports packed with empty strawberry crates, and an occasional donkey cart. After a few minutes we turn into the parking lot of a small hospital treating many of Swat's wounded. Among the dozen or so patients in the men's ward—a Spartan scene of metal cots and glum faces, where flies buzz in the stifling heat—are three newcomers: a Swat refugee whose hip was shattered in a mortar explosion that killed three of his children the day before; an unidentified man from Buner whose left side was riddled with shrapnel— his feet are bare and bloodied, and he is drifting in and out of consciousness on a gurney near the entrance; and Saddam Hussein, a 20-year-old labourer with a thin mustache, a tousled mop of brown hair, and a bandage on his right hand, which had been stripped of the flesh between the thumb and forefinger by a stray bullet as he returned home to help his family evacuate.

Hussein had been working on a farm in the fields in Bujarat in late April, when the Pakistani army launched its offensive against the Taliban in Dir and Buner valleys. Like thousands of other Pakistani villagers, Hussein's family was trapped in the fighting and a military curfew that blocked the main exit route. His parents told him to come home so they could escape together through the mountains. But soldiers wouldn't allow his bus past a checkpoint some 60 km away from his village, so Hussein and a few others got out to walk. Still out of sight of the frontline, Hussein said he and two others were struck by a burst of gunfire, and ended up in the hospital in Mingora. After 10 days, he said, the doctors "just disappeared," and he had to walk for miles before he found a transport that brought him to Mardan. The power is still out in his hometown, he says, so neither he nor his family knows what has happened to each other.

When I ask Hussein who he thinks shot him, he tells me "this bullet was from the army," an unlikely explanation considering the round that hit him was fired from a Kalishnakov. When I point out the improbability of it, Hussein questions whether there was any difference between the two groups at all, eliciting chuckles from the other men in the room.

Until recently, most western tourists knew Swat as a honeymoon destination, a valley of scenic vistas that boasted its own ski resort. But its rural residents are mostly poor, under-served, and weary of the government's on-againoff-again battle against the Taliban's growing strength there. In February, 2009, after four months of fighting, authorities agreed to a peace deal in exchange for recognition of Sharia law in the valley. Many Swatis say they welcomed an end to the fighting as well as the return of the Islamic system of justice, which had been in place until 1969 and was viewed as a swift and effective alternative to the country's legal bureaucracy. According to a March survey by the International Republican Institute, some 80 percent of Pakistani's supported the ceasefire.

But the deal made Washington irate, and officials blasted Islamabad for giving up the fight, especially after the Pashtun militants subsequently pushed into and captured the adjacent district of Buner. On April 22, Secretary of State Hillary Clinton said Pakistan risked becoming a mortal threat to the world. Three days later, she publicly questioned the security of Pakistan's nuclear arsenal with the Taliban presence "only 60 miles form Islamabad," a dramatic depiction that obscures the fact that Buner is still a part of the country's mountainous northwest, separated from Islamabad by an ethnic firewall and an army trained for the conventional battle it would take to defend the capitol. The next day, however, the Pakistani army launched an assault in the Dir Valley, and took the fight to the Buner two days later.

Pakistani President Asif Ali Zardari announced the drive to retake Swat on May 6, while meeting with US President Barack Obama and Afghanistan's Hamid Karzai in Washington.

The offensive has convinced many that Pakistan's military and political officials are now committed to eliminating militants in the remote border regions. Washington has since applauded the campaign as a serious effort against militant strongholds. But it has also exacted an enormous civilian toll, displacing nearly two million people around the country. Rather than a sophisticated tactical approach— employing surgical strikes based on solid intelligence, outreach to local elders, and plans to limit civilian casualties, to evacuate them and to provide for the displaced—the Pakistani military's reliance on heavy bombing and air strikes suggests it is not ready to wage the nuanced counter-insurgency it would take to win Pakistani hearts and minds and avoid blowback. Instead, its fighting-style reflects training steeped in preparation for a more conventional war against India—a subject of long-running frustration in Washington. It's as if the army is conducting a sensitive medical operation with a broadsword instead of a scalpel, threatening to undermine an effort that was supposed to help stabilize the country and the region.

Pakistanis want their leaders to curb Taliban influence, says Indian historian Dr. Mushirul Hasan, but not at the cost of heavy civilian casualties. "I don't think the full scale military operation will work," he says. "It will hurt the military and the civilian government.

The refugees' mistrust of the government has been compounded at every stage of the operation. "The government has not made the people stakeholders in this fight," said Rifaat Hussain, a professor of Defence and Strategic Studies at Qaid-i-Azam University in Islamabad. "I think if the provincial government had told these people, 'look if you want the military to fight these Talibans whom you don't like because they are repressive, they are brutal and we need your support,' then I think the people would have been much more forthcoming."

This failure was followed by a lack of coordination to adequately warn civilians before the bombing began, to evacuate them safely, and to provide for them in camps, which the vast majority of the displaced have avoided altogether. The international pressure to act against the Taliban appears to have forced Islamabad's hand. "Without this pressure," saysHussain, "the preparation for a disaster response could have been put in place."

"The rapidity with which this migration took place really took the government by surprise," Hussain continues. "This is the largest migration in Pakistan's history from one place to another and it has occurred in less than three weeks. So whatever resources the government had, they are really stretched to their limit," he says. "The army does not have the surplus capability to actually deal with the civilian side of the problem."

Zardari vowed to minimise civilian casualties and care for the displaced. The stakes, he seems to acknowledge, are high: in his appeal for $1 billion for relief and reconstruction funds from the international community, Zardari said that without assistance, disgruntled refugees could "turn against the government and we will lose the impetus we've managed to create in the country against the Taliban."

While the scope of the crisis may have been hard to predict, the near exclusive reliance on a heavy-handed military strategy was not destined to convince many refugees the government is on their side. That could be a significant problem, says Hussain, as managing the humanitarian crisis will be "equally significant" to the success or failure of the military operation in combating militancy in Pakistan. If thousands of Pakistanis are disgruntled by their treatment at the government's hands, he says, it could create "another nightmare situation."

In Pakistani minds there is glaring contrast to the government's ability to cope with the current crisis: its response to the 2005 earthquake that displaced some 3 million people. "What the Pakistan army did after the 2005 earthquake was exceptional," Shamsul Mulk tells me. "Some Americans say it was better than what the United States did in Katrina." When, a few years ago, Mulk, the country's former water and power chief, was awarded a public commendation by then President Pervez Musharraf he sat beside an American admiral receiving an award of gratitude for the American response to the earthquake. "The Americans in those days were always in great demand because people were seeing they were coming to their aid and assistance," he told me. "And they were in need of that."

These days however, when Mulk visits his ancestral home in the Northwest Frontier Province, he hears a different story from the villagers in Pakistan's remote mountains. "They say (Americans) are not wanting to eliminate the threat. They are compounding it— to weaken Pakistan," he said. "I don't believe we are fighting America's war. We are fighting our war. I got to my village and people come around and they tell me stories. And what worries me is the common man's perception is different from my perception... Because of the enormous propaganda that has been made against the Pakistani army and against American intentions, it's going to be a bloody campaign."

Down the road from the Mardan hospital we drive past soldiers guarding the entrance to a refugee camp that has sprung up in an empty green field. Besides our driver, Mark, I was travelling with a photographer who had come to hang around the military checkpoint outside Swat for a few hours and try to negotiate a ride with an ambulance driver to get as close to the front line as possible (we subsequently learn not even ambulances were allowed past). Because several people had been killed in a blast at a checkpoint outside Peshawar a few days earlier, I ask the photographer what risk our trip entails. "Maybe 10 percent," he tells me. He thinks for a moment, then quickly revises his estimate. "Maybe 15 or 20 percent—it's kind of random," he says. "But low." I remember that at dinner the night before—we ate with a table of journalists at a steakhouse in the Marriott hotel, which had become a heavily secured compound since it was bombed last fall—he had said that he survived an IED explosion that struck the tank he was riding in while embedded in Iraq. I ask whether it made him reconsider his line of work. "Not really," he shrugs. "I figure when my number's up, it's up, you know?" (he was also the one who recommended to us the Pearl Continental—"a proper hotel"—in Peshawar, which has since been bombed.) When I ask Mark, the driver, whether he worries about bombings along the road we travelled or people shooting at the car or, worse, trying to stop it, he tells me: all of the above. At the gate, soldiers peer into our sleek silver sedan, talk to the driver, then let us pass.

"This was only 40 or 50 tents last time we came," says Mark, who had been there only two days before. It had since filled with thousands of refugees— a sea of tents and bodies with little in the way of food, clean water, medicine, or mattresses. Just past the gate, at the intersection of two dirt roads, there is a dense cluster of tents where a mass of people are listlessly milling. The glade has been organised into administrative zones, like neighborhoods, that stretch towards the edges of the field, which is rapidly filling in as new neighbours arrive in waves following periodic relaxations of the military curfew still in place. The scene reminds me of old black-and-white photos of Palestinian refugee districts in Lebanon— not the concrete ghettoes I've seen with schools
and markets and a sense of community, which have evolved over six decades, but the 'camps' that they had once been, tent cities sprouting in the olive groves.

As soon as I get out of the car, a crowd swarms around me. Among the dozens of curious onlookers is a patient and persistent young man named Syed Naveed Shehzad, one of about 100 university students gathering and distributing donated goods to the refugees in several sections of the camp. As we tour his area of the camp, he explains that he wants the attention of the foreign media because the Pakistani press acted as a mouthpiece for the government. That morning, he said, a politician had spoken to reporters from the road outside the camp, using a convoy of trucks carrying relief supplies as a backdrop: as soon as the speech was finished, the politician and her entourage—press, trucks and relief supplies, all rolled off without distributing anything. When I ask what message he would have given to the cameras, he takes me into one family's tent, which has only a plastic tarp to sleep on and a pile of crumpled clothes inside. "I would say to my prime minister— if you were living in this tent, how would you feel," he says.

Among those I interview, in the hospital and refugee camps alike, everyone says they blame both sides: they only want to return to their homes in peace. But behind their restraint there is anger at the government's use of force. "The people are angry at the government and the Taliban both," says Zeeshan Khan, a lanky 17-year-old engineering student who is watching in disbelief as crowds drift through the center of camp. "These people have a bad mind for the government." Just days before Khan's cousin was to receive his degree, he was killed by a mortar in the Swat fighting. He had formerly wanted to be a Pakistani fighter pilot, but is now angered by the government's use of overwhelming force. "The Taliban have small weapons," he says. "These people are coming due to bombing, jet artillery, heavy weapons, F-16s." Since his cousin's death, two dozen members of his family have come to share his two bedroom mud home nearby, which he shares with three siblings. They had arrived at the camp only to find the entrance was closed because the officials responsible for registering the internally displaced were inexplicably absent. "They money that has come, I think they are not using good. They are thieves. They are stealing the money that the international community sends," he says. "I cannot understand this condition. How long can this continue?"

Fuelling conspiracy theories among the displaced, and compounding their anger at being caught in the crossfire, is the belief that latest offensive is just another half-hearted—and ultimately
futile— campaign to appease foreign interests. Like others I interviewed, Khan voices a suspicion that the conflict is intended to mask a partnership between the militants and the army. "This is a blame game," he says. "The Taliban and the government are on the same side." It's a common theory, repeated in various incarnations and supported with a variety of anecdotal claims: that both sides target civilians, that surrounded militants manage to receive new shipments of arms and ammunition, that the bombs fall on every building except the ones with militants in them.

"The Taliban are poor people. Where are their weapons coming from? Either the army or the United Nations."
"The Taliban are all surrounded. Where do they get their ammunition? No one in Swat has this much ammunition."
"The Taliban are just the army. The military and the Taliban don't want peace."


In the absence of that outreach, refugees seemed to feel they have little to hope but for the quickest possible return to the inevitable status quo.

As evening falls, the men stroll through the streets or squat to chat outside their tents, which seem to have been left to the women for some semblance of privacy (modesty dictates they remain out of public view—a custom obviously strained by the circumstance of displacement). They scurry away or cover their faces whenever the photographer approaches them, he tells us, when Mark and I find him waiting at the car. He'd been aggressively confronted by a group of Pakistani men and had to show them the photos he'd taken, cycling through the images on his camera's small display screen, to defuse the situation. Mark goes to accompany him while I wander around the camp. Most people greet me with a mixture of curiosity and skepticism — I must have looked out of place, alone, as night descended— but many are eager to tell their stories.

"We hope to return soon but the situation is not clear," as Sohail Mohammad tells me, "because the army doesn't want to win." Mohammad is a 30-year-old electrician who had left Buner with his family a week before on foot. Along the way, they found a transport and paid the speculative driver three times the normal rate for a lift to Mardan. "They will charge as much as they can," he explains. Mohammad introduces me to another man who has walked the whole way: he lifts his pant leg to show his dirty, blistered feet. Over his shoulder I can see a man using his bare hands to string electrical wire to power a strand of lights as the crowded camp grows dark.

The subject of refugees' ambivalent loyalties, says Khalid Rahman, director of the Institute for Policy Studies in Islamabad, is anything but cut and dry. "What people now realise is there are criminals and foreign elements [in the Taliban], so they don't have much support from people," he says. "But they know people who have been living with them for years, and some are very sincere. And some have joined them because of collateral damage. For the common man there is a lot of gray area," he says. "It depends on what kind of Taliban you have met."

"I think people are clearly confused," he says. "They believe this army is their own army, but they don't understand this current strategy. When they analyze it, they think it is because of US pressure."

That thinking applies not only to the refugees, but to the larger Pakistani public. Zardari's administration finds itself in difficult straits in this regard. Pressured by the need to combat the Taliban's growing strength within its borders, and from President Obama—who promised US support would be dependant on Pakistan's progress after blowing $10 billion in American aid since 2001, during which time it ceded large swaths of land to militants— it launched a battle that has stretched its forces thin and tested the administration's political solvency. As much as it has been a military success, the campaign can also be considered a litmus test, in the minds of many Pakistanis, for authorities' ability and willingness to provide for its own; it is another potentially perilous fault in a nuclear nation at risk of becoming a failed state.

In its initial stages, the campaign enjoyed popular support. Rahman says a successful preliminary PR campaign—an outreach to Pakistani elite and to journalists— preceded the military campaign, but that support is eroding as the scope of the crisis comes into focus.

The rapid migration that has dispersed refugees around the country, he says, is creating a powerful counter-narrative to the government's claims about minimising harm and providing for civilians. "When 1.5 million people—who have friends and family all over the country and outside Pakistan—when they share these stories, it will make it impossible to continue this for long and to avoid collateral damage," he says. "People are already recoiling."

Maintaining the support of the Pakistani people is a difficult balancing act. While Rahman believes the ongoing campaign is being waged in earnest to combat the dangerous threat of militancy, he says the government has failed to convince mainstream Pakistanis that they aren't being asked to shoulder the burden of a future US exit strategy from the 'American war' in Afghanistan.

This all takes places amid a chorus of complaints that the government has failed to protect its citizens against the US drone attacks that have killed large numbers of civilians along with militants in the border regions. According to a poll conducted in March by the International Republican Institute, a little more than half of respondents said they were more worried about US drone attacks than Al Qaeda and the Taliban, and 87 percent said Pakistan should not support the US war in Afghanistan. This has created a backlash from Pakistanis who feel their leaders are giving in to US demands and fuelling more conspiracies that the American goal is to destabilise the country. "Many think this is a way to attack Pakistan's strength and nuclear capabilities," says Rahman.

A central pillar in Obama's "Af-Pak" strategy is the effort to de-escalate tensions between New Delhi and Islamabad, which would allow Pakistan to reduce its troops along the eastern border and redeploy them to the western border with Afghanistan. But the action against militants in Swat won't automatically reassure Indian leaders that their rivals are now committed to fighting international terrorism, says MK Bhadrakumar, a retired Indian diplomat. "Pakistani military has never been ambivalent about threats to its own security," he says. "But Swat is not really the epicenter of Al Qaeda. Confronting militants in Waziristan would be a different ballgame altogether."

It's still too early to say what effect the Swat offensive will have on Pakistan's internal security and South Asia's regional stability. The air strikes have managed to destroy militant ammunition depots and its command structures, says Rifaat Hussain, but a large portion of the militants have escaped into areas they will be harder to rout and raising the risk of wider destabilisation and the fear the Taliban may return in the future. Local communities have absorbed most of the refugees, straining relationships between the hosts and their guests. A minority of refugees take shelter in the camps administered by the UN, which says it is cash-strapped and that only a third of the $543 million it's appealed for to deal with the crisis has materialised. Hussain says it could cost $3-4 billion to rebuild communities and police forces and settle disputes between neighbors who return to find their homes have been looted or taken over by squatters.

"We are all going more or less by what the Pakistani government is saying," says Bhadrakumar. "This is very important. No senior Pakistani Taliban leader has been caught. One has to wait and see. I will not go to the extent of questioning the Pakistani leadership, but the track record is not very convincing to put it mildly." If the operation has merely pushed militants out of Swat, then the question arises whether the Pakistani military has the will to follow them into Waziristan. If so, Indians "would applaud with the rest of the international community," says Bhadrakumar. But to stabilise the India-Pakistan relationship, he says, Pakistan would have to go further: it would need to prove it's cut ties to Kashmiri militants and is taking actions against anti-Indian elements training in the country.

The continued fighting also increases ethnic tensions within Pakistan, as much of the fighting in the country's northwest has occurred in areas dominated by ethnic Pasthuns. "This is already a political tendency toward a backlash along the ethnic lines," says Bhadrakumar. "These kind of operations are perceived by the Pashtuns as being directed against them." In mid-June, after two months of fighting, the army pushed into the tribal belt along the Afghanistan border, widening the conflict in pursuit of top Taliban commander Beitullah Mehsud and his strong network in South Waziristan, which is likely to displace even more people. It has also begun to rely on local militias, angered by a Taliban suicide bombing that killed dozens at a local mosque in early June. The use of such militias could lead to increased sectarian rivalry and warlordism. "This is almost like subcontracting the military operations," says Bhadrakumar. "This is very dangerous because once the blood is spilled, the feud begins."

But Islamabad's options are also constrained by political considerations. Just as Obama has to walk a political tightrope between giving aid to stabilise Pakistan and Congressional pressure to hold
Islamabad accountable for the money—Obama recently pushed through a plan to distribute $7.5 billion in aid over the next five years—Zardari has to distance himself from Washington to win the support of the Pakistani public concerned about the country's sovereignty.

"They would like to think we are not fighting an American war," says Rahman. Given the country's volatile political history, Zardari's failure to win public support could push the country closer to chaos. His popularity has sunk to lows that even his predecessor Pervez Musharraf never suffered. If he is forced from office, says Rahman, history shows that "those mobilising for radicalisation often will find support."

On a small private lot in Islamabad, an unofficial refugee camp has been set up along a hill above a polluted stream. The owner of the land, who works for a local politician, says it was supposed to be a temporary solution for the refugees displaced by the fighting that ended in February. In the days before I came, it had grown from 100 residents to 400 people as the newly displaced trickled in all the way from Swat. At the entrance to the camp, I find a doctor, who had been displaced himself and was making rounds in the camp. Most people he treated, he tells me, suffered from stomach bugs, mental trauma, and depression.

Abdul Rahim, a 48-year-old father of 12 kids, tells me that even before the fighting he had struggled to feed his family off the roughly $25 a month military pensions he received for his 16 years of service in the Pakistani army. The recent offensive, he says, is a continuation of the troubles that began under Musharraf's Washington-friendly policies. "This is Musharraf's mistake," he says. "Mussharaff's policies are wrong. He started this operation. That's why we are here."

Another refugee, Mohammad Amin, a 36-year-old who had owned a video shop, agreed. "For two years, there has been oppression—there is the bombing, the f16s, the air shelling, the artillery, the helicopters. There are lots of dead people," he says. The life he had found in Islamabad had not given him much hope that things are getting better. "There is no life here," he says. "People have been here for months and still they have nothing."

(Anna-Katarina Gravgaard contributed to this report.)
RELATED ISSUES