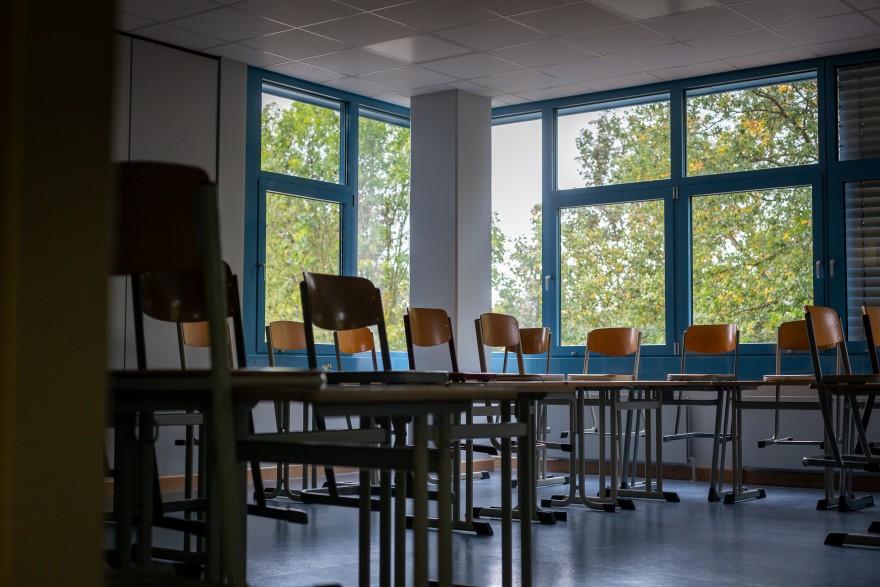 Last week, as she has every week this school year, Kansas City-area teacher Julie Pierce greeted her second graders on Zoom before taking them on a virtual trip to the Arctic for a fast-paced reading lesson.
"Adaptations are things that help them survive," Pierce explained. "Remember, we wrote, 'Puffins have thick feathers to help them keep warm.' So you're going to be looking for your animal's adaptations, OK?"
Then she started singing silly sounds to get her class ready to read along with her.
Online lessons have become the norm for Pierce, who teaches in Hickman Mills, an urban school district in south Kansas City that hasn't reopened for in-person learning.
"When this all started, I really thought, 'There are two options, and I have to make a decision,'" she said. "I could cling to what wasn't and scrap to try to get back in person and be upset and be sad that it wasn't the way I'm used to. Or I could decide to really try to do it well."
Schools all over the world have tried different ways to keep kids learning this school year — and then tried again. In Europe, most schools reopened in August, only to close again in December as the continent failed to contain a second wave of the pandemic. The United States experienced a second wave, too, but many schools that started the school year online reopened anyway, over the objections of teachers who felt forced back into classrooms when COVID-19 infections were at their peak.
This school year, KCUR and St. Louis Public Radio have contrasted the decisions of Missouri school districts with those made in Germany. The experiences show that, in a sense, there were no good options during a global pandemic, only trial and error — and the fierce determination of Pierce and other educators to adapt in an unprecedented situation.
"Some schools learned a lot, some schools learned nothing," said Katharina Spiess, an education economist and professor at the Free University in Berlin.
And whatever path schools took, they faced criticism from parents, teachers and elected officials who wanted things to be different.
Success despite obstacles
In the beginning, plenty of what Pierce tried didn't work. She solicited feedback from parents constantly, to the point she worried she was being annoying. One memorable day, she was interrupted by a neighbor kid banging on her door. His internet wasn't working, and he figured a teacher would be able to help.
Then there are lessons that are just hard to teach via Zoom.
"Our current math unit is time and money, and the kids really need to have money in their hands," Pierce said. "With addition and subtraction, we can just draw things that represent other things. But not when I want them to be able to recognize that a quarter has the guy facing that way, and he's mostly bald."
She sent her students on a scavenger hunt for spare change, only to realize she couldn't tell a blurry nickel from a quarter on Zoom.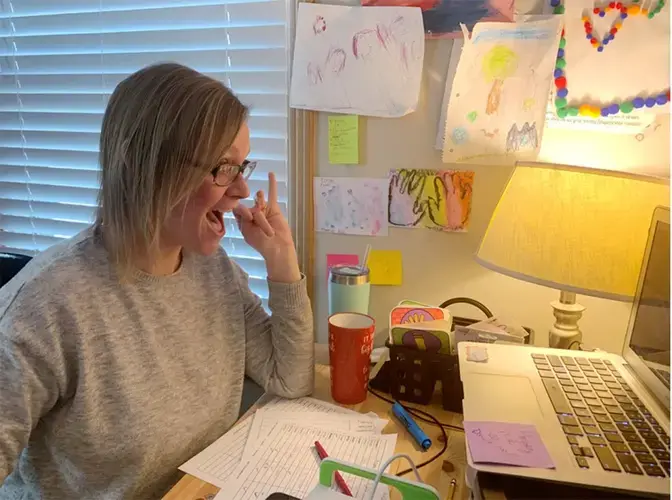 But Pierce really likes how much time she has now to meet with students in small groups, or even one-on-one, which she's done with the voracious reader in her class.
And, despite concerning reports about students being absent for virtual learning, Pierce's kids are logging in. Attendance at Truman Elementary, where she teaches, is hovering around 93%. That's much better than a few years ago, when average daily classroom attendance was only 71%.
"A lot of obstacles of getting to the bus on time or having clean clothes to wear, that sort of thing? It's not an obstacle anymore," Principal Sue Herrera said.
Weird year
Like most urban districts in and around Kansas City, Hickman Mills has taken a cautious approach to bringing students back. Pierce isn't scheduled to actually be in a classroom with her second graders until March 15, a year after COVID-19 closed schools around the world.
Missouri education officials have largely left the decision of when and how to reopen to local school boards. Most rural and suburban districts have reopened in some capacity, cheered on by parents who wanted this school year to be "normal."
But this fall, some open districts had to close schools when they didn't have enough healthy adults to drive school buses or deliver lessons. To help with staffing, state education officials lowered the bar for substitute teachers. Eventually, they relaxed the rules so students and staff wouldn't have to quarantine as long as they were wearing masks, though Missouri doesn't have a statewide mask mandate.
Some superintendents decided everyone would be safer if they waited to reopen schools until teachers could be vaccinated. Kansas City Public Schools Superintendent Mark Bedell has said throughout the pandemic that nothing is as important as saving lives, and many of his students have lost family members to COVID-19. Several have been orphaned.
Last month, optimistic because the district's nurses had been vaccinated, Bedell told the school board that teachers were eager to receive their shots and get back to school.
But vaccines aren't the only factor driving the superintendent to open school doors. Last spring, Missouri schools closed before students could take annual tests. Most teachers and administrators were hoping for a reprieve this year, too. But last month, Missouri Assistant Education Commissioner Chris Neale told the state school board that "not knowing where our students are isn't an option" after an unprecedented year.
The vast majority of teachers—94% of those the Missouri State Teachers Association surveyed—disagree. They don't need state tests to tell them their students are behind because of the pandemic.
In a video message recorded for MSTA, teacher Shannon Berghoff said her fourth graders are behind, even though they've been learning in person. Not only did they miss two months of third grade, they're experiencing a lot of health-related anxiety because of the pandemic.
"Having us use that time to test to show that they're failing because they're missing that time just seems kind of odd," said Berghoff, who teaches in Jackson, Missouri. "I'd like to use that time to fill those gaps, improve and feel successful and ready for the following year."
Fast start, then speed bumps
Freya Dieckmann is worried about exams, too. The 17-year-old attends a secondary school in the German city of Bonn for academically talented students and is supposed to take the all-important abitur exam soon. In Germany, such tests determine which universities students can attend and what they can study.
"But with corona it is a lot more difficult, even if you have good marks," Dieckmann told St. Louis Public Radio.
Last spring, Dieckmann watched her older classmates' final months of high school get disrupted by the pandemic. This year was supposed to be different. Early on, German leaders were praised for the steps they took to control the pandemic, but that was before the second wave hit.
"The priority was to keep the schools open as long as possible, and this, I would say, was a mistake because they should have rather focused on what to do while it's closed," said Henrik Saalbach, an education professor at the University of Leipzig.
Because German leaders were so focused on getting students back in classrooms, they didn't invest enough in improving remote learning, teachers groups contend. As a result, Germany was unprepared when an even more transmissible strain of COVID-19 began to circulate in Europe last fall. When a soft lockdown failed to control the spread, Chancellor Angela Merkel announced tougher restrictions, including another round of school closures that could stretch into next month.
"Everyone was expecting the government to do something so that we're better prepared for hybrid teaching, and very little has happened," said Ryan Plocher, a teacher in Berlin. "So basically, we're at the same level of technical infrastructure that we were at at the beginning of summer vacation."
Philipp Scholz, the principal of a high school in Hamburg, has struggled to get enough laptops for his students, many of whom are the children of migrants and nonnative German speakers, since schools closed.
"The lack of strong Wi-Fi and the lack of computers or laptops or iPads for our students, this is something Germany should be strongly embarrassed about. They sent me 200 laptops for 20% of my students. But here at my school, I need 400," Scholz said.
Germany has pledged a multimillion-euro investment to purchase more computers, but educators said it takes more than buying equipment. Teachers also need to be trained to use it. And although the pandemic has accelerated adaptations to teaching models, the short-term education effects could be dramatic.
"I think there has been significant efforts, but the learning losses are hard to make up," said Andreas Schleicher, director of education at the Organisation for Economic Cooperation and Development in Paris. "That's very clear."
New fears
Infectious disease experts are currently tracking three coronavirus mutations that have wreaked havoc in the United Kingdom, South Africa and Brazil. All three variations are more contagious than the initial strain from China, and there have been confirmed cases of all three in the U.S.
"I think we're all concerned," said Mark Schleiss, a professor of pediatrics at the University of Minnesota who studies infectious diseases. "It's hard to predict what the metrics of spread will be in the United States."
It's even harder to predict whether the new strains will cause the widespread school closures here that they have in Europe. Many U.S. schools reopened in communities where infection rates were high and remained open even as hospitalizations increased.
Guidance from the U.S. Centers for Disease Control and Prevention has evolved as this strange school year has dragged on. The CDC now says schools are not a significant source of community spread, and most schools can reopen for in-person learning as long as precautions are in place.
The European Centre for Disease Prevention and Control came to a similar conclusion in late December, but its findings don't take into account the new virus strains. The report was published just as cases of COVID-19 among children in the U.K. were spiking faster than among older adults.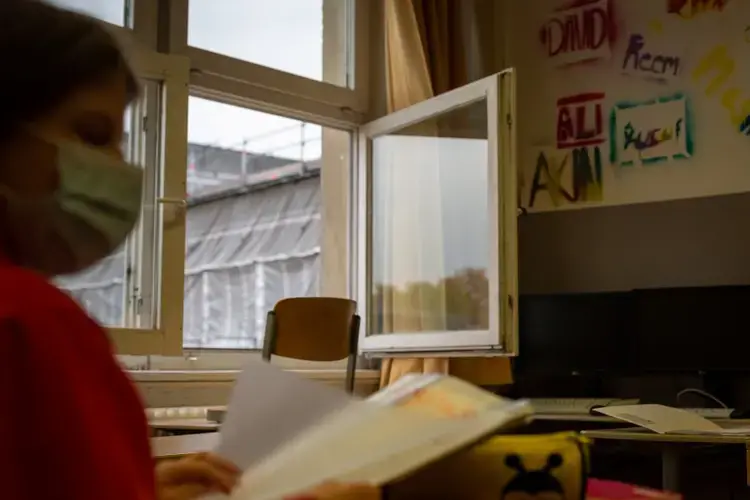 Christian Drosten, a leading virologist in Germany, has consistently advocated for schools to remain closed, arguing children contribute to the pandemic. Researchers in Austria and Germany have found children contract and likely spread coronavirus just as much as adults, though they remain less likely to develop severe symptoms.
For Schleiss, at the University of Minnesota, "it all circles back to what kinds of measures communities are taking to minimize spread."
Innovation amid challenge
Back in December, Brett Schriewer, principal of Northeast Middle School in the Kansas City Public Schools, told KCUR he wanted to get his COVID-19 vaccine on camera to show his students and their families it's safe.
Schriewer still hasn't gotten to snap that selfie. And he knows that when he does, the work will just be beginning.
"It's middle school. Half our kids we've never met face-to-face. They've never been in the building," Schriewer said.
But he said teachers have gotten much better at online teaching as the months have gone by.
"I have teachers with two and three monitors at home. They have their kids all on one screen, actually writing out the math problems. They can actually see where the misconceptions are without everybody else seeing," Schriewer said. "It's innovative."
Schriewer said it's helped that teachers haven't had to worry about switching between learning models. Pierce, the Hickman Mills teacher, agreed that consistency was key. It's allowed her to get good at Zoom teaching without worrying about constant changes to the learning model.
"I really don't think it's a wasted year," Pierce said. "I think it's a year of challenge, but I definitely would not say that any of my second graders have wasted a year. Anyone who does probably hasn't been in a classroom."
Elle Moxley and Ryan Delaney are reporting on the impact of the coronavirus on German and Missouri schools through an Education Writers Association fellowship, with additional support from the Pulitzer Center on Crisis Reporting.
Follow Elle on Twitter: @ellemoxley
Follow Ryan on Twitter: @rpatrickdelaney
---
COVID-19 Update: The connection between local and global issues–the Pulitzer Center's long standing mantra–has, sadly, never been more evident. We are uniquely positioned to serve the journalists, news media organizations, schools, and universities we partner with by continuing to advance our core mission: enabling great journalism and education about underreported and systemic issues that resonate now–and continue to have relevance in times ahead. We believe that this is a moment for decisive action. Learn more about the steps we are taking.
RELATED INITIATIVES