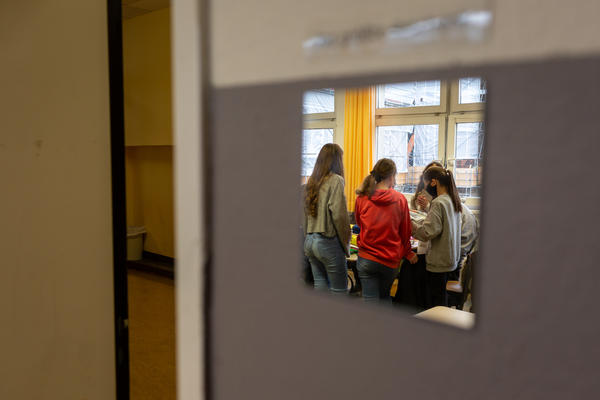 MUNICH, GERMANY — Bars, restaurants, theaters, gyms, and museums here are closed for the month of November as cases of COVID-19 in Germany top 20,000 per day, four times as many as the previous highs of April.
Unlike what took place in April, though, most schools and daycares remain open while social life is restricted.
Similar decisions are being made in other European nations, as cases of the coronavirus rise around the world. Governments are ordering businesses to close and telling adults to stay home. But schools — one of the first places to close in the spring — are still open in places like Ireland, France and the United Kingdom.
Educators and experts are unsure the strategy of partial lockdowns will be enough.
"If the numbers don't change, I think they will go on and reconsider also closing the schools down. I think and hope they are better prepared to do that," said Henrik Saalbach, an education professor at the University of Leipzig.
In nearby countries where the virus is even more out of control, schools are being impacted. Poland closed its schools. Italy and Greece have closed high schools but are keeping primary schools open.
That compares to the U.S., where schools are completely closed in a half-dozen big cities, including Los Angeles, Chicago and Washington. Just 16% of schools in the country are fully open, according to Education Week, as most American public school children either learn entirely virtually or attend classes in person just two or three days a week.
Schools being open is not a major factor in the wide spreading of the coronavirus, several research studies have found. But if the virus is circulating in the community, schools will still be impacted.
A school in Gera, Germany, had to close last month after 30 teachers were put into quarantine. Germany lacks a substitute teacher pool the way the U.S. does, which school principals say will lead to more instances like the disruption in Gera.
"How on earth are you supposed to keep lessons up and running when something like this happens?" said Inga Bergmann, the director of the Berlin Bilingual School. "So the whole system of having a school run as normal under a pandemic does not work."
Numerous teachers in Germany envision a winter where students do a mix of in-person and remote learning, like the hybrid model being used in America, to put less strain on teachers and reduce contact. So far, education officials have rejected that notion.
Ryan Delaney and Elle Moxley are reporting on the impact of the coronavirus on German and Missouri schools through an Education Writers Association fellowship, with additional support from the Pulitzer Center.
---
COVID-19 Update: The connection between local and global issues–the Pulitzer Center's long standing mantra–has, sadly, never been more evident. We are uniquely positioned to serve the journalists, news media organizations, schools, and universities we partner with by continuing to advance our core mission: enabling great journalism and education about underreported and systemic issues that resonate now–and continue to have relevance in times ahead. We believe that this is a moment for decisive action. Learn more about the steps we are taking.
RELATED INITIATIVES