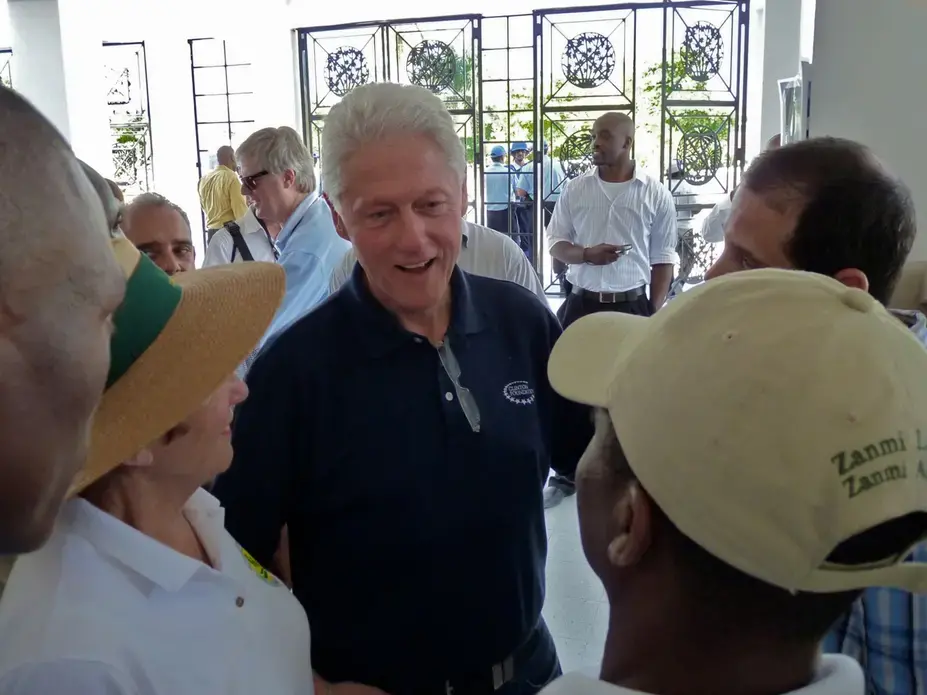 In early March, Bill Clinton showed he is learning the lessons of Haiti's man-made disasters. Far from natural byproducts of the nation itself, the widespread poverty, misery and deaths among Haitians have an awful lot to do with mistakes made by influential foreigners.

After the January 2010 earthquake, Clinton acknowledged that he was wrong to champion agricultural trade policies during his presidency that benefitted "some of my farmers in Arkansas," but damaged the livelihoods of Haitian peasant farmers.

Those policies helped drive Haitians out of the countryside into overcrowded, shoddily-built urban slums in Port-au-Prince, where many of them perished in the quake. Earthquakes of that magnitude don't kill tens of thousands of people in industrialized countries.

"I had to live everyday with the consequences of the loss of capacity to produce a rice crop in Haiti to feed those people because of what I did; nobody else," Clinton said in testimony before the U.S. Senate.

On March 7, Clinton candidly admitted to having learned another lesson from another man-made tragedy in Haiti—the October 2010 cholera outbreak which has killed more than 7,000 and made sick at least 500,000 Haitians.

At a press conference at a new hospital in Mirebalais, with United Nations troops standing guard outside, I asked him whether he agreed with recent comments by the American ambassador to the UN that those responsible for the cholera's introduction to Haiti should be "held accountable."

Cholera was alien to Haiti and the Caribbean prior to the outbreak. Multiple scientific studies have pinpointed UN peacekeeping troops as the definitive or most likely source of imported cholera bacteria from Nepal to central Haiti.

Clinton sidestepped the question, at one point calling that decision "above his pay grade." He receives a symbolic $1 per year salary from the UN as its special envoy to Haiti.

But he also became the first UN representative to acknowledge the truth that's long been in plain sight, ever since reporters captured shocking images of waste from the Mirebalais UN peacekeeping base flowing into Haiti's waterways.

"I don't know that the person who introduced cholera to Haiti, the UN peacekeeping soldier from South Asia, was aware that he was carrying the virus," Clinton said. (It is a bacterium, not a virus.)

"It was the proximate cause of cholera," he continued. "That is, he was carrying the cholera strain. It came from his waste stream into the waters of Haiti, into the bodies of Haitians."

The UN has long denied its decisive role in the cholera outbreak. This was an unusual level of candor from such a high-ranking official. I immediately broke the news on Twitter. Within hours the Associated Press had filed its own dispatch about Clinton's comments, making headlines around the world. A Haitian law firm that sued the UN on behalf of cholera victims praised Clinton's response to my question. One of the lawyers told me he thinks it's "going to have a big impact on the case."

Still, even after Clinton's admission, the UN issued a statement attributing the cholera outbreak to "a confluence of factors." In New York on March 9, a spokesperson fended off questions from reporters about Clinton's admission.

Clinton, for his part, also emphasized that "what really caused" the cholera epidemic is Haiti's virtually non-existent clean water and sanitation system. He pondered aloud, "And I can't recall ever until this cholera outbreak hit, people even asking: 'Did these people come from a place where they have a lot of cholera or malaria or you name it, and are we sending them to a place where they don't have that, and therefore, almost by accident, we could start an epidemic?'

"And I have to tell you—at least I had never thought about it before. And insofar as I would have any influence over continuing UN operations it's one question that I think that will always be asked from now on. I feel terrible about what happened here."

Clinton commands enormous influence in Haiti. As special envoy, he co-chaired the reconstruction commission set up after the earthquake alongside Haiti's prime minister, and he was recently appointed to the President's Economic Advisory Council.

The question now is whether the policies Clinton champions today are the right ones or whether he will lament how things should have been done better in Haiti years from now. These include export-driven agricultural and trade policies, as well as boosting the textile and tourism industries as panaceas for Haiti's pervasive unemployment.

There is already a stark dissonance between his comments about aid organizations and how his own foundation conducted itself in quake-battered Leogane. Clinton urged aid groups to work themselves "out of a job" and build the capacity of Haitian institutions. But journalists found that the Clinton Foundation ignored local officials and installed trailer classrooms laced with formaldehyde. The foundation deflected the accusations.

As a governor and president in the U. S., Clinton distinguished himself with his charisma, intelligence, and ability to get things done. But it's hard to see Haiti's faltering recovery since the earthquake as anything but a failure. (The reconstruction commission he co-chaired is now defunct.)

"Building back better" will require learning from errors more quickly, or better yet, not making tragic mistakes in the first place.

RELATED ISSUES