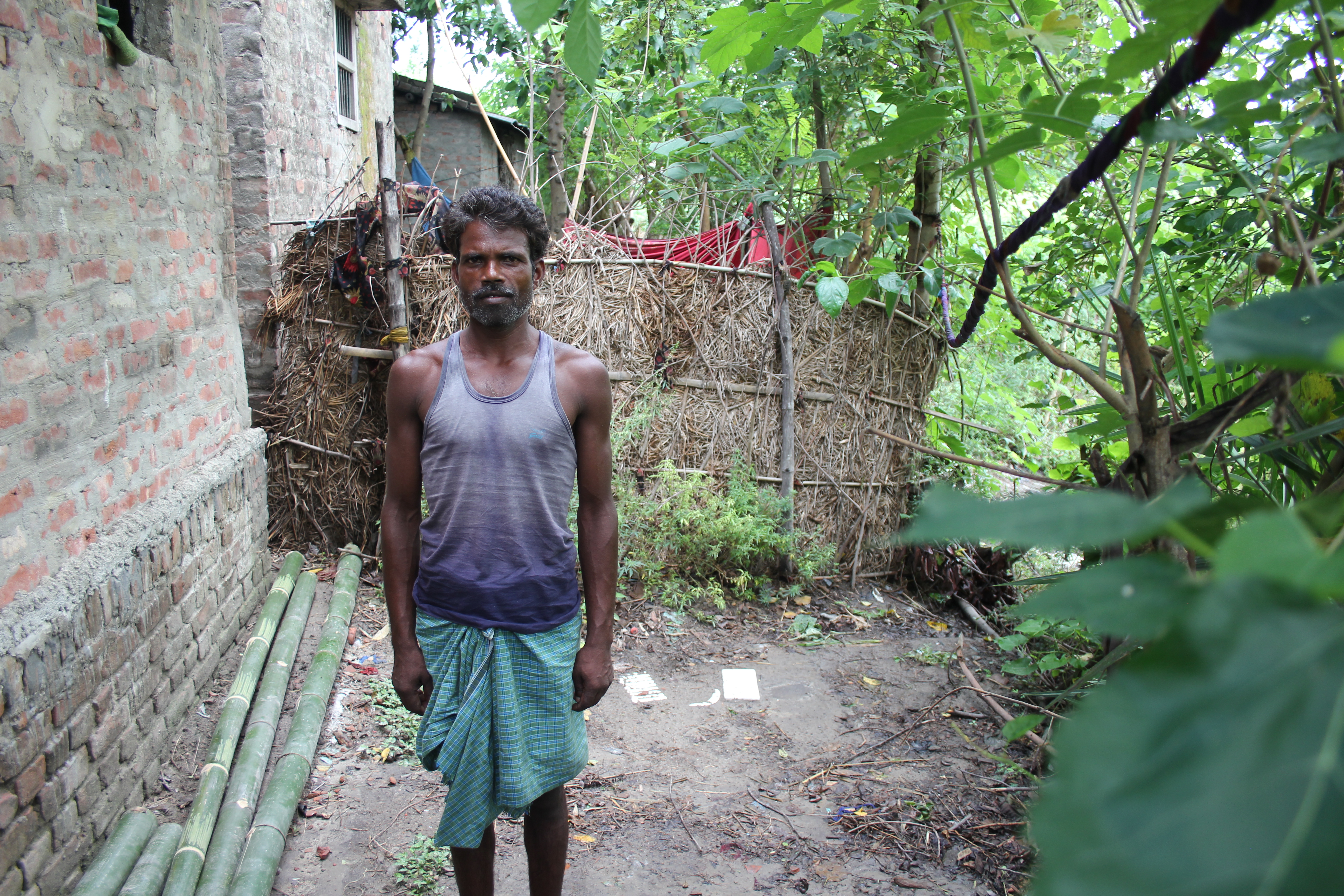 In the morning, Ramchandra Kumar fills up his lota, the small cup of water with which he cleans himself, and goes to the rice fields in front of his home to defecate—but almost every day, there are women working in the area. He is forced to hold it.

Kumar is one of more than 600 million Indians who defecate in the open every day. The Indian government led by Prime Minister Narendra Modi has set the goal of eliminating this public health crisis by 2019 through Swachh Bharat, or the Clean India Mission, an incentive program that reimburses families 10,000 rupees (about $154) after they build a toilet in their home. But Swachh Bharat, however ambitious and well-intentioned, leaves behind some of the most marginalized groups in Indian society, including Ramchandra and his family.

"I'm of the lowest caste: Harijan," Kumar said at his small home in the village of Basbitti in Bihar state's rural Supaul district. He is a sinewy, soft-spoken man. "I'm very poor. We're mostly illiterate. We don't know of the services the government provides because we can't read the newspapers, we don't go to the courthouses."

Scattered around the neatly swept dirt floors of the home that he shares with his brothers and their families is a toilet graveyard. Three separate toilet pans, now half-buried in the dirt, remain as legacies of another failed government scheme—latrines built so shoddily that they were never once used.

Despite his poverty, Kumar is determined to build a toilet. He and his wife Sunita work as cleaners at a community toilet facility a forty-minute walk from their home. They learned about the Swachh Bharat Mission through their work. For a couple whose combined monthly income is less than the government reimbursement, fronting the few hundred dollars to build a toilet is not an option. But they are taking advantage of a rare cost-sharing program that their employer offers that would require them to contribute only 2,000 rupees (about $31) up front.

Others in Kumar's community face the same significant barriers. "They don't have bank accounts—they do not have 2,000 rupees to share," he said.

Manish Anand, who is in charge of disbursing Swachh Bharat funds in the Supaul district of Bihar, verifies several of Kumar's concerns.

"The 10,000 rupees in construction costs is a barrier," he admits.

Additionally, Anand explains that less than half of the applicants for reimbursement from the Swachh Bharat program are below the poverty line. This supports an argument that the poorest are either not able to afford the upfront cost of building a toilet or that they don't know about the program.

The eligibility criteria for the government reimbursement are complex, and according to Anand, less than half of applicants are eligible for reimbursement—a fact they learn after having built their toilet. Those who are approved are supposed to be paid within fifteen days of submitting their application. However, Anand explains that, due to a large influx of applications six months ago, his office has been delayed in releasing payments.

"Normally it takes us fifteen days to issue the reimbursement, but with the backlog, it took us a few months."

Late reimbursements, with no accountability or penalty for lateness, introduce new challenges. "Due to delayed payment, people lose faith. This lack of faith is a big problem," Anand says.

Dwarfing the bureaucratic insufficiencies of the Swachh Bharat program in Bihar is a greater problem: its disregard of the landless, one of India's most marginalized groups. Although it is difficult to count the number of landless, Rena Singer of Landesa, a land rights NGO, approximates 13.4 million people in Bihar alone to be landless. Millions more in other states are landless or have insecure rights to the land on which they rely. These individuals have no incentive to build a toilet, to invest in the infrastructure from which they may be evicted at any time.

Kumar and his family have just enough money, awareness of Swachh Bharat, and land to build a toilet—yet their access is still not guaranteed. They are Dalits or Harijans: what used to be known as "untouchables." Although the government of India outlawed the caste system with independence in 1947, discrimination towards Dalits is still rampant in this region of rural Bihar. In the case of the Kumars, several construction workers refuse to go to their home to build a toilet.

Chandan Kumar explains. "This is a rural area. People have the mentality of their grandfathers; they follow these rules. They don't want to work at Ramchandra's home, they don't want anything to do with these communities."

Chandan Kumar is not related to Ramchandra; because caste is so stigmatizing in Supaul, many people use the surname root "Kumar" to hide their caste identifier. Chandan is the co-director of a sanitation NGO in Bihar called Sanitation and Health Rights in India (SHRI), and acts as the contractor for toilet construction at many sites in Supaul.

Chandan grits his teeth: "One worker left the job at Ramchandra's home—he said that the smell was bad. He didn't worry about whether I'd fire him."

Ramchandra remains determined. "I want a toilet because I want my neighborhood to be clean. We will live healthier; we won't have to use other people's fields; we won't be cursed at." He looks away.

Open defecation has been tied to premature death from diarrheal illness, stunting of growth in children, sexual assault of girls and women, and lost productivity due to illness and time spent searching for a place to defecate. In 2006, the economic impact of poor sanitation in India was an estimated Rs. 2.4 trillion ($53.8 billion), or 6.4% of India's GDP. As the world's fastest growing economy, India must address its sanitation crisis if it is to become the international power it desires to be.

Prime Minister Modi should be applauded for his attention to sanitation and the zeal with which he pursues a Clean India. Swachh Bharat works differently in each state, and many regions have reported success under the new program. However, as they stand, these obstacles to obtaining reimbursement through Swachh Bharat in rural Bihar are more than just a hindrance. Without a serious overhaul of the Bihar program, the vision of an open defecation-free India will remain a pipe dream. Chandan's coworker, Anoop Jain, the founder of SHRI, recommends changes to the program that he believes will make it more successful in rural Bihar.

First: restructure the program to remove the required upfront financial investment. This is how Swachh Bharat is structured in several other Indian states: the government directly builds the toilet for applicants. "Millions of families that lack access to a toilet also live in extreme poverty," Jain states. "They are more concerned with having enough money to buy their next meal. They are unable to save money to build a toilet."

Second, make the Swachh Bharat Mission accessible to the landless. "Millions of Indians are landless. Without land, families cannot apply for funding to build a permanent toilet because they have nowhere to build it."

Finally, simplify the application and reimbursement process, thereby making the program more accessible. Jain argues: "India's sanitation crisis is not [that] people are not demanding toilets... mechanisms designed to supply toilets to meet this demand are failing."
RELATED ISSUES