Hundreds of people are grappling with the acute scarcity of clean and safe water in Bunambutye landslides resettlement villages, amidst the novel coronavirus pandemic fight.
Those affected the most include 140 households in Phase II who were relocated from disaster-prone Bududa to Bunambutye settlement in Bulambuli district. 
The Ugandan government like others across the world have encouraged proper hand-washing as an essential preventive measure against the lethal virus. 
Several districts local governments in Uganda including Bulambuli (which hosts the Mt. Elgon landslides survivors) are trying to ensure that they encourage the same practice of handwashing hands among residents. 
This, however, is close to an impossible practice for Phase II residents in Bunambutye who are in dire need and are resorting to nearby streams and swamp water for domestic use. 
"We don't have functioning boreholes, springs or tap water systems and the only nearest option is streams and swamps. The other being walking close to 2 kilometers apart begging for water from residents in Phase I," said Tom Wabuna, one of the residents at the resettlement camp.
With each house sitting on one acre of land and each family able to carry out farming in the acres provided by the government, landslides survivors claim that after tending to farms, they are usually too tired to trek up to Phase I for water.
Unlike Phase II, each household in Phase I has an extended provision from where they draw water at the comfort of their homes.
Sarah Nekesa said because of COVID-19 financial constraints, some members at Phase have been forced to now charge them for water.
Nekesa confesses that due to a shortage of clean and safe water, their families cannot wash hands properly so as to prevent coronavirus.
"Before the coronavirus lockdown, many of us would move from one local market to another selling our merchandise including poultry products, livestock, and others for a living," Nekesa said. 
Now, that they can not move out of their resentment villages, the survivors of the landslide say they are finically deprived and mentally drained. 
Grace Nabutuwa who lost all her nine children to landslides back in Bududa says they now fear for their lives because water is not their only problem, food and handwashing soap are also scarce.
"If this disease reaches our camp it will leave all of us dead because we are defenseless in totality.," Nabutuwa said in an interview.
Moses Wambede, a father of four who lost his two children and a wife to landslides says they are too poor to even afford hand-washing soap, sanitizers, and masks to prevent the spread of coronavirus into the camp.
Though the President has been drumming Ugandans to embrace the practice of washing hands with soap as one affordable COVID-19 preventive measure, those in Bunambutye camp say they cannot afford it. 
Peter Pex Paak, the Resident District Commissioner (RDC) Bulambuli, in an exclusive interview acknowledged that water scarcity was becoming a significant problem in the camp particularly in Phase II. 
"Of course, as an individual I feel for the people in that area especially for children and women who are suffering the most," Paak said. 
Paak explained that his office would soon remind the office of the prime minister, relevant ministries and agencies to act swiftly in the best way possible to rescue the affected people.
For now, Paak encouraged Phase II residents to collect water from their neighbouring colleagues in Phase I village of traditional water sources. 
Though ancestors collected water from such traditional water sources, during the earlier days, the ever-increasing population pressure hence hostile human activities within Elgon Subregion have incapacitated and endangered these natural water sources. 
Streams and rivers are carrying extremely contaminated water despite being the only reliable option for these communities.
As if that is not enough, in the neighbouring communities such as Tajar, in Kolir sub-county in Bukedea district, the clean and safe water shortage is dire. 
Community members especially women and children collect water from streams whose content was not good for consumption. 
"This is the only option we have and we need to cook, wash, and above all follow the President's advice of hand-washing," Julia Asekenya, a resident said.
During this interview, like many other residents, Asekenya was fetching water from River Sirono which is situated between Bulambuli and Bukedea districts
Pius Okello, another resident in Tajar says his community of over 600 people is relying on one borehole which sometimes pumps brown water with worms.
"I think that children are always victims of this contaminated water because they do not take cautionary measures before drinking it," Okello explained. 
This community has relied on the same borehole for over three decades but the ever-growing population pressure and increased climate change challenges have made it unreliable for them.
These villages are an indicator that access to safe and clean water in rural communities in Uganda is still work in progress despite the fact that under the National Development Plan II (NDP II) the Government of Uganda has committed itself to increase water supply coverage in the rural areas from 65% in 2012/13 to 79% by 2019/20. 
According to Rose Nakabungo, the Assistant Commissioner for Disaster Preparedness and Management in the Office of the Prime Minister, the hygiene and sanitation related issues at the camp are unfortunate happenings but that would be handled as soon as possible. 
"That's why the media is significantly important, we cannot be everywhere but media is and will always bring this to our notice like it's in this case. We shall expedite the process of water connection to Phase II communities with immediate effect," Nakabungo told the New Vision.
Background
It should be noted that in March 2010, a landslide in Nametsi village, Bududa district, the most severe ever recorded in Uganda, left about 100 people dead, more than 300 people missing and 85 homes destroyed.
Further landslides in 2018 killed at least 60 people, while 400 people went missing and property worth billions of shillings was swept away by the debris.
The Uganda Red Cross Society put the number of those affected in 2018 to 12,000 people in Bukalasi and Buwali sub-counties in Bududa.
Climate change in form of abnormal rainfall in recent years is a major cause of most of these landslides, according to the Uganda National Meteorological Authority.
Most landslides occur on steep, concave slopes where water concentrates. Slopes facing the northeast are most prone to landslides, which coincide with the dominant rainfall direction.
Community Interventions
The embattled Phase II community in Bunambutye resentment camp is not resting on their laurels while waiting for the government and its development partners to intervene; the landslides survivors are enterprising.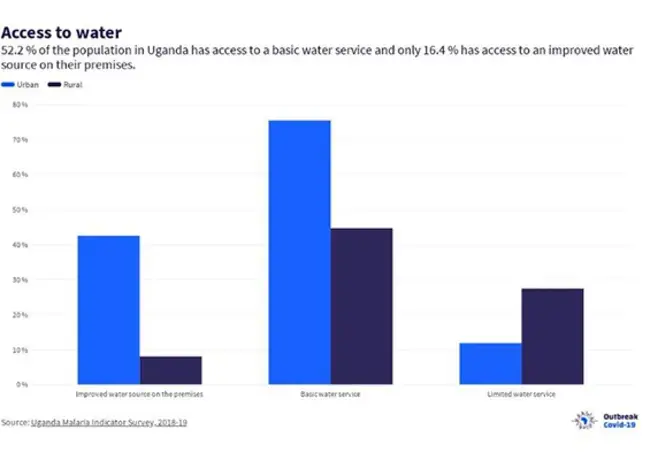 Adults and children in the landslide camp are innovating measures of addressing both short term and long-term challenges they face. 
For example, a group of 110 displaced children at Bunambutye camp have formed a 'forget the past by planting a tree today' campaign. 
Established and managed by teenage children, the campaign is expected to instill a spirit of environment conservation to the young generation of those who were haunted by Mt. Elgon mudslides. 
Asked why they chose to plant trees at a young age, James Wakholi the teen environmental activism leader at Bunambutye camp said it was a vital intervention to help them avoid the deadly mass killing disaster which killed their beloved ones. 
"Most of us lost parents, friends, teachers, and siblings and the best way to move on for us is by preventing it from happening again," said Wakholi.
The youngsters are currently planting trees in the one-acre provided by the government for each home in the camp but also in and around the backyards of their parents' homes.
"Our challenge is lack of land; if we had enough land here, we would have planted more trees than this," 13-year-old Ever Namataka said. 
The children of the Bunambutye disaster camp have so far planted 200 different species of trees in their area to avoid their sorrowful past from haunting them. 
The other challenge these environmentally conscious children emphasized was still lack of water in Phase II as it is important in the process of tree planting. 
Stressing this point, Namataka said; "Trees are withering and end up dying because all our fellow children residing in Phase II do not have readily available water."
Authorities Speak Out
The district forestry department that donate trees to the children, expect their initiative to improve the area forest cover from the current approximate of 40.6% to at least 55.9% in the next 10 years. 
The Ministry of Water and Environment, as the lead government agency in pursuing national aspirations of improved water service delivery and safe environment, is impressed by the intervention. 
Beatrice Anywar, the State Minister for Environment lauded Bunambutye resettlement camp children's initiative. 
"They could have done much better than that. As a minister and more so an environmental activist myself, I am thrilled to see these youngsters acting big especially because they were once bitten by consequences of irresponsible environmental human activities in Bududa," Anywar remarked. 
According to Anywar, having young environmentally conscious activists in rural areas across Uganda and Africa as a whole will help in realistic conversation. 
Like Anywar, Bulambuli RDC Paak is excited by this conservative innovation by youngsters in the landslide camp revealing that other neighbouring communities have started to "borrow the leaf from these children." 
The environment minister says that most times areas with sufficient forest cover have safe and clean water in abundance. 
She also promised to push for water connection to Phase II communities within the camp.
In a related development, since they cannot afford handwashing soap amidst coronavirus, parents at the camp have resorted to brewing local waragi, which they later use as sanitizer. 
"Some of us planted some cassava which we now use for brewing local waragi," said Zachariah Matubondo, whose first wife and five children all died in the 2018 landslides in Bududa district.
"The problem with this waragi is children keep drinking it," Matubondo said.
Patience Baganzi, the District Police Commander (DPC) Bulambuli, however, warns that the use of waragi for sanitizing hands amongst communities has contributed to the sharp growth in domestic violence and child rights abuse since people end up consuming it and becoming drunk at any time of the day. 
Bulambuli district recorded a total of 20 cases of child abuse and domestic violence in the month of April, an 80% rise from normal cases recorded, a thing Police partially attributes to use of waragi in the fight against coronavirus pandemic in the area.
This InfoNile story was supported by Code for Africa with funding from the Pulitzer Center and National Geographic Society.
---
COVID-19 Update: The connection between local and global issues–the Pulitzer Center's long standing mantra–has, sadly, never been more evident. We are uniquely positioned to serve the journalists, news media organizations, schools, and universities we partner with by continuing to advance our core mission: enabling great journalism and education about underreported and systemic issues that resonate now–and continue to have relevance in times ahead. We believe that this is a moment for decisive action. Learn more about the steps we are taking.