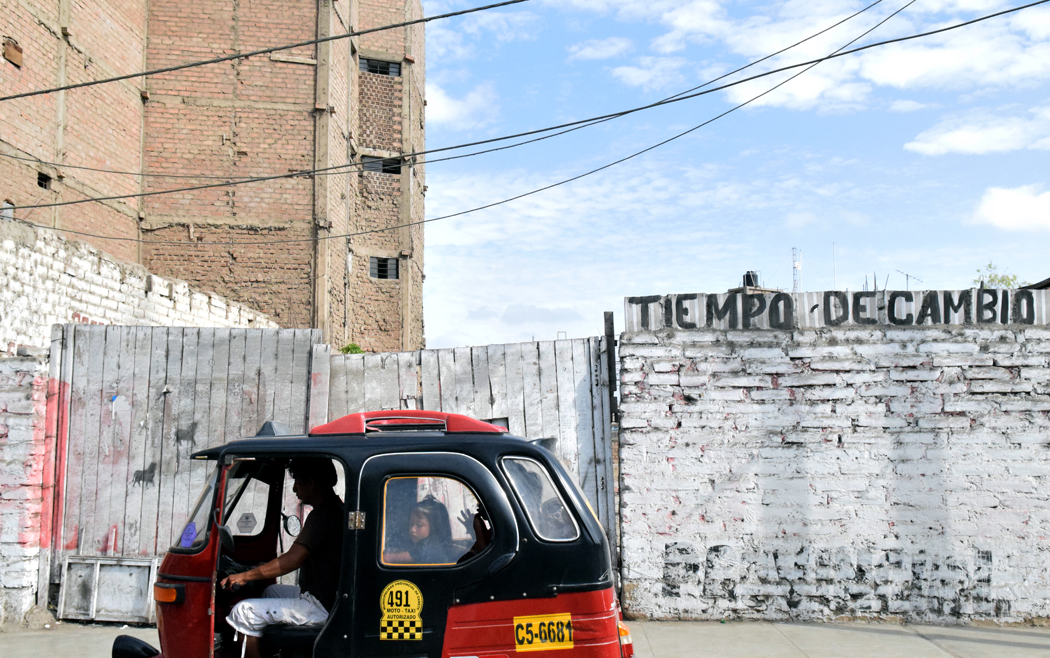 Kevin Quinto, 14, was bullied when he first moved to the capital city of Lima with his father and brother. They had left their hometown in the mountains of Peru so that his younger brother to receive medical assistance their town could not offer.

Now Kevin lives in a small home in Lima's district of San Juan de Lurigancho, the most populous of Lima's districts, with about 1 million people residing in a 50-square-mile area.

There, he said, many of the students called him names because he wasn't from the city. He would often tell his father he didn't want to go to school.

"Sometimes I felt bad about the insults because I hadn't been insulted before," Quinto said. "But I'm getting used to that."

It has been three years since he moved away from his mother and the rest of his family in the mountains.

"I miss my mom, my grandma, my friends and the home to take care of … and the animals we had," Quinto said. "I have no animals here. I have this one bedroom and it is very tiny."

Quinto's story is not unique.

While the inner districts of Peru's capital city represent a perfect postcard scene—tourists flocking to manicured parks and high-end seaside shops watched over by towering skyscrapers—the same cannot be said of the city's edges and the nation's rural areas.

Lima, where most of the economic powers, institutions and government ministries reside, is home to about 9 million people, or one-third of the country's population.

Despite its economic growth, the country's education system still falls behind the rest of the developing world—now reflected in the country's global education standings.

Peru came in last of 65 countries in student achievement in reading, math and science, according to a 2012 Program for International Student Assessment survey.

By age 5, there is already a learning gap between poor and non-poor children in Peru, said Santiago Cuento, senior education researcher at the Group for Analysis and Development in Lima.

"If you combine poverty, ethnicity and maternal education, you end up with an explosive compound that is going to work against children," he said. "And that's what happens in rural areas in many cases."

Cuento said he doesn't blame this unfair system on deliberate malice from the government, but rather on a lack of efficiency in the country, an area twice the size of Texas.

"We have a huge problem that is migration to urban areas and to Lima due to the poor quality of education in rural areas and unequal opportunities in jobs and general development," said Carolina Vidal, rural education networks coordinator at the Ministry of Education.

But, because of the centralization of the country's resources around its capital, there is a drastic difference between the wealth poured into the center of Lima and what little remains for the rest of the country.

Lima was built on a desert, which is evident only on the outskirts of the city where flocks of migrants take up residence.

Here, the slopes of long dirty hills are crowded with small shacks, some missing sections from roofs and walls. A fine layer of brown dust covers many of the small, hastily constructed homes and the trash-lined streets.

"[Migration] has occurred for a long time in Peruvian history, but the current rise in migration is alarming," said Freddy Escobar, a public school teacher at el Colegio Daniel Alcides Carrión de Campoya, a secondary school in San Juan de Lurigancho. "The issue of migration continues to be strong here, and it shows no signs of stopping because as cities get more attractive, migration will continue to rise."

Many rural Peruvians see the city as a place of economic and educational opportunity, he said. However, when they move to Lima, they end up living not amid the wealth of the city, but on a desert hill in the outskirts of the city. There areas are known locally as "pueblos jovenes" or "young villages."

Escobar, like Quinto, migrated to San Juan de Lurigancho because it promised more resources than his hometown.

Less than 5 percent of the district's population is native and an estimated 30,000 people move to San Juan de Lurigancho every year, causing the number of marginal human settlements to rise, Escobar said.

Those looking for better education opportunities for their children often encounter even more inhibitors to the child's learning than they did at home, he said.

"These are towns with violent infrastructures," Escobar said. "There is also overcrowding and violent attitudes arise when there are too many people living in small areas." Theft and gang involvement are common, especially among the youth, he said.

Every year, schools in the district receive an increasing number of students from the jungle and mountain regions of Peru where Spanish is not always the native language. "These [indigenous]-speaking students are the ones that will fall behind and fail," Escobar said.

As the students adapt to life in Lima, there is often a loss of indigenous culture, in part because of bullying and exclusion of children who he said are called "cholos" (Peruvians with darker hair and features), he explained.

"For our students and the adolescent youth, it is much more desired and cool to look like a foreigner than like a Peruvian," Escobar said.

In the meantime, the inland cities are not experiencing significant growth because they are not as attractive to the youth as the cities are, Escobar said. But at the same time, migrating to Lima where more resources and better education are available does not usually result in the wealth and opportunities for which the next generation of Peruvians dream. This, he said, is where centralization is failing the country. Instead educational programs need to be tailored to individual needs.

Vidal said she and others at the Ministry of Education are working to help students realize they can contribute to the economic development of their rural community and that they may find more and better job opportunities there than in the city's.

"There is no [sufficient] investment in education, which is why people continue to migrate to Lima," Escobar said. "Even if it means living at the top of a hill."
RELATED ISSUES

Women

Children and Youth