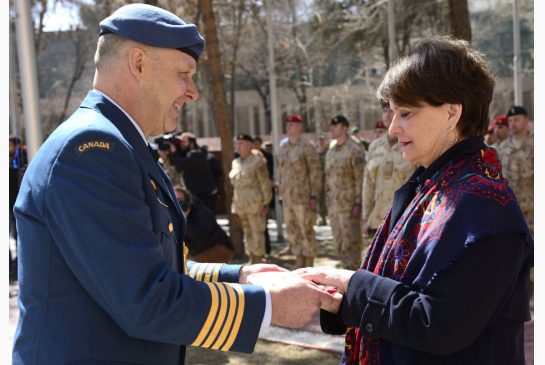 KABUL, Afghanistan—When Deborah Lyons leaves Afghanistan next summer, she will have served there longer than any other Canadian ambassador. She recently agreed to an unprecedented third term in one of the most hostile, difficult missions for any diplomat. Kabul is where she calls home, at least temporarily.

"I'm thrilled," she said on the phone from her office at the official residence. "The government asked me to stay on and I'm very happy to do so. I want to continue to build on the progress in the last couple years."

It has not been an easy couple of years. Afghanistan is still struggling to emerge from the ruins of a decade of war: the Taliban is gaining ground; the new unity government has floundered in its first year; and the country's economy continues to languish.

There's a hint of disappointment in her voice when asked about the pace of progress. "This is a tough and challenging task and I guess I would say we are all determined — the international community deserves to see this to a positive end."

She arrived in September of 2013 — as Canada was wrapping up its military training mission — and presided over the lowering of the Maple Leaf where the forces were based. Under her leadership, the Canadian Embassy in Kabul has been at the forefront of women's issues in the country.

"Canada has taken the lead," says Swedish Ambassador Peter Semneby. "You have an ambassador who, in her own right, can be a role model."

It's a role Lyons takes with businesslike seriousness. Where other ambassadors to Afghanistan are frustrated by the restrictions that prevent them from leaving the capital, Lyons pushes forward, sometimes to the chagrin of her security chief. She's been twice to Herat, where she met with civil society groups, and to Mazar-i-Sharif in the north, where she visited a women's economic empowerment project.

She has also been to Kandahar, in the south, where she flew over Canada's $50-million signature development project in the country, the controversial Dahla Dam, which the U.S. Army Corps of Engineers is now spending an additional $150 million to $250 million to raise, because water still isn't reaching many of the irrigation canals refurbished by Canadians.

Ever the diplomat, Lyons defends Canada's role in the project. "Building the dam and creating that irrigation system has enormously helped the farmers in that region."

In a previous life, Lyons owned a fishing and hunting lodge in Miramichi, N.B. She often credits her experience as a small-business owner for her ability to empathize with Afghans trying to get ahead.

"I know from growing up in northeastern New Brunswick, which at that time was a relatively poor part of Canada. I understand people struggling. And I admire people struggling — it can bring out the worst, but it can also bring out the best in the human nature," she said. "I think why I'm so attracted to Afghanistan is because you see so much of the beauty of human nature here, because people are struggling so hard to build a better future."

In person, Lyons is part whirling dervish, attending or hosting at least one event every day.

Example of a typical day: It starts early — a meeting with the head of the Afghan Female Journalists Safety Committee, who asked the ambassador for help with training more female journalists, especially in the outlying regions. Lyons quickly realized that Nazira Barbori was really asking for money, which is always in short supply. Loath to dismiss her concerns, she offered up the embassy as a place where future training workshops could be held.

"It is good to have a woman here as ambassador," Barbori said after the meeting. "It feels like someone is listening to us."

At a lunch that same day, Lyons hosted a diverse gathering of mostly men, including the former Afghan ambassador to Canada, Omar Samad, visiting from Washington. Then there was a tea across town at the Queen's Palace, hosted by another Canadian, Nurjehan Mawani, the Aga Khan's representative in Afghanistan. The ambassador was the last to leave, making sure everyone there was invited to a big networking event she planned to hold at the embassy later that week. And the same night, another dinner back at her residence with a group of women Lyons calls her "advisory board."

Being a woman in her position, Lyons says, gives her special responsibility. "One thing I know it has done is it has helped the Afghan women's groups — it has helped validate them, and it has helped them believe that they have got a strong champion for their issues and for their work."

Her third and (likely) final year in Kabul will be a busy one. Canada is the co-chair, along with the Afghan government, of the oversight committee for NATO's $5-billion commitment to the Afghan National Security Forces. Next year, NATO leaders will meet in Warsaw to determine what the level of funding will be when the current program runs out in 2018.

"It's critical," Lyons says, "that there be a high level of confidence moving forward to pledge for the next phase of our commitment."

Then there are parliamentary elections next year, where she says Canada will be looking for a strong turnout of female voters and candidates. And the upcoming peace talks with the Taliban, "where we will want to ensure that women's rights will not be dialed back." That's where her role assumes an added importance.

"It's a tremendous opportunity," she says, "for Canada to have an ambassador who is committed to working on women's issues."

After two years as the sole woman among the ambassadors in Kabul she is now joined by Britain's new envoy, Karen Pierce, someone she can pass the baton to when she leaves. Her family, she concedes, would prefer to have her home, but she is looking forward to continuing her work where she is.

"I'm grateful for it," she said last fall. "Because it's such a rich experience and there are only a few times in your life, and only a few times particularly in your career — where you really get to work on something that matters so much."