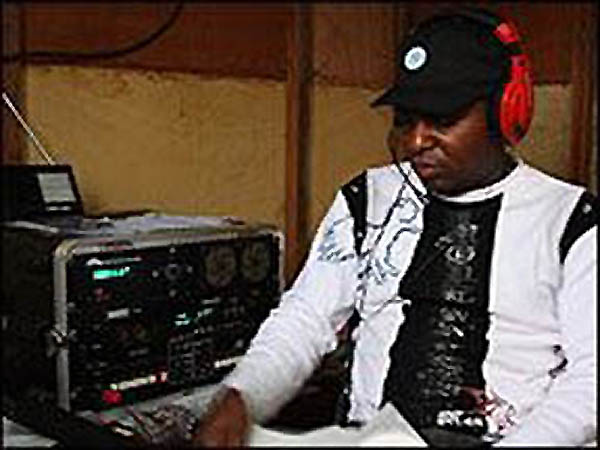 For more than a decade, Rwandan rebels have been living at large in The Democratic Republic of Congo. Mike India, a one-man radio operation, spends his nights on the mic trying to convince them to lay down their arms and go home. Reporter Michael Kavanagh went to Congo for the Pulitzer Center on Crisis Reporting and brought back this story.

On The Media is produced by WNYC
Listening times and channels
Learn more about this program

Program Transcript:

BOB GARFIELD: This weekend marks the anniversary of the Rwandan genocide – that is, 14 years ago a plane carrying the president of Rwanda was shot down, sparking a 100 day slaughter of Tutsis and moderate Hutus. Tutsi rebels ended the slaughter and pushed the genocide's perpetrators, an extremist group of Hutus, into neighboring Congo, and that's where many of them have been ever since.

Today, the remnants of the genocidal forces are known as the FDLR, the Democratic Forces for the Liberation of Rwanda. The FDLR live like parasites among the Congolese. They are a source of strife that has cost five million lives.

BROOKE GLADSTONE: For years, Rwanda's Tutsi government has used proxy rebel groups in Congo to hunt them down. But over the last few months, with the support of the U.N., the two countries have agreed on a plan to bring the Hutu rebels back to Rwanda. It can be summed up like this: Lay down your weapons and go home, or be killed.

But how do you get thousands of armed men hiding in the forest to return to a country they haven't seen in more than a decade? A radio show, of course. Michael Kavanagh reports from the Democratic Republic of Congo.

MICHAEL KAVANAGH: It's 5 o'clock in the morning on a mountaintop, deep in the Congolese bush. If the sun was up, you'd see the village of Kanyabayonga tucked into the hillside to the east. To the west and north and south, all you'd see is forest. And that's where they live.

[MAN SPEAKING FRENCH]

One kilometer from here, if you keep going into the forest, in about 30 kilometers you'd come to the main hideout where the FDLR have been for years and years.

Michel Sibolindire is a Congolese radio host employed by the U.N. to get the FDLR to return home.

MICHEL: Eeee!

MICHAEL KAVANAGH: Michel struggles to start his generator.

MICHEL: Ayyy!

MICHAEL KAVANAGH: There's no electricity in this part of Congo.

[SOUND OF CAR STARTING]

In fact, there's not much of anything here, except for a small contingent of U.N. soldiers, and Michel's shack on top of a mountain.

[KINYARWANDA/SWAHILI]

The location is strategic. His mobile transmitter is pointed directly at the forest where the FDLR live, a place where most other radio signals don't reach.

[KINYARWANDA/SWAHILI]

On air, Michel calls himself "Mike India" after the first letters of his name in the phonetic alphabet, the one that goes Alpha, Bravo, Charlie.

[MUSIC ON RADIO SHOW]

All day long, he plays music, everything from Rwandan and Congolese classics to American country music.

[MICHEL SPEAKING RWANDAN ON AIR]

And in between songs, he speaks directly to the rebels in the bush.

Although few of the FDLR actually participated in the 1994 genocide – most were too young at the time – they still threaten to overthrow Rwanda's Tutsi government. Here in Congo, they prey on the local population.

[MICHEL SPEAKING KINYARWANDA/SWAHILI]

MALE VOICEOVER: "They rape. They steal. They kill. But I'm working to win these guys over so they can say, Mike India, he's a good guy. He knows our problems."

[MICHEL ON AIR/UP AND UNDER]

His message is twofold. First he tells the rebels that Rwanda is now at peace and it's safe for them there. Then he explains the demobilization package if they return – money, job training and other basic support to help them reintegrate. It's a message of reconciliation.

[MICHEL SPEAKING ON AIR]

Most FDLR say they have to hide from their commanders to listen. And then, they call.

MICHEL ON AIR: Hello.

MICHAEL KAVANAGH: Mike India's cell phone holds the numbers of hundreds of FDLR.

[MICHEL AND CALLER ON AIR, SPEAKING FRENCH]

This time it's a FDLR captain.

[MICHEL AND CALLER/FRENCH]

MAN: You know the reason why we're fighting, right?

[MAN SPEAKING FRENCH]

MALE VOICEOVER: No, I don't know.

[MICHEL SPEAKING IN FRENCH, ON AIR]

If you go to Rwanda, you'll see the reality.

[MICHEL AND CALLER/FRENCH]

Really? What's the reality?

[CONTINUING ON-AIR CONVERSATION IN FRENCH]

Although Mike India broadcasts alone – in fact, he sleeps in a shack with his radio – he's far from a one-man show. The U.N. has three other journalists like Mike India in Eastern Congo, broadcasting with mobile transmitters directed at the FDLR.

Phillip Lancaster is the head of the demobilization program for the U.N. in Congo.

PHILLIP LANCASTER: All of them have one aim, and that's to get the message across that the war is over, it's time to stop fighting, it's time to go home and sort out the problems of the past, to find a way to become useful Rwandan citizens again.

[SOUND OF AIRCRAFT OVERHEAD]

MICHAEL KAVANAGH: A U.N. plane flies over the main demobilization camp in Eastern Congo. From the camp you can see Rwanda's hills just across Lake Kivu. Before the war, this place was paradise. Mobutu Sese Seku, Congo's infamous dictator, had a vacation home on this lake. Now, this is where the FDLR come just before they return home.

[KINYARWANDA]

In a large, humid tent at the camp, Daseroni Zaytan sits and waits for the truck that will take him back to Rwanda. He joined the FDLR 10 years ago. He was eight years old.

[KINYARWANDA]

He joined the FDLR 10 years ago. He was eight years old.

[KINYARWANDA]

Unprompted, Daseroni takes off his shirt. He was an FDLR porter and his shoulders are calloused and hard from carrying packs twice as big as his body. He has a knot of flesh on both sides of his left hand. It's a scar from a bullet wound.

His mother was killed by a stray bullet. His father was also in the FDLR and died in a firefight in 2002. Daseroni wouldn't say if his father had participated in the genocide, but the family did come to Congo as refugees in 1994.

[KINYARWANDA]

A few days ago, after 14 years in the bush, he decided to leave.

[KINYARWANDA]

MALE VOICEOVER: While we were marching, I told my commanders I was going to collect firewood, and then I ran.

[KINYARWANDA]

MICHAEL KAVANAGH: Daseroni knew if he could sneak away from his FDLR commander and get to the U.N. forces, he'd be safe. He knew because he heard it on the radio.

[KINYARWANDA]

MALE VOICEOVER: After hearing the radio show, Gutahuka, I lost all will to stay with the FDLR. Hearing the show made me decide once and for all to go home.

[KINYARWANDA]

Gutahuka is the main radio show broadcast by the U.N. on the mobile transmitters like the one Mike India uses.

[MUSIC] [MAN SPEAKING IN FRENCH]

Antoine Samari is one of Gutahuka's producers.

[ANTOINE SPEAKING IN FRENCH]

Gutahuka means "return" in Kinyarwanda, the language of the FDLR. The show airs messages from the U.N. and the governments of Congo and Rwanda. It also broadcasts testimonials from family members of FDLR and from the ex-FDLR who now live in Rwanda.

[CLIP FROM GUTAHUKA]

Today, Antoine is putting the finishing touches on the testimony of a former FDLR soldier who recorded a song for his former brothers-in-arms.

[FORMER SOLDIER SINGS]

In the final version, it's a three-minute a cappella piece about the cooperative he works with in Rwanda with other ex-combatants.

[SOLDIER SINGING]

In this part, he sings, colonels who are out there, corporals and generals who are out there, come back. Help develop our country. These personal appeals have proved the most successful at convincing the FDLR to leave the bush.

PHILLIP LANCASTER: In ones and twos.

MICHAEL KAVANAGH: The U.N.'s Phillip Lancaster.

PHILLIP LANCASTER: We have a steady trickle of people coming out. The total is now nearly f – nearly five thousand, and we think there are another six or seven thousand left.

MICHAEL KAVANAGH: But for those six or seven thousand, their time is up. In mid-March, the U.N. Security Council resolved to disarm the FDLR, and the U.N. Force in Congo, the largest in the world, is grimly preparing for war. Privately, many in the U.N. admit that despite a recent peace accord, the war in Congo is far from over.

[KINYARWANDA/SWAHILI, INTERPRETION IN FRENCH]

At the demobilization camp, Antoine Samari finishes mixing this week's edition of Gutahuka.

[ANTOINE ON AIR, SPEAKING IN FRENCH]

For the past three years, he always ends the show with a message of peace. Now, he includes a warning.

[VIOLIN MUSIC – ANTOINE ON AIR, IN FRENCH]

Over the sound of a Rwandan boy playing a homemade single-string violin, Antoine announces to the FDLR, the U.N. is waiting to help you return to Rwanda safely and with dignity – before it's too late.

[VIOLIN MUSIC UP AND UNDER]

For On the Media, I'm Michael Kavanagh.
RELATED ISSUES