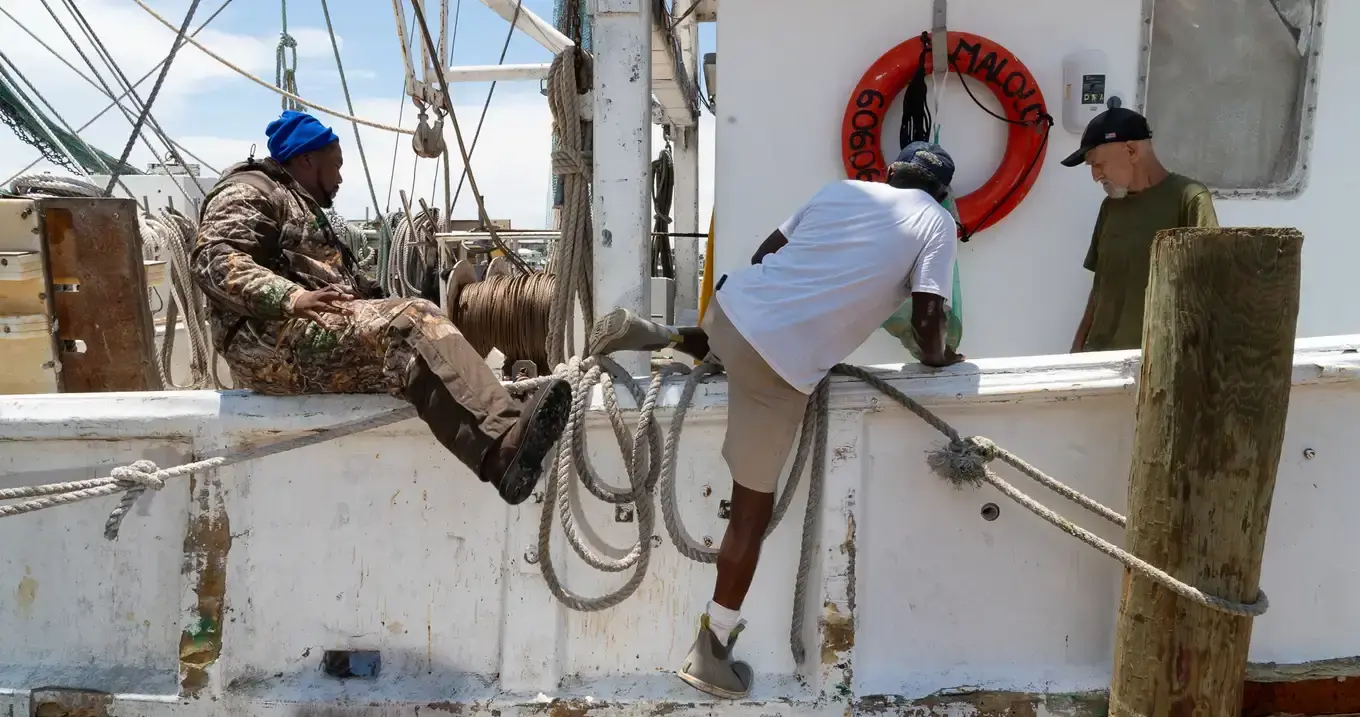 ABOARD THE FISHING VESSEL MALOLO—Icy vapor rises from the cargo hold of Capt. Logan Lyons' battered trawler as his crew hoists frozen shrimp onto the deck.
Last September, Hurricane Ian destroyed virtually all of the shrimp fishing fleet in Fort Myers Beach, Florida, and the Malolo is pretty much the only boat back fishing almost a year later. Dozens of other shrimp trawlers remain tied up on nearby docks, some of them too damaged to even travel to an Alabama shipyard for repairs.
---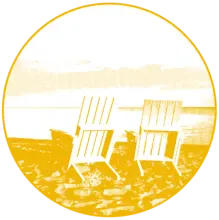 As a nonprofit journalism organization, we depend on your support to fund our nationwide Connected Coastlines climate reporting. Donate any amount today to become a Pulitzer Center Champion and receive exclusive benefits!
---
While climate change is affecting marine life in the Gulf of Mexico, it also has a more apparent effect: Scientists say it's making hurricanes like Ian stronger faster, and they expect more destruction as the planet warms.
The once-bustling shrimp docks have only been tentatively repaired, and two shrimp packing houses sit largely empty, victims of the storm and collapsing fish prices. The town's former mayor, who is married to a shrimp fisherman, says many trawler owners appear unwilling or unable to get their boats back fishing with costs so high and shrimp prices so low.
"Up!" the pair of Malolo deckhands yell in unison as another man loops a rope around a creaky windlass, hauling up 40-pound bags from the freezer hold before lowering them to the deck and onto a conveyor belt. "Down!"
At 11 a.m., the early August temperature already is 91 degrees.
The deckhand down in the freezer hold wears insulated clothes against the subzero temperature, but the men topside are sweating through their shirts and shorts. Used to be, they'd have to stop every so often so the hold worker could come topside to warm up. These days, it's so hot out they have to let the topside guys cool down.
These days, they're not in a hurry.
With almost no competition and the poor price they're getting for these Key West pink shrimp, Lyons and his crew aren't rushing to refuel with expensive diesel and head back out.
"It's bad. Real bad," the third-generation shrimper says, his foot resting on the worn wooden wheel in the helm of the 75-foot trawler he pushes further and further offshore to find shrimp. "The seafood industry, it's hurting."
In Florida, climate change is baking waters historically rich with sea life, pushing marine creatures like shrimp further out to sea, supercharging some hurricanes and changing life inexorably for millions along the eastern seaboard, especially those who make a living from the ocean.
Florida shrimping is changing
Hurricane Ian destroyed or damaged virtually every one of the 40 shrimp trawlers in the Fort Myers Beach fleet. Lyons, 66, was the first captain to get his boat back in the water after the storm surge shoved it onto the beach last year. A year later, only about eight have been repaired enough to fish this summer.
While many fishers are accustomed to seasonal and annual changes in their catches and the ocean waters, experts say human-caused climate change is altering the Earth far more rapidly than any other natural process, threatening livelihoods, coastal cities and the billions of people who depend on seafood for protein.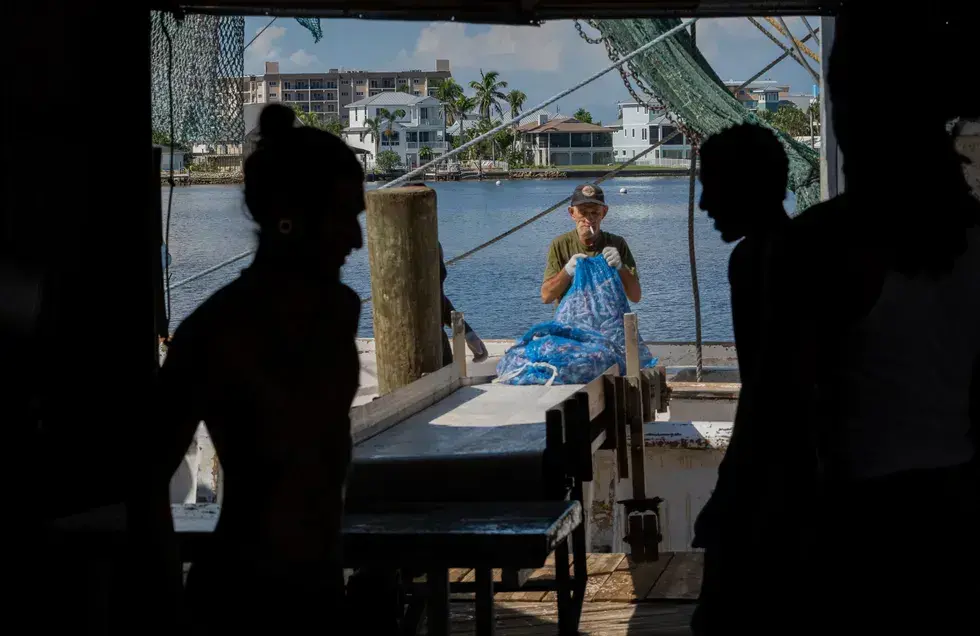 Lyons and his crew spent a month trawling deep in the Gulf of Mexico, venturing further than usual to find what ultimately was a bountiful catch. Experts say it's likely the shrimp are seeking colder, deeper, saltier water at a time when the Gulf has seen record high temperatures.
The old places where Lyons used to find shrimp also are increasingly choked with sargassum that clog and overheat the boat's engine, he says.
Things are poised to get worse for Florida's shrimpers as predictions about rising ocean temperatures come true: To find shrimp, they need to venture further and further from port, which raises costs for fuel and labor while simultaneously reducing the amount of time left for trawling. And experts are unsure how the temperatures will affect the shrimp ‒ at some point, the water might simply get too warm for this species to live in the Gulf of Mexico.
Scientists are still working to understand exactly how higher water temperatures affect marine life, but they say in general it appears that warming waters force cold-water species to move offshore while warm-water species move in, altering long-established ecosystems. It means fishers are catching tropical fish off Maine and kelp beds of California are failing to regrow.
"This is not something for the future. This is something the fishing community is dealing with every day, right now."

—Glen Gawarkiewicz, an oceanographer
"This is not something for the future. This is something the fishing community is dealing with every day, right now," says Glen Gawarkiewicz, an oceanographer at the Woods Hole Oceanographic Institution in Massachusetts.
Lyons says he thinks about climate change regularly. He's seen the changes in fishing and encouraged his kids and grandkids to go to college so they wouldn't have to depend on shrimp. But it's also easy for him to dismiss some of the fluctuations he's seen as normal seasonal shifts and not the harbingers of permanent, long-term changes that Gawarkiewicz and other experts say are already underway.
Foreign competition, high diesel prices
This trip, the Malolo fished 100 miles further away than usual, finding abundant but smaller shrimp fetching about $1.15 a pound at the dock.
Last year, this catch would have brought Lyons and his crew a $100,000 payout. Today, it's worth just $30,000. Lyons says the Malolo's owner is essentially subsidizing their fishing trips by paying their $20,000 diesel bill, and he wonders aloud how much longer he'll be willing to pay.
"We're basically trading fuel for shrimp," says longtime deckhand Ken "Big Kenny" Washington, 63.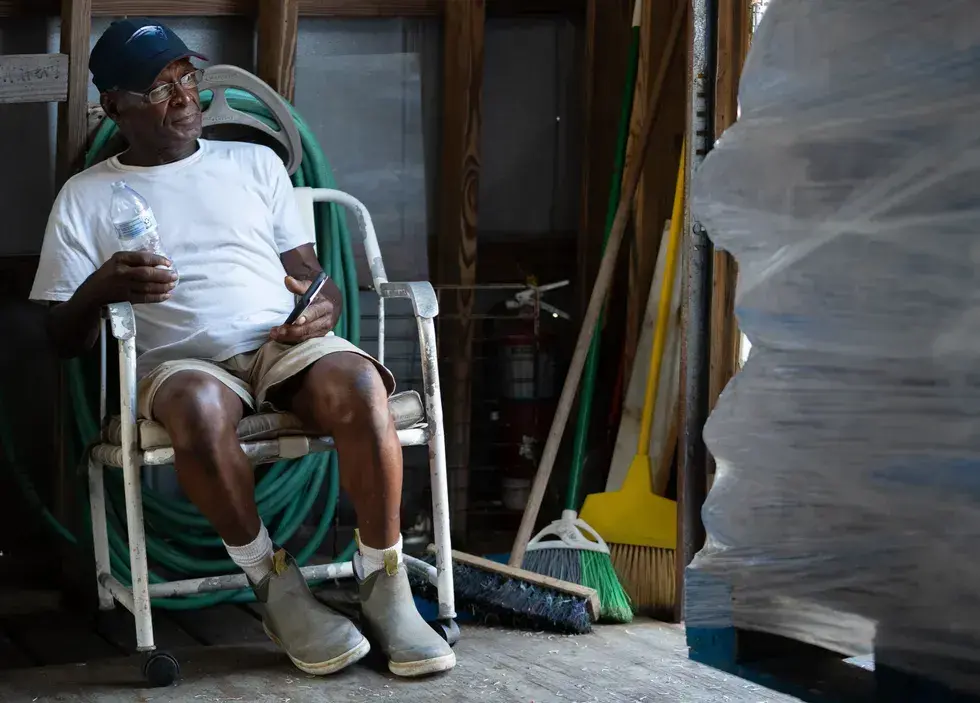 Other captains making the same calculation have tied up their boats to the battered docks and found other jobs during what should be prime seafood-eating tourist season on Florida's Gulf Coast.
That's the tough decision Tracey Gore and her husband made in August, after they concluded it just wasn't worth putting their Lexi Joe trawler to work. Other captains reported lousy catches closer to port, and they weren't interested in heading out for a monthlong trip.
The most immediate problem, Florida shrimp fishers say, is that cheap foreign shrimp sold to U.S. restaurants, grocery stores and wholesalers is undercutting them, as competitors use cheap labor and take environmental shortcuts that can include intensive factory farming and widespread antibiotic use. It's just one more hurdle slowing their efforts to keep the generations-old industry alive.
"Back in the 90s and 2000s, we made a killing. We owned property and our homes, all because of our shrimping," says Gore, also the town's former mayor. "It's frustrating that we're getting dumped on so hard by the foreign imports and our government isn't doing enough. I don't care whether they're Democrats or Republicans. There's got to be more done."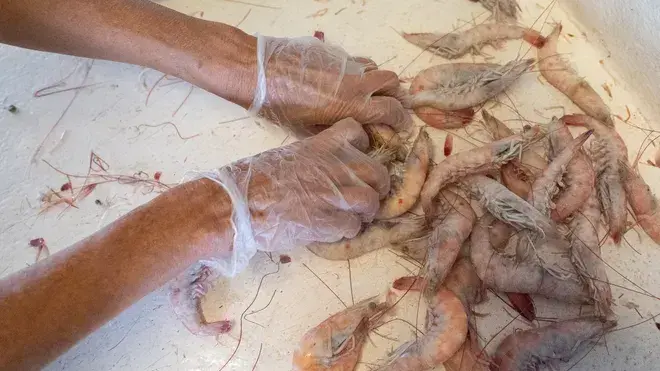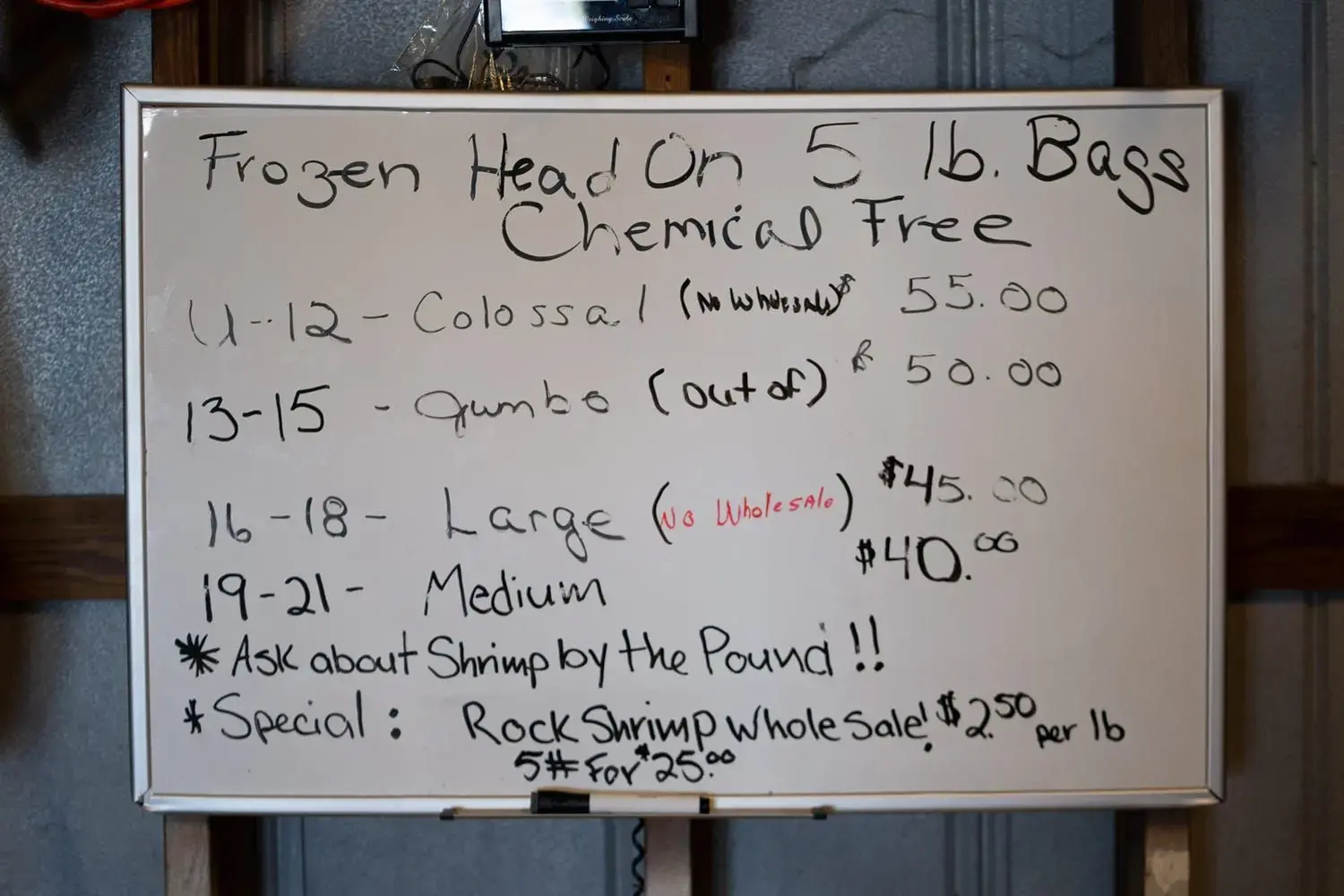 Climate change supercharging storms
What scientists know with certainty is this: hotter waters help supercharge hurricanes, turning what might have been a relatively mild Category 1 storm into a Category 5 monster within hours.
Ian made landfall close to Fort Myers Beach, destroying thousands of homes and shoving the 150-ton boats of the shrimp fleet atop each other on dry land. Ian entered the Gulf of Mexico as a Category 3 storm but rapidly intensified into Category 5 in the warm Gulf waters.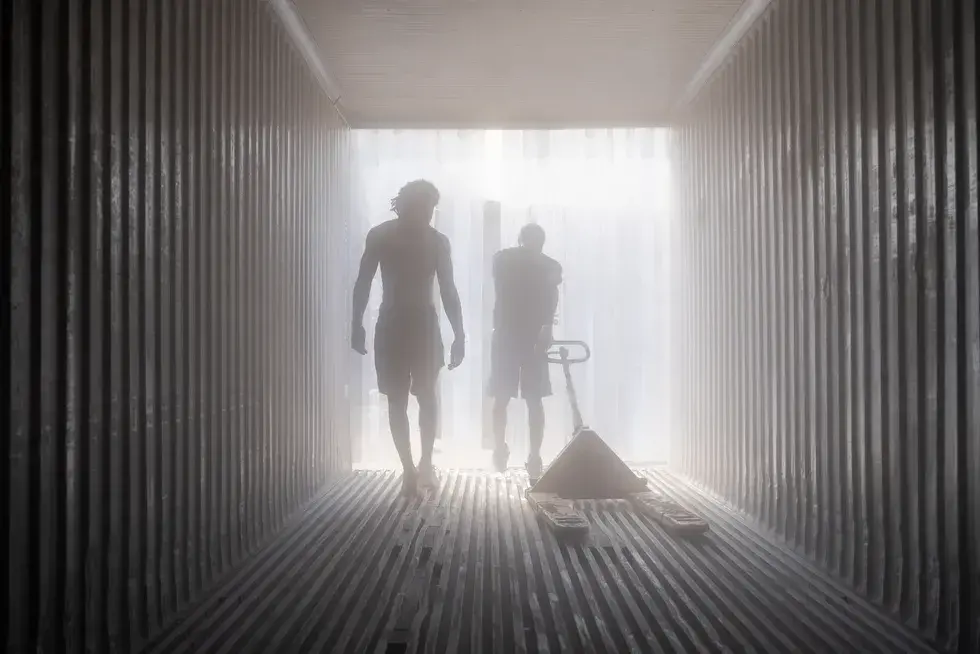 But that's not something Gore is ready to think about. The community is still trying to recover from Ian, which has forced property owners to leave vacant thousands of hotel rooms and apartments. Damaged boats still sit half-submerged downtown or buried in the nearby swamp. Many restaurants haven't reopened, and there's few tourists to sell to.
"The whole thing was just so numbing," says Gore, who rode out the storm in her family home less than a mile from the Lexi Joe's dock. "I think we're still not even thinking about all of that, we're still trying to catch up from the hurricane."
Gawarkiewicz, the oceanographer, says lost in the conversation about climate change are the societal implications of losing longstanding ways of life, from Florida shrimpers to Maine lobster fishers and New England scallopers. He says there's still too great a disconnect among scientists, policymakers and the frontline fishing communities.
"We need to give the fishing community the tools to be more successful in these rapidly changing conditions," he says. "We're going to have to work more closely together."
An uncertain future for shrimpers
Back on the Malolo's deck, Nigel Stewart takes a breather alongside deckhand Washington. Stewart, 57, is the captain of a different boat, the Green Flash, and he's waiting for crew to arrive so they can go fishing.
After shrimping off Fort Myers Beach for 30 years, Stewart is frustrated by the foreign imports, the low price of shrimp and the high cost of fuel. He's unsure what he'll find when he finally drops his nets into the water but remains eternally optimistic. After all, he says, Jesus blessed fishermen.
"After this hurricane, it's like nobody cares about fishermen. And the foreign shrimp is so cheap. But I like the work," says Stewart, a father of six who emigrated from Guyana as a young man. "I used to fish off of Fort Myers but there's less shrimp here now. But everything have a season."
RELATED ISSUES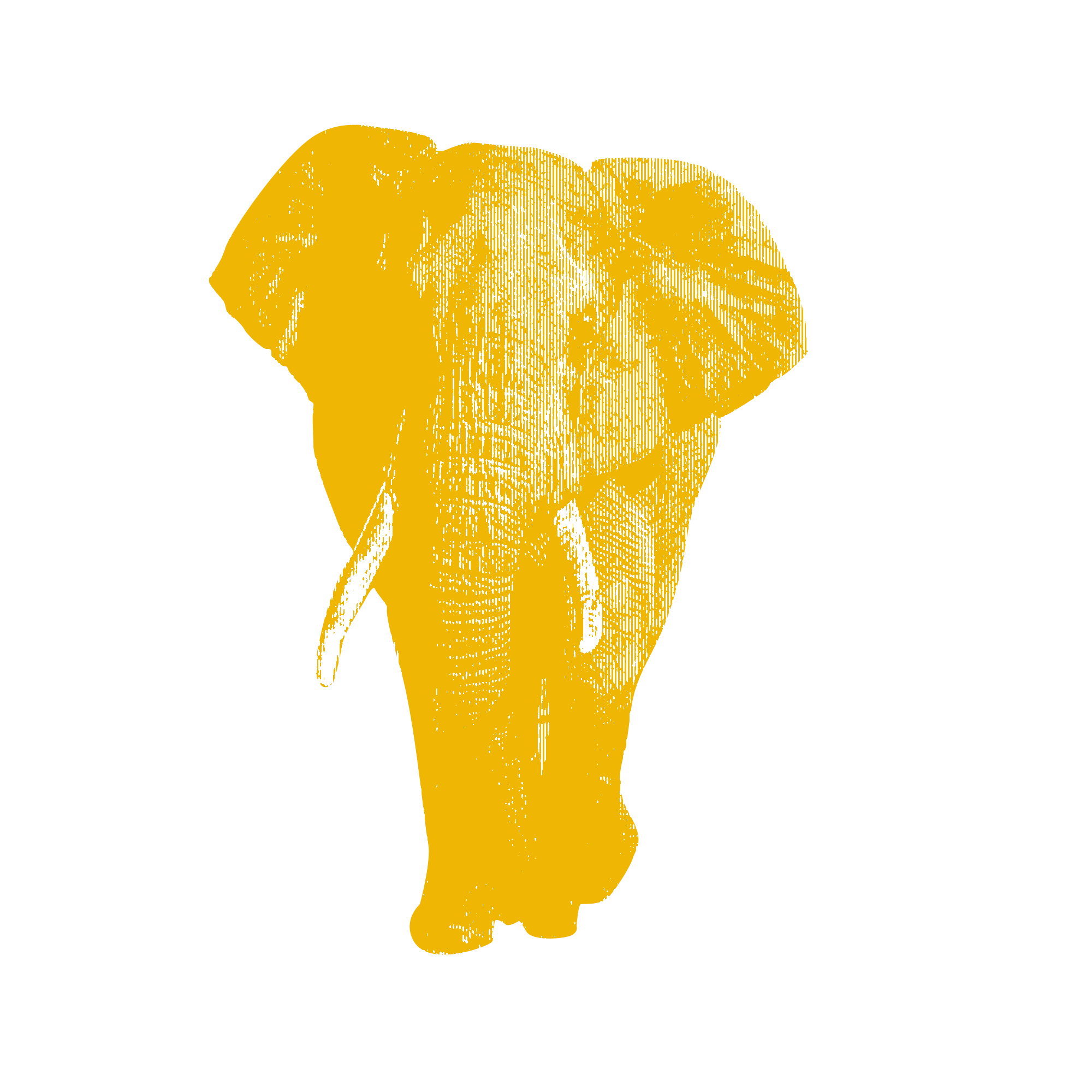 Issue
Environment and Climate Change
Environment and Climate Change

Food
RELATED INITIATIVES