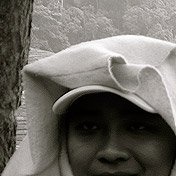 Burma has been ruled by military governments since 1962. It holds over two thousand political prisoners, many of whom are Buddhist monks. Oppressive and violent government policies have displaced thousands within the country and created thousands more refugees.

Karen Zusman is an independent, multi-media journalist focusing on Burma. Last year, she wrote and produced the multi-media documentary, Please Don't Say My Name: The Plight of Burmese Refugees in Malaysia. She spent four months with a small group of refugees in Kuala Lumpur, Malaysia's capital. The stories she recorded put faces and voices to the U.S. Senate Department of Foreign Relations' 2009 report that the Malaysian government has been complicit in trafficking Burmese refugees.

Though trafficking has decreased in the past year, Karen wants the Malaysian government to be held accountable for the way they are treating refugees. Her most recent work with for the Pulitzer Center for Crisis Reporting reveals the way Malaysian police and Immigration treat Burmese refugees - through immigration raids, poor conditions in detention camps, and even extorting money. Karen has also produced reports on refugees in Malaysia for World Focus.
RELATED ISSUES