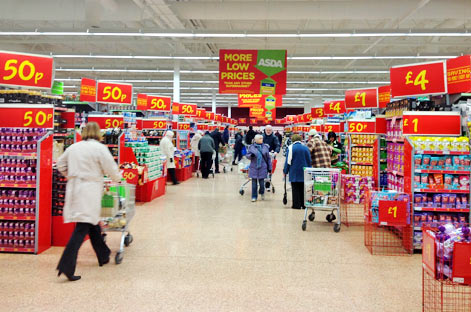 Few companies have better insight into the impact of austerity on consumers than Asda, the supermarket chain whose heartland is the north of England.

As customers have become more frugal, Asda has reintroduced £5 notes into its cash machines to reflect a trend towards smaller withdrawals. Store managers report more shoppers using calculators to add up their bill as they go around.

Conditions are about to get tougher still for many Asda customers as a raft of welfare changes introduced this month reduce incomes for millions of households. "Where we know that there are going to be high levels of unemployment, or high levels of social housing, and people who receive benefits, there is clearly going to be a knock-on effect," says Paul Kelly, external affairs director of Asda.

Three years after many businesspeople applauded the government when it came to office pledging to reduce the structural deficit with swingeing cuts many are asking whether the potential long-term gain is worth their customers' pain. This question is at the heart of the Financial Times investigation into the effects of welfare cuts on local economies.

About £19bn a year will be taken out of working-age social security between now and 2015, according to research by Sheffield Hallam University for the Financial Times, much of it from poorer parts of the north of England, Wales and Scotland.

The coalition is gambling that long-term gains from its effort to improve work incentives will ultimately outweigh the pain of welfare cuts, which will suck further demand from the weakest economic areas.

George Osborne, the chancellor, asserts that employment will be boosted by "making work pay", so that "when people are in work, they can keep more of what they earn."

Experts agree that, if welfare reforms are shaped effectively, they should help create jobs. But those effects are hard to measure and some question whether the changes are properly designed to achieve that aim.

"In the short term, I have concerns that the places that will be affected most by cuts in welfare are the places probably least well equipped to support private sector jobs growth," said Alexandra Jones, chief executive of the Centre for Cities think-tank.

It comes as local councils wrestle with cuts to their budgets and the economic development system for English regions is in flux, after the creation of local enterprise partnerships that so far have little funding or powers.

Poor areas also tend to have the weakest skills profiles, posing a barrier to getting people into work even if jobs are available. Schools in those areas are less likely to equip students with maths and English GCSEs, most important for employment, according to Centre for Cities research.

Welfare cuts may hasten the retreat of mainstream retailers from struggling town centres. Those most at risk already have some of the most deprived high streets, according to the Local Data Company, a retail information provider.

"You could expect them to get worse," said Matthew Hopkinson, director. Quality retailers would continue to retrench, particularly as shop leases came up for renewal.

Nicholas Crafts, professor of economic history at the University of Warwick, said jobs could be created if incentives to work improved relative to benefits, as happened in the 1980s.

Incentives had recently gone in the opposite direction, he said, because the ratio of benefits to wages had risen sharply since 2009 as earnings were squeezed while benefits rose in line with inflation. The new benefit curbs will start to reverse that.

Henry Overman, professor of economic geography at the London School of Economics, said he feared the negative demand effect was likely to outweigh any positive supply effect.

"Even if work does pay for the majority of people at the moment, people do not understand or believe that, so it has to go hand-in-hand with things which make people more responsive to the incentives," said Matthew Oakley, of the Policy Exchange think-tank.

The private sector has shown recently it can create jobs rapidly, including in the north. But the UK's historic weakness in skills is a handicap particularly for people in welfare-dependent areas.

A Centre for Cities study of how local areas have fared since 1901 found the strongest performers were those that had above-average skill levels. The lesson, Ms Jones said, was the crucial importance of continuing to invest in people.