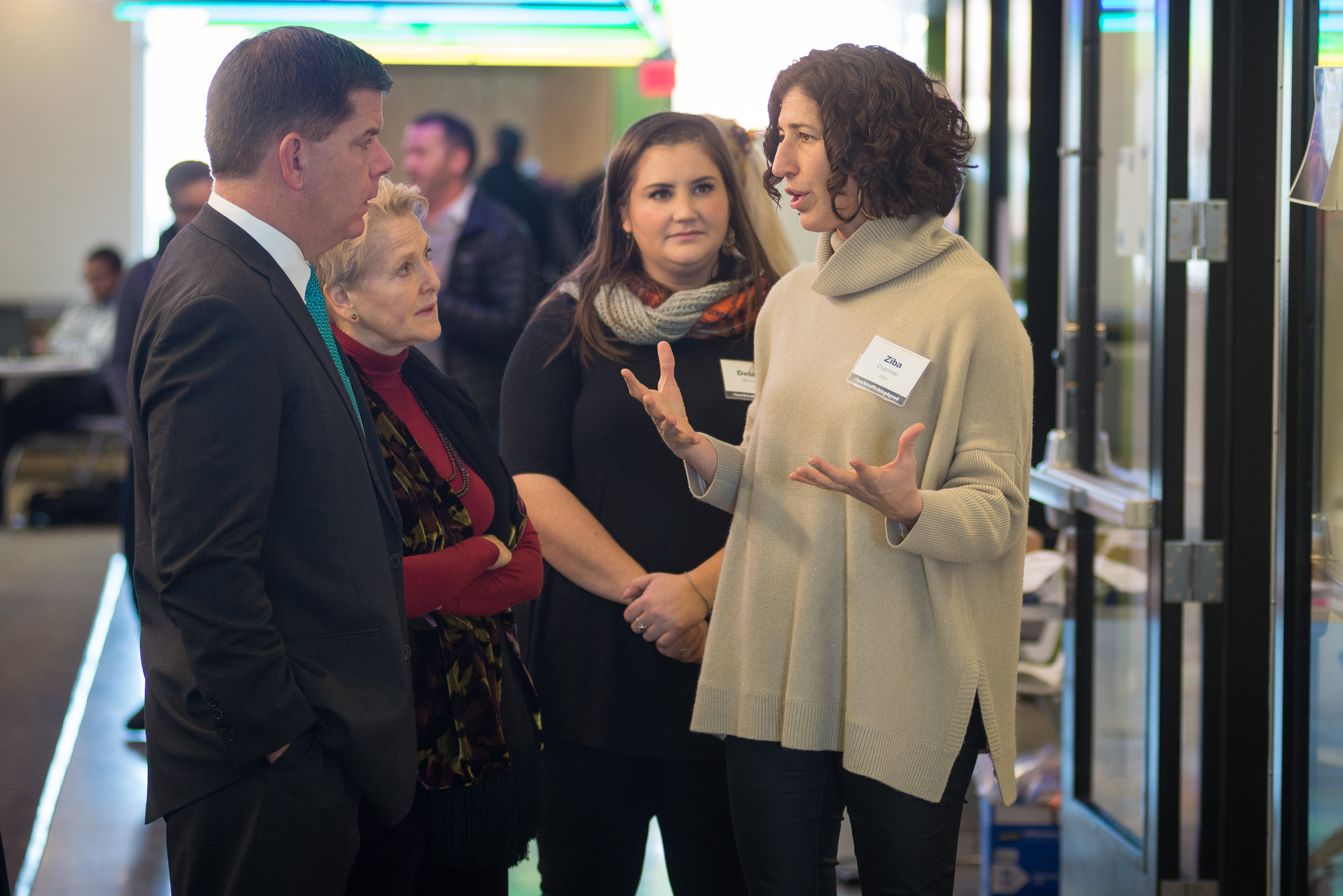 Editor's Note: Author Nicole Walsh is not related to Boston Mayor Martin Walsh

For the past year, the City of Boston has been enlisting far-reaching support from law enforcement to social service providers in order to solve one of society's oldest problems: prostitution, or, as advocates prefer to call it, sex trafficking.

From sponsoring innovative programs like hackathons to partnering with other cities, Boston has been leading the nationwide push to target buyers of commercial sex, rather than the women who have been exploited by the industry.

"[Mayor Martin Walsh] believes that our approach to reducing this activity has to be multifaceted. He firmly believes that we have to attack it at all sorts of points of entry... including focusing on the sellers, including investigating and prosecuting those that are responsible for the trafficking. He does not believe that this is the only solution to a complicated problem," said Daniel Mulhern, Director of Public Safety Initiatives for the City of Boston.

However, a few years ago, Boston's response to sex trafficking likely would have been different.

Before 2011, Massachusetts's anti-sex trafficking policy was nonexistent. Because the state was one of the last in the nation to enact any anti-trafficking laws, it received a failing grade in 2011 from the Polaris Project. This nongovernmental organization ranks states according to their anti-human trafficking policies, such as assistance for victims or safe harbor protections for minors.

Polaris's rankings system is policy based, so it may fail to reflect informal efforts being made on this issue or ineffective laws. For example, Suffolk County District Attorney Daniel F. Conley created a program in 2004 to treat exploited youth as victims rather than criminals.

However, Massachusetts also applied the policies that it did have unequally. For example, data from the Boston Police Department reflects disproportionate numbers of arrests. In 2010, whereas 108 women were arrested for prostitution, only 19 men were arrested for soliciting for prostitution.

The gender-based disparity in arrest data is not new. In 1997, Karen Lafaso received three complaints for "common night walking" in a Massachusetts District Court. She argued that she was selectively targeted based on gender because men who had violated the same laws were rarely investigated or prosecuted. Although the judge agreed and dismissed the complaints, the Commonwealth still appealed the finding.

Massachusetts finally addressed these problems in 2011. The state passed anti-sex trafficking legislation and subsequently become one of Polaris's most improved states. This new statute broadened the tools that law enforcement could use to prosecute traffickers, raised penalties for buyers of commercial sex, and created a task force to learn more about the issue.

But Massachusetts did not stop there.

Mulhern says that Mayor Walsh has made combating sex trafficking, and improving overall public safety, a priority of his time in office because he wants to discover solutions to what municipalities around the country find to be a very difficult and pervasive problem. Mayor Walsh has identified four target areas: legislative action and law enforcement; education and prevention; exit strategies for survivors; and policy and research.

Boston recently sponsored a "Hackathon" where Mayor Walsh challenged individuals from the tech industry to invent programs that would better combat online sex trafficking, a sphere that has skyrocketed in recent years through websites like Backpages.com.

Officials say they also want to educate citizens about the problem. Earlier this year, Mayor Walsh and Massachusetts Attorney General Maura Healey held a meeting with Boston public school principles to discuss ways to protect teenagers from becoming involved in prostitution (according to Mulhern, women who enter prostitution are, on average, high school aged).

These efforts require cooperation and commitment from many different kinds of organizations in Boston, not just the state government. Other key players in the fight against sex trafficking in Boston are survivor-led and community-based groups, such as the EVA Center, My Life My Choice, and Roxbury Youthworks.

Lieutenant Donna Gavin, the former head of the Boston Police Department's Human Trafficking Unit, also noted that this issue spans one department or "task force," meaning that entire organizations need to be on board with the effort.

"We're working together with other units. This crime is related with other crimes, so [we're] breaking down the barriers. Oftentimes with law enforcement, we'll have different units; but this is one of those crimes that touches all of those. The majority of cases that we have involve domestic violence because many of these women are involved in relationships with pimps," Lieutenant Gavin said.

Furthermore, Boston is only one of many cities working on the issue of sex trafficking. Along with 10 other urban centers, Boston has pledged to target those who solicit prostitution in order to eliminate sex trafficking at its source. The two-year initiative that Mayor Walsh announced in March 2015 is part of Demand Abolition's campaign

Demand Abolition is a nongovernmental organization trying to end sex trafficking through a "no buyers, no business" model. The campaign in which Boston is participating is called CEASE, standing for Cities Empowered Against Sexual Exploitation.

"Victim services are still an important element of addressing trafficking. Pimps and traffickers need to be punished for their crimes. But buyers are the ones who keep financing this industry that creates a cycle of abuse and continued exploitation," explained CEASE Network Operations Specialist Devin Rebello.

Like Boston's own efforts, the CEASE Network partners with different types of organizations to brainstorm creative solutions to sex trafficking. The initiative encourages groups to test new methods locally, and then spreads successful results from one city in the network to another.

For example, the Portland based EPIK Project allows its cyber-model to be adapted and used by other cities for their anti-sex trafficking programs. The model attempts to disrupt Internet transactions for sex by engaging buyers in an online chat about the impact of their actions. The program, which currently operates in Austin, San Jose, San Diego, and Portland, has become so successful that it is launching in six more cities in 2016, including Boston.

Tomas Perez, founder of the EPIK Project and coordinator for the CEASE Network in Portland, commented that taking into account cultural nuances has helped the model to evolve.

"Boston would be one example. One of the things that we've learned culturally is that Boston guys are not as conversational as the guys in San Diego, for example. So when we talk to the buyers, the tone and the tenor of the conversation changes a little bit," said Perez.

Despite the efforts of cities like Boston and organizations like Demand Abolition, there are still national and global challenges to dealing with the issue of sex trafficking.

In August 2015, Amnesty International passed a resolution that called for the decriminalization of all forms of "consensual sex work," which resulted in backlash. Many human rights organizations protested that prostitution is coercive and violent, so legitimizing it would worsen the exploitation of vulnerable women and children.

Yet the controversial resolution brought attention to an important issue because, in many areas, sex trafficking is still going unaddressed.

Even U.S. policy is inconsistent. The United States has supported international treaties that define sex trafficking in terms of exploitation or call for decriminalization; however, no states have adopted policies that fully agree with this position. In fact, some state statutes still consider children victimized by this industry to be criminals.

Though the U.S. government has been taking steps to reconcile this discrepancy, such as the recently passed Justice for Victims of Trafficking Act (2015), many consider the United States hypocritical for simultaneously monitoring the sex-trafficking policies of other countries while having problems with its own.

Some of the discrepancy between U.S. foreign and domestic policy occurs because state laws usually trump federal laws in criminal matters. As a result, anti-sex trafficking policies vary widely throughout the country. While some states are pioneering new models, other states' policies lag behind.

A year into Mayor Walsh's initiative with Demand Abolition, the results in the City of Boston are mixed.

However, the enforcement of Boston's anti-trafficking laws has been criticized. Lisa Goldblatt-Grace, the Executive Director for My Life My Choice, suggested that further improvement could come from full implementation of both state and federal laws.

"[The legislation] passed included safe harbor provisions in 2011, but even as recently as a year ago all of those safe harbor provisions were not being really implemented. What has been implemented is that it is very rare for a minor to be arrested for prostitution in this state. Very, very rare," said Goldblatt-Grace.

Goldblatt-Grace also says that no single effort, such as the legislation or the initiative with Demand Abolition, represents a turning point in Boston's anti-sex trafficking efforts. Instead, the efforts of different organizations are continuing to raise awareness. Last year, My Life My Choice referred 143 exploited and at-risk youth to its mentorship program, which was a significant increase from 26 children in 2010.

Boston Police Department arrest records echo this progress. The number of female prostitutes arrested in Boston has dropped from 108 to 40 between 2010 and 2015. Likewise, the number of men arrested for soliciting for prostitution increased from 19 in 2010 to 48 in 2013.

However, it is difficult to evaluate the efficacy and success of Boston's methods with data. Professor Amy Farrell, who has published articles on human trafficking with the Urban Institute, says that measuring the illicit commercial sex industry in Boston is unreliable.

"There haven't been any reliable studies that have utilized methodologies that get at hidden populations within Boston, specifically. So any numbers you're seeing are probably fraught with a lot of problems… We do know that Boston has a lot of risk factors that a major metropolitan city would have for prostitution and therefore commercial sexual exploitation," Professor Farrell said.

Moving forward, Boston officials say they want to expand services for victims of sex trafficking. Though unable to comment on specifics, Mulhern hinted that an impending milestone in Boston's anti-sex trafficking efforts is on the horizon. He described the program as providing exit strategies for women, or those who have been exploited, through the creation of safe spaces.

Similarly, the EVA Center anticipates that its housing program will be running by Fall 2016. Director and founder of the EVA Center Cherie Jimenez says that this effort will help transition women out of the commercial sex industry.

Jimenez also comments that, while housing is crucial for rehabilitating victims, at-risk populations will continue to be vulnerable unless the culture of inequality is addressed.

"There are a lot of different things [in Boston] that are actually making it harder for young women. It has nothing to do with the legislation; it has to do with the way things are going… Young people are growing up badly now. We are creating the vulnerability to a certain extent," Jimenez said.

Additionally, Boston is working with the CEASE Network to spread its creative model to local counties and other regions. According to Lieutenant Gavin, the Boston Police Department has provided training and intelligence to smaller local police departments and delivered presentations in New England, New York, and Pennsylvania.

The question remains if the efforts of Boston will create the will for further political reforms. In other CEASE Network cities, modifications have been made to some laws. For example, Seattle adjusted the language in a city ordinance to elevate the crime of patronizing a prostitute to sexual exploitation and Phoenix created a zero tolerance policy for city employees who purchase sex.

"The political will is certainly developing within the city of Boston… Just the fact that there are so many critical players in the city of Boston that are engaging, they're talking about anti-trafficking specifically from the demand side and looking to encourage demand-reduction within our city. I would be very surprised from the political side if small things weren't changed in the future, leading to potentially larger changes and refining different laws we have on the books," hinted Rebello.