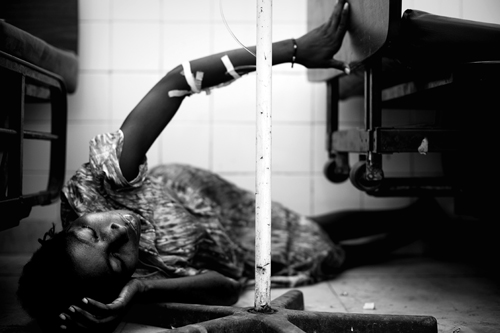 Standing in the only operating room in the only medical hospital in all of Guinea-Bissau, Marco Vernaschi watched a nurse take an unsterile needle out of her pocket and, without anesthetic, suture a woman's vagina after a difficult childbirth. The woman screamed. Mr. Vernaschi took a photograph. Moments later, she was required to walk out of the filthy room and go home.

She was actually fortunate. So few women have any medical care in the west African country of Guinea-Bissau that the United Nations regards it as one of the world's most dangerous places to be pregnant.

Mr. Vernaschi spent five days at the Simao Mendes Central Hospital in the capital, Bissau. He had just finished photographing a project on the drug trade, funded by the Pulitzer Center on Crisis Reporting. He hopes to return to west Africa to bring attention to the lack of basic health care, the high maternal mortality rates and the detrimental effects of counterfeit medications.

"The very first human right is the right to live," Mr. Vernaschi said. "When we talk about childbirth or maternal mortality, we're talking about a very basic issue. It's not a virus or disease such as HIV or malaria. There's no need to develop medicines. A safe childbirth depends on proper medical training and few basic facilities. It's an issue that could be easily resolved."

Mr. Vernaschi, 36, started out photographing animals and their environment in a style he describes as a "National Geographic approach." He moved from his native Italy to Argentina four years ago. He started photographing civil war in Bolivia and stories on cocaine traffic in a more personal, idiosyncratic visual style.

"I decided to put all my soul into it and I don't care who's going to publish it," Mr. Vernaschi said. Which is probably a good thing, because the stories that interest him don't usually interest magazine editors. More than once, photo editors have asked if he had any happier stories for them.

"Maternal mortality is not sexy enough for most media," Mr. Vernasci said.

With the help of the Pulitzer Center, Mr. Vernaschi hopes to start a campaign that goes beyond traditional media. "It would be great to create a way that people could interact directly with the mothers and the doctors through video," he said.

While he intends to continue his work on maternal mortality elsewhere in west Africa, Mr. Vernaschi said he will never forget that first day at the nightmarish hospital in Guinea-Bissau.

"The whole scenario was unreal to my eyes," he said. "When the woman left the room after the suture, I saw a doctor who was covering the corpse of another woman who I had left an hour before in the pre-birth room. She had died — along with the baby she carried in her womb — while she was waiting to give birth. I had talked with her only an hour before, and she told me she was not feeling well, that this was her first son. She told me she was scared."

The photographs make us share that fear.

View the slideshow.