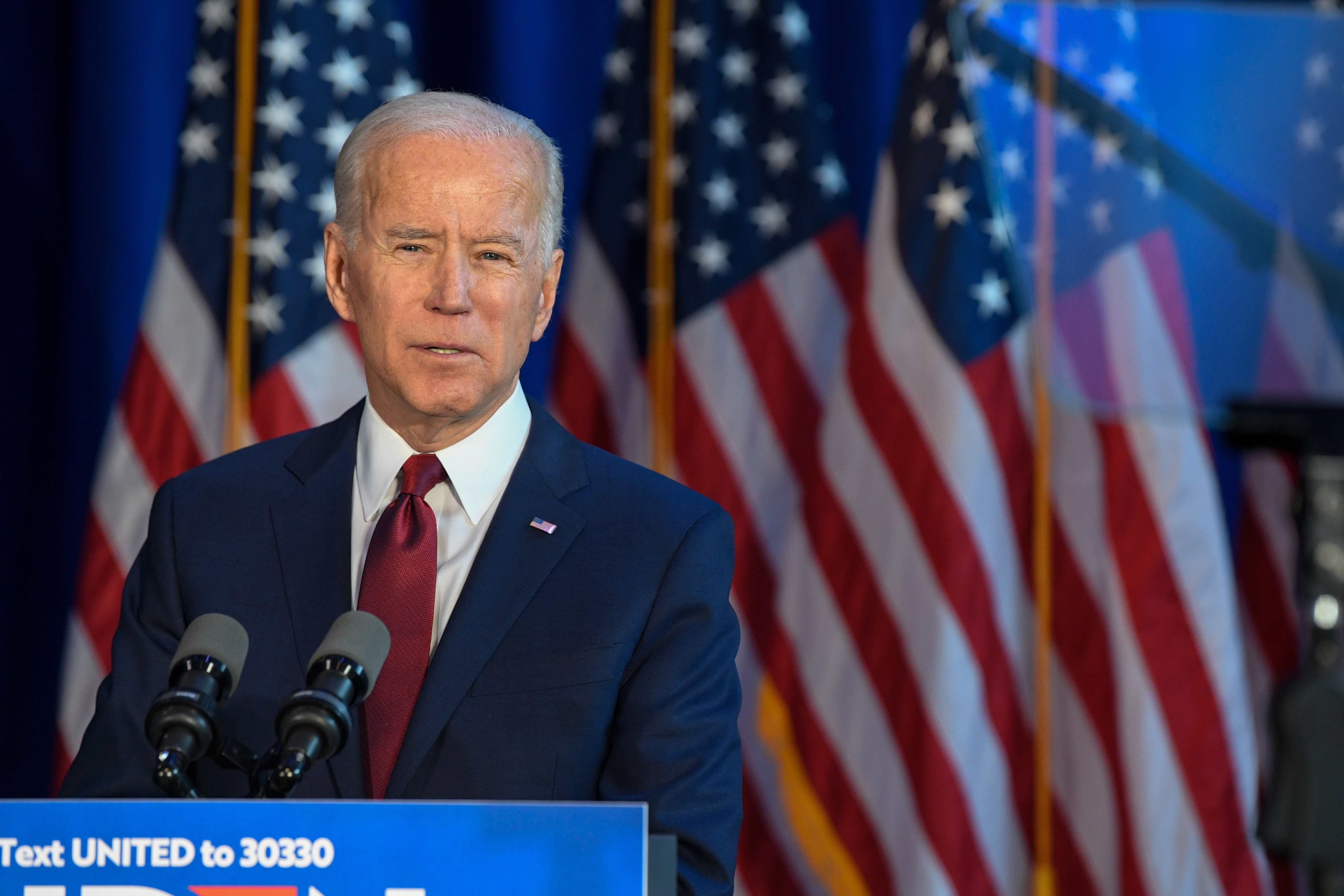 President Barack Obama vowed to close it, and failed. President Trump vowed to load it up with more "bad dudes," and has not. Now Joseph R. Biden Jr. is saying that if elected president, he would support shutting down the military prison at Guantánamo Bay, Cuba — but has declined to specify how he would do it or what he would do with the 40 men held there as wartime prisoners, including the men accused of plotting the Sept. 11, 2001, attacks.
In response to a question, his campaign said in a statement that Mr. Biden "continues to support closing the detention center." Echoing Mr. Obama, the statement said the prison "undermines American national security by fueling terrorist recruitment and is at odds with our values as a country."
But Mr. Biden rarely, if ever, brings up the topic, evidence of how politically toxic it remains after intense Republican efforts to cast Mr. Obama's initiative as endangering Americans by transferring terrorists to U.S. soil or sending them without adequate safeguards to other countries.
When asked about Guantánamo Bay in a primary debate in December, Mr. Biden, who was Mr. Obama's vice president, blamed Congress for thwarting closure, but rather than suggest a path forward, he pivoted to another issue.
The Biden campaign's foreign policy and national security advisers include veterans of the failed effort by the Obama administration to close it — notably Tony Blinken, a former deputy secretary of state, and Brian P. McKeon, a former Pentagon policy official — who are almost certainly acutely aware of how painful it was to try to make good on Mr. Obama's promise. If there is any lesson from the previous administration's inability to overcome opposition to closing Guantánamo, it may be to avoid drawing attention to the effort.
Once the Obama administration made clear that closing the detention center meant moving some of the prisoners — notably former C.I.A. prisoners, including five men accused of plotting the Sept. 11 attacks — to detention facilities in the United States, critics cast the plan as a symbol of weakness and the proposed relocation of the prisoners a potential national security threat.
Like tampering with Social Security or suggesting locations for storing nuclear waste, closing Guantánamo became a third rail of political discourse.
Roy Neel, who worked for the Clinton administration and several Democratic campaigns, said one legacy of Mr. Obama's failure was the danger of making promises.
"You're not going to gain any votes because not many people are focusing on this issue, at least rank-and-file voters," he said, noting that "Obama was burned."
"It doesn't do anything politically to get into it," he added. "The worst thing that could happen is Biden is drawn out somehow to look indecisive or weak by going down that rabbit hole."
This election season the most prominent call for closure has come from antiwar and faith-based organizations and activist groups on the left, including Code Pink, September 11th Families for Peaceful Tomorrows and MoveOn. In a letter coordinated by Demand Progress in May, dozens of groups included it in a diplomacy-first foreign policy initiative they asked Mr. Biden to endorse.
Their agenda urged renewed efforts at diplomatic engagement with Iran and Korea as well as repealing the 2001 authorization of the use of military force, a legal basis for holding detainees at Guantánamo, before mentioning closure itself.
The question of keeping, closing or expanding Guantánamo is indeed tied up in the intractability of the invasion of Afghanistan, America's longest war, and the endless nature of the war on terrorism.
President George W. Bush, who opened the prison, said while still in office that he aspired to close it, while his vice president, Dick Cheney, was one of its greatest champions and advanced the "not in my backyard" argument.
Mr. Cheney called it "a model facility — safe, secure and humane" in his 2011 memoir. "I don't have much sympathy for the view that we should find an alternative to Guantánamo — a solution that could potentially make Americans less safe — simply because we are worried about how we are perceived abroad," he wrote.
The Obama administration tried a series of arguments to sway political opinion toward closure, including citing the costs, estimated recently to exceed $13 million a year a prisoner, and its role in stoking anti-Americanism. None worked.
Mr. Trump, who wants U.S. troops withdrawn from Afghanistan, promised during the 2016 campaign to expand the Guantánamo prison, "to load it up with some bad dudes."
He has not done so. Islamic State prisoners held by proxy militias in northeast Syria and Iraq were, for a time, the most likely candidates for transfer there. But legal experts have warned that such a move would invite court challenges to test whether the 2001 authorization to wage war on Al Qaeda and the Taliban is expansive enough to include the Islamic State, the global movement that emerged out of the U.S. invasion of Iraq in 2003.
Mr. Trump has faced internal opposition to sending more prisoners to the U.S. military base on a sliver of American-controlled land in Cuba. John R. Bolton, Mr. Trump's former national security adviser, wrote in his recently published memoir that at one point the president proposed to bring some Islamic State prisoners to Guantánamo from northeast Syria, an idea that was dropped when the defense secretary at the time, Jim Mattis, objected.
The Bush administration was the last to bring a new detainee to the prison, in 2008. It sent away about 540 over the years. The Obama administration halted all transfers into the prison and reduced the population by about 200.
Mr. Trump lifted Mr. Obama's closure order but his administration also reduced the detainee population, by one. In 2018, the Pentagon repatriated a Saudi prisoner who pleaded guilty to terrorism-related offenses and became a government witness and recorded testimony against two other Guantánamo prisoners who have yet to face trial.
RELATED ISSUES

Criminal Justice

Issue
Conflict and Peace Building
Conflict and Peace Building