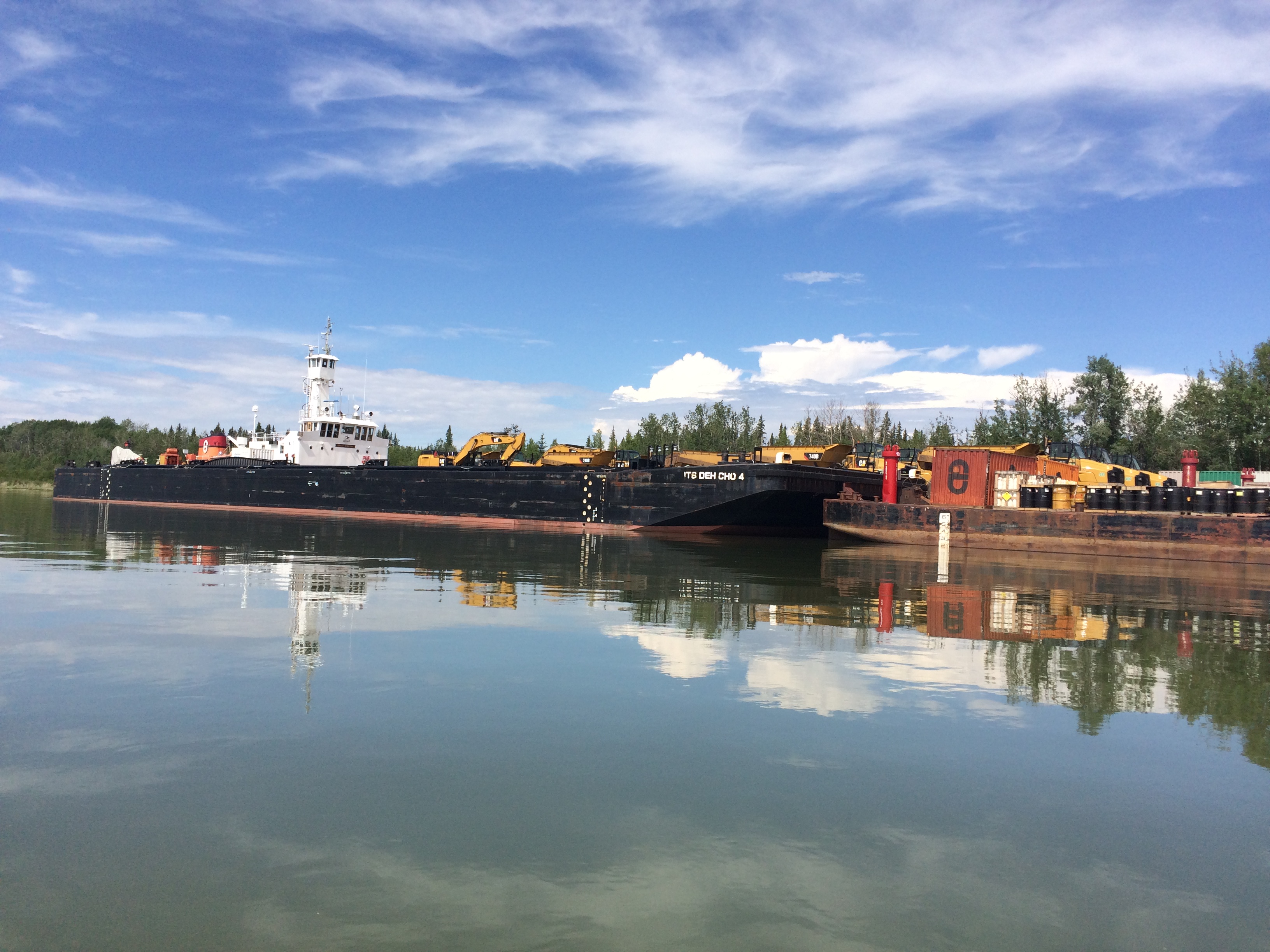 I awoke to the rushing sound of an incoming storm.

We were three weeks into our canoe trip down the Mackenzie River, the second longest in North America, and despite our proximity to the Arctic Circle, heat-driven thunderstorms, not ice or cold, were proving our primary safety threat. The thunderheads formed in the thermals thrown off by the mountains in the afternoons, and then, when sufficiently tall and menacing, would swoop in from every direction, chasing us off the water with lightning and rain. Hunkered down in our tent all night, we'd hope the storms would clear so we could hit the river the next morning, get a few miles in, and then the cycle repeated.

It was 3 a.m. and the sun shone brightly outside the tent when the noise pulled me from sleep. A huge sound, like a storm barreling down the valley towards us. So I stuck my head out of the tent, expecting the worst.

But instead of dark clouds and trees bent sideways in the wind, I saw a massive ship slowly pushing down the river. It displaced so much water that the wake crashed to shore like an incoming ocean tide.

The barges that ply the Mackenzie River are 900 feet long when fully loaded. Tall white tugs push multiple flat-decked sections, each laden with construction equipment and shipping containers and diesel fuel hidden in their double-hulled holds. For the villages on the river and north Arctic coast with only sporadic seasonal road access, anything too heavy or bulky for an aircraft—from cans of soda to a town's yearly supply of toilet paper and new pickup trucks—comes in on the barge. Christmas in July.

But the Grinch is now upsetting those shipments. Northern Transportation Company Limited (NTCL), the sole barge company serving Canada's western Arctic, is in the midst of bankruptcy and liquidation.

From steam ships to tugs, some version of NTCL vessel has been plying the Mackenzie River for over 80 years. Previously a nationalized industry, a private Inuvialuit First Nations corporation purchased the company in 1985 and, by some estimates, has been losing money ever since. Service to the eastern Arctic coast was mostly canceled for 2016, and the summer runs to 10 western Arctic communities are likely NTCL's last. While locals in the Northwest Territories complain loudly and often about the service—up and down the river, I heard frustration that the barge was expensive, often late, and delivered broken vehicles stripped by scrappers—NTCL is the only company capable of shipping the diesel required to power a village's electricity generation needs for the year. Road construction projects are winding down—the last leg of the Dempster Highway, from Inuvik to Tuktoyaktuk, is 95 percent complete—and oil prices are low, thus discouraging new drilling, so there isn't enough reliable major business to keep NTCl running.

But NTCL is beset by climate issues, as well as economic. The Arctic Ocean sees less and less summer ice, and the Northwest Passage is now open, but shipping is still complicated and dangerous. The barge season is longer, but fall storms have increased in strength, as well as summer thunderstorms. Low water levels on the Mackenzie River have forced shipment cancellations, and worse, damaged tugs and barges.

This past July, one major storm threw an empty barge on a shoal near Lutselk'e, a community on the shore of Great Slave Lake. My truck was supposed to be on that barge, to meet me at the end of my journey, and I found myself echoing the locals' complaints.

"But you guaranteed that my truck would arrive by July," I said to the poor customer service representative; I obviously still had an American expectation for timely delivery. He was apologetic, but there was only so much he could do. "It's not like an airplane landing," he said, "where you know exactly what time it will be."

In Inuvik, an inland port only a hundred miles from the Arctic Ocean, I talked to Terry, an NTCL foreman. He wanted to know what I thought of the Mackenzie River, having just paddled its length, and I asked the same of him. "It's where I work," he shrugged.

Terry will likely be out of a job soon. Over the years, he has heard all the shipping complaints [Full disclosure: NTCL refunded my shipping costs, and was extremely gracious and helpful]. By the end of our conversation, he heard my frustration as well, that my truck wasn't waiting for me in his cargo yard. He recommended I find a new way home, and then became philosophical.

"Welcome to the north," he said.
RELATED ISSUES