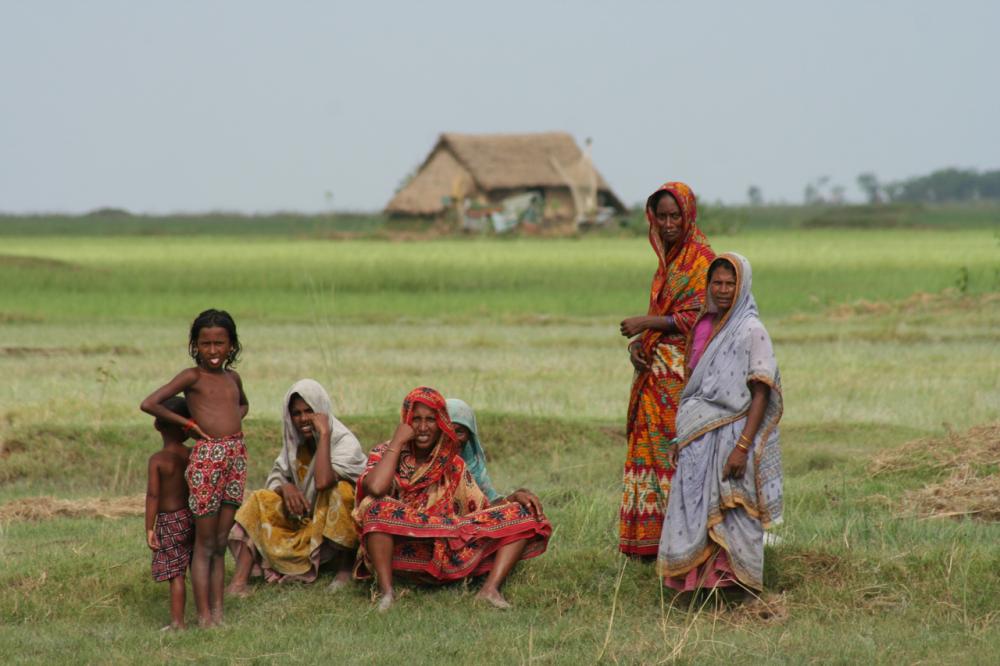 After his home slipped into the powerful currents of the Meghna River four years ago, Monoranjab Dus came looking for new land along this waterlogged stretch of coastline slowly emerging from the sea.

"I lost my home to river erosion," said Mr. Dus, 50, standing barefoot on a squishy riverbank where he was fishing crabs from gray-brown mud, with the consistency of wet plaster. Behind him stretched a field of bright green rice shoots. "I was bound to come here."

Good land is hard to come by in Bangladesh, a low-lying developing nation that is one of the most densely populated — and vulnerable to climate change — countries in the world. River erosion alone displaces more than 50,000 families each year.

But the swift currents that course down from the Himalayas also bring opportunity: a rich bath of fertile silt that, when it reaches the Bay of Bengal, settles along the coast, gradually forming new land called "chars." The district of Noakhali has actually gained more than 28 square miles of land in the past 50 years.

The Bangladeshi government is finishing up the largest phase of a decades-long effort to develop nearby chars as well as building a new dam to speed up the process of creating new land for settlers like Mr. Dus.

"The Bangladeshi rivers carry silt unlike any others and an intervention is all that is needed to create new land," said S.R. Khan, a government water engineer. "Bangladesh is the only country in the world that can physically grow."

That process begins when the silt from the swirling, tea-colored waters begins to gather in mud flats that gradually rise above the sea. Without intervention, the process takes more than 20 years, after which the forest department plants mangroves to hold the fragile land.

But often people can't wait that long. For decades settlers have been moving in early on their own. Mr. Dus had heard the government was distributing land in 1.5 acre allotments. So, like many settlers, he staked an appropriately sized parcel, cut down the 3-foot mangroves growing on the land and dug a small pond for bathing.

His life is a daily struggle with the elements. The coast is soaked by tidal surge and battered by seasonal cyclones like the one that killed more than 3,000 Bangladeshis in 2007 and one last spring that destroyed Mr. Dus' home.

"This is lowland," he explained. "People here are suffering a lot."

Bangladesh is extremely vulnerable to sea-level rise, as well as increased storm intensity, floods, droughts and other consequences of climate change. This environmental scenario illuminates the paradox confronting much of the developing world, in which nations that contribute few emissions are disproportionately burdened by climate change, without the money or technology that industrialized nations have to mitigate its impacts.

The Intergovernmental Panel on Climate Change (IPCC), an organization created by the United Nations two decades ago to study the human impact on climate trends, predicts South Asia will be particularly hard hit.

For example, the IPCC says the region can expect an increase in monsoon rainfall, resulting in higher water levels in the rivers. The situation will be compounded by melting Himalayan glaciers. Eventually, sea levels will also rise.

Keya Chatterjee, U.S. acting director of the World Wildlife Fund's Climate Change Program, said low-lying countries such as Bangladesh are already experiencing devastating effects from climate change.

"They are terrified about what will happen when we begin to experience the additional warming that the planet is already locked into, based on previous and existing pollution," she said, adding, "They are even more terrified of what will happen if the world does not aggressively pursue a global clean-energy economy."

Bangladesh is among a group of nations that have been closely watching the U.S. Senate debate on climate change since 2005. These countries are counting on that debate to come out in favor of their survival before the Copenhagen climate summit in December.

About 190 nations will meet in the Danish capital for a final round of negotiations on a new climate treaty to replace the Kyoto Protocol, which expires in 2012.

In the meantime, the government of Bangladesh is implementing a sophisticated climate adaptation program that helps local communities become more resilient to the effects of climate change and prioritizes interventions in the most vulnerable communities.

Bangladeshis are developing climate-resistant seed varieties for their crops, introducing state-of-the-art early-warning systems for extreme events and identifying the most vulnerable communities, but they lack the resources to fully implement these programs.

A government report, "Bangladesh Climate Change Strategy and Action Plan 2008," notes that the government has, over the past 35 years, invested more than $10 billion to make the country less vulnerable to natural disasters. These investments include flood-management schemes, coastal polders — low-lying reclaimed land protected by dikes — cyclone and flood shelters, and the raising of roads and highways above flood level.

In the worst-case scenario, the report said, unless existing coastal polders are strengthened and new ones built, sea-level rise could result in the displacement of millions of people from coastal regions, and have huge adverse impacts on the livelihoods and long-term health of a large proportion of the population.

Bangladeshi Foreign Minister Dipu Moni told editors and reporters of The Washington Times last month that rising oceans from climate change could swallow up to a third of her country and make 20 million people homeless without urgent action to reduce carbon emissions.

"We are working with very limited resources, and we need support from the international community. We do have expectations for Copenhagen," she said.

Silt accretion could provide some relief.

"Our understanding is that the process of siltation, particularly when you are supporting it through creating dams, that the process is much faster than the increase in sea levels," said Alphons Hennekens, the Netherlands' ambassador to Bangladesh. The Dutch, experienced in river management, support many of the river projects in Bangladesh.

With Dutch funding, the Bangladeshi government began to help develop older chars in the late 1970s, and the effort has since become a multiagency operation building roads, culverts, embankments, cyclone shelters, toilets and ponds, as well as distributing land to settlers. By fall 2010, the program will have allotted some 27,000 acres to 21,000 families.

Several months ago, 32-year-old Zhakia Begums was granted a deed to land on a higher char nearby, where she has been living for 12 years, since she lost her home to river erosion.

"Before we were always a little fearful," she said, "now we know this is our land."

Her property abuts a mud embankment on one side and a small pond on the other. Coconut trees grow in the sun-dappled yard where her husband raises chickens.

Together, they run a small restaurant for local fishermen. Behind their house sits a school on concrete stilts, which doubles as a cyclone shelter.

For his part, Mr. Dus and others want what Mrs. Begums has: shelter, wells, deeds, roads — so that he can get his crabs more easily to market — and an embankment to protect his crops.

But the char that Mr. Dus calls home is still young, not yet safely above the reach of the tides. On its own, it will take another six to seven years before it is eligible for the governments development program, said Zainal Abedin from the government's Char Development and Settlement Project.

Next year, work will begin on a dam expected to create 46 square miles of new land to the west. The most recent plans have also proposed a dam here in Noakhali that could create as much as 350 square miles in Mr. Dus' backyard. The proposed dam, said Mr. Abedin, could also speed up the maturation of Mr. Dus' land by three to four years.

The idea that silt accretion can provide at least a partial solution to the crisis has yet to convince all the critics.

"This deposition process is a very slow process," said Atiq Rahman, director of the Bangladeshi Center for Advanced Studies. "It's not that simple, it doesn't just happen automatically."

Mr. Rahman said more attention from the international community should go to the countrys immediate natural disaster needs and mitigating the increased cyclones, floods and erosions expected as the planet continues to warm.

Analysts say there are limits to the solutions Bangladeshis can engineer on their own, particularly on top of the food security and poverty crises they already face.

"We have a moral obligation to provide support to help them prepare for the effects of climate change that they are experiencing, as well as to stop the pollution that is making these impacts worse," said Ms. Chatterjee. "For countries like Bangladesh and the Marshall Islands this is not a climate change debate, but a debate about their survival."

Along Bangladeshs uncertain coastline, survival seems a day-to-day affair. With more development, however, Mr. Dus said he thinks he can do more than just survive. With some help, he said, he can build a life on the land hes found.

"If the government builds an embankment," Mr. Dus said, "this land will sustain us."

Ashish Kumar Sen contributed to this report from Washington.
RELATED ISSUES