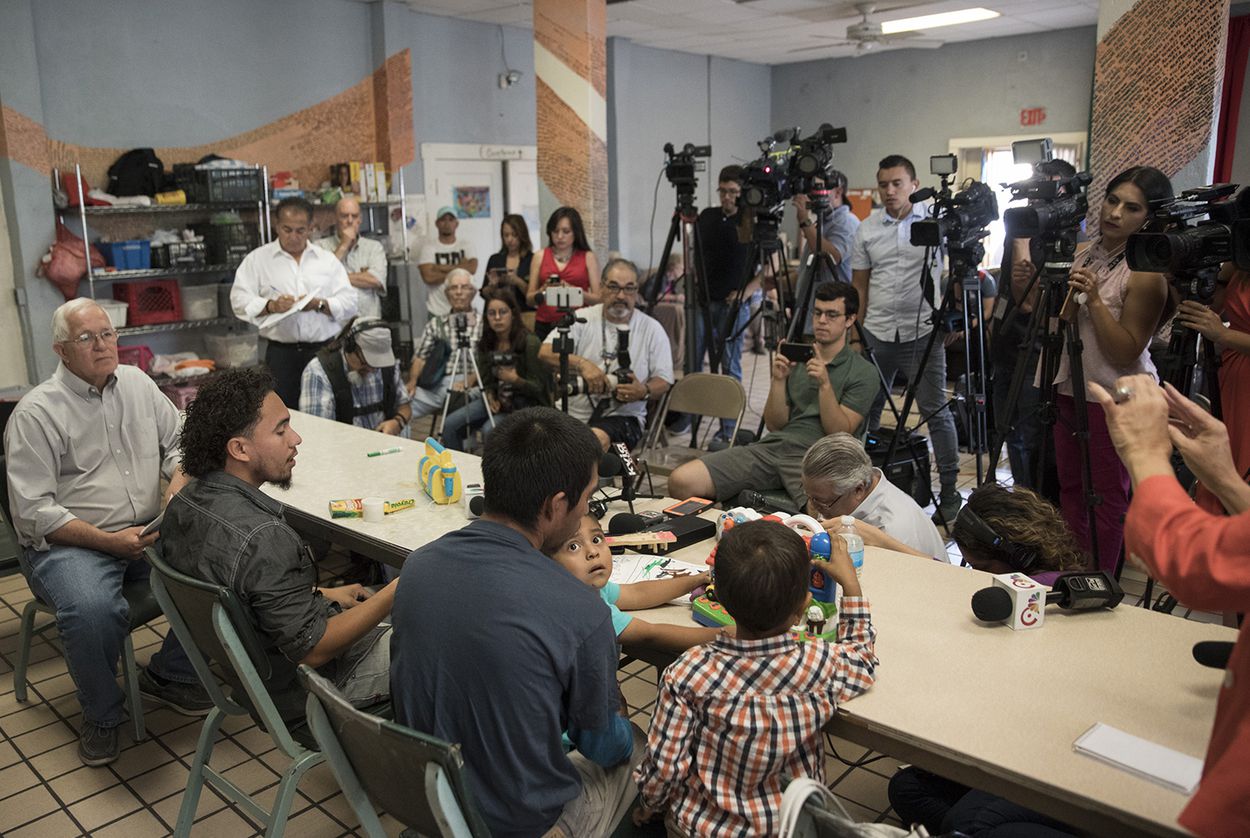 The first report card is in on the federal government's efforts to reunite the families it separated at the United States' border with Mexico.
It's not encouraging.
Of the 103 children under age 5 who were supposed to be reunited with their families under court order this week, 57 are back with the people they were with when they got here. In a news release titled "Trump administration completes reunification for eligible children under 5," federal officials said the remaining 46 kids were "ineligible for reunification."
That leaves those kids in federal hands for now, and they could soon be joined by hundreds more.
The three federal departments involved here — Health and Human Services, Homeland Security and Justice — gave good reasons why those kids were ineligible. But if the logic of these first 103 cases is projected onto the remaining 2,000 to 3,000 minors who are slated to be reunited with their families — that is, if these results are indicative of what's in store for the rest of the families separated at the border — 800 to 1,300 children will be deemed ineligible for reunification. Like 46 of the toddlers in the first group, they would remain separated and in the care of the federal government after the reunifications.
They would make up an altogether different kind of "dreamers" than the ones the nation's politicians were arguing about just a few months ago. Instead of children of undocumented immigrants who were raised here without any say in the matter, these are kids we separated from families and then kept in detention or state care in the U.S. without their having any say in the matter.
Chasing the adults, we keep punishing the kids.
The government didn't know it, presumably, when it separated adults and children at the border, but officials claim entirely good reasons for not rejoining all of them:
"22 children have been found ineligible due to safety concerns posed by the adults in question: 11 adults have a serious criminal history (charges or convictions for child cruelty, kidnapping, murder, human smuggling, domestic violence, etc.); 7 adults were determined not to be a parent; 1 adult had a falsified birth certificate; 1 adult was alleged to have abused the child; 1 adult planned to house the child with an adult charged with sexually abusing a child; and 1 adult is being treated for a communicable disease."
Another two dozen were ineligible, in the government's words, for other reasons:
"12 adults have been deported and are being contacted; 9 adults are in custody of the United States Marshals Service for other offenses; 2 adults are in custody of state jails for other offenses; and 1 adult's location has been unknown for over a year."
That's not why they were separated under the administration's "zero tolerance" policy; it's the reason they weren't returned to the people they came in with.
Take everyone at their word for a moment and focus on what might be ahead. U.S. District Judge Dana Sabraw originally set a July 10 deadline — last Tuesday — for reunifying kids under 5, and a July 26 deadline for reuniting the rest of the kids, who number between 2,000 and 3,000, depending on who's talking. Department of Health and Human Services Secretary Alez Azar said last week that there are fewer than 3,000 separated kids in this situation; earlier government estimates put the number at more than 2,000.
So far, the reunifying score is 55.3 percent. The other 44.7 percent in that first group didn't get reunited, for all the reasons above. If Judge Sabraw judge sticks to his deadlines, we'll know the final answer to this in a couple of weeks. If those percentages hold, 800 to 1,300 children will still be in government care after the next deadline. It would also mean that 200 to 300 of the adults who were with them have serious criminal histories, that 100 to 200 were not parents, that 200 to 350 have already been deported and that 175 to 260 are in custody for other offenses.
Immigration officials didn't know all of that when they separated the families, but they know it now. After they sort out the rest of the detainees, they'll move to the next problem: What to do with all those children?
RELATED ISSUES

Women

Issue
Migration and Refugees
Migration and Refugees

Children and Youth