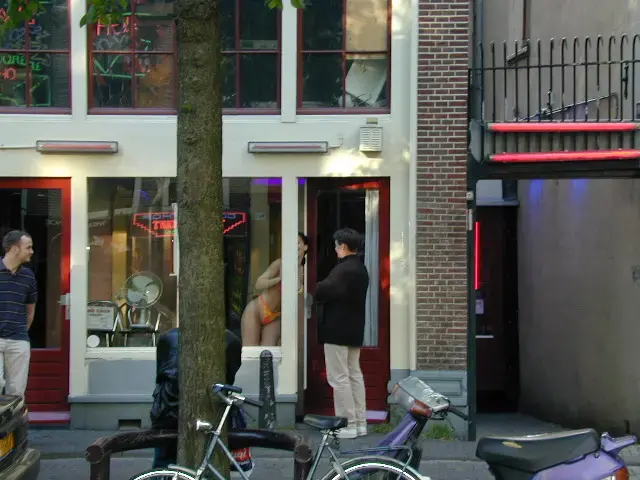 Negotiation underway in Amsterdam's red light district. Image by Dave Winer via Creative Commons. Netherlands, 2000.


In 2007, thanks to the activism of an ex-prostitute named Mariska Majoor, a bronze statue celebrating sex workers was unveiled on the Oudekerksplein, a plaza in the center of Amsterdam's red-light district. Belle, as the statue is called, stands with hands on hips, chest thrust out, looking proud and powerful. "Respect Sexworkers all over the World" says a small plaque on her base.

Majoor, 45, used to work in one of the district's famous windows, where day and night prostitutes stand behind glass, hoping to entice customers. These days, she runs the Prostitution Information Center, a storefront where visitors can learn about the red-light district, buy souvenirs or have a snack at a small vegetarian café. Some evenings she leads tours, charging 15 Euros for an insider's look at the storied neighborhood.

She considers prostitution a social good, not just a necessary evil. "When I mention prostitution as a profession, I mean prostitution without the misery," she writes in her book When Sex Becomes Work, which is geared towards women who are thinking of entering the sex industry or who are already there. "I am aware of the many people who are forced into it or even being traded…Still for years now, I have insisted that there is another side of the coin as well and that is where the focus should be on when one talks about prostitution." She is a firm believer in full legalization. "Prostitution is only safe when it's legal," she says.

Yet Majoor is quick to concede that in the years since the Netherlands legalized brothel-keeping and pimping in 2000—becoming the first country in Europe to do so—conditions for Amsterdam's prostitutes have grown worse, not better. In the red-light district, the prices women pay to rent a window for a single 10-hour shift have gone up. It's now around 80 Euros in the less desirable areas around the gothic Oude Kerk, or Old Church, where heavier, older black and brown women work, and 150 Euros in the more heavily trafficked streets where younger, thinner, whiter girls, mostly from Eastern Europe, await their customers. The price for standard sex, though, has remained the same for well over a decade—30 Euros in the cheaper areas, 50 Euros in the most desirable. Women need to have sex with at least three men just to break even, and sometimes they finish the night owing more than they've earned.

"It's still possible to make good money, but it's not as common anymore as it used to be," says Majoor. "And for some women, especially the women in the Old Church Square, it can be very difficult to even make enough money to pay the rent." The government of the Netherlands has documented the declining fortunes of the country's prostitutes. "[T]he prostitutes' emotional well-being is now lower than in 2001 on all measured aspects, and the use of sedatives has increased," said a 2007 Ministry of Justice report.

As Majoor well knows, this is often used as an argument in favor of the so-called Swedish model of prostitution regulation. In 1999, just before the Netherlands began its experiment with full legalization, Sweden undertook an experiment of its own, criminalizing the buying but not the selling of sex. These days, the momentum in Europe is behind Swedish-style laws. Norway and Iceland adopted similar measures in 2009, and France is on the verge of doing the same. Earlier this year, the European Parliament passed a resolution urging the Swedish model on all member states. Pro-prostitution advocates in the Netherlands fear the coming of such a law in their country.

Majoor insists this would be a disaster. She argues that the problem in the Netherlands is not too little regulation but too much. She points to the city's attempts to gentrify the red-light district by buying up window brothels and converting them to other uses, the cause, she says, of rising rents for sex workers. Then there are taxes, which can take up to a third of a prostitute's earnings. "We call the tax people our biggest pimp," she says.

Besides, she says, some of the problems prostitutes are facing have nothing to do with the law at all. The opening of borders with Eastern Europe has brought more competition, and the economic crisis means clients have less money to spend. Criminalizing these clients, she says, will just make it harder for already struggling sex workers to make a living.

Finally, Majoor puts some of the blame on prostitutes themselves for not organizing and raising their fees. "It's up to them," she says. "They're independent. Nobody is telling them what to charge. They have to do it themselves, and they don't do it." There used to be a sex worker's trade union, The Red Thread, but it never had a large membership, and in 2012 it went bankrupt.

On a recent Saturday night, as Majoor leads a group of earnest young visitors over the red-light district's picturesque bridges and down its avenues, she's visibly dismayed by the raucous party atmosphere that's come to dominate the area, with gangs of gawking tourists outnumbering clients. Majoor points out a former brothel that has been converted into a cheesy "museum" where visitors can photograph themselves posing in a window.

"I think the red-light district is in trouble, to be honest," she says. "I see the red-light district as a circus, with people celebrating birthdays and stag parties and acting as idiots. Nowadays, I don't know anymore what to think about the area. It's getting so strange."
RELATED ISSUES