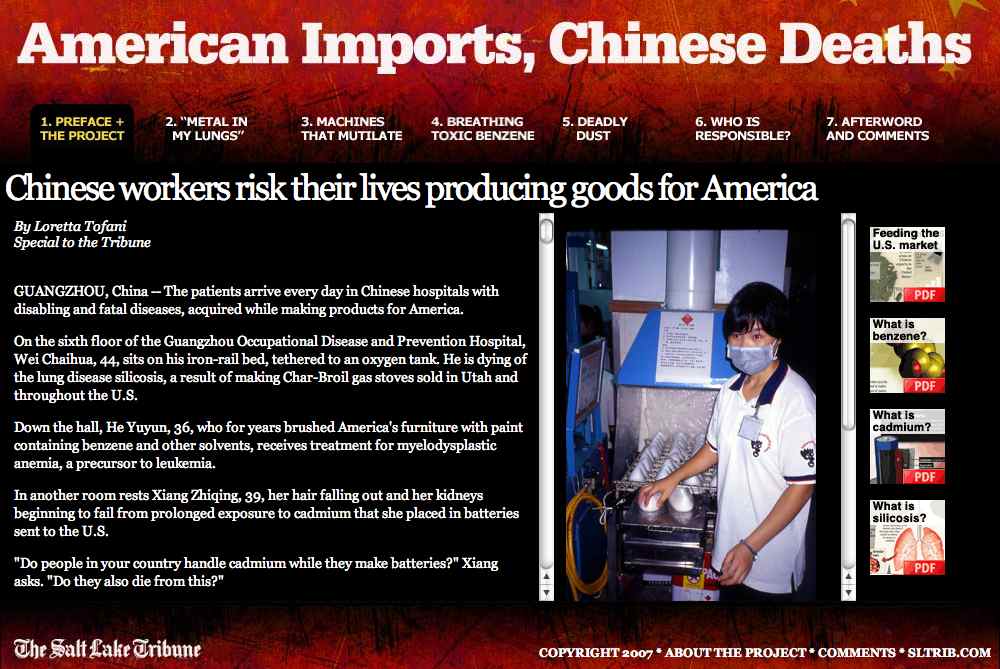 The Salt Lake Tribune Veteran reporter Loretta Tofani's most recent investigative project took her to China, where over a 12-month period she visited more than 25 factories and observed first-hand how Chinese workers routinely lose their health and their lives making products for export to the United States and other countries. The result is a multi-part package of stories, photos and graphics that you can read at http://www.sltrib.com/china.

Tofani, who from 1992 to 1996 was The Philadelphia Inquirer's Asia correspondent based in Beijing, examined thousands of U.S. import documents for this story. With a travel grant from the Pulitzer Center on Crisis Reporting (www.pulitzercenter.org) in Washington, D.C., she interviewed Chinese workers in hospitals, homes and outside their factories as well as dozens of attorneys, business leaders, government officials and labor activists. She also reviewed medical and legal records, medical journal articles, government reports and other documents.

The Center for Investigative Reporting in Berkeley, Calif., also helped fund travel for the project with a grant from the Dick Goldensohn Fund for International Reporting.

Tofani won a Pulitzer Prize in 1983 at The Washington Post for a series documenting gang rape in a Maryland jail. She lives in Ogden.

To discuss this series, visit the dedicated thread on the Sat Lake Tribune TribTalk message board.

The L.A. Daily News also ran the story.
RELATED ISSUES