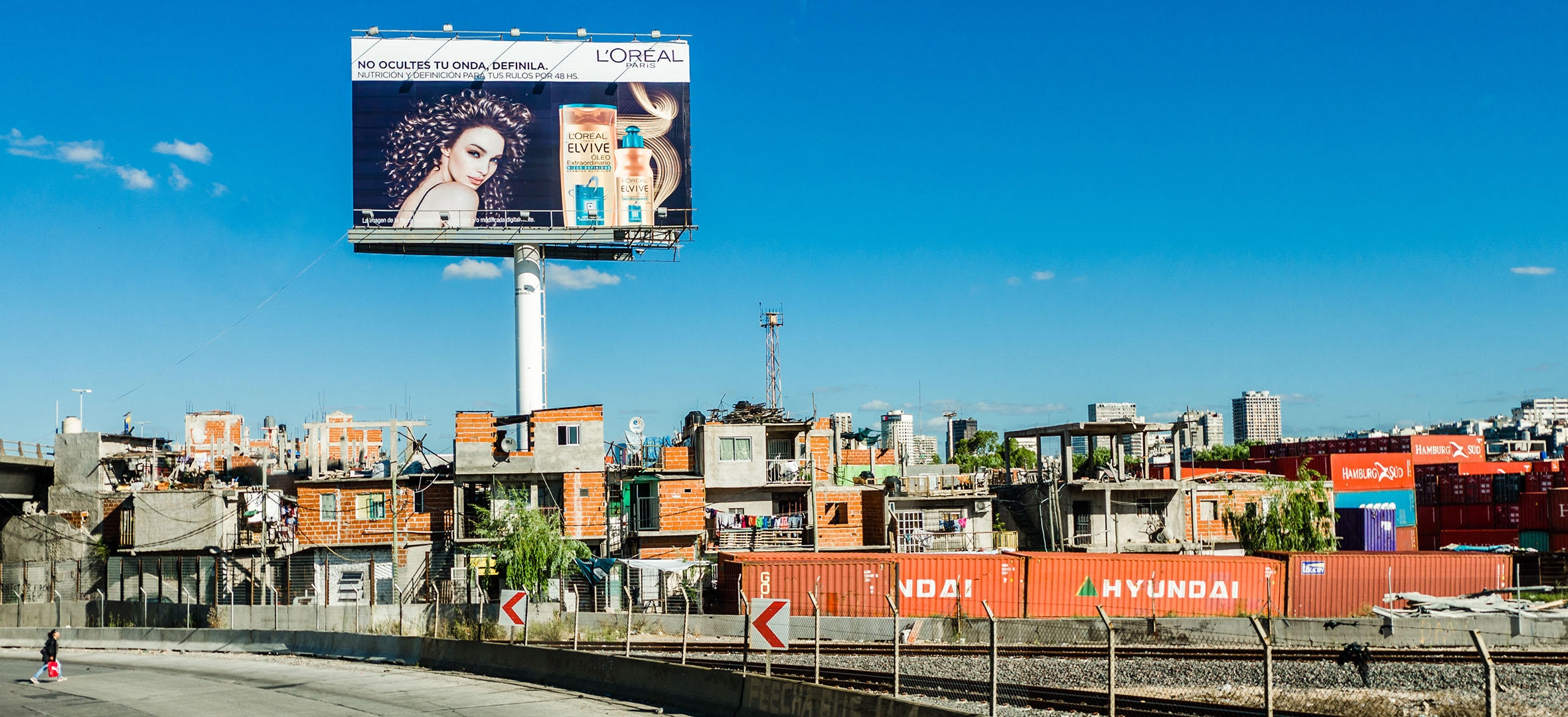 BUENOS AIRES, ARGENTINA — After the daily lunch rush subsides, Teófilo Tapia settles into a plastic chair, prepares a fresh yerba mate and reminisces. Tapia, 77, runs a soup kitchen in Villa 31, a shantytown in Buenos Aires, and has been on the front lines of neighborhood activism for decades.
"In the '70s we had to use lighters and kerosene lamps," Tapia recalls between sips of mate. "The streets were all dirt and when it rained everything turned to mud."
Villa 31, located downtown, represents the flip side of Buenos Aires' self-appointed image as a European-style metropolis of stately beaux-arts buildings and cafe-lined streets. The fate of the neighborhood, with its makeshift homes, spotty electricity and unsanitary conditions, has been a source of political handwringing for decades, with some arguing for its improvement and others calling for it to be demolished.
Today, the community of between 40,000 and 60,000 people is undergoing a controversial $400 million makeover. Around nearly every corner, signs proclaim a newly renovated house or the home of a resident who has been moved into a new apartment. Hundreds of construction workers throng the neighborhood, jackhammering cobblestone streets as they prepare to install proper utility connections. Cranes soar overhead as though this were the hottest real estate market in town – except what's under construction is public housing, more than 1,000 units so far.
Tapia is by and large supportive of the ongoing "urbanization" in Villa 31, a few quibbles notwithstanding about the quality of materials used for buildings and street paving. But the old-timer's opinion is hardly unanimous.
Argentina's general election is coming up on Oct. 27, and national political allegiances trickle all the way down to the plan to improve Villa 31. Supporters, who are more likely to align with embattled conservative President Maurício Macri, see the effort as delivering on long overdue promises. But critics of the president are more likely to view the neighborhood improvements as a cynical effort to sell out the last downtown refuge for the city's working poor, many of whom have been hit hard by the country's rapidly deteriorating economy.
"There is a strong political polarization in Argentina, like in the rest of the world, and that generates criticism from one side or the other," says Felipe Mesel, a human rights lawyer at the nonpartisan Civil Association for Equality and Justice, a nongovernmental organization that independently monitors the government efforts in Villa 31. "Nobody wants to stop the urbanization, but there is disagreement about how to improve conditions and ensure resident participation."
Mayor Horacio Larreta, a close ally of Macri, himself a former mayor of Buenos Aires, is spearheading the Villa 31 upgrading plan. He, too, is up for election this weekend. While widely expected to win citywide, he is increasingly unpopular locally. Despite investing millions in Villa 31, he lost the precinct by 47% in August primaries.
Larreta's poor numbers in Villa 31 reflect the fact that most residents are staunch supporters of the populist movement led by Cristina Fernández de Kirchner, a former president and first lady now back on the ballot as a vice presidential candidate.
"You neoliberal Macristas, you're from the right, so we don't want you to urbanize the neighborhood," says Tapia, mimicking the attitude that has come to define opposition to the upgrading plan. "It saddens me."
Village of Misery
One in 4 residents of greater Buenos Aires lives in a so-called villa miseria (literally, "village of misery"), which offer affordable housing for migrants from distant provinces or nearby countries to work in construction, housekeeping, security and other menial jobs. While conditions vary widely, houses are generally made of bricks by the residents themselves – many of whom work in the construction industry – but often lack adequate ventilation, structural stability and other basic health and safety standards. Electricity and running water may be available but are frequently intermittent. Sewage is lucky to be piped and unlikely to be treated.
Villa 31, visible to working-class and affluent residents from an elevated highway, is the city's most iconic shantytown – and one with a unique history.
Over Tapia's shoulder, a mural runs the length of the soup kitchen displaying a timeline. In 1931, Polish immigrants were the first to settle here as the booming Argentine economy slid into the Great Depression. Just four years later, the government demolished the precarious houses they built, the first of many official efforts to stamp out the emerging villas.
By 1956, the city census found some 34,000 people living in 21 villas across the capital. Into that world stepped Father Carlos Mugica, a priest from an affluent Buenos Aires neighborhood who began administering to the poor in Villa 31 and took over the local church in 1970. Along with other community leaders, Mugica began organizing the squatters and immigrants to agitate for public investment. In 1971, the first electricity was installed. But Mugica's predilection for liberation theology – a social justice-oriented interpretation of Christ's teachings popular with rank-and-file Latin American priests in the mid-20th century – rankled the Catholic establishment as Argentina was lurching toward a military coup. On May 11, 1974, he was assassinated by members of a far-right death squad on his way out of mass.
Today, the neighborhood is officially known as the Barrio Carlos Mugica. "Mugica didn't want this to be a villa any longer, he wanted it to be a neighborhood," Tapia says of his friend's legacy.
But Mugica's wish became a dream deferred. The military dictatorship that ruled from 1976 to 1983 evicted 40,000 residents from Villa 31 and deported foreigners. As Argentina returned to democracy in the late 1980s and 1990s, villa eradication laws were overturned and the neighborhood became repopulated. Residents re-formed neighborhood groups and redoubled their efforts to pressure the government into improving Villa 31's infrastructure.
But in 2007, wiping Villa 31 off the map became a central plank in Macri's mayoral election campaign. Villa 31 residents reacted angrily, shutting down the highway that slices through the neighborhood during a tense moment in 2008.
In 2009, the city passed a law affirming it would upgrade the neighborhood, but progress stalled because most of Villa 31 sits on public land owned by the national government, which transferred the land to the city only this year.
Trust Issues
When Larreta became mayor in 2015, he made an about-face from Macri's hardline rhetoric, announcing his intention to follow the urbanization mandate and upgrade rather than demolish the villa. But the bad blood left behind from the Macri administration created an undercurrent of suspicion for Larreta's approach.
"We received this news very cautiously because for eight years of Macri's administration, Larreta was his right hand and he never lifted a finger for us," says Hector Guanco, a construction worker turned neighborhood activist who moved to the villa in 1996 from Jujuy province and eventually built his own home on a 538-square-foot plot he purchased for $100.
"What they are doing is makeup, like they always do," he says. "Every four years they rip up the streets to say they are re-urbanizing the neighborhood."
Begrudgingly, Guanco admits that the area's new soccer field was well made, but when it comes to basic daily needs, he says, "They haven't done anything for us."
Guanco runs a neighborhood advisory committee that refuses to work with government officials and instead calls out perceived violations of the laws governing the upgrading process, such as creating 1,200 new housing units instead of the 3,500 originally promised. (A city spokesperson says the initial plan called for more residents to be resettled than was necessary and that current operations are focused on renovating existing homes.)
Around the neighborhood, posters sponsored by Guanco's group warn of land the city government has put up for sale on the edge of the neighborhood, which feed into fears that the urbanization plan is designed to evict the villeros once again, this time through market forces.
The city argues that the public land, still owned by the national government, is for sale to raise funds for infrastructure projects – not to encourage displacement. "The neighborhood is here and we want the neighborhood to stay here, not to move out because the land could be valuable," says Juan Ignacio Salari, a city official in charge of housing and infrastructure in the villa.
Not all the concern about the neighborhood upgrade has political roots. For example, some residents point to the February 2018 eviction of two families unwilling to move voluntarily to the new housing, which provoked neighborhood protests that led to clashes with police.
The city says the evicted residents lived in houses that were condemned as unsafe by engineers and the residents had participated in workshops about moving to their new apartments. "The allocation of new housing was worked out and agreed upon through participation with the residents, in accordance with the law," the city said in a statement.
But that kind of negative PR has influenced the views of some residents.
"The way in which they are getting people out is ugly," says Fabiana Gamarra, whose home benefited from the upgrade. "Fifty people show up saying, 'You have to leave today no matter what' and start tearing down the house."
Some residents see the long-term benefits of the neighborhood upgrade but struggle with the day-to-day inconveniences of such rapid public works.
"In principle, yes, I want to pay taxes and have something for my children," says school monitor Alicia Segundo, who is on a waiting list to renovate the three-bedroom house with leaky pipes where she is raising five kids. Outside her front door there is a trench several feet deep where construction workers are installing new water and sewer lines – a dangerous inconvenience that cropped up without notice.
"I just wish they'd tell us ahead of time about the work," the dedicated Kichnerista says. "The whole house shakes, you wouldn't believe how it moves."
After Sunday, it's likely Villa 31 residents will have a national victory, with polls predicting the presidency will go to the Kirchneristas, whose left-leaning populist message is resonating with the country's poor. But with Larreta predicted to win the mayorship, the villa upgrade plan will likely continue apace, leaving residents to wait and see whether Barrio Carlos Mugica will ever live up to its namesake.
RELATED ISSUES