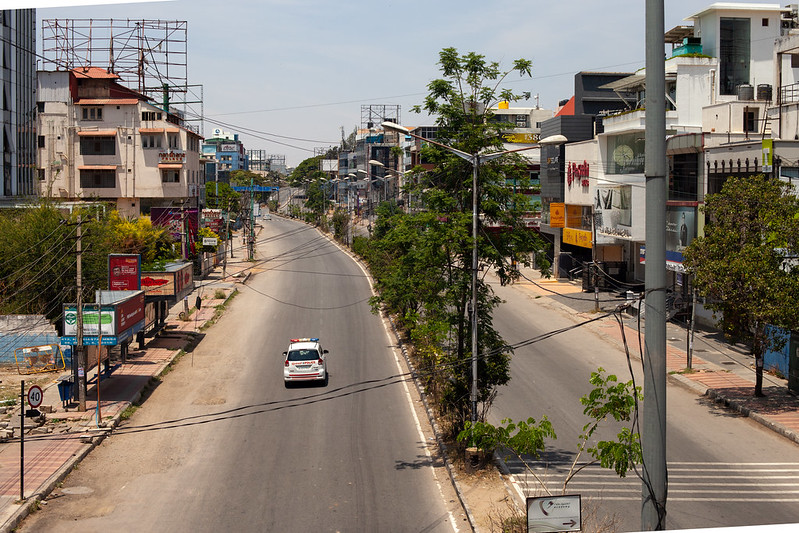 MUMBAI, INDIA—Until last week, Shivaji Park was brimming with people almost every night. One of this city's largest public grounds, it was often packed with cricket teams, joggers, school children, and elderly walkers—along with an entire informal economy of street vendors.
All vanished after Prime Minister Narendra Modi announced the world's largest lockdown on 24 March, asking 1.3 billion Indians to stay home for 21 days to slow the spread of COVID-19.
The move was partly a response to apocalyptic projections. Fewer than 600 cases had been confirmed at the time of Modi's announcement, although that number is widely believed to be an undercount. But without control measures, 300 million to 500 million Indians could be infected by the end of July and 30 million to 50 million could have severe disease, according to one model. And the world's second most populous country has large numbers of poor living in crowded, unsanitary conditions and a weak public health infrastructure, with just 0.7 hospital beds per 1000 persons, compared with Italy's 3.4 and the United States's 2.9; India also has fewer than 50,000 ventilators.
"India is probably the first large developing country and democracy into which this pandemic will arrive," says Ramanan Laxminarayan, founder and director of the Center for Disease Dynamics, Economics & Policy. "Many of the advantages of the Chinese [state] control and of having the health systems of Europe or the U.S. are not available to India," says Laxminarayan, who is advising the Indian government. "There will have to be a uniquely Indian response to COVID-19."
Modi's lockdown had social and economic impacts even sharper than lockdowns in richer countries. Millions of Indians who depend on each day's wages for their daily meal were thrown out of work. Migrant workers packed buses and trains home, potentially taking the virus into rural areas. And as transport options dried up, many families in New Delhi and other major cities simply began to walk to their distant villages, with little access to food. "We risk converting a health crisis into a socioeconomic crisis," says Ravi Duggal, a public health activist.
To prevent that, the Indian government announced a nearly $23 billion economic package on 26 March to support the poor, providing rations of grains and pulses, free gas cooking cylinders to 83 million families, and cash transfers of $6.65 a month to about 200 million women for the next 3 months. Many observers say the aid is too little—less than 1% of India's gross domestic product—and that more is needed in the coming months.
Other South Asian countries, too, are wrestling with difficult choices between disease control and the economy. Bangladesh, which has a total of 49 reported infections, has locked down the country until 4 April. Sri Lanka has more than 100 confirmed cases, but has shut down only eight of its 25 districts, citing the hardship to the poor. Pakistan, which has reported the region's largest number of cases, 1625, has also locked down only a few areas. In an address last week, Pakistani Prime Minister Imran Khan said with one-quarter of its population falling below the poverty line, the country could not afford to a complete shutdown.
Duggal and other advocates have criticized India's large-scale closure, saying area-specific lockdowns are more humane and practical in India. But most experts agree a national lockdown was needed. Shahid Jameel, an Indian virologist and head of the Wellcome Trust/DBT India Alliance, notes that measures taken in previous weeks—including halting international arrivals—had not slowed the rate of increase in cases. "The experience from other countries has shown that if you lock down early, if you catch yourself early on the curve, there's a better chance of limiting the spread," he says.
The government has announced several other measures to prepare India for the coming onslaught. A $2 billion package was cleared last week to buy protective gear for health care workers, expand testing facilities, and train health care workers across the country. India is importing 10,000 ventilators from China and has ordered another 30,000 from domestic companies. Export of critical care medical equipment has been banned. Private hospitals are setting aside wards and authorities have granted emergency financial powers to the army to set up quarantine facilities.
"A lot needs to be done in the next 3 weeks to make sure that we have built up a system to test and treat patients, and to support families of patients," says Gagandeep Kang, a leading Indian infectious diseases researcher and the executive director of the Translational Health Science and Technology Institute. "We cannot waste the lockdown."
Ramping up testing is especially important, says former Indian health secretary K. Sujatha Rao. "Just lockdown without testing is only postponing the surge," she warns, because it will allow transmission to resume from undetected cases. India had done just over 38,000 COVID-19 tests by 31 March. It has recently allowed private labs to begin to test and approved 12 types of rapid testing kits. Testing has also expanded from patients with an association with international travel to include patients with severe acute respiratory illness.
Some states are already calculating their needs in the worst-case scenarios and ordering extra equipment on their own, says Giridhar Babu, head of epidemiology at the Public Health Foundation of India. But some states have little data to show the extent of the problem, because surveillance and reporting are poor. "My worry is not about the states with high cases," Babu says. "My worry is about the silent areas."
Nevertheless, Babu is cautiously optimistic. He points to some promising indicators: The case fatality has been a relatively low 0.7% in the hard-hit state of Kerala, which has one of the best public health systems in the country and has done the most tests. There has been little need for ventilators yet, and few reports of a surge in fever cases in local clinics. India's relatively young population is also in its favor, because older people are at higher risk of severe disease and death. And the fact that the country has been able to implement the lockdown so far, despite problems, is important, Babu says. If other measures also succeed, he believes the peak case load may be far lower than expected. "We'll have to see the data for the next 2 weeks to understand the trajectory," he says.
Unlike China, the only other country with a comparable population size, India's democratic governance is not known for efficiency. But the country's success in polio eradication, which also required innovation, coordination at all levels of government, and community support, provides an example of how the entire system can sometimes rally to achieve a goal, Babu says. "Nobody thought India would pull off polio," he says.
Kang agrees the shutdown is timely and could slow the spread of the virus by several weeks, beginning what she calls a controlled burn. "But after that you still need to maintain distancing efforts and isolation," she says. That may be easier said than done for the more than half of Mumbaikars who live in slums. "How do you communicate that or enable that when you have five people living in a room?" Kang asks.
Education is critical, she says, in part to fight misinformation and stigma surrounding disease. In recent days, apartment complexes have tried to throw out doctors and airline crews, as well as Indians from the northeast region bordering China. Houses under quarantine are being marked with "Do not visit" posters. Such stigma hampers efforts to increase testing, Kang notes, and needs to be countered by incentives and awareness programs. "This lockdown is just the start," she says.