Project August 11, 2007
The Soybean Wars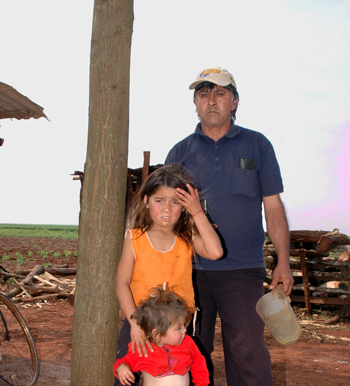 Paraguay is the fastest growing soybean producer in the world bringing untold riches to a very poor and corrupt country. The bean fields stretch far into the distance, consuming the horizon with waves of green leaves and a stink like dead animals from toxic agro-chemicals.

Towns have been deserted and thousands of peasant campensinos claim to have been kicked off their land. The campensinos say they have been "earth robbed" by Brazilian and Argentinean landowners who bribe, beat and even kill in order to grow soy. Landless and angry, the peasants swell the streets in protest. Hundreds of indigenous Guarani people have camped in front of Paraguay's legislative building because they have no other place to live. Others have become violent and stage armed "land invasions."

These illegal settlers are accused of kidnapping and terrorizing soybean producers and their families. In the past Paraguay's government has paid only lip service to the concerns of campensinos while using the military to squash their land invasions. The Colorado party has ruled Paraguay for 62 years, using corruption and "disappearances" to become the oldest government in the world. But next year's elections could be a watershed event. Fernando Lugo — the so-called Bishop of the Poor — is leading polls to become the next president of Paraguay. A former Roman Catholic priest, Lugo enjoys nearly unanimous support from the campensinos and stands a good chance of becoming the next South American leader ushered in by populist reform. Such is the impact of soybeans.
RELATED ISSUES