Project February 1, 2010
Project: Report 2010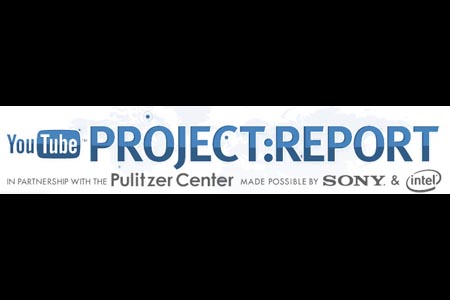 Project: Report 2010 is a partnership between YouTube and the Pulitzer Center on Crisis Reporting, made possible by Sony and Intel. The contest invited aspiring reporters to share their stories with the world.

With two rounds over three months, short documentary assignments were judged on the quality of the stories reported and the production value of the videos. An expert panel led by the Pulitzer Center chose ten finalists from the first round to receive technology prizes from Sony and Intel. The ten finalists then competed to receive one of five $10,000 grants to work with the Pulitzer Center on an under-reported international story. See the official rules.

The winners were announced in May 2010. The five winners received travel grants to report on an under-reported international story with the Pulitzer Center.

The winners' reporting projects are now underway:

For his winning entry, Alex Rozier profiled a Missouri man dedicated to providing personal energy transportation devices (PETs) to the disabled poor overseas. Now he covers the other side of the story in Guatemala, where the devices have revolutionized the lives of the immobile.

Paul Franz chronicled the plight of Haitian migrant workers in Florida. This time he reports on the need for education reform in Haiti in the aftermath of January's devastating earthquake.

Elan Gepner showed us how community programs are helping students combat violence. He now travels to Brazil to explore how non-governmental organizations there are finding creative ways to empower the country's impoverished youth.

Samantha Danis impressed us last Spring with her moving piece on the challenges facing the deaf community in Maine. Now she is traveling to Belize to report on maternal mortality and how the country is dealing with the challenge.

And Mark Jeevaratnam , who explored the effects of mountain top removal mining in Kentucky, reports on how soccer may have the potential to improve the lives of South African youths.