Project January 15, 2006
Our Choice Too: On the Edge in Darfur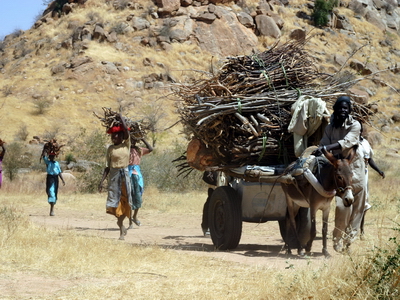 Pulitzer Center Executive Director Jon Sawyer traveled in early 2006 to Sudan. He spent a week with African Union peace monitors in Darfur, staying with soldiers in their camps and traveling by AU helicopters from the regional capitals of El Fasher and Nyala to remote regions along the Chad border.
At a time when U.S. officials and American Darfur activists were focused on building pressure for the dispatch of a United Nations peacekeeping force, Sawyer's reporting made the case that beefing up the existing African force was a quicker, surer route to protecting the people of Darfur. Sawyer reported his findings in newspaper and television reports and in a 20-minute video documentary prepared in partnership with World Security Institute's Azimuth Media.
The documentary framed a panel presentation at the U.S. Holocaust Memorial Museum that was broadcast live via Internet 2 to some three dozen locations around the country; the entire video and panel discussion were then rebroadcast on the satellite channel LinkTV.
RELATED ISSUES

Governance

Issue
Conflict and Peace Building
Conflict and Peace Building